By Maria Immaculate Owechi
Diamond Platnumz's mother, Sandra Sanura Kassim has been making gossip headlines in the news over her lover's cheating scandal. It was reported that her much younger partner, Rally Jones fathered a child with a young lady identified as Sharifa.
Social media users started mocking Sanura for being romantically involved with a younger man who had not even legalised their relationship.
In her defense, Sanura revealed in a phone call interview with an unidentified female that she was indeed married to him, despite siring a baby out of wedlock which only made people troll her more.
"I think fornication is a family matter from mother to son," one person commented referring to Diamond's numerous relationships being reflected in his mother as well.
In an attempt to squash the gossip, Jones posted their marriage certificate on his Instagram page proving the truthfulness of her statements and the legality of his relationship with Sanura.
The certificate signed by the National Muslim Council of Tanzania called Baraza Kuu Ia Waislamu Tanzania (BAKWATA) shows that the two got married on October 1, 2017.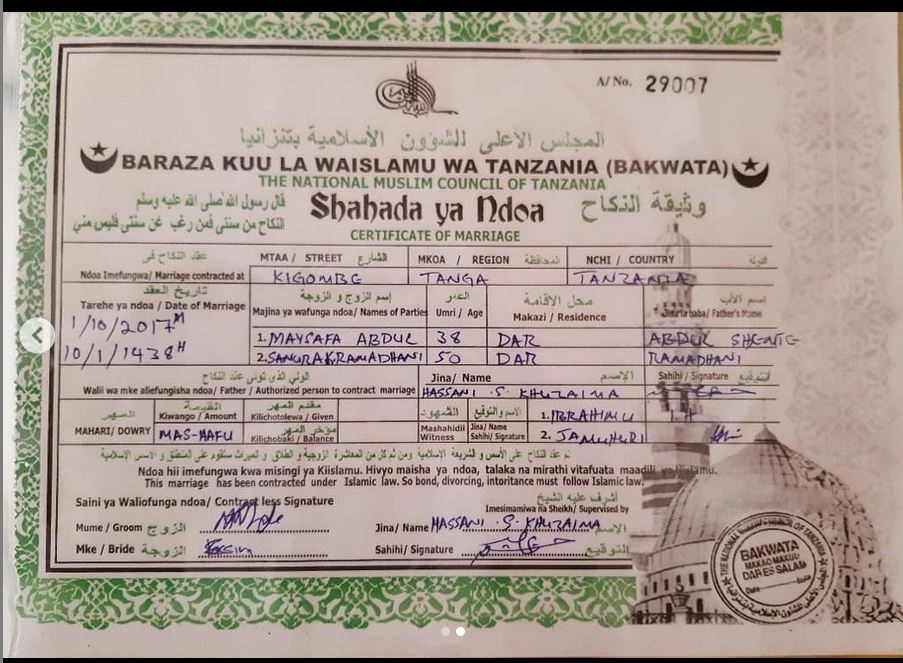 Jones captioned the post saying he is content with her as a wife and has no reason to look for another.
"In life, I had told myself that when the right time comes for me to marry, I will marry one wife only. I have married her and I am not looking for anything else apart from her. Whoever wants Instagram trivias should come with a marriage certificate."
The revealed certificate has surprised many fans who were unaware that a secret ceremony had taken place a year and a half back.
A marriage certificate saved Sanura from an unforeseen situation, but it could help you solve gravely important issues like ownership or inheritance of assets. Every married couple is better off with proof of their marriage.