By Robert Muhereza
Norwegian nationals Mr Dagfinn Rognerud and Ms Torunn Samset on Saturday held their wedding ceremony at Nyabikoni Church of Uganda in Kabale District in western Uganda to raise money to support the education and wellbeing of hundreds of former street kids and vulnerable children.
Mr Dagfinn Rognerud is a better globe ambassador of tree planting and school building born in Lesja city, Norway while Ms Torunn Samset is a silversmith born in Norway's capital Oslo.
About 50 Norwegian nationals that included the relatives and friends of the couple raised a total of Shs45 million that was presented to the couple as gifts. The couple, in turn, donated it all to Child Africa International, a Non-Governmental Organisation that fundraises funds to support the education of hundreds of vulnerable orphans and former street children that are currently studying at Child Africa Junior School and Solberg College in Mbale.
Rev Just Ayebare of Nyabikoni Church of Uganda who presided over the wedding ceremony advised the couple to stick to their marriage vows. He also lauded them for their selfless act and called upon the rich people in Uganda to emulate them by helping the needy.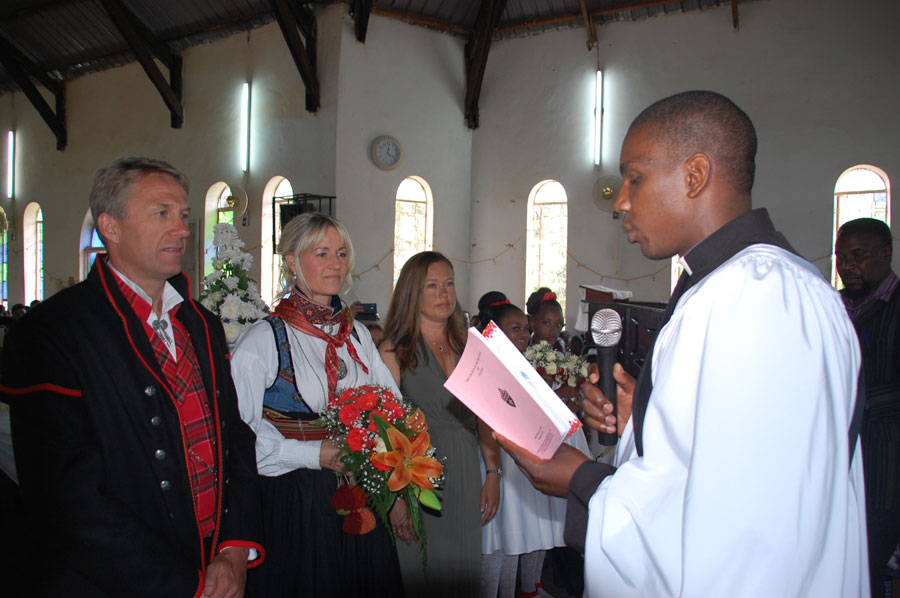 Ms Torunn said, "We chose Kabale town because, in our home country, we have everything and wanted to donate to those that needed. The school founder, Ms Julie Solberg is our development partner whom we wish to support."
The couple said that they first met on Facebook and have been in a relationship for five years before they decided to get married.
The wedding reception was held at the White Horse Inn hotel in Kabale town.
The couple said that they will travel back to Oslo for their honeymoon.
The founder of Child Africa international Ms Julie Solberg lauded the couple for being faithful partners and supporting her cause of giving the needy children a chance at education.