By Derrick Wandera
On November 23rd, All Saints' Cathedral, Kampala will conduct weddings at no cost according to Mr. Ivan Naijuka, the communications officer of the church. All a person has to do is show up and register with the church before November 3rd.
To register, one should take the following requirements to the church in Nakasero:
Two passport photos for both the bride and groom to be
A letter of consent from both parents (the bride's and groom's)
Copies of baptism and confirmation cards for the couple
A best man and matron from Angelica communion
A recommendation from their church of worship
"We decided to do this because we found out that some Christians live under "sin" (cohabiting) because weddings have become too expensive. As a church, we are also giving back to the community (corporate social responsibility)," Naijuka says.
Different individuals, companies and well-wishers will fund the wedding. Some funders are members of the church while others are from the community and are ready to deliver their pledges as soon as the number of registered couples is ascertained.
"We have budget for about Shs20m and this will mainly cater for the miscellaneous because most of the things have been provided for," Naijuka says, adding, "As a church, we shall give the couples free premarital counseling, wed them, give them a certificate, make a cake for each couple, give them drinks, a tent, and food for 40 guests per couple."
Naijuka says the only thing a couple will have to pay for will be their dressing, transport and the party (reception) if they wish to have one after church.
Church service will start from 10am -1pm.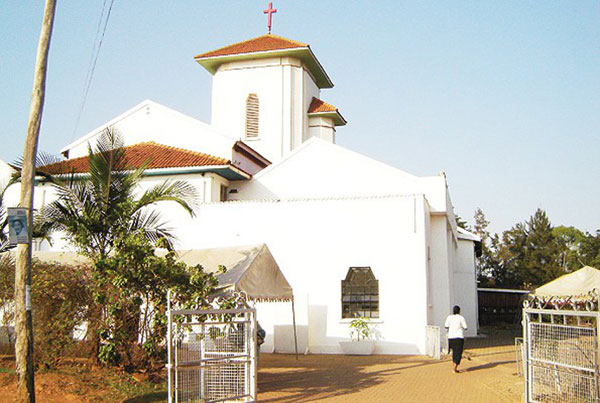 Mass weddings were not prominent in the past until Miracle Center Cathedral in Kampala came up with the idea of 77 days of glory among which, a number of people would be wedded together.
A number of youths were interviewed about the idea of mass weddings believed it was a good option.
Sandra Kyaterekera, 23, a self-employed woman in Ntinda said this would be a good idea especially if one's husband cannot afford a fancy wedding on their own.
"This comes in as relief because many men have evaded marriage because of the implications, financially," she says.
Sam Opio says he was wedded in a mass wedding and it saved him the trouble of over spending. "I will just do an anniversary when I get money. However I am settled as of now," he says.
Hurry and get yourself a spot before 3rd November.
Good luck.