Andrew Kasujja, 25, the proprietor of Barker's avenue in Matugga walked down the aisle with his partner, Nicholate Ikwenyit, 25, at Watoto Church, Ntinda. This was a week after their traditional ceremony at Nicholate's home village in Soroti District.
When and how did you meet?
Andrew: We got to know each other in November 2015 through her young sister. I thought I was chatting with her young sister but later through the replies, I realised it was Nicholate. We kept on chatting through texts but never had the opportunity to meet until January 8, 2016. She was in a salon in Kikoni getting her hair plaited when I met her for the first time.
Nicholate: The second time, Andrew visited me at home in Wandegeya. He carried ice cream for me and my siblings and he left at midnight.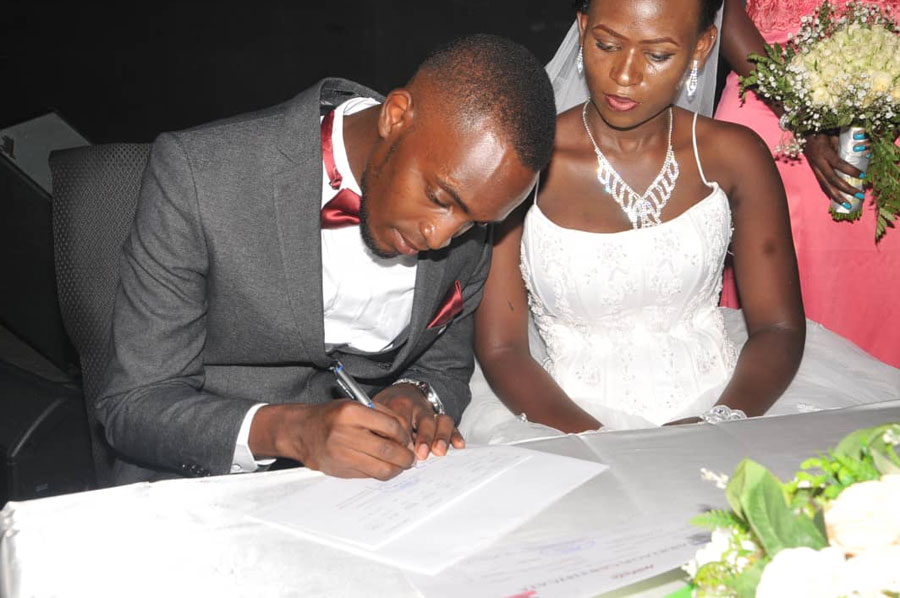 When did you open up about your feelings?
Andrew: On April 19, 2016 I lost my uncle. Nicholate came for the vigil and spent the night comforting me. I was moved by her care and asked her to be my girlfriend.
Nicholate: I accepted because I already liked him and we dated for three years. We had a son along the way.
When did you decide to make the relationship formal?
Andrew: After having our son, Shem Arthur Kabuye on August 25, 2016, I thought it best to formalise our relationship. On December 9, 2016, I went for kukyala with my friend, Zurah Namusisi in Wandegeya.
Nicholate: I was glad that he thought that since we were Born Again Christians we should do things the right way, especially since we already had a child and I was living with my parents.
How did you set the wedding date?
Andrew: After the kukyala I spoke to my spiritual leader, Pastor Brian Tumwijukye of Christ World Church about having the wedding in August on our son's first birthday. He said the date was far and suggested we do it earlier in June. After some deep thought, we settled for the introduction to be on June 1, and the wedding on June 8.
How did you raise funds for the function?
Andrew: From our savings, a few family members in Uganda and abroad plus friends helped us. The meetings took place every Friday evening starting from April for both the traditional and church wedding.
What were you doing on the eve of your wedding day?
Andrew: I was trying to fix some pending details, sending reminders about the function and I also received some more money from people that had made pledges.
Nicholate: One of my bridesmaids pulled out and I had to look for an alternative immediately. I also went to have my hair plaited.
How many people did you invite?
Andrew: We invited 50 people but 70 turned up instead, which we could still accommodate.
What was the most expensive item on your budget?
Andrew: Reception venue, Chief of Hotels- Mengo on Sentema Road, which cost us Shs1.8m. The advantage was that their package came with a public address system, food and decoration.
How did you choose your entourage?
Nicholate: My matron was Christabel Tushabe-Kayanja because she is the only married friend I had and her husband Shem Derrick Kayanja was the best man.
Then we had two bridesmaids with no flower girl or pageboy because we wanted a small entourage and likewise, my husband's groomsmen were only two.
What kind of rings did you have?
Andrew: Gold rings from downtown Kampala at Shs150,000 each.
What cars did you use?
Andrew: We hired a Pajero Mitsubishi, then the entourage used a Toyota Wish and a van that transported the guests.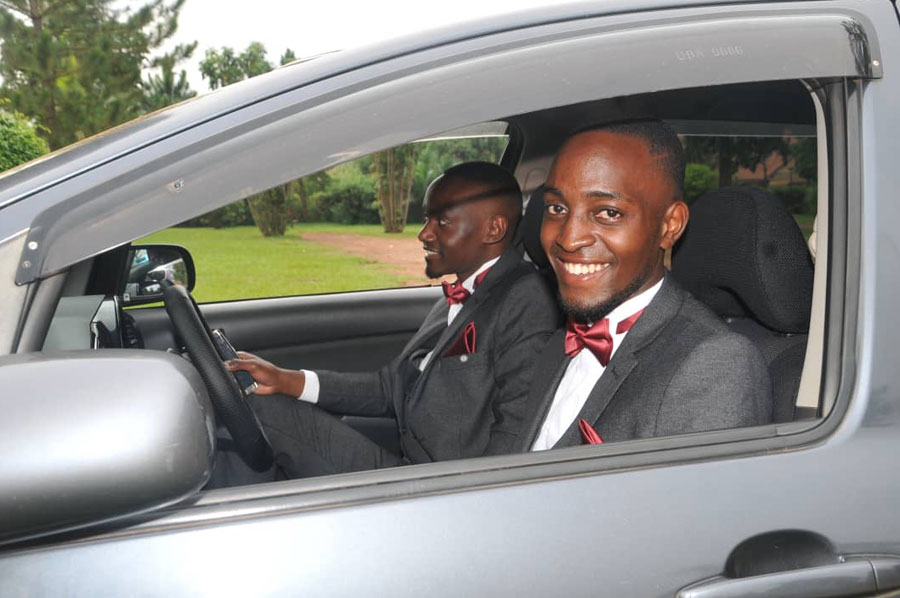 How much did the attire cost?
Andrew: I brought my suit at Shs300,000.
Nicholate: A married friend offered me a gown to save costs on hiring.
For the changing dress, my friend a stylist and student at Kampala International University made my outfits for the traditional ceremony and the changing dress at Shs200,000.
Which salon did you go to?
Nicholate: I had my hair plaited at Unique Salon in Kikoni, then at Trendsetters, Kyaliwajala they styled my hair and did my make-up at Shs100,000.
Did you have any fears about the day?
Andrew: I feared that people would not turn up since they had disappointed me during the traditional ceremony but they surprised me.
Nicholate: I panicked when the service provider in charge of bringing the veil and bouquet delayed and brought it at 10am yet the church service was starting at 11 am.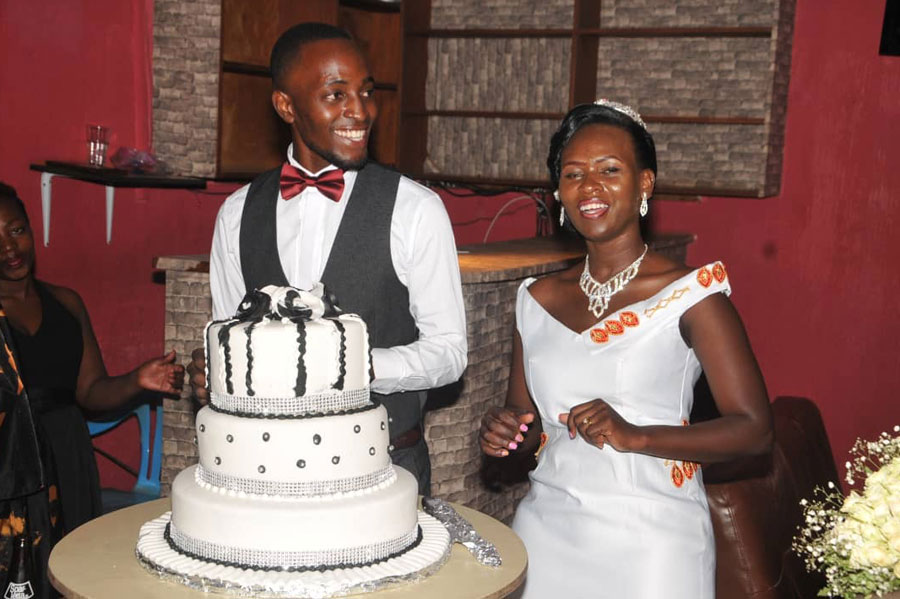 What excited you at the ceremony?
Andrew: I was happy to see my mum and the guests.
Nicholate: Gospel artiste, Bill Tugume composed for us a song and one of my husband's former high school mates, Mercy Ntuulo Ademeri mimed for us a love song.
What did you learn during the premarital counselling?
Andrew: We learnt about communication skills, conflict resolution and understanding our partners.
Nicholate: Communication was helpful because we struggled a lot in that area where if I annoyed my husband he just kept quiet and I did the same. So, at least working on this has strengthened our relationship.
Did you go for honeymoon?
Andrew: The hotel, as part of the package gave us a room for the night and the whole of the next day with meals, steam bath. We plan to go for the honeymoon next month.
Your advice to those intending to get married?
Andrew: Marry because of love and let God be the centre. Settle for something within your means. For one of our anniversaries we should have a bigger celebration.
Also, do not rely on pledges.
Nicholate: The most important thing is getting the ring and your marriage is legalised. Our original plan was to go for dinner after church with close family members and friends but friends from church and family requested us to invite more.