By Maria Immaculate Owechi
On August 25th, 2016, Andrew Kasujja, 25 a proprietor at Barker's Avenue in Matugga together with his partner Nicholate Ikwenyit, a housewife welcomed a baby boy, Kasujja Alden Shem Arthur Kabuye. The birth of their son prompted Kasujja to formalize their relationship in a bid to provide his son a grounded home.
His wife, Ikwenyit adds that the fact that they were born again Christians also impelled them to seek the blessing of their parents in a traditional ceremony and later have a church wedding.
The couple shared with My Wedding their love story and how they organized a colourful traditional ceremony on June 1st, 2019;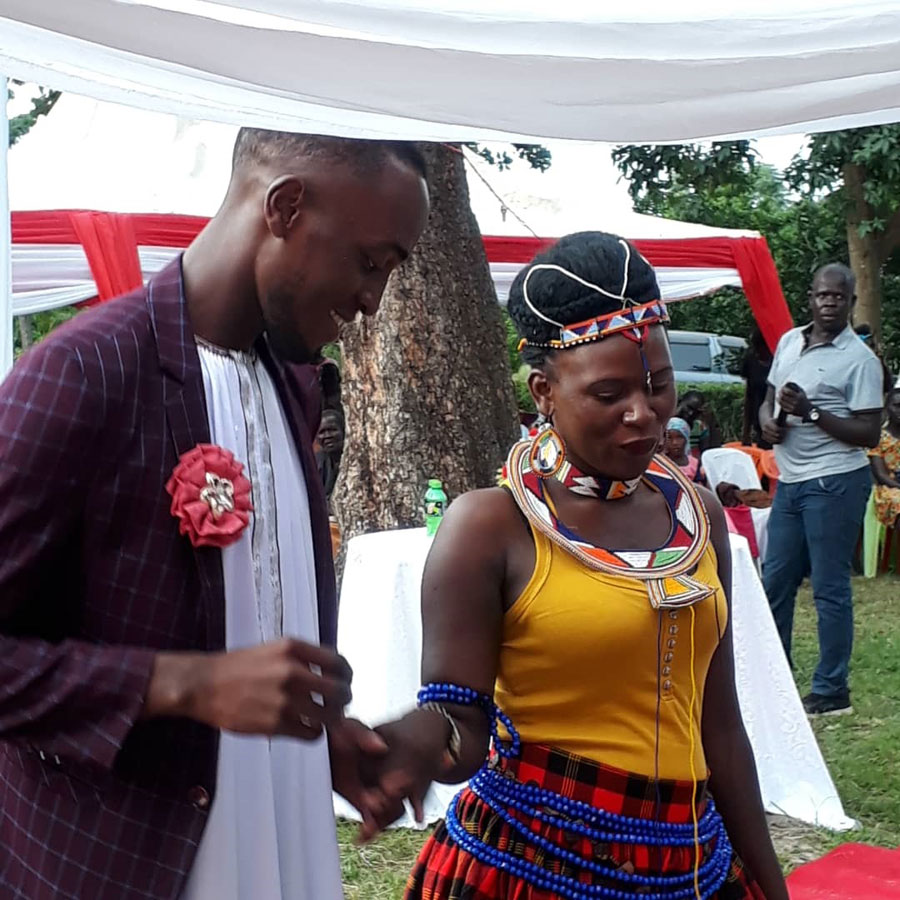 When and how did you meet?
Kasujja: We got to know each other in November 2015 through her young sister. I thought I was texting and chatting with her young sister but later through the replies, I realised it was not her but Ikwenyit instead.  We kept on chatting through texts but never had the opportunity to meet until the next year, on 8th January 2016. She was in a salon in Kikoni plaiting her hair when I met her for the first time.
Ikwenyit: For the second meeting, Kasujja visited me at my home in Wandegeya. He carried ice cream for me and my siblings. That day he left at midnight.
What attracted you to one another?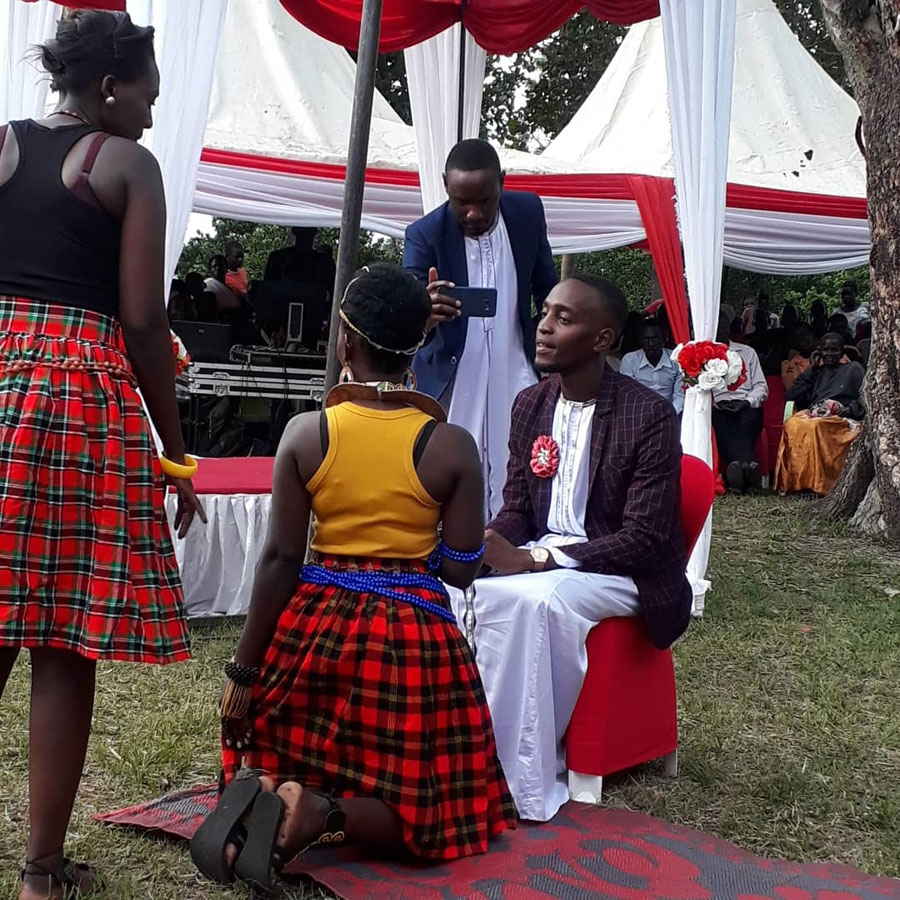 Kasujja:  As we interacted I realized she is different from others, so full of compassion, love, and strength, her sense of humor, reasoning, and I also liked her body structure.
Ikwenyit: I loved him at first sight and liked the fact that he is straightforward which can rub the wrong way sometimes.
When did you open up feelings about each other and started dating?
Kasujja: It was on April 19th, 2016 when I lost an uncle and she came for the vigil and spent the whole night comforting me. I was moved by how she cared for me and asked her to be my girlfriend.
Ikwenyit: I definitely accepted because I already liked him and we dated for three years where we had a son along the way.
When did you decide to make the relationship formal and propose to Ikwenyit?
Kasujja: I actually did not propose to her but after having our child, I thought it is best I formalize our relationship so on December 9th, 2016, I paid a kukyala visit to her family.
Ikwenyit: Since we were born again Christians, even after I had a child, I stayed at my parents' home until the relationship was formalised.
How did you set the wedding date?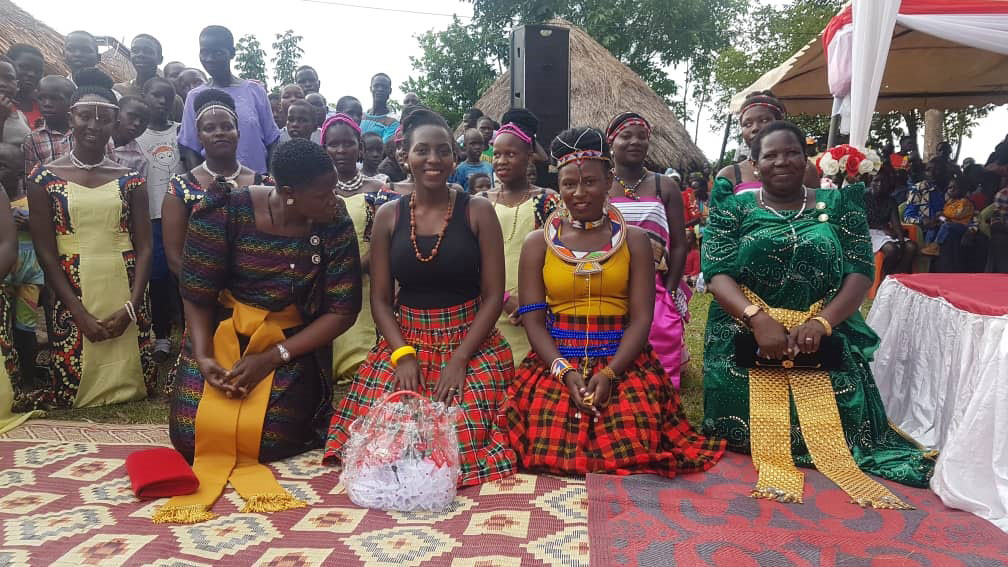 Kasujja: After the kukyala I spoke to my spiritual leader, Pastor Brian Tumuijukye of Christ World Church about having the wedding in August on our son's first birthday.  He said the date was far and suggested we give a thought to having it earlier like in June. So, after some deep thought, we settled for the introduction to be on the 1st of June and the wedding day the next week on 8th.
How did you raise funds for the function?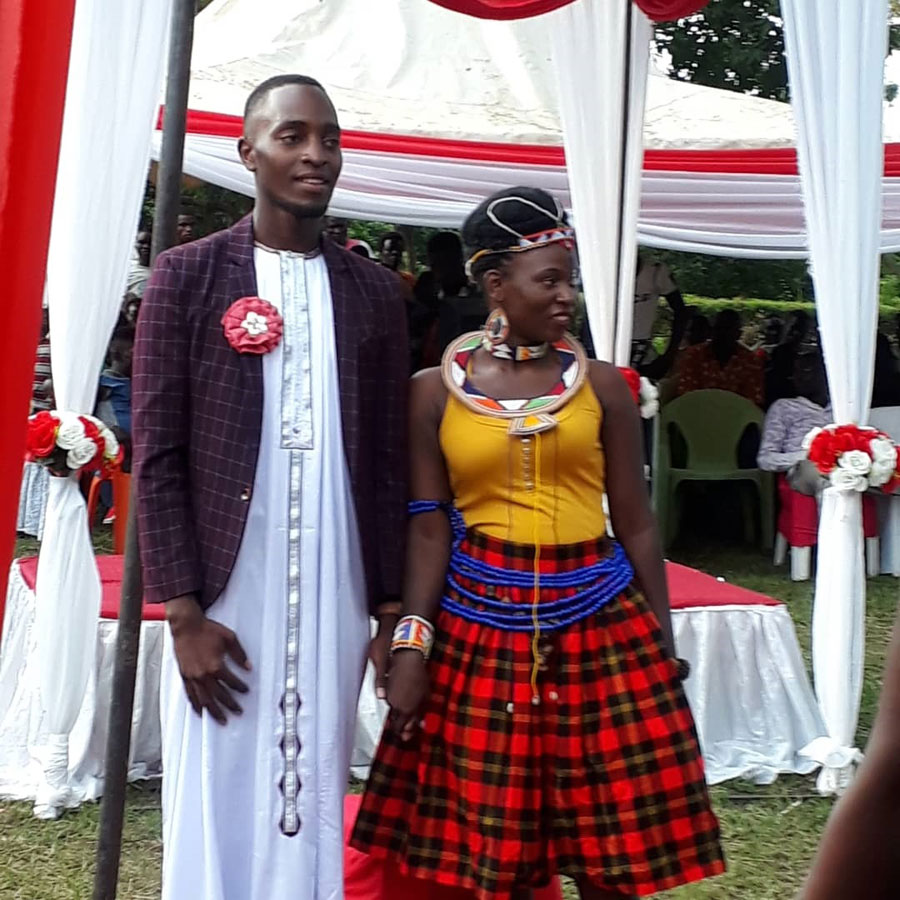 Kasujja: We raised funds from our savings, a few family members in Uganda and abroad plus friends. The meetings took place every Friday evening starting from the month of April for both the traditional and church wedding.
How much was the budget and where did the ceremony take place?
Kasujja: The budget was of Shs6 million and it was an upcountry function that took place at my wife's home district, Soroti.
How many people were part of your entourage?
Kasujja: I was escorted by just six people like the best man, uncle from mum's side, my brother, some old lady and close friends. Being that Soroti is a bit far, many people cancelled plans to escort me at the last minute.
What was the bride price and which gifts did you consider bringing?
Kasujja: I was told to bring 5 cows, 4 goats, and a water tank which we took in the cash amounting to Shs5 million. We used the rest of the money to buy gomesis for her aunties, mother-in-law, and a suit for the father and brother who was also given a he-goat.
What inspired your choice of outfits?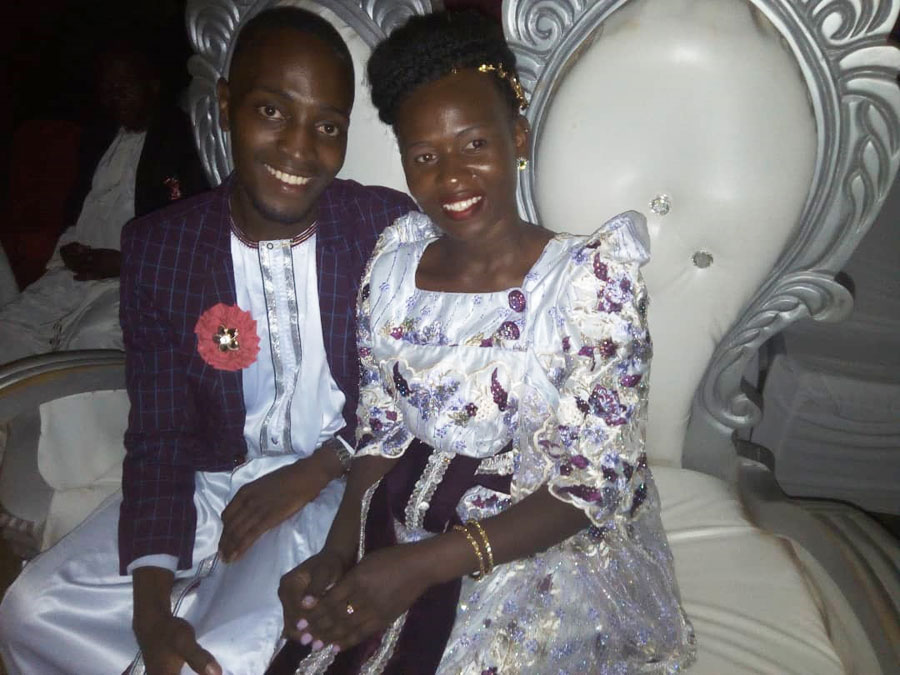 Ikwenyit: Since Itesots do not have specific traditional wear, I decided to go for the Karimajong traditional wear since they are closer to us. The outfit was designed by a friend studying at Kampala International University, Kansanga called Felista Asekeinye.
Then when I was presenting the kabo ko muwala (a special hamper a bride gives to the groom) to my husband I changed to a Gomesi and later a dark blue changing dress for the cake cutting.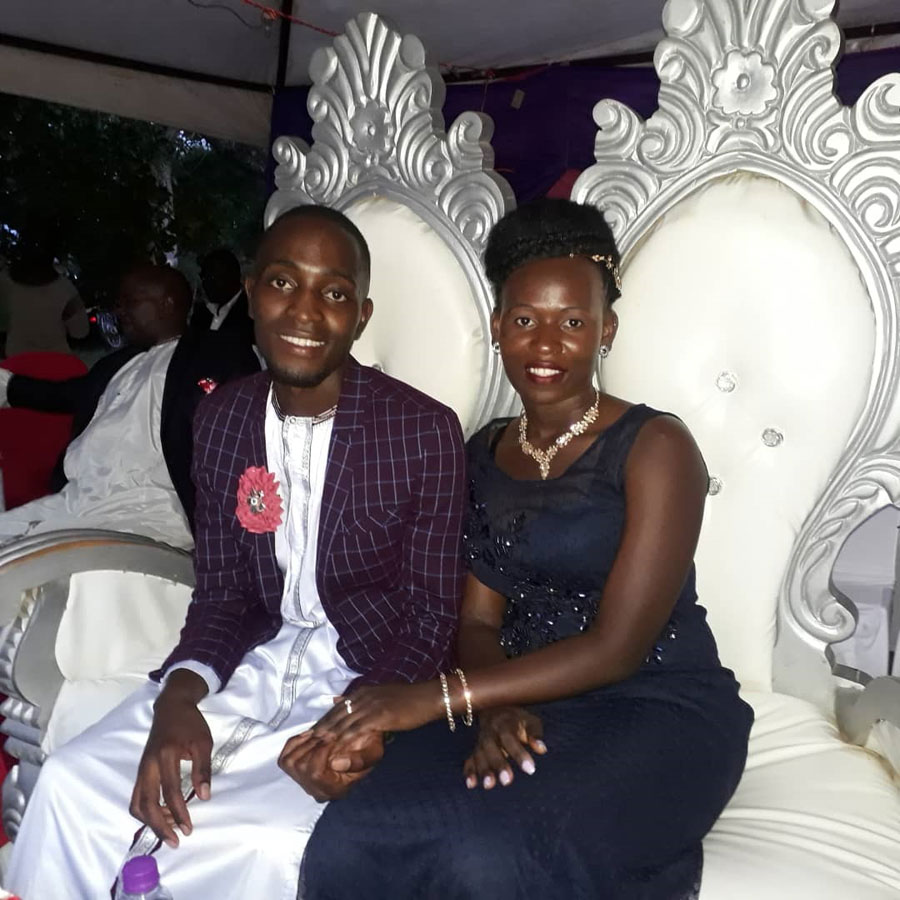 How did you coordinate organizing an upcountry ceremony from Kampala?
Ikwenyit: I had an uncle who really helped in getting all the best service providers from Soroti town to make my function colourful.
What excited you at the ceremony?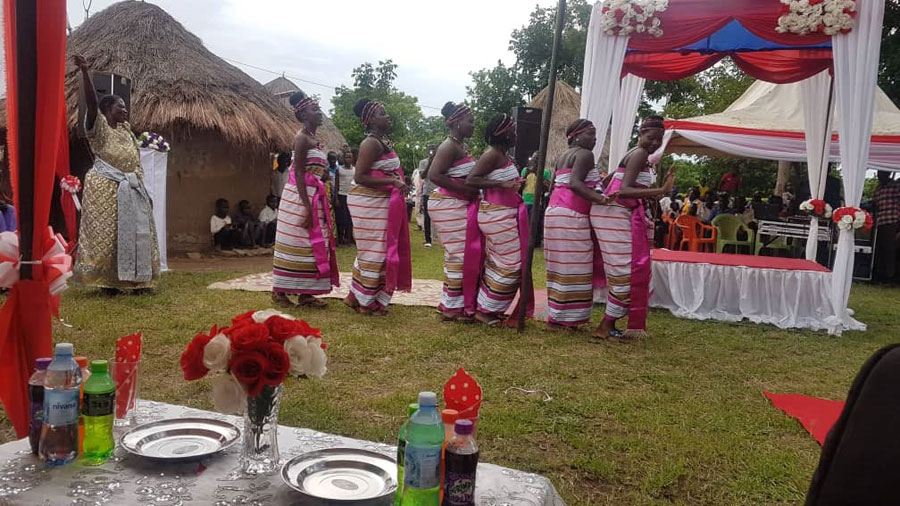 Kasujja: I loved seeing her looking beautiful in her unique outfits as she walked out to meet me, the food and the hospitality her family members showed me were also exciting.
 Ikwenyit: I loved the fact that very many family and friends came for my give away. The whole village witnessed my function, there was alot of dancing and I received lots of gifts from people.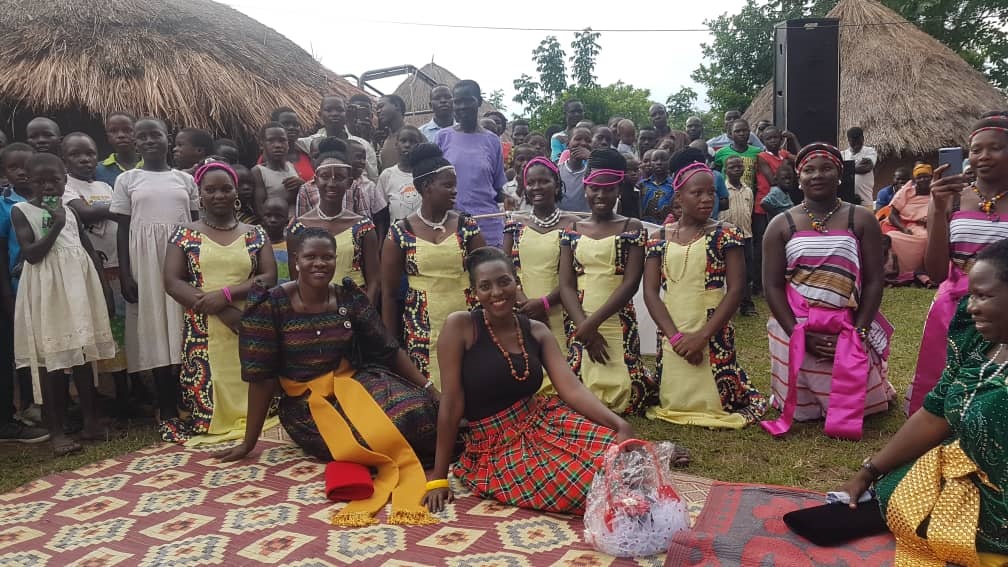 What challenges did you face?
Kasujja: We had a lot of challenges while travelling overnight to her place like when we got lost and ended up in Tororo and the car breaking down in Mbale town but we still arrived early at the function because by 10:30 in the morning we were in Soroti town and expected to appear at the venue by 1:00 pm in the afternoon.
Ikwenyit: The person in charge of the tents delayed to come and so by the time the groom and his entourage arrived they had to be kept in a certain room until the tent was set up forcing the function to start at 4 pm.
Kasujja and Ikwenyit had their church wedding immediately and My Wedding will bring you the story as well in the next issue.