By Rajab Mukombozi
The Bishop of Ankole Bishop Rt. Rev. Dr Sheldon Fred Mwesigwa has advised married couples to take tolerance, love and respect as key tenets for sustaining marriages. Bishop Mwesigwa was speaking during his wedding anniversary as he celebrated 25 years with his wife on Saturday.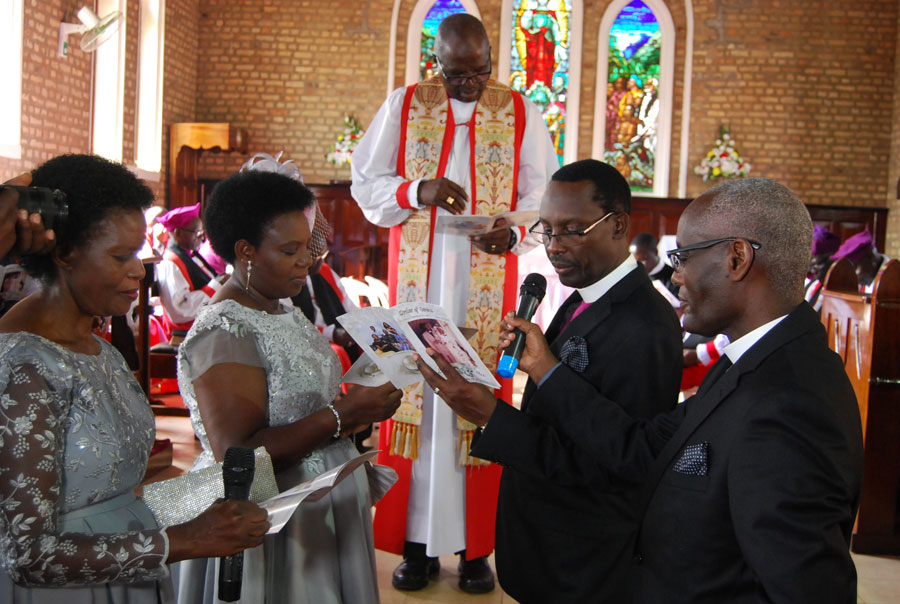 As though reading from 1 Corinthians 13:4-8, the Bishop reminded Christians to put God, the author of love, at the centre of their marriages.
"Marriage is patient; it requires tolerance, love and perseverance. Without love, tolerance, forgiveness and respect there is no marriage," Bishop Mwesigwa said, "Alice and I have remained together because we mastered the art of doing each and everything together."
The church ceremony was held at St James Cathedral, Ruharo (headquarters for Ankole diocese). Over 500 people attended the function including 30 serving and retired Bishops. The Archbishop His Grace Stanley Ntagali and Archbishop Emeritus Henry Luke Orombi, the speaker of parliament Hon Rebecca Kadaga, King of Toro, Oyo Nyimba Kabamba Iguru Rukidi IV, Ministers Gen Elly Tumwine, Karoro Okurut, and Chris Baryomunsi also graced the occasion.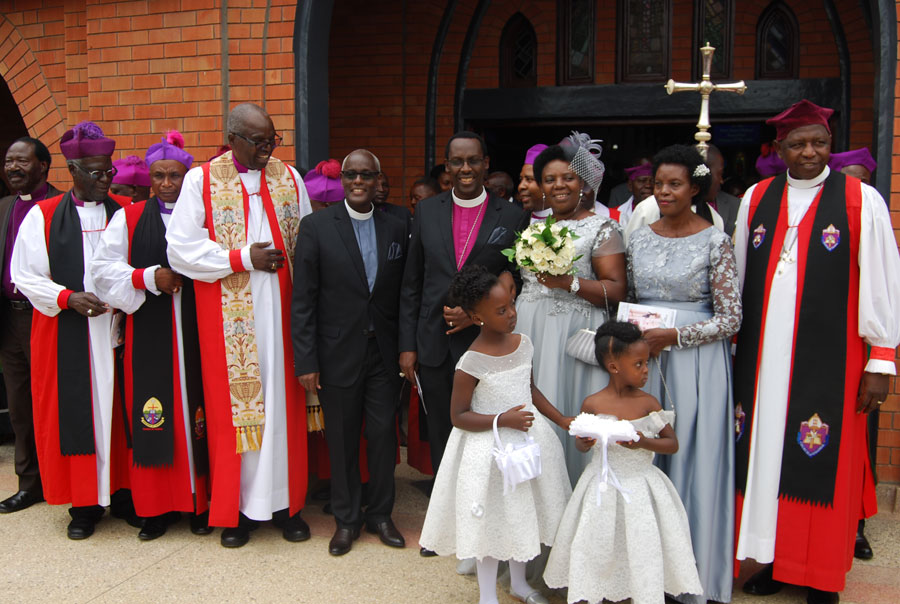 The best man was Rev Aaron Mwesigye, the director religious affairs office of the President and Ephrance Katwiremu.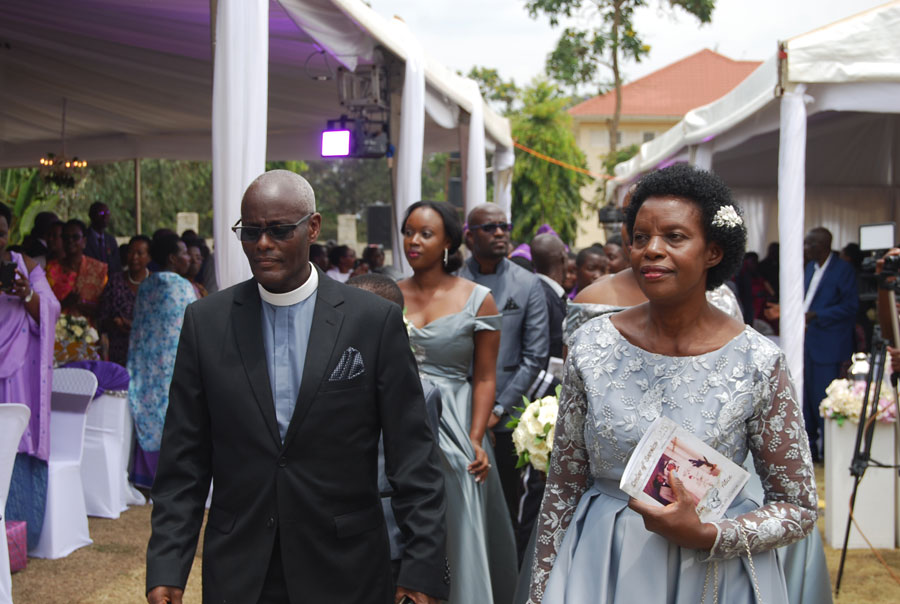 The couple later hosted their reception at their residence in Ruharo, Kamukuzi division, Mbarara town.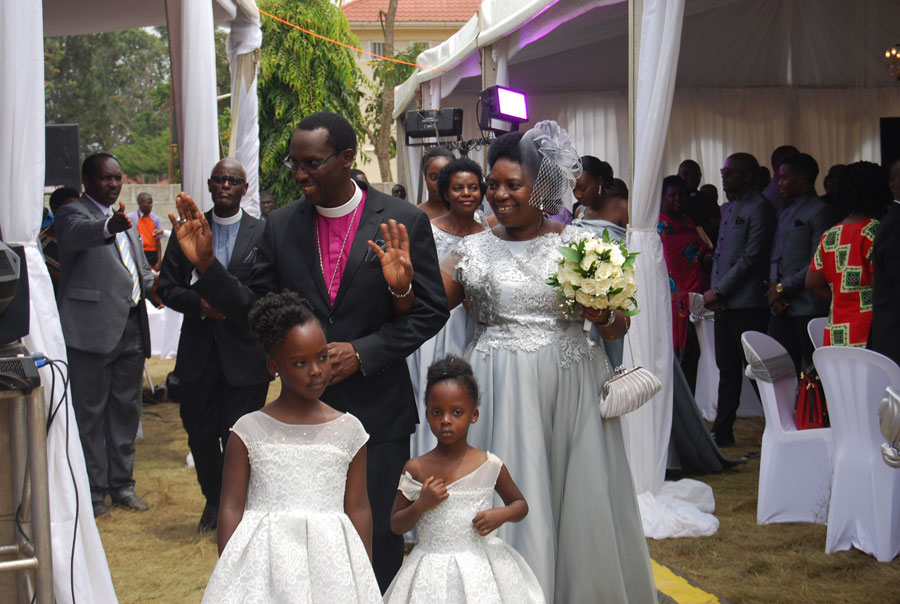 Bishop Mwesigwa expressed concern for today's failing marriages which he believes has in part to do with domineering husbands. He suggested that humility and respect from husbands could change the status quo.
"Some men think because they are men, they are bosses and more privileged in the family. Stop this pride and know women are as equally important as men in marriage and family," he said.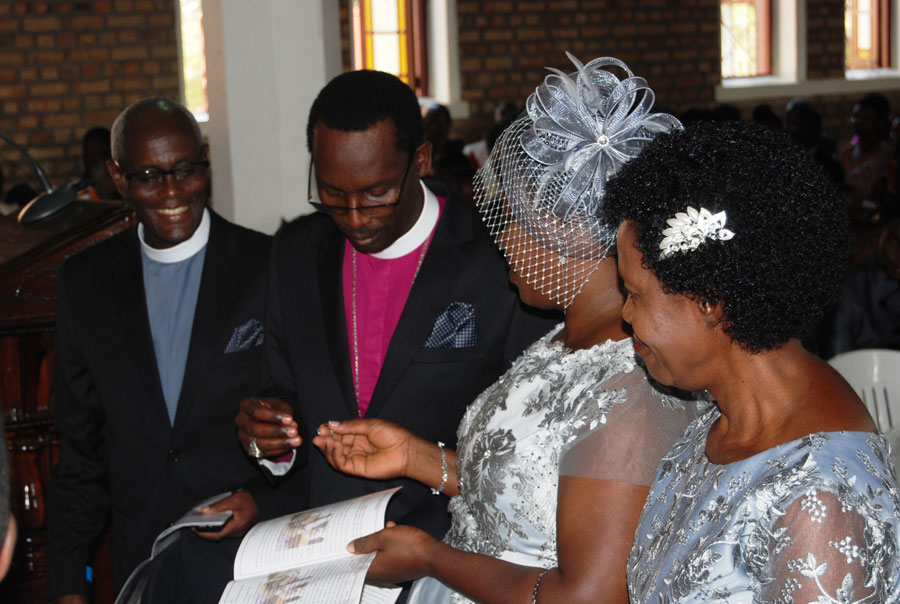 Archbishop Emeritus of the Church of Uganda Henry Luke Orombi who preached at the celebrations asked for a little more reflection on the sacred vows made on the wedding day.
"Many people now make marriage vows just as a fulfillment of the marriage ceremony; they don't think and reflect about them. When they are being wedded, what they are thinking about is the reception and food. Vows are a marriage manifesto and failure to reflect, commit to these vows are reasons for many failed marriages," Archbishop Orombi said.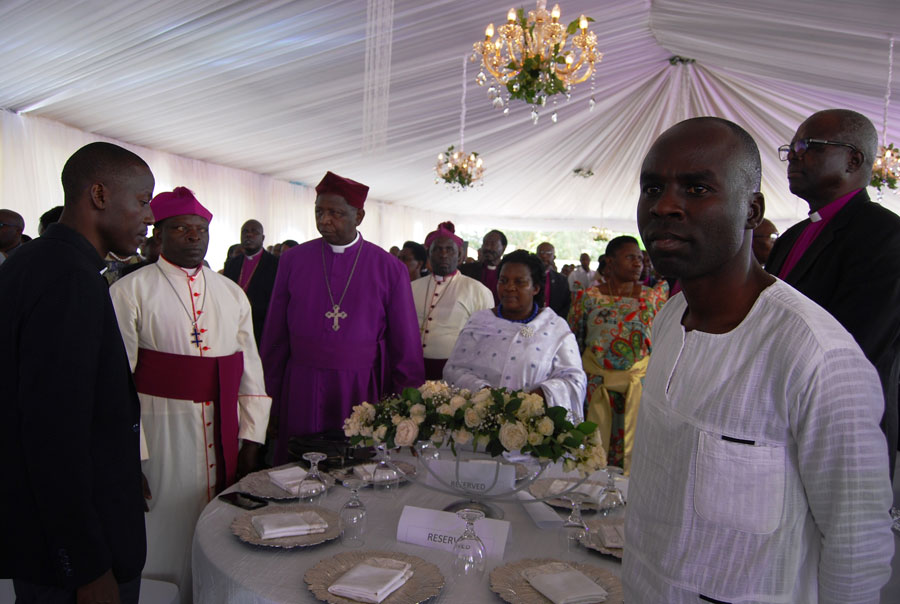 The church leader did not leave the quality of time couples accord to family out of the rationale for failing marriages. "Your wife does not need a car, house; what she needs is you. Men pretend to be so busy and spend little time at home with their families, even when at home they spend much of their time on laptops and phones. Marriages are failing because married couples do not give quality time to their families," Archbishop Orombi said.
For the Archbishop of the Church of Uganda, His Grace Stanley Ntagali, the source of joy was in the commitment of the couple's marriage to  God's work.
"I thank Bishop Sheldon and Alice for this journey of 25 years. It takes commitment, love and trust in God to reach this far. I thank you again for committing your marriage to the service of God," Archbishop Ntagali said.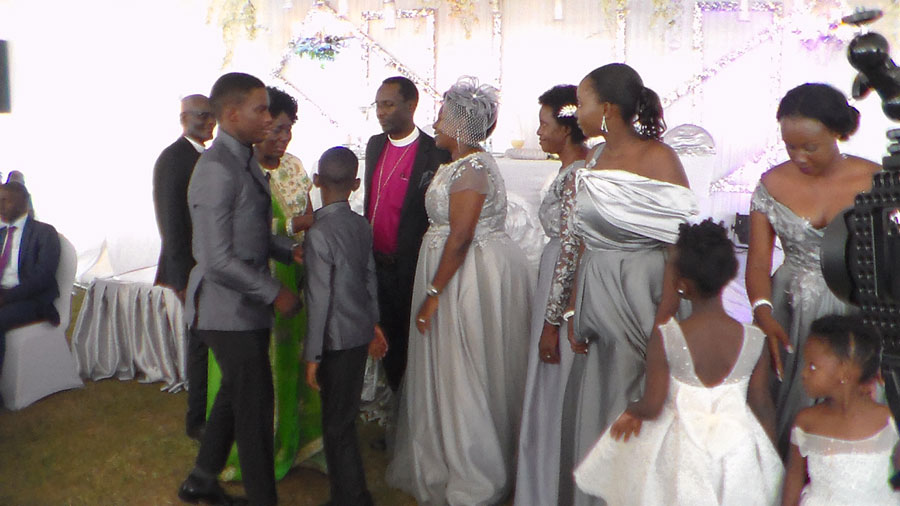 The Speaker of Parliament Hon Rebecca Kadaga asked religious leaders to participate in empowering their wives just as Bishop Mwesigwa did. Ms Alice Mwesigwa holds a PhD in education administration and planning from University of Dar es Salaam.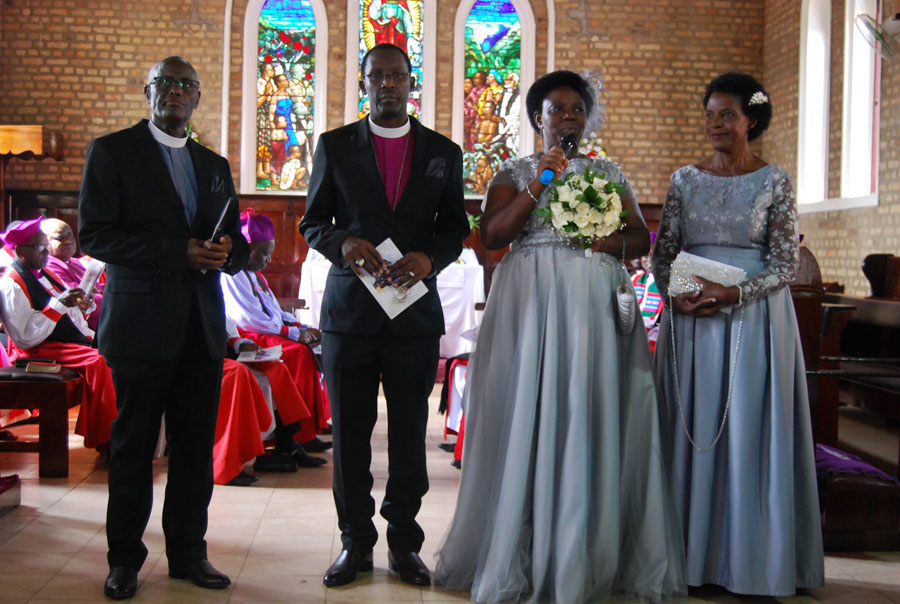 "I thank Bishop Sheldon for supporting Alice to go and study, I think many parishioners can learn from you and support your wives' progress, this is how we will be able to have responsible families," Ms Kadaga said.