By Maria Immaculate Owechi
On May 27, 2018, David Ssenfuma (30) an Operations Manager at House of Joy, Kampala planned a surprise engagement to his girlfriend  Vanessa Kemigabo (23) the proprietor of V_glow256 Make up Studio during the National Basketball League games at Lugogo Indoor Stadium.
The couple who wore matching black trousers and pink jumpers treated the basketball fans to a romantic scene when the Ssenfuma went down on one knee in the center of the stadium.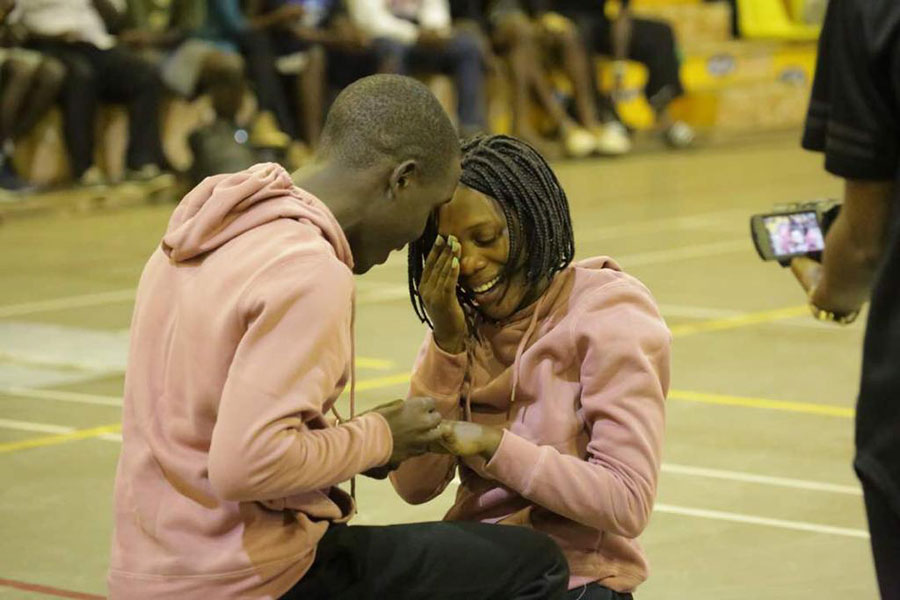 "Since I was the referee for the game, I saw that as the perfect atmosphere to surprise the love of my life," Ssenfuma reveals.
He adds that it was also his birthday and he wanted to make it special by taking a step towards formalising his relationship.
Amidst cheers, Kemigabo agreed and they wedded that very year with the traditional wedding taking place on September 29th, 2018 and the church ceremony on the 1st of December.
My Wedding Magazine caught up with Mr and Mrs Ssenfuma who shared details about their love story and the wedding preparations.
When and how did you meet?
Ssenfuma: We first met on December 28th, 2016 at my cousin brother's birthday party where I was the emcee. Kemigabo's sister was dating him and so she tagged her along.
We just stopped at a simple greeting without any serious conversation.
Kemigabo: It was the following year on August 27th when we accompanied his cousin brother and my sister as best man and maid of honor on their wedding day that we talked.
We started hanging out a lot after that until in December when we started dating.
What attracted you to each other?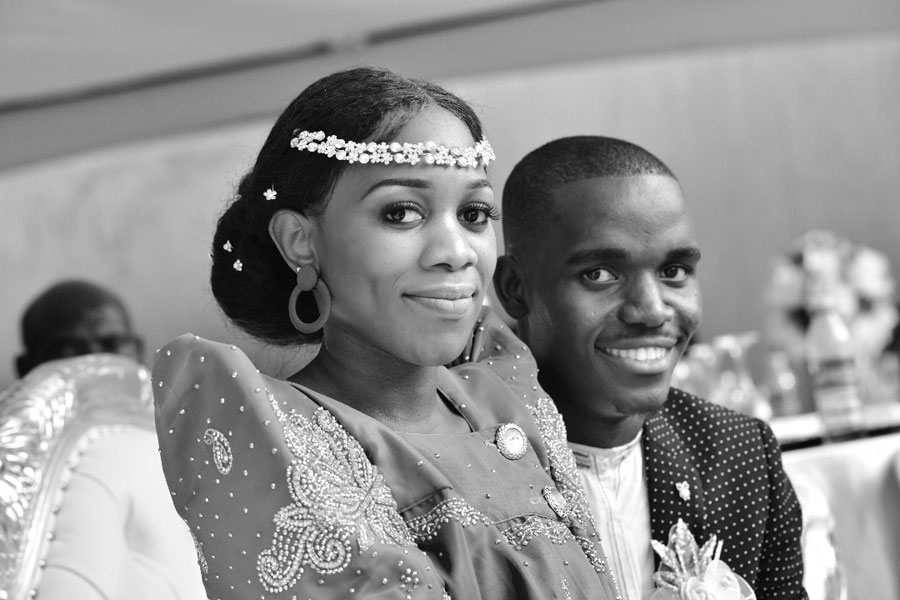 Ssenfuma: Since I am a serious and formal person, Kemigabo's personality made me feel comfortable to open up.
I also liked the fact that she challenges me and does not agree to everything I tell her.
Kemigabo: At first I didn't like him because he was bossy but with time, I realised he was an easy person to get along with.
I also loved the way he was kind and caring towards me and my family members.
For how long did you date and what made you decide to formalise the relationship?
Ssenfuma:  We dated for six months which was enough time for me to study her as the wife I desired.
How was the whole experience getting engaged in front of all those crowds?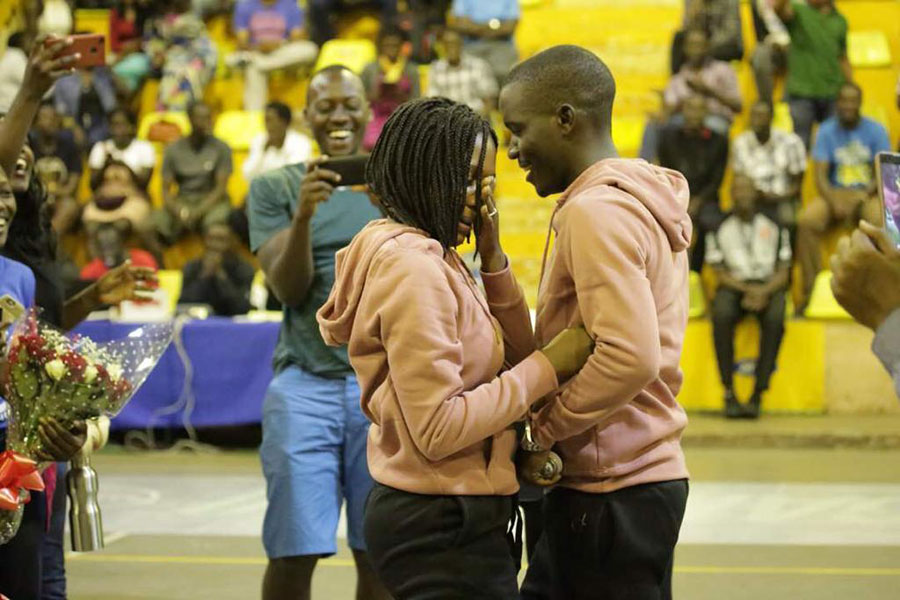 Kemigabo: It was a romantic and emotional moment. I cried while saying yes to the proposal. I was feeling sick on that day but my sisters insisted I tag along for the game in full knowledge of what was in store for me.
At the middle of the game that's when I heard my boyfriend calling me on a microphone to the center of the stadium. The next thing he was on one knee with a ring.
What happened next?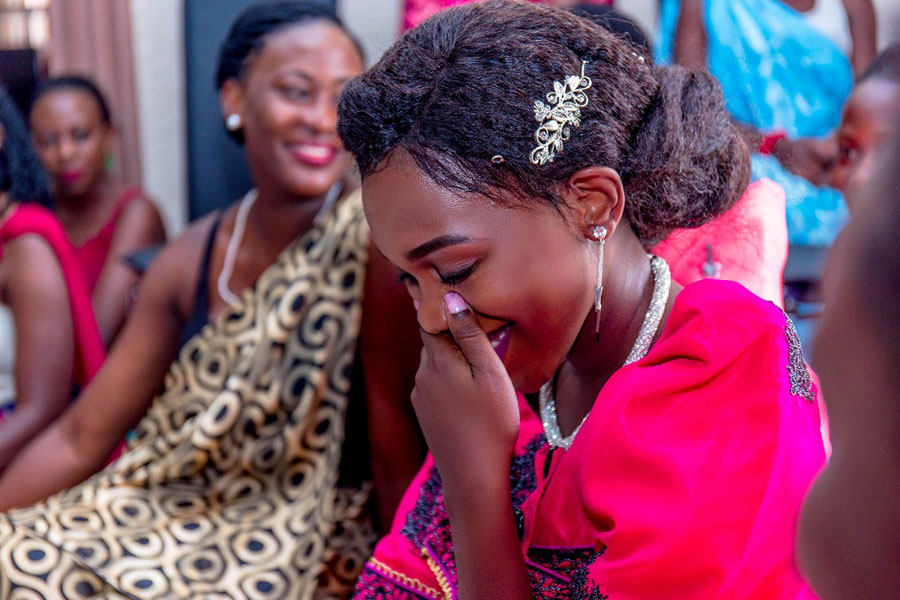 Ssenfuma: Wedding preparations in high gear with a Kukyala taking place on July 15th, 2018 at her aunt's home in Muyonyo.
I was escorted by 12 people where we carried many gifts like gomesis, kanzus, and sacks of rice, sugar, salt plus other groceries. My wife's aunt was very pleased that she suggested we treat the Kukyala as the Introduction ceremony and just proceed to the church ceremony.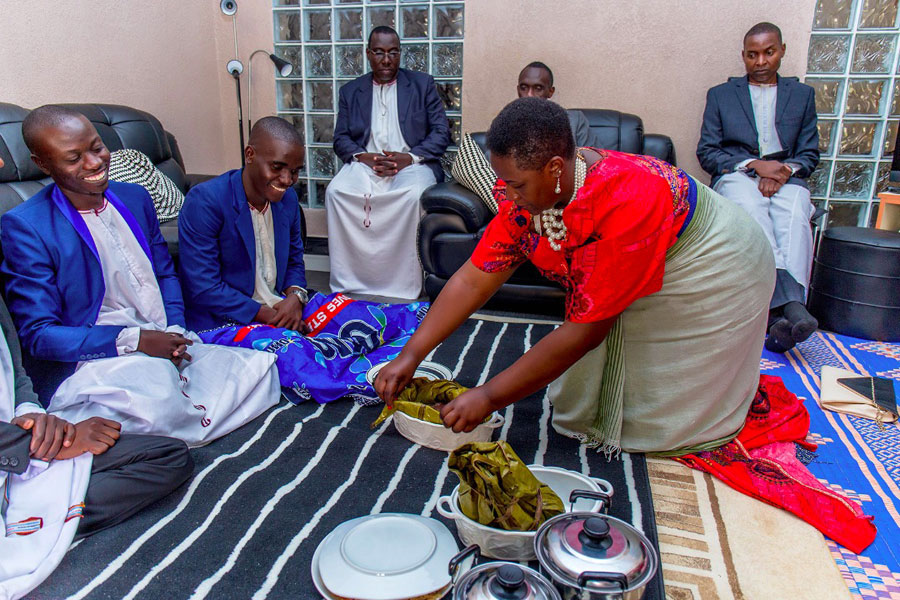 We declined because my wife would be upset if she did not experience the beauty of having a traditional ceremony.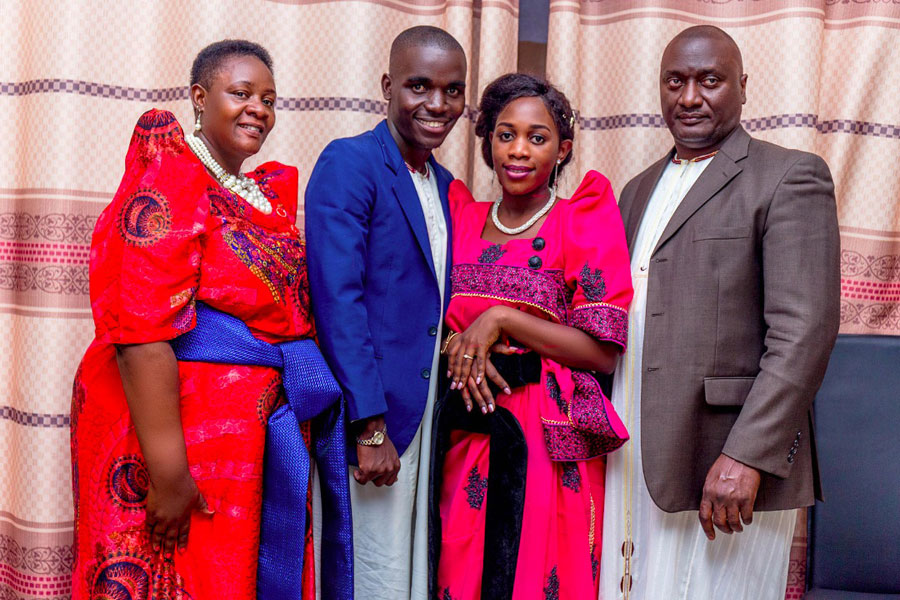 Kemigabo: My family was not so demanding that's why they gave him the liberty to bring whatever he could afford as the bride price.
Tell us more about the traditional wedding ceremony?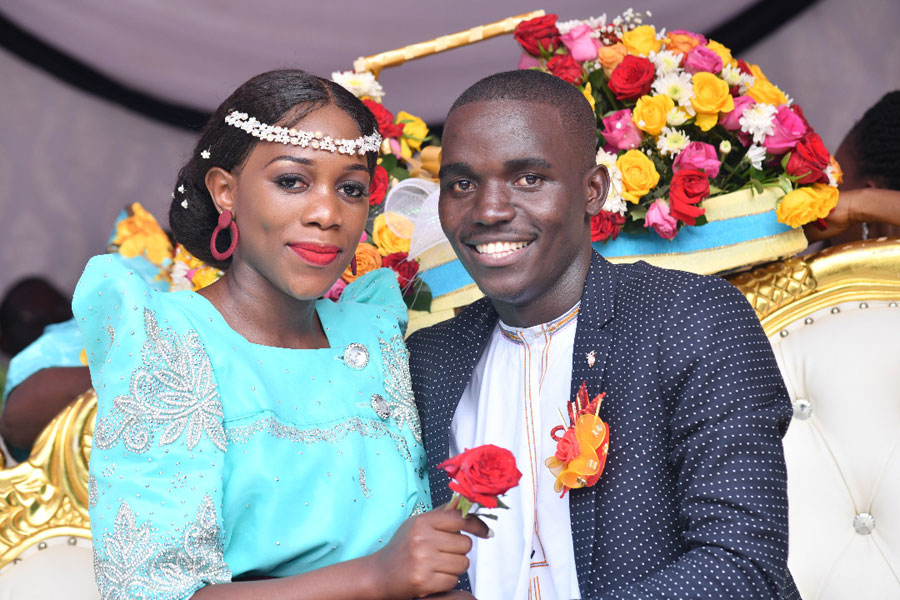 Ssenfuma: The Introduction ceremony took place at her parent' home in Kisasi, Kampala.
The family requested I carry an entourage of 60 people but 65 came instead which luckily they could accommodate.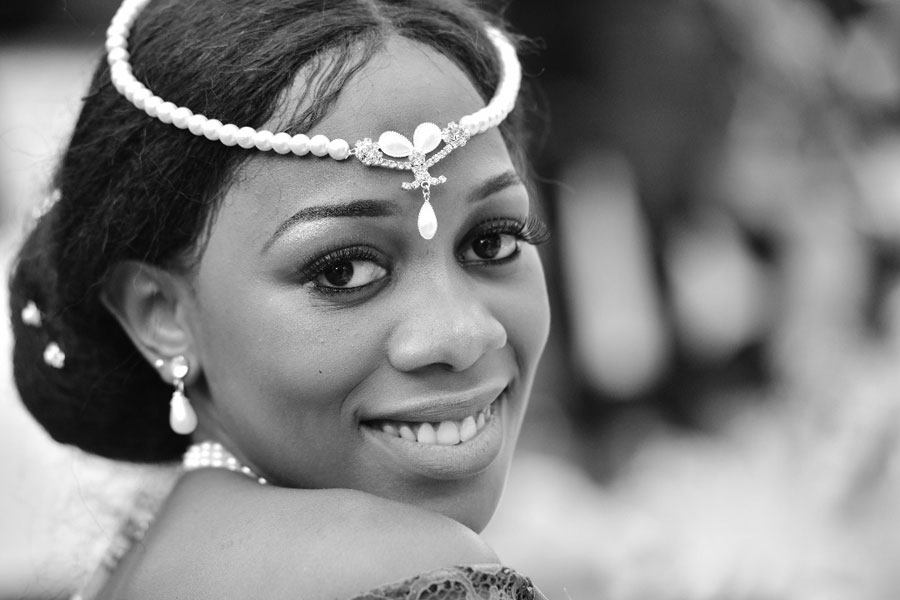 For the mutwalo (bride price), her family asked for a bible since they are staunch Christians.  I added whatever I thought was necessary especially by the Buganda culture since they had given me the liberty to.
All that went for a budget of Shs15 m.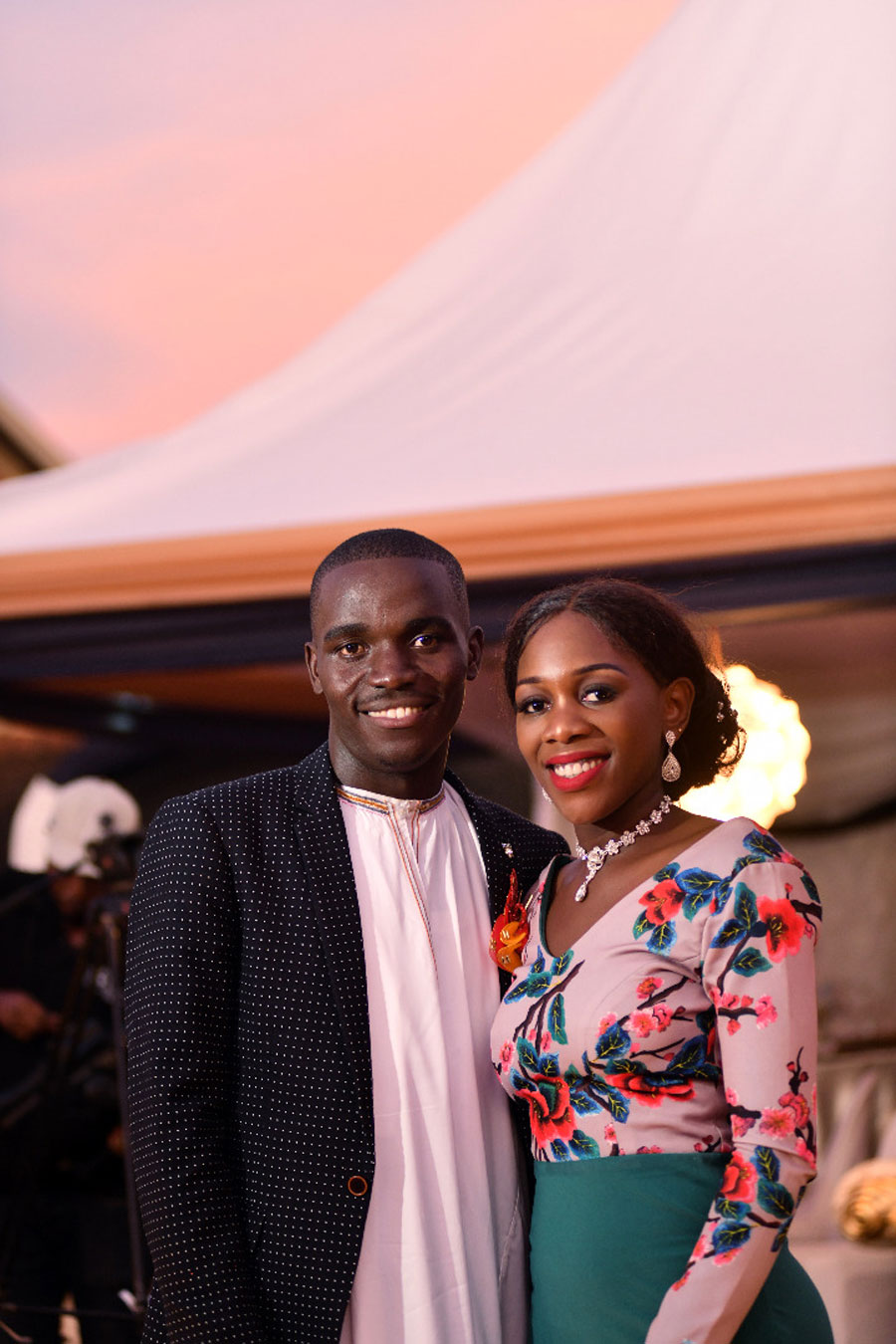 Where was the church and reception venue ?
Ssenfuma: The church ceremony was at Kampala Baptist Church in Nakulabye. The reception was at a place called Buganda Buladde off Bobi Wine road, Kampala.
How many people did you invite and what was the budget?
 Ssenfuma:  We invited 400 guests with a budget of Shs27 m.
How did you raise the funds?
Ssenfuma: My grandmother who stays in Boston, USA came back into the country and hosted the fundraising meetings at her home in Mperere, Kampala. My wife's friends also held separate meetings at Terrace Gardens.
I raised more funds online from friends living abroad. I would just inform the person about my wedding plans and they immediately offered to send funds.
What were you doing on the wedding eve?
Ssenfuma: I went out to do shopping for the honeymoon while making phone calls to ensure everything was running smoothly.  My cousin and best man were around to keep me company.
Kemigabo: I checked in at Grand Global Hotel with my matron and bridesmaids to relax. The hotel is near our church.
What was the most expensive item on your budget?
Ssenfuma: It was the decoration which cost Shs9 m and the most disappointing part of the ceremony because the decorator did the opposite of what we had agreed on.
How much did your suit cost?
Ssenfuma: My suit was customised at Shs500, 000 by a tailor called Zaitun.
What was your choice of gown and at what price?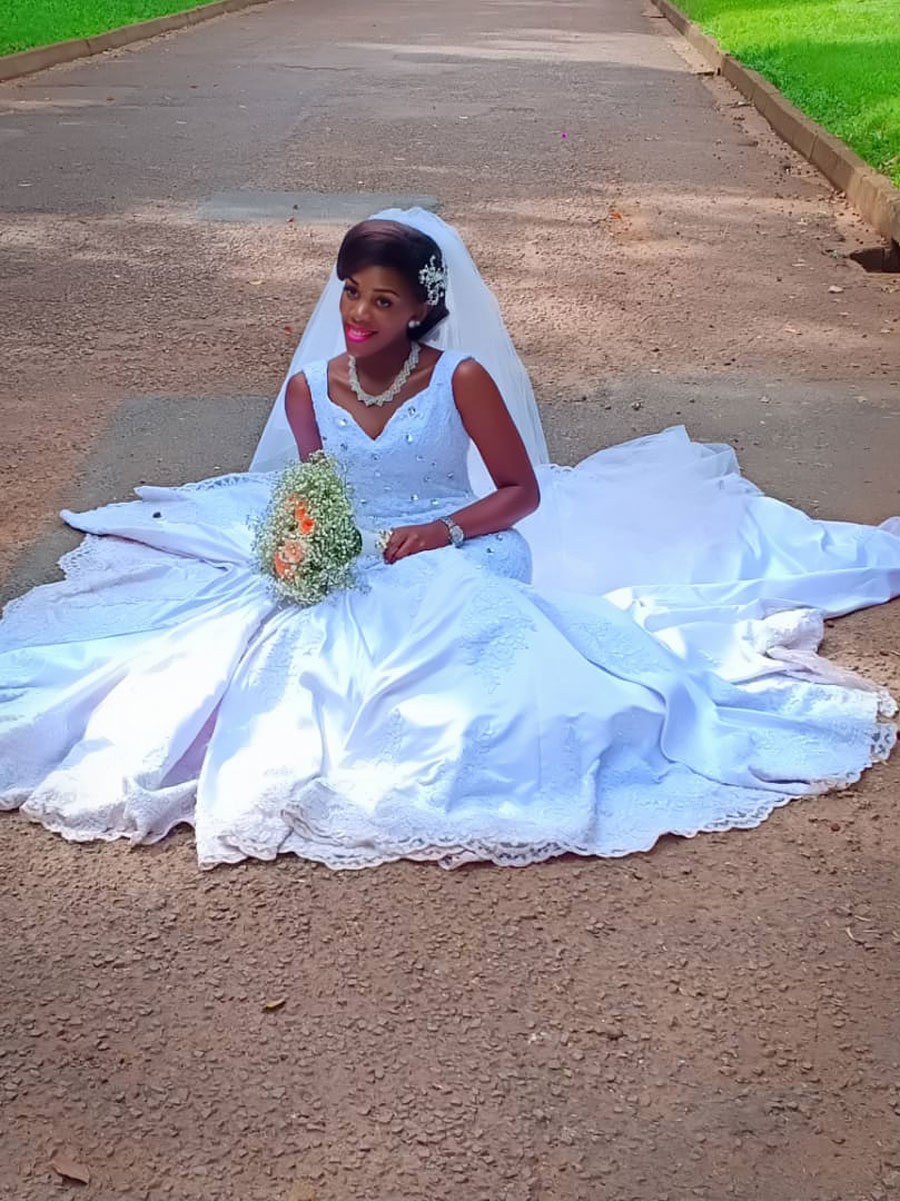 Kemigabo: I went for a customised gown by the same designer at Shs4 m. She also designed my changing dress at Shs350, 000.
Who did you hair and Make-up?
Kemigabo: It was a lady called Pauline Wilson who styled our hair and applied make-up for the entire entourage at Shs 900,000.
I booked for her a room in the same hotel so that she can easily carry out her duties the next day.
How many tiers did you have for your wedding cake?
Both: The cake was four tiered at shs2 m.
What type of rings did you wear?
Both: We settled for silver rings at Shs 700,000.
What type of cars transported you to the ceremony?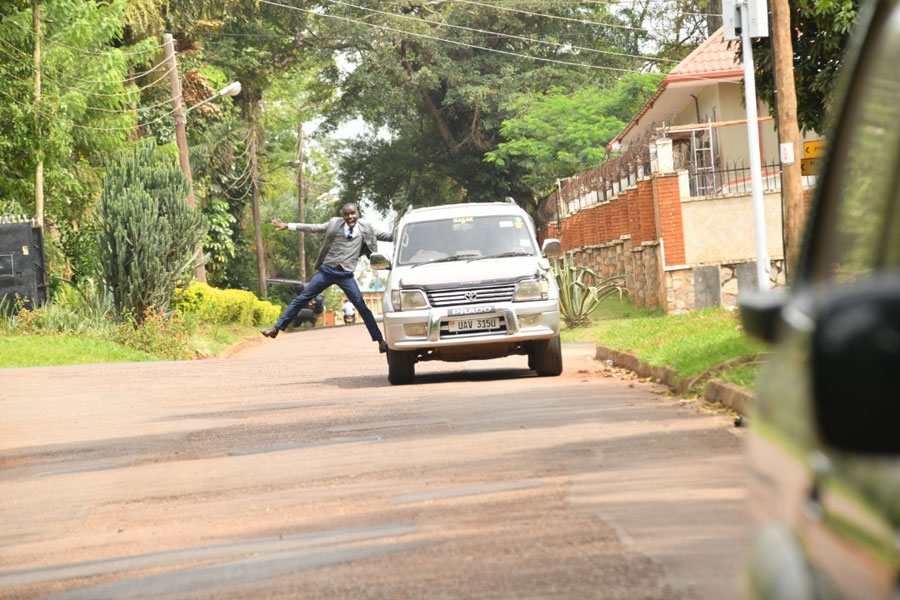 Both: We hired just two prados because we were a small entourage.
Did you go for honeymoon?
Both: Yes, we spent our honeymoon at Diani, the east coast of Mombasa Kenya for two days. We had a short honeymoon because we had other duties to attend to.
What challenges did you face while preparing for the ceremony?
Both: We had conflict of interests where we wanted an outdoor wedding without tents but our parents objected to the idea.  We still went on with our plans anyway because it was our wedding.
What were your fears about the wedding ceremony?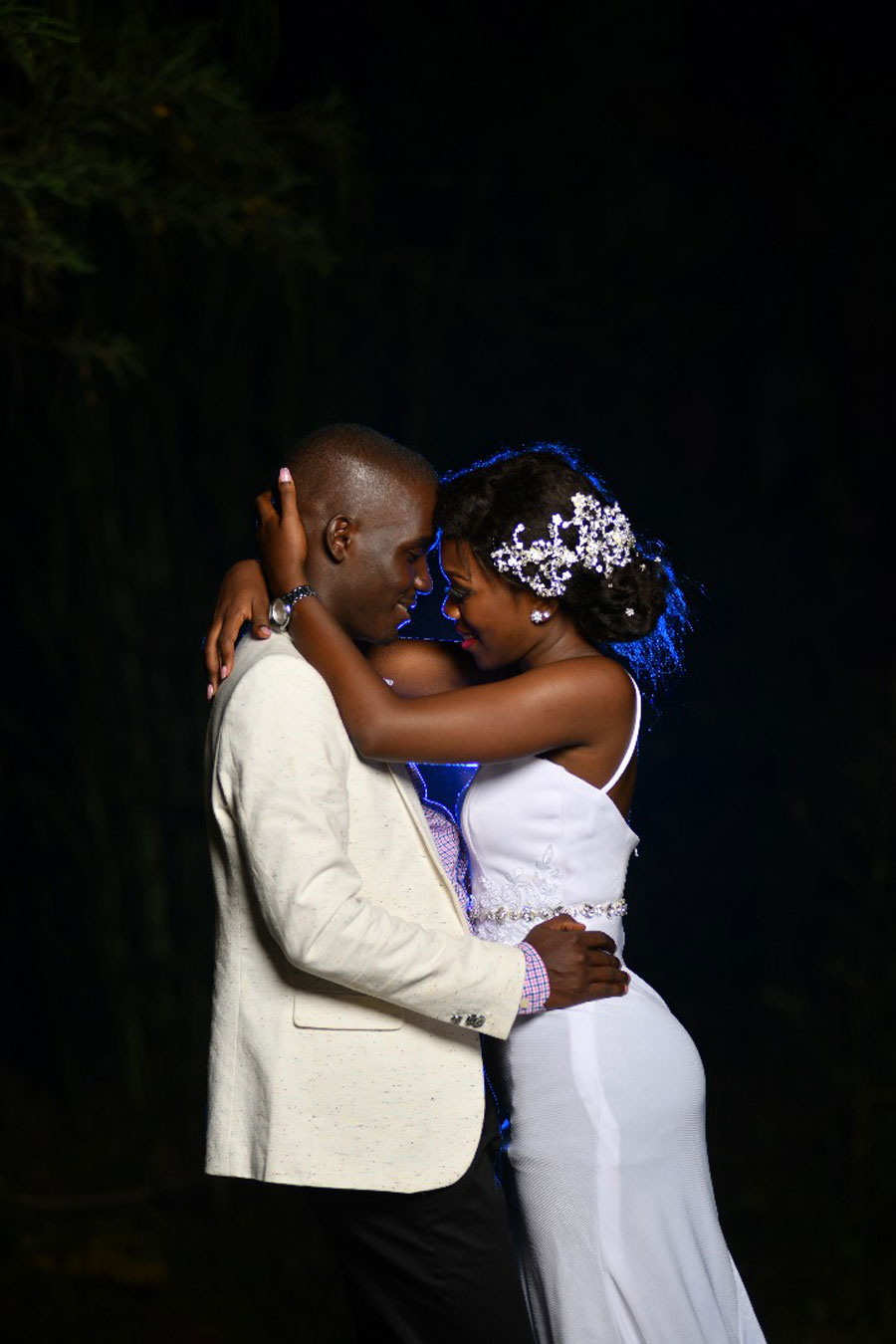 Ssenfuma: Since I have coordinated many weddings I still had that fear of things not turning out as planned.
Kemigabo: I feared that the décor may not turn out right and it did.
What did you learn during premarital counseling?
Ssenfuma: We had two sets of premarital counseling; one was a course called Alpha Course for marriage by Worship Harvest Church that is designed for couples in their ministry.
We heard it was very good that's why we went for it.
Then we had to have another from our church since that's where we were going to get married.
What advice do you give to those intending to get married?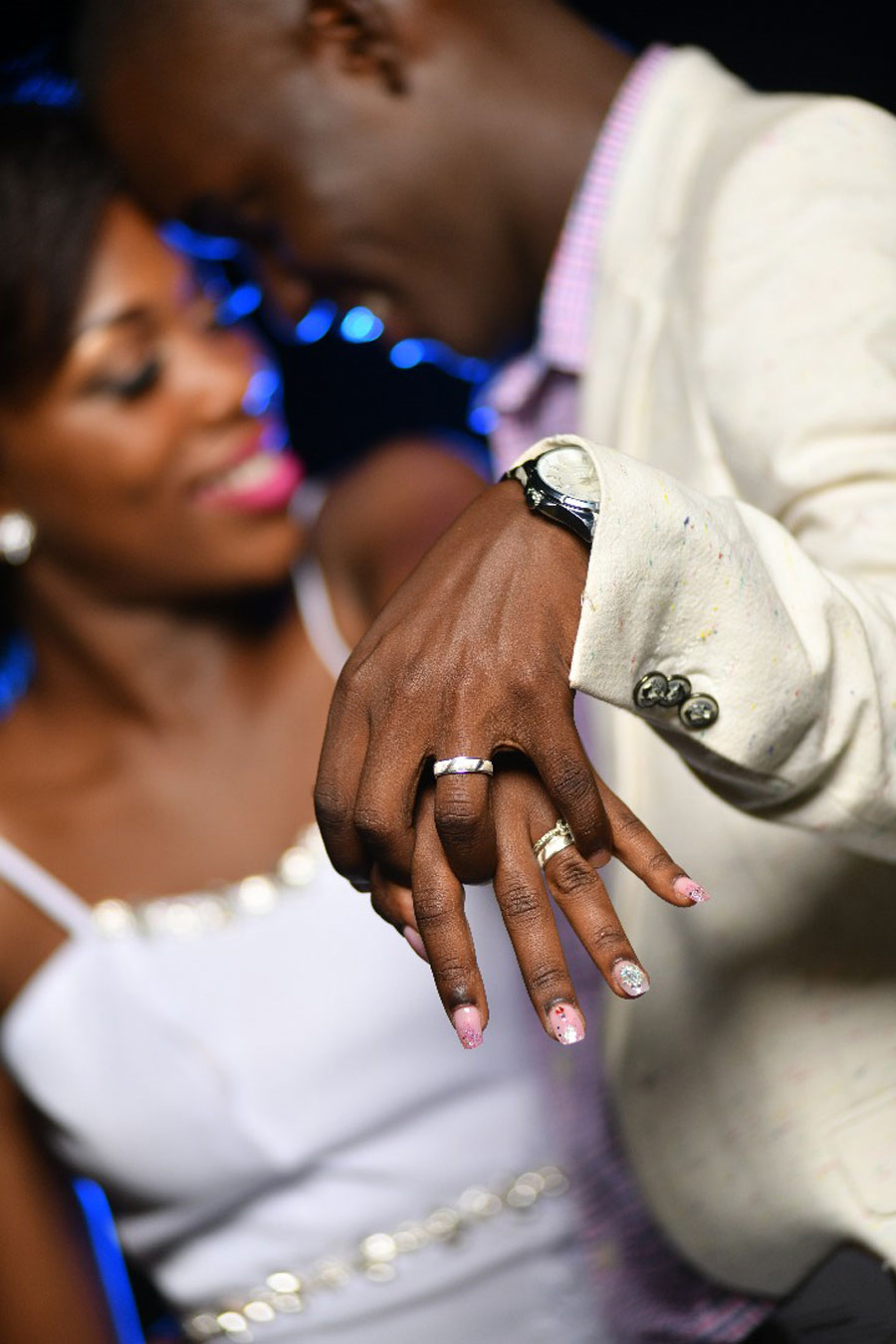 Ssenfuma: Get as much counsel as you can about marriage so that you have guiding principles to strengthen the relationship. That's why we did two sets of premarital counseling.
Kemigabo: Then once you have gathered all the necessary information, choose to have a marriage that is based on your own principles. Avoid listening to stereotypes about marriages and find out what unique thing works out for the both of you.