By Maria Immaculate Owechi
Black is a colour that communicates strength and boldness. In recent times, many put on this colour to parties or simply to be casual smart. At the same time, the movies have depicted this colour for sadness in movies.  Notwithstanding these but this is no longer the case because today some brides have considered it as their colour of choice for their gomesis.
In 2016 and 2018 respectively, Fyona Kirabo, a celebrity make-up artist and Fiona Nabitengero aka Fifi Da Queen, a Bukedde TV presenter were praised by fashionistas for looking elegant in black gomesis for their Introduction ceremonies.
This changed the mindset that brides should only opt for bright gomesis to stand out.
For one whose favourite colour is black, here are some ideas on how to look stunning while in a gomesi outfit;
Consider selecting an elegant fabric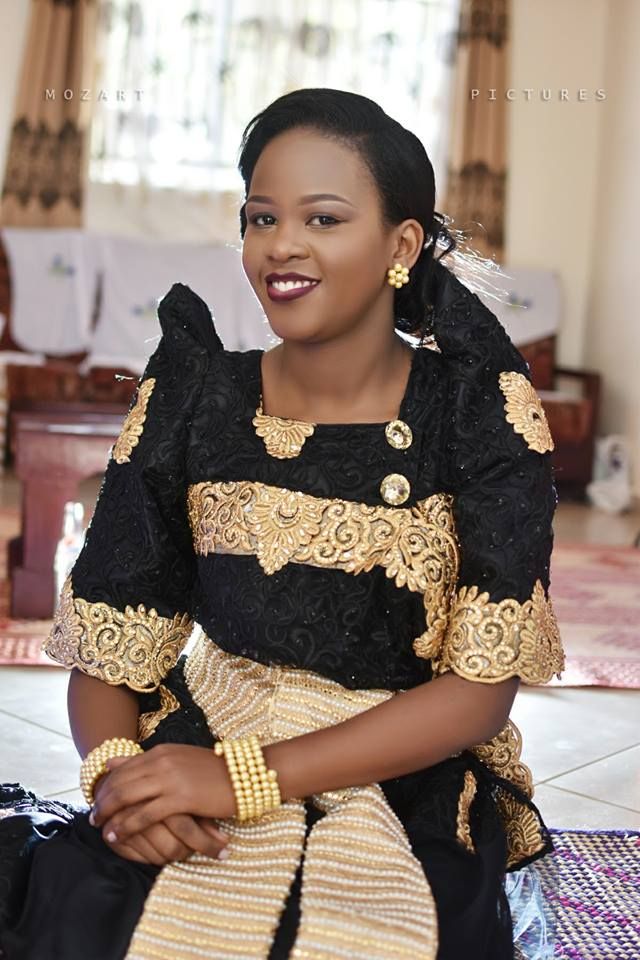 Gloria Nakalema of Classy Bridals on Kampala road suggests selecting black a gomesi with elegant fabrics like detailed lace, silk and sequins.
She says this is because they easily make a lady look classy easier than cotton fabric.
Nakalema adds that in case the bride wants a plain black gomesi, she usually suggests sequins because the glitter itself is enough to make her stand out.
Select a black gomesi with detailed designs
Another way is by selecting a black gomesi with detailed designs like embellishments, embroidery or beaded work to kill the plainness.
These designs are usually well decorated on certain parts of the outfit like the neckline, shoulders, waistline, background and hemline.
Blend black with other colours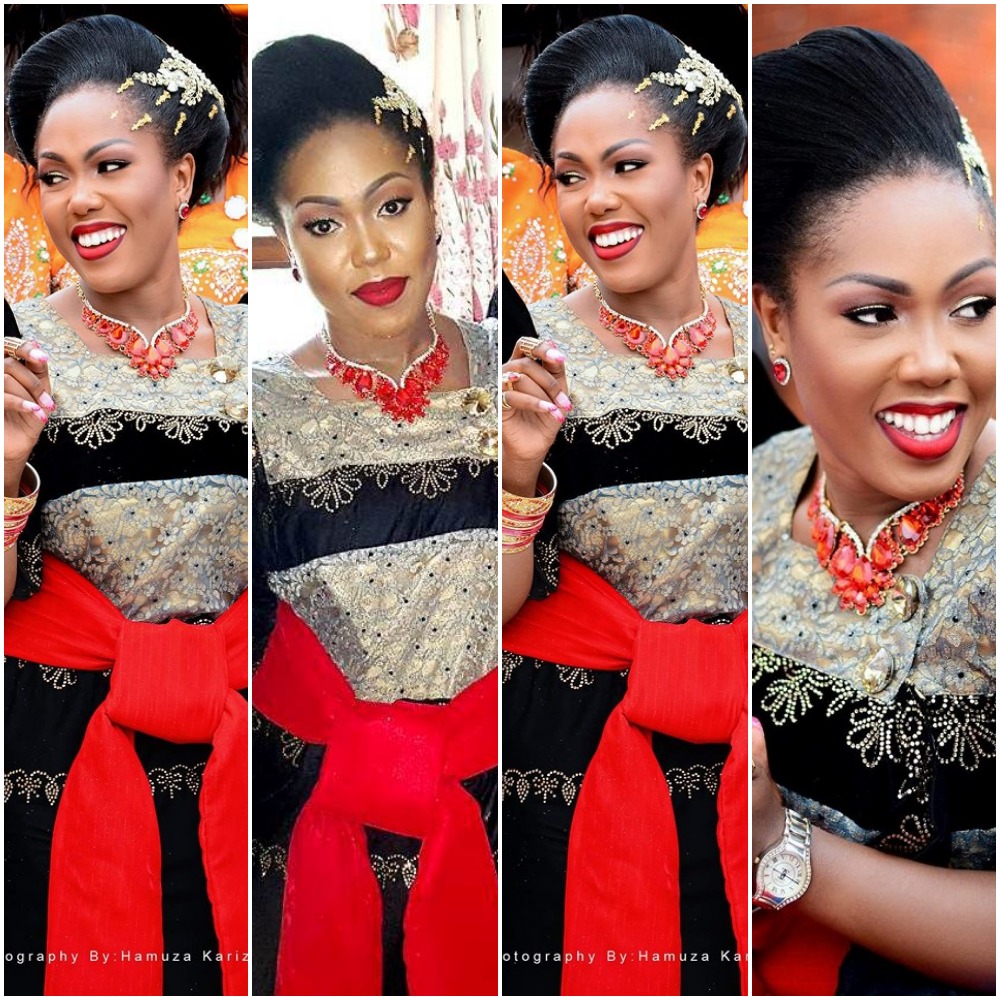 Black is a universal color that can be blended with any bright color to add vibrancy to the outfit.
Kirabo on her wedding day tied a red sash to her black gomesi which added a pop of color to the outfit.
Nakalema says that most gomesis they sell in plain black are sometimes mixed with gold or silver fabrics or designs to make it more elegant.
Choose a black gomesi with patterns
Black outfits blended with patterns help in creating a busy look.
These pattern designs can be in floral, polka dots, or maxi designs of any color to a black background.
Madinah Katushabe who also works with Classy Bridals says patterns are alternatives for brides who may not want a glittered outfit but some simple designs to complement the black background.
Accessorise with statement pieces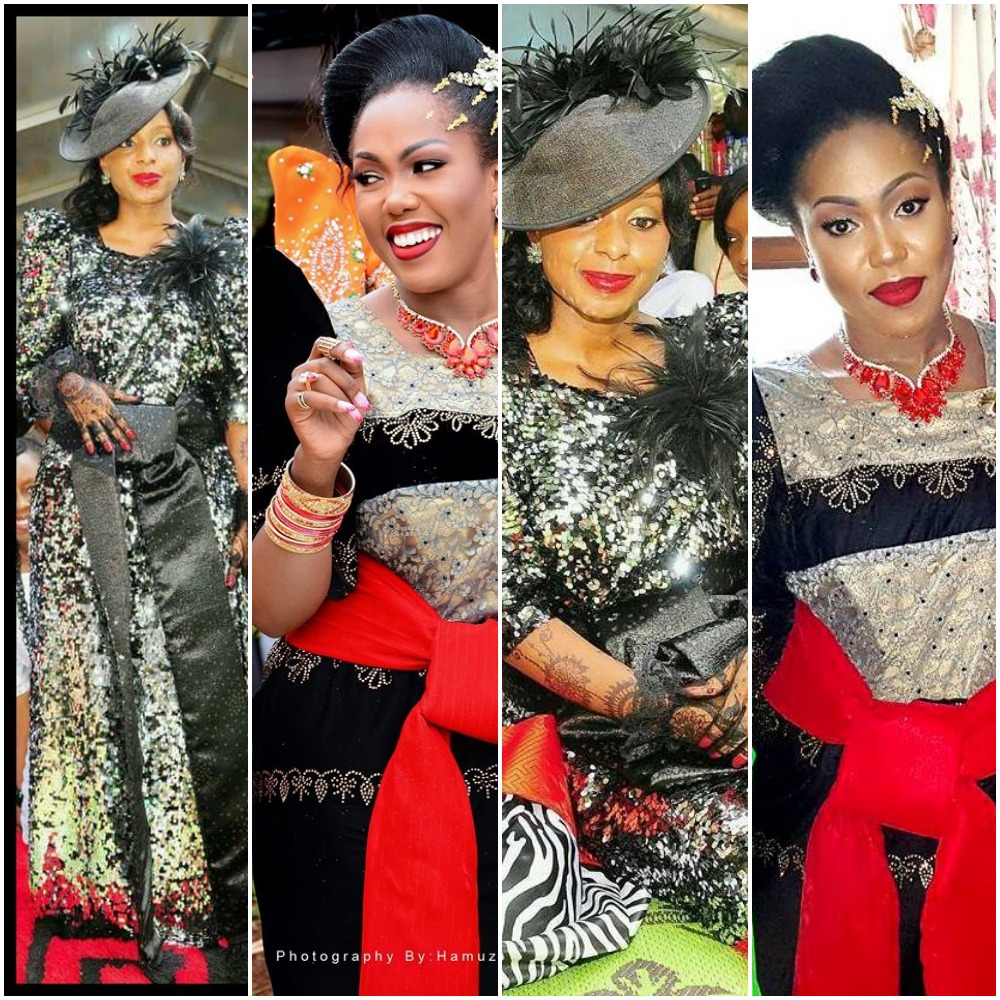 According to Katushabe, since black is already a plain color, she discourages a bride from settling for simple minimal accessories.
She says statement pieces like chunky necklaces, earrings and bangles are needed for the outfit to stand out.
Katushabe adds that it can be bling jewelry or opting for brightly colored accessories to lighten up the cloth.
Nakalema adds that accessorising the hairstyle with either a sparkly hair clip or a brightly coloured fascinator can also be considered because they equally complement the dress.
Complementing the outfit with killer shoes
Wearing a black gomesi also gives one variety of choices with which shoes to pair up with.
This can be a metallic shoe, printed or brightly coloured.
Katushabe rather discourages from settling for black or neutral colours because they won't do much in adding that spark to the dark outfit.
She adds that at least a bride should endeavor to ensure the shoe is the same color as the clutch bag for a well-organised look.
 A colorful lipstick for a pop of colour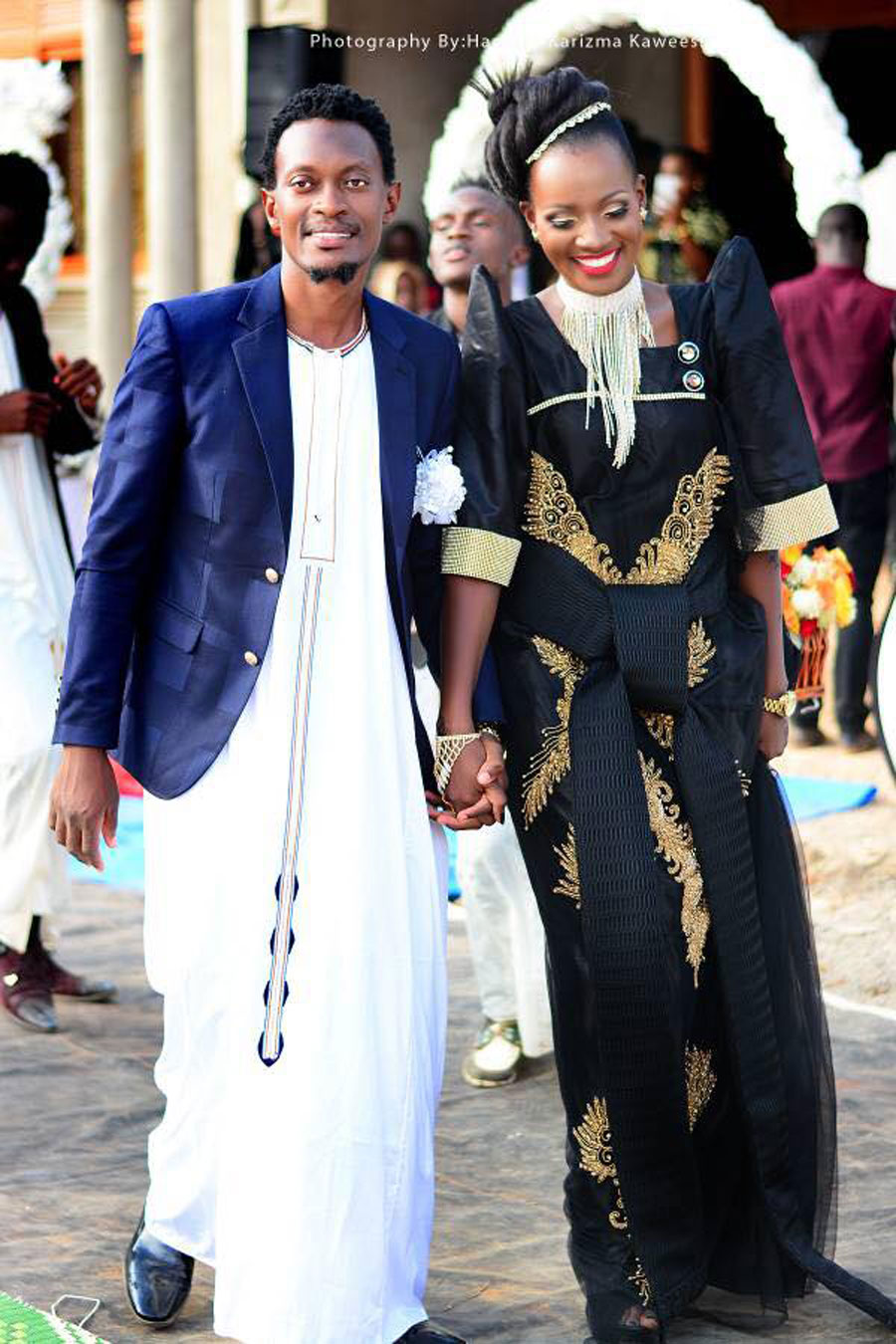 Mary Kayondo, of Mary K Make-Up, advises the bride to apply bright lipsticks like red, pink and maroon so that she does not appear so plain with just a colourless lip gloss.
She says bright lipsticks in most cases pop out well for a person wearing a colour like black.
When it comes to your big day, black can work as long as some spice is added to it make it out of the ordinary.