By Maria Immaculate Owechi
Uganda is a spiritual country consisting of people from different religious factions.
During a 2015 study by the Pew Research Center, a US think tank, that surveyed people in 44 countries, including Uganda, those interviewed were asked how important religion was in their day-to-day lives — they were to check four boxes: very important, somewhat important, not too important or not important at all.
86 percent of Ugandans checked the first box, none ticked the last.
Our bride and groom are part of the percentage of believers with a story of God intervening to bring two people together.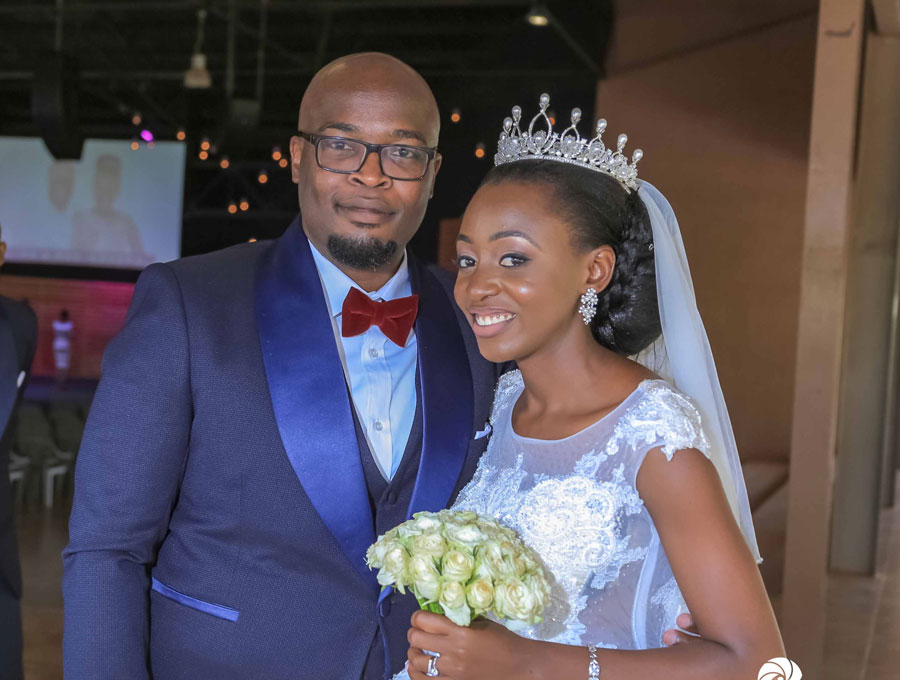 The two later hosted their guests at Ndere Cultural Centre on Kisaasi road as they danced the night away.
The couple met in September 2017 when Mugagga helped Mugimba join a home fellowship in their residential area, Kiwatule.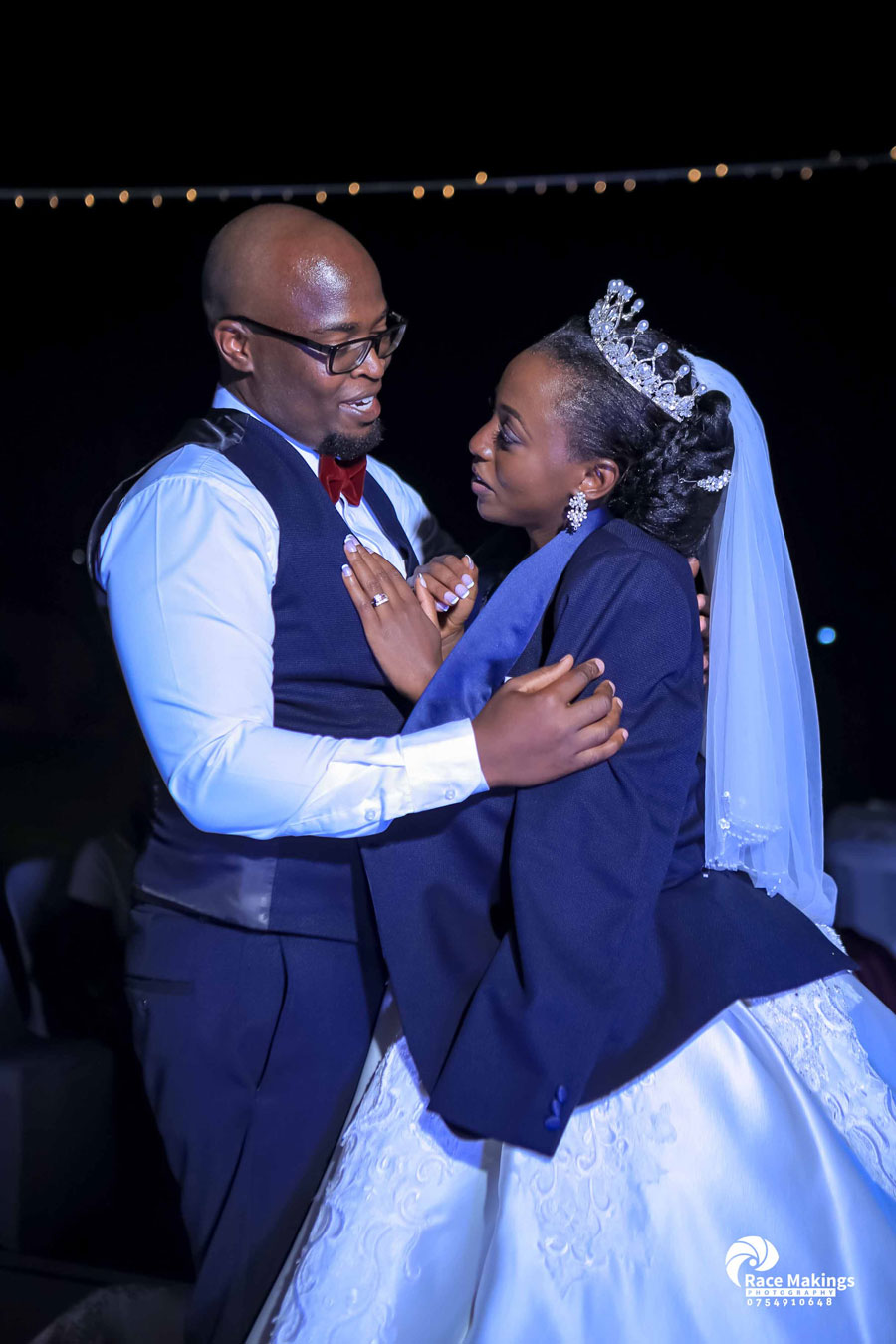 Mugimba narrates that it was a Wednesday when she went to Watoto Church, Ntinda requesting to be connected to a cell near her.
"I was connected to the section leader who forwarded my phone contact to Mugagga since he wasn't around," she narrates.
Mugimba had been having dreams about a certain man, with beards and she was in for the shock of her life when she met Mugagga.
"I was surprised he was the same man I had been having dreams about proposing marriage to me," the lawyer reveals.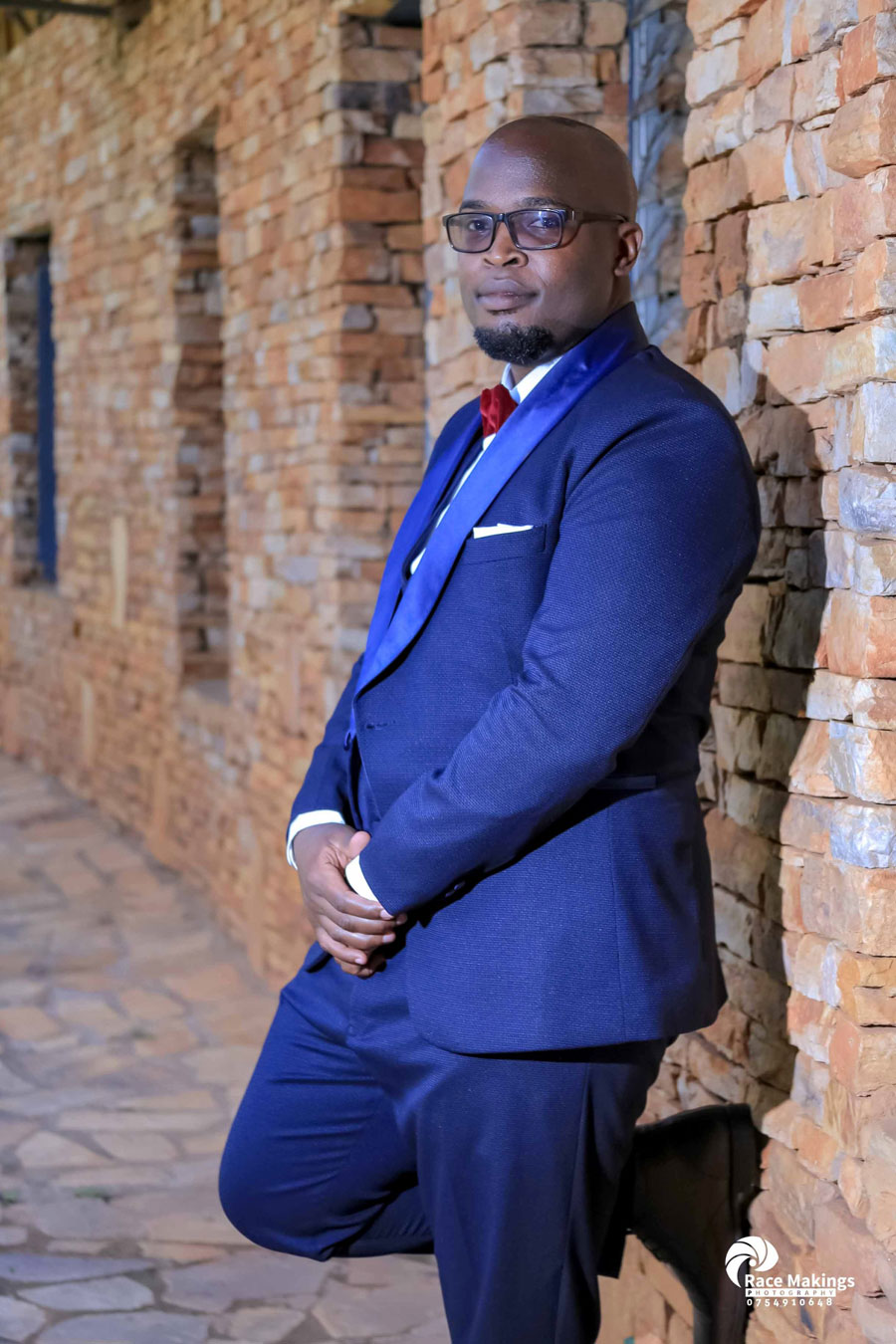 Mugimba says after they met, she started having dreams about their wedding day.
It seems like she was not the only one getting communication from God. Mugagga also says when he first called her, he heard a voice telling him that she was the person he was supposed to marry.
"I was in denial but even when I first set my eyes on her, I heard the same voice telling me she is my wife," he reveals.
The groom says for the next two weeks, he became convinced it wasn't his mind playing tricks.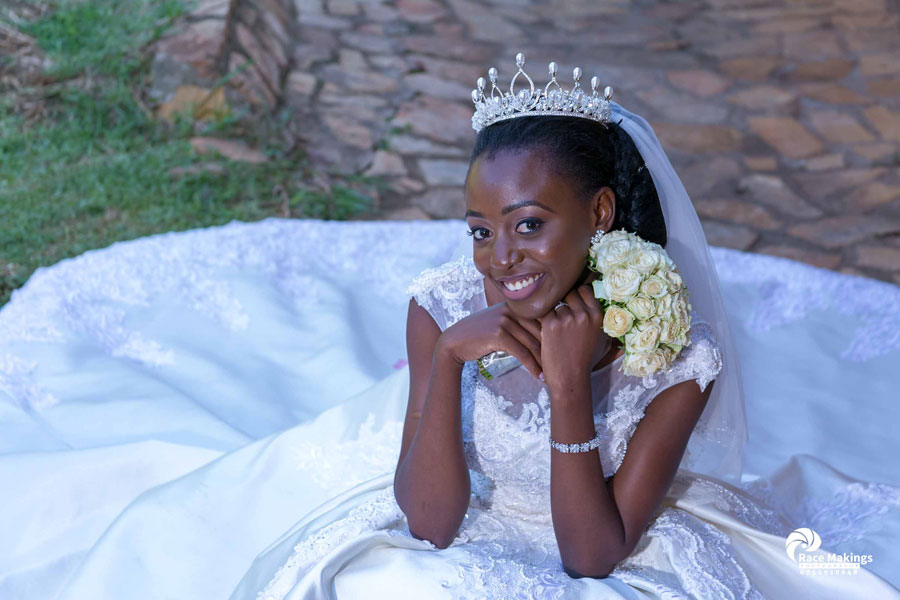 He was astonished about how he could know the way their conversations will flow before they even met or what she was going to do even before being told.
"After those two weeks, one evening while escorting her back to her sister's place in Kiwatule, I asked her to date me," the Data Engineer confesses.
Mugima says she was still in denial and that is why she requested him to allow their friendship to blossom first. Eventually, she accepted his proposal to date him.
Making it official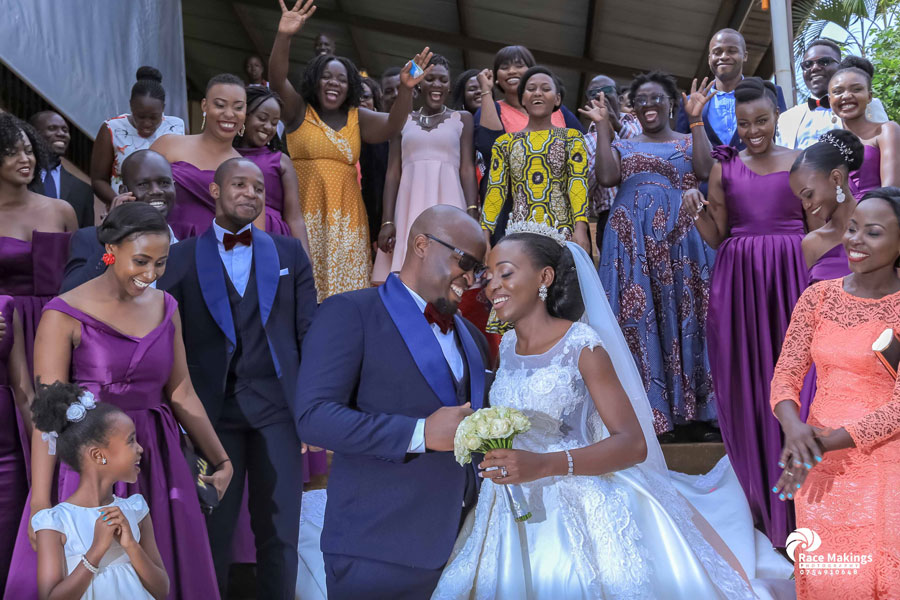 The couple set the wedding date in April, 2018 before Mugagga formally proposed in August that same year.
He says they first disagreed on the month because his girlfriend wanted the wedding in December, 2019 while he preferred May, her birth month.
Mugagga managed to convince her to settle for May since December was a busy month.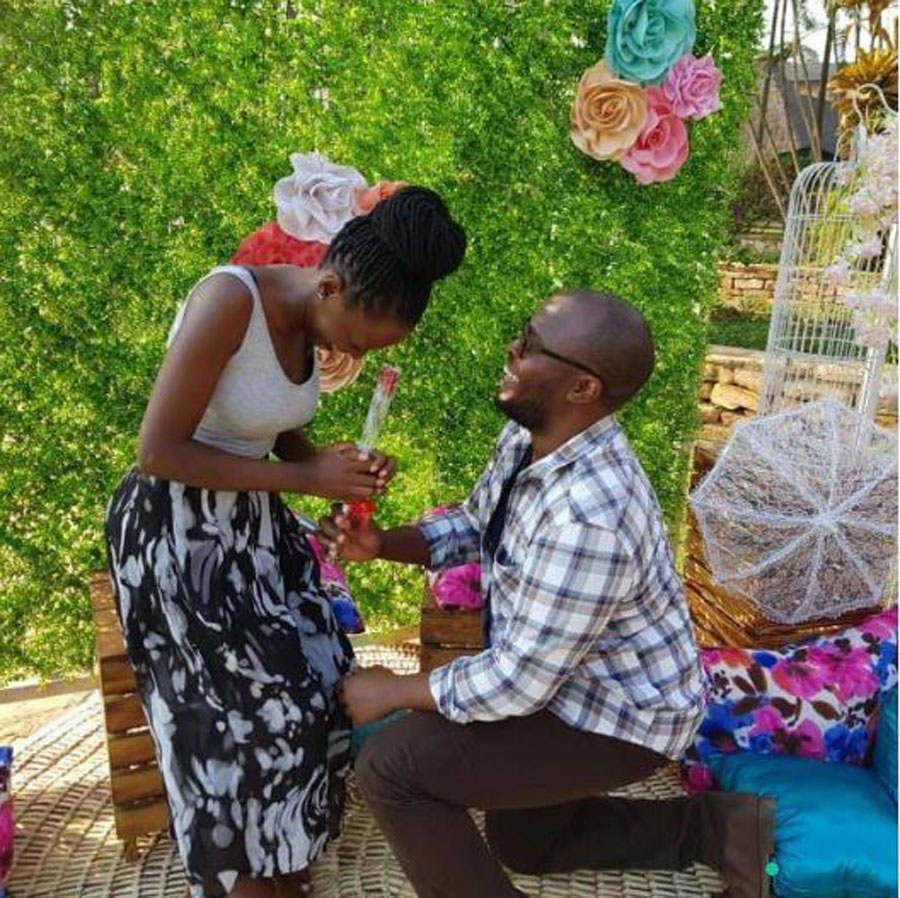 In August 2018, when the two had gone to check out their preferred wedding venue, One Love Beach, Busaabala, Mugagga surprised his love with a ring.
Mugimba excitedly demonstrates how she gave him a few excited slaps while screaming yes to the proposal.
Unfortunately, they later dropped the venue due to fear of the political commotion in the place.
They share the rest of their story.
Tell us about the Kukyala ceremony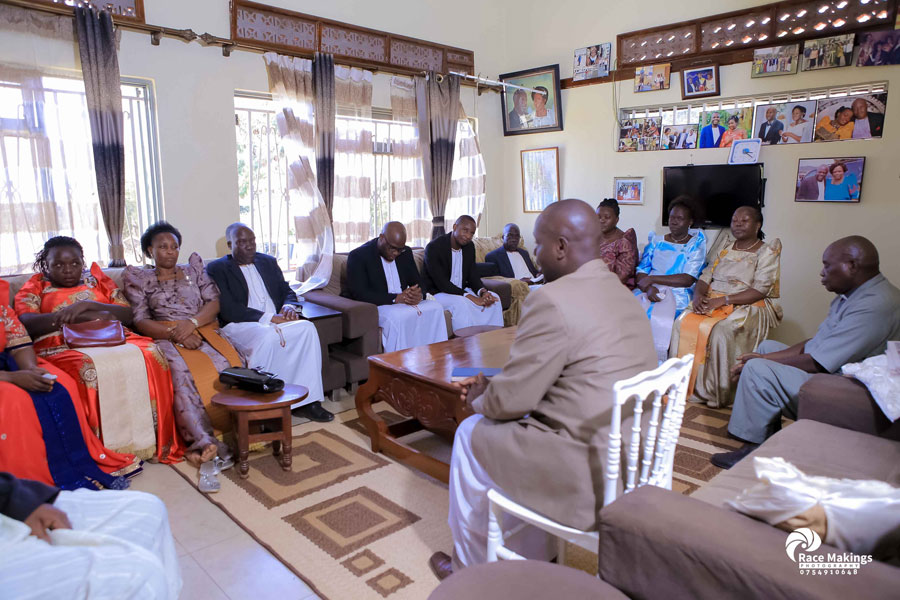 Mugimba: We had two Kukyalas, one in January this year, where he visited my aunt's place in Ntinda in the company of his aunt and a cousin.
The second Kukyala took place on 24th February with his family members visiting my parent's home in Jinja.
Mugagga:  I was escorted by 13 people who included my father, his friend, the best man, three aunties, some uncles and cousins.
The two families got to know each other and the wedding date was fixed.
Your wedding ceremony was really beautiful, how much did the entire event cost you?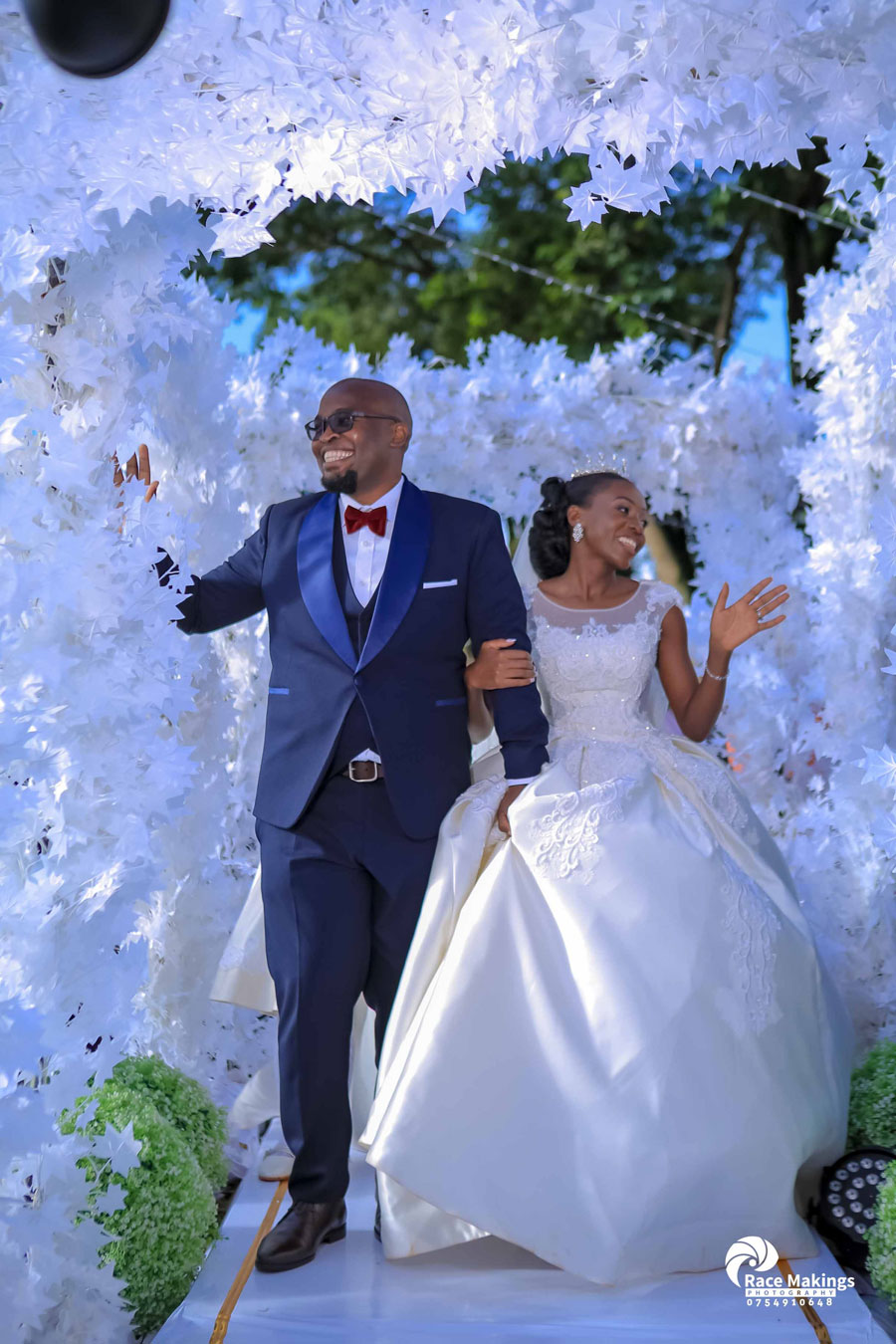 Mugagga: It was about Shs38 million.
How did you raise the funds?
Mugimba: A month before the wedding, we organised four joint wedding meetings with family, friends and workmates. We had few people attending the meetings but most of the generous contributions came from those who would just send mobile money.
Mugagga: We miraculously kept on receiving money even on our wedding day. We ended up having excess money to spend on our household needs after the ceremony.
 How many people did you invite?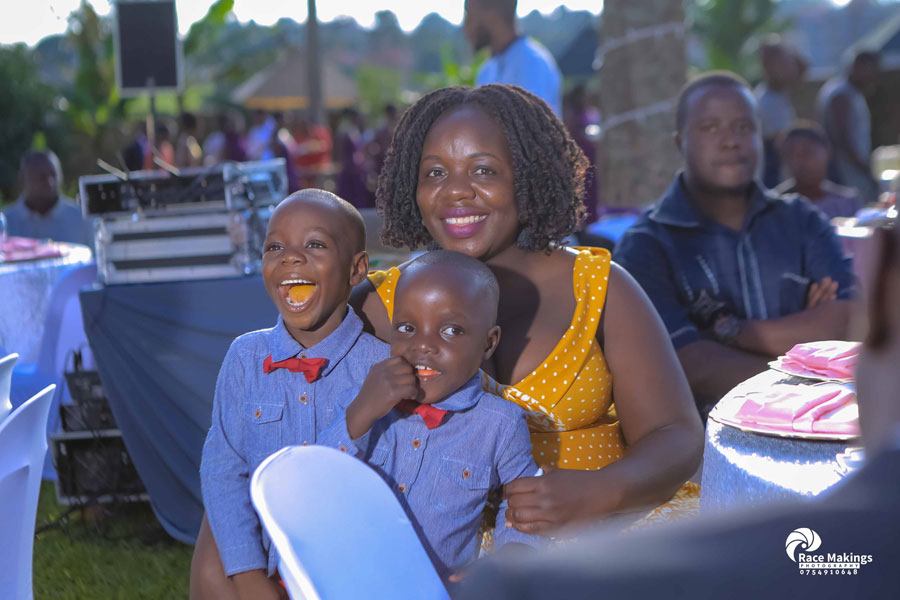 Mugagga: At first, we wanted to invite 500 people but realised it is a big number to accommodate so we reduced to 250.
What was the most expensive item on the budget?
Mugagga: It was food which cost us Shs5m.
What was your wedding eve like?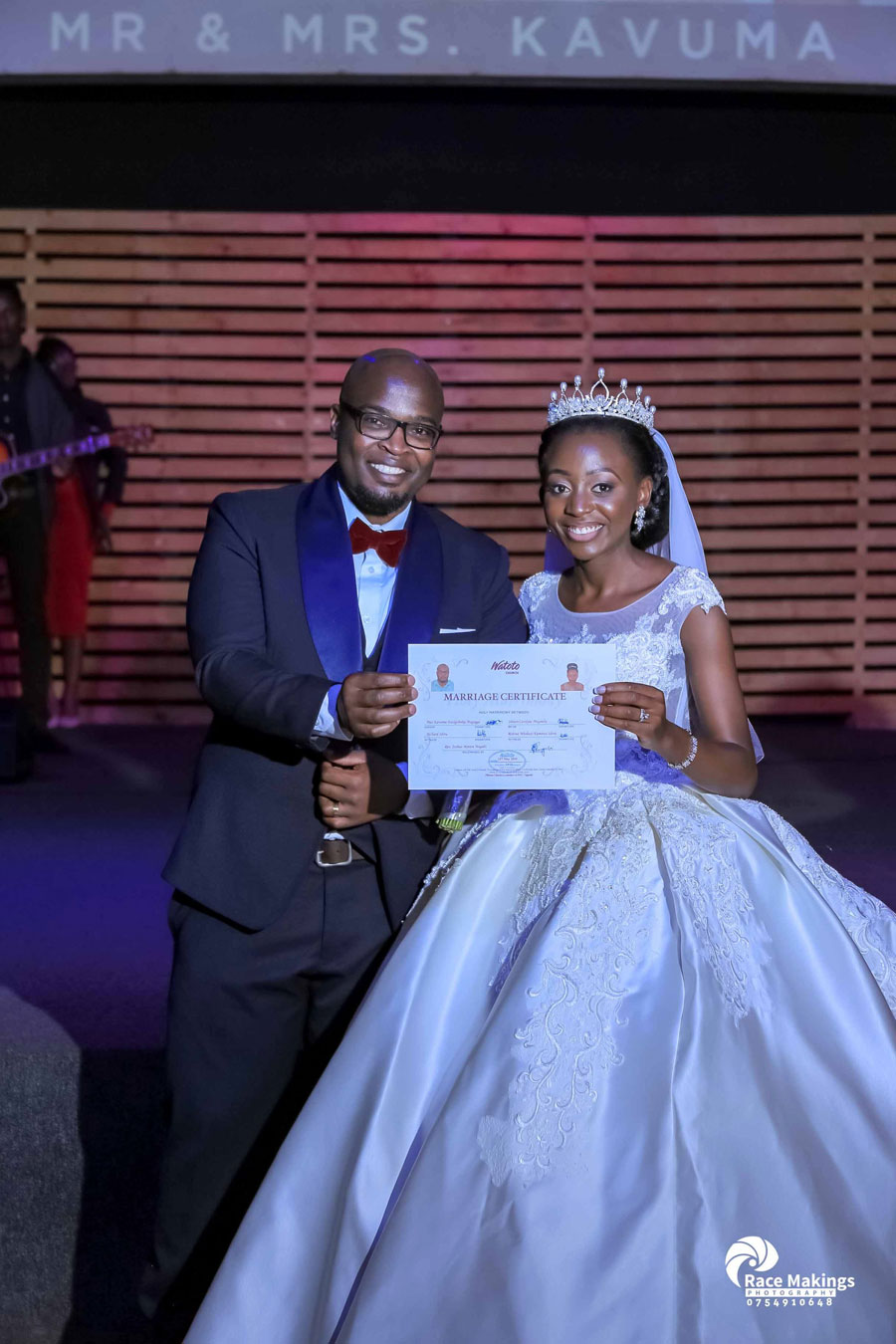 Mugagga: It was just about running up and down trying to ensure everything is set for the next day.
Mugimba: I picked up my gown, bouquet and spent the night at Ntinda View Apartments with my matron since it was accessible to the wedding venues.
 Which people did you have on your entourage?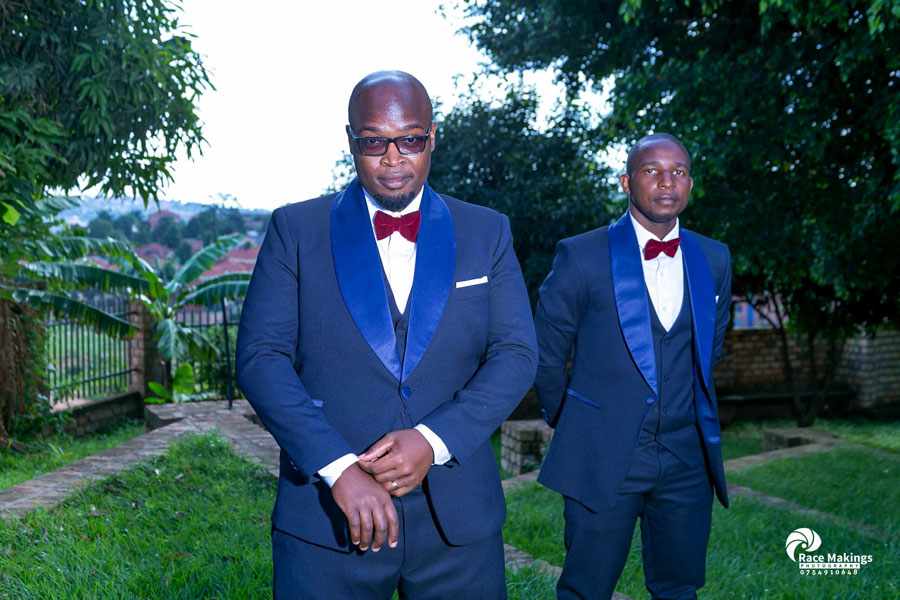 Mugagga: I had two best men; the one who walked besides was my good friend Solomon Nsumba while Mr Richard Idoru signed as the witness since he is married.
I saw it unnecessary to have a peg boy and groomsmen.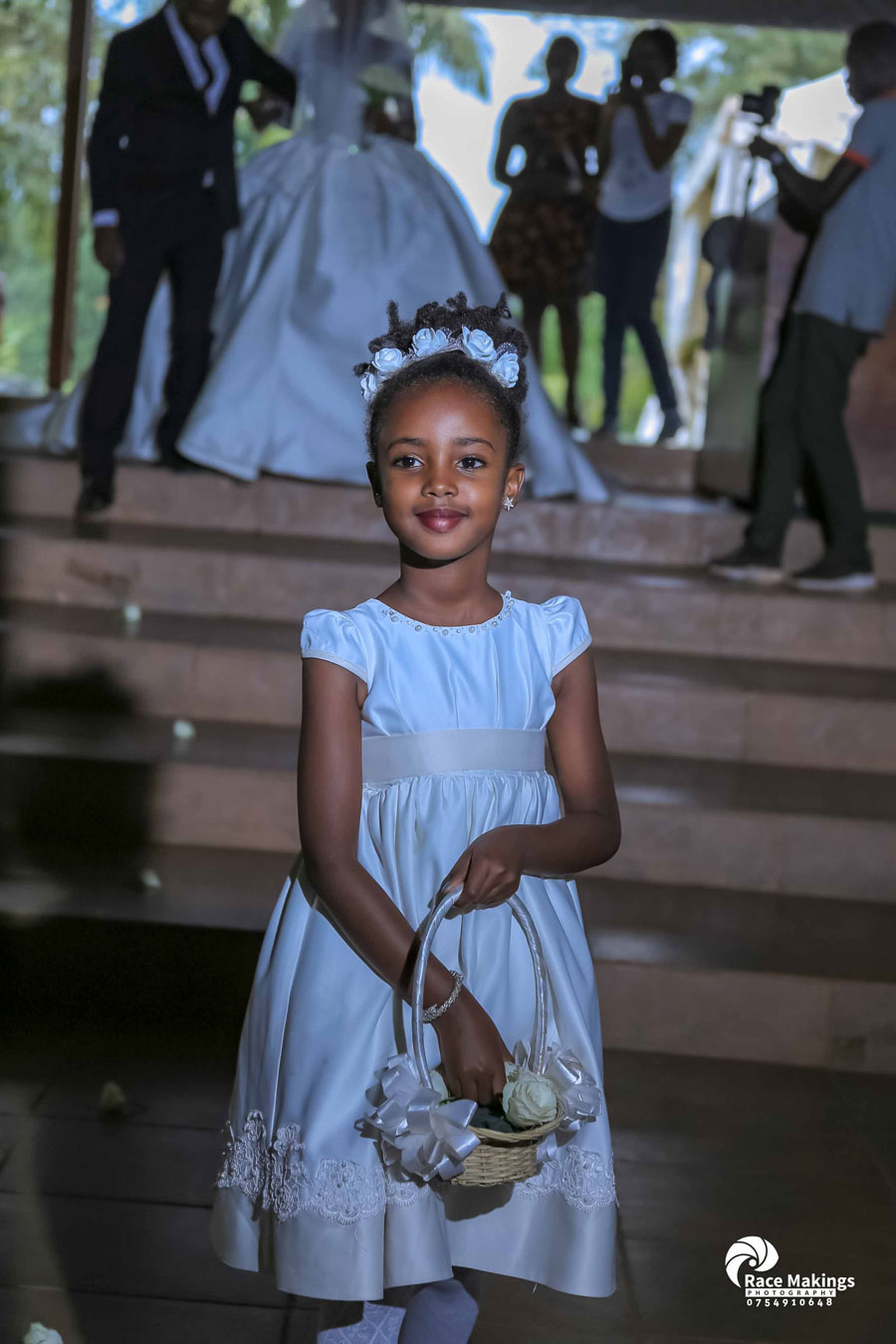 Mugimba: I also had two matrons. Robinah Idoru, the wife to the best man who signed as my witness and my best friend Zuwa Moonlight who walked beside me. My niece was the flower girl with 13 bridesmaids since I had lots of friends who wanted to be a part of the function.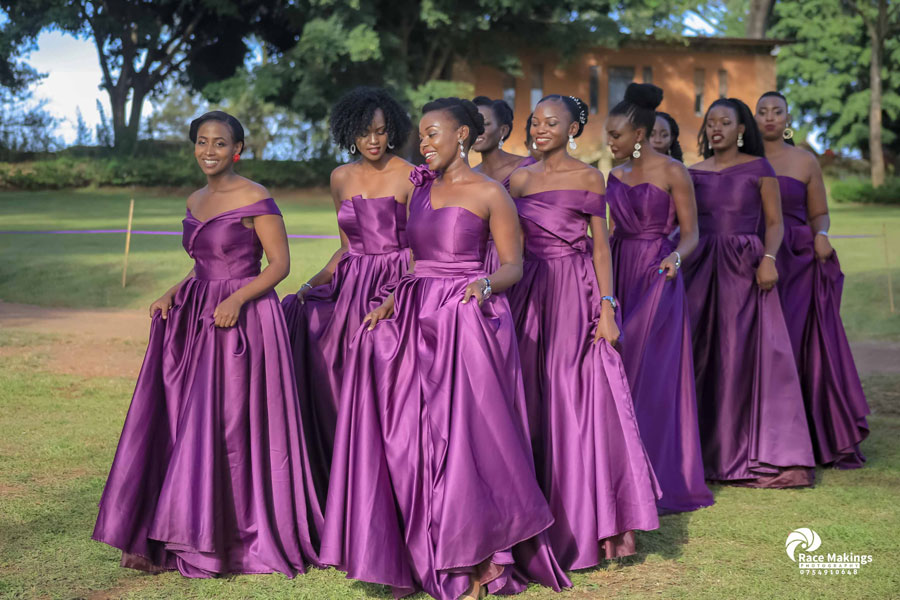 They offered to cater for all their necessities from clothing, shoes, saloon, make-up and even hired the cars that transported them.
 You had very beautiful decoration, how much did it cost?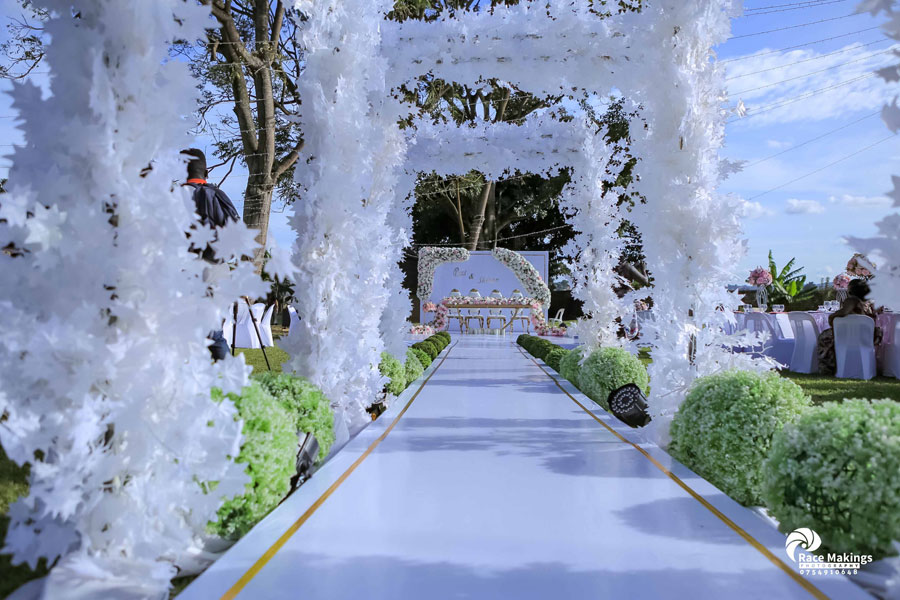 Mugimba: It was at Shs4 million by Spice Decorators and Events Managers.
How big was your cake and how much did it cost?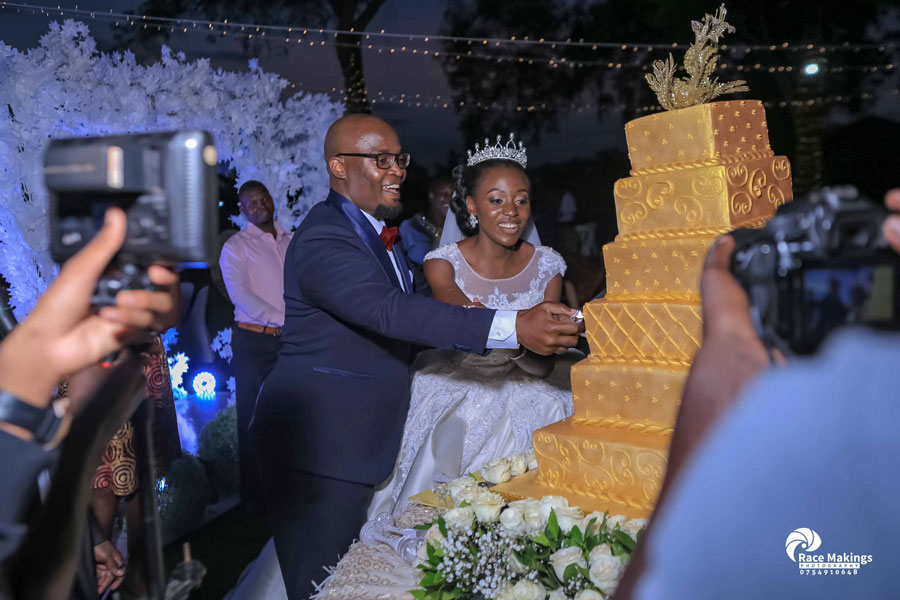 Mugagga: We had a cake of six tiers and 13 giveaways. It a chocolate and fruit cake made by Mrs Ruth Sserwadda of Reliable Bakers at Shs3.5 m.
Tell us about your outfits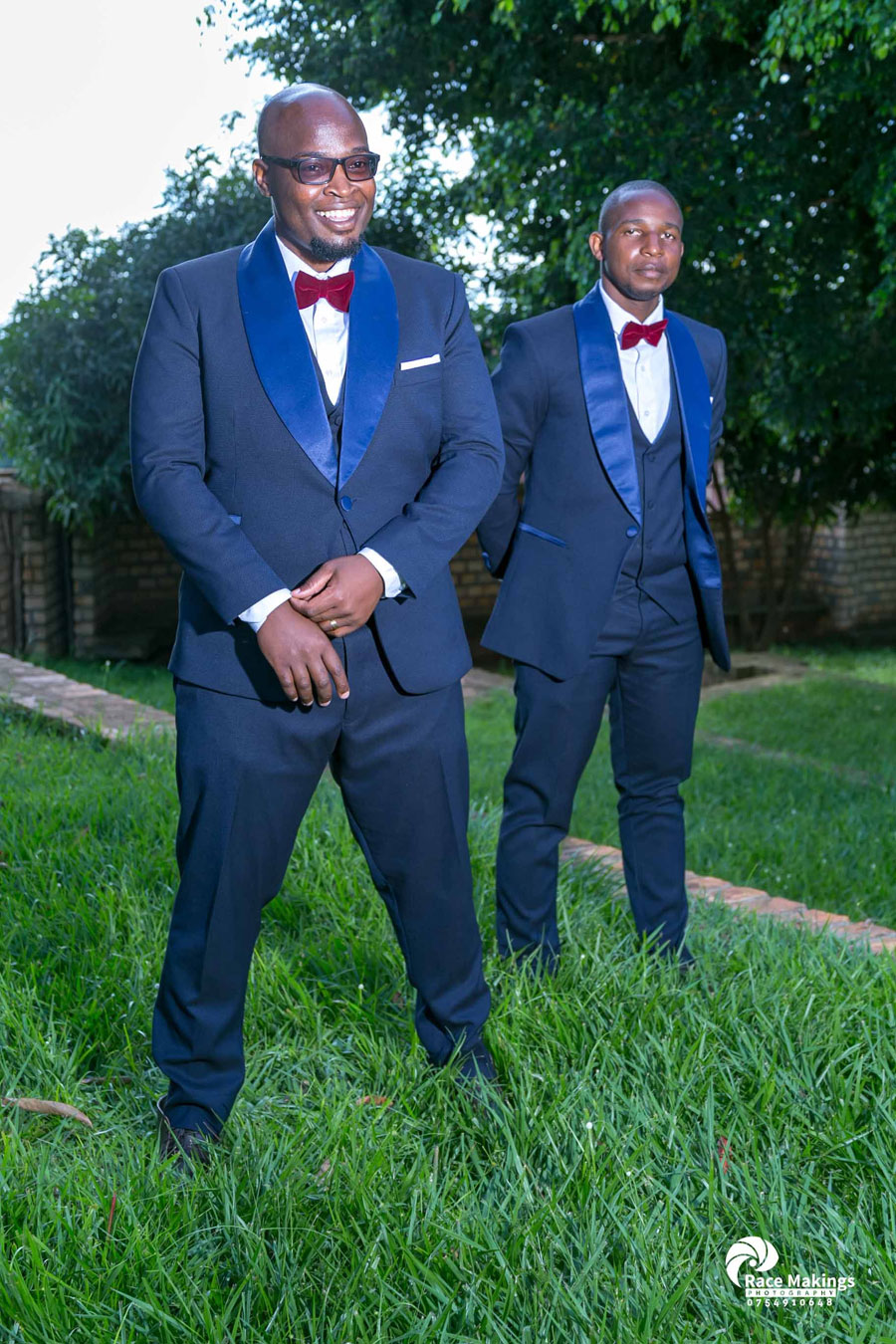 Mugagga:  With my best man we wore tailor-made navy blue suits coupled with red bow ties designed by a gentleman called Jacob who owns House of Gents on Church House, Kampala road.
They cost us Shs750, 000 each and our pair of shoes from Bata were at Shs250,000 each.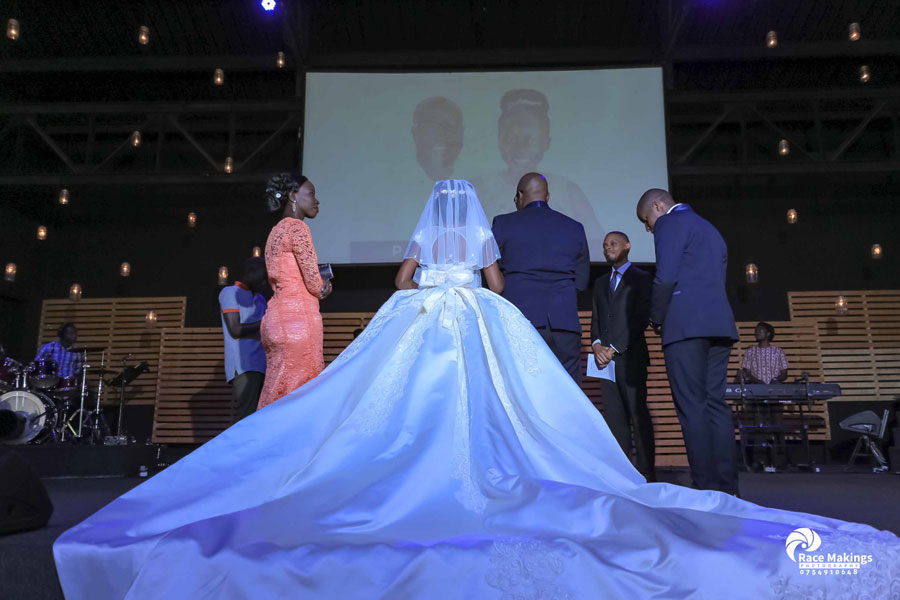 Mugimba: I hired my gown at Shs3 million from Bridal World on Luwum Street, Kampala.
I saw no need to have a changing dress because my gown was beautiful enough.
Who did your hair and make-up?
Mugimba: With my maid of honor, our hair was styled at Shs300, 000. The Makeup was by Imani at Shs500, 000.
Did you have any fears for the day?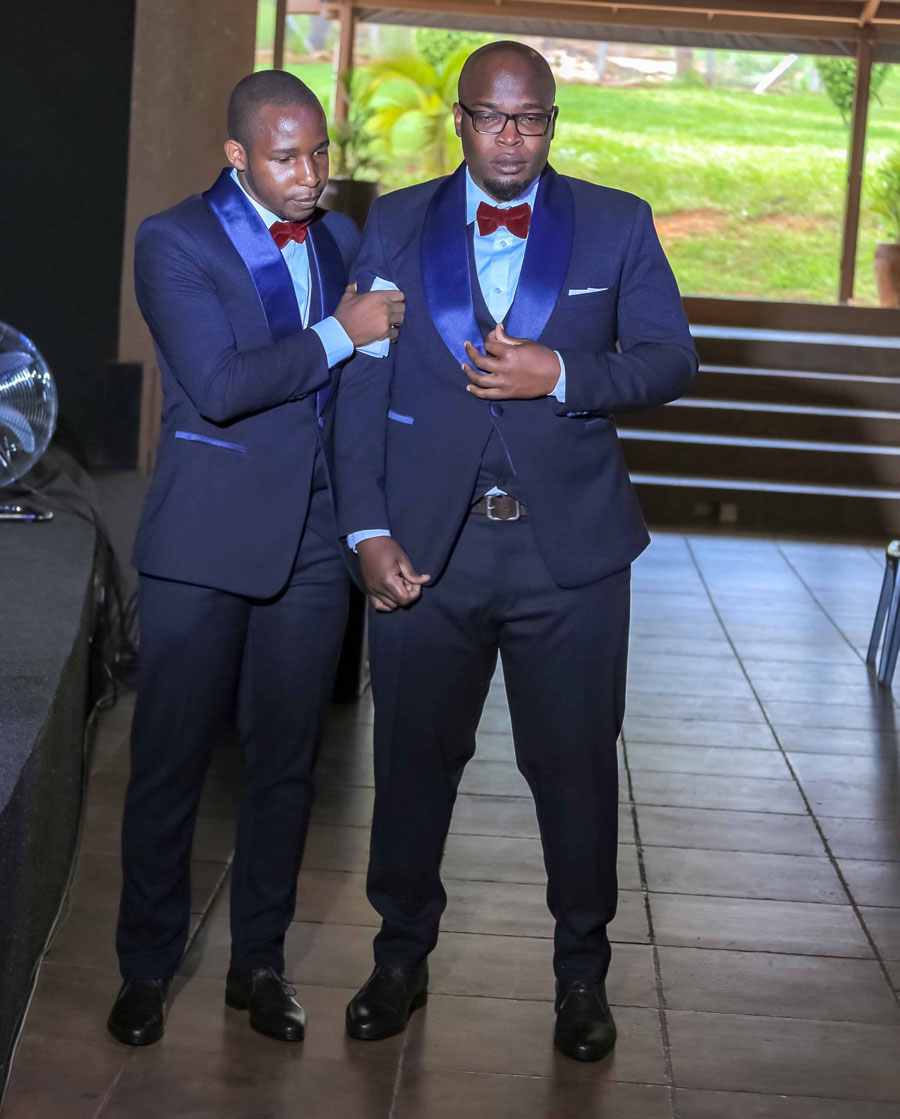 Mugimba: I feared that the people we had invited may not turn up but they all honored our invitation.
Mugagga: I got scared when I called her twenty minutes to the ceremony and she was still at the apartment. I cried tears of joy when I was finally alerted that she had arrived about eight minutes to time.
Did you have any challenges?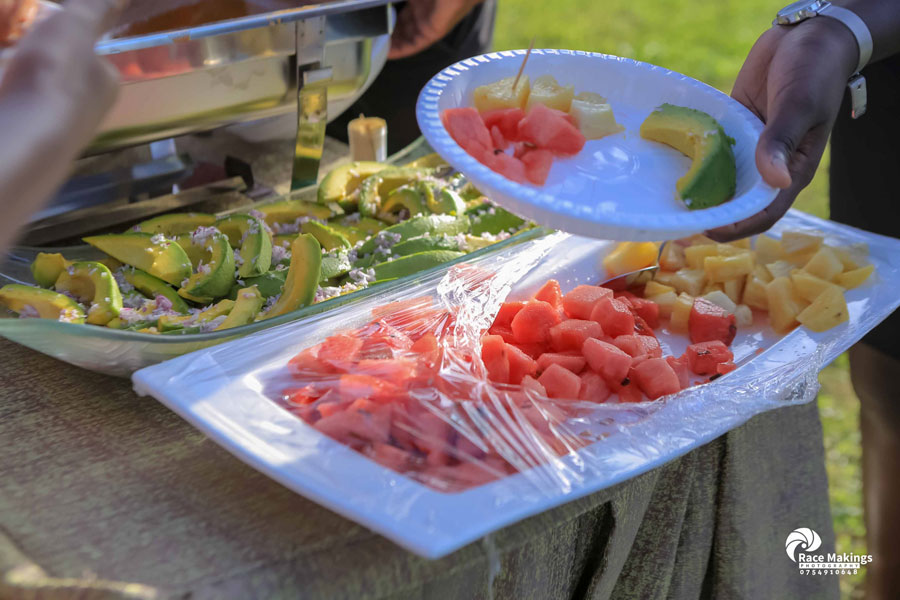 Mugimba:  We had none because we hired the best service providers, who were committed, required minimal supervision and even surpassed our expectations.
Mugagga: Coming from families that are traditionally Anglican and Catholic, there was some friction when we decided to get married in a Pentecostal church. It was however important to both us to get married in a place we love.
What were your best moments?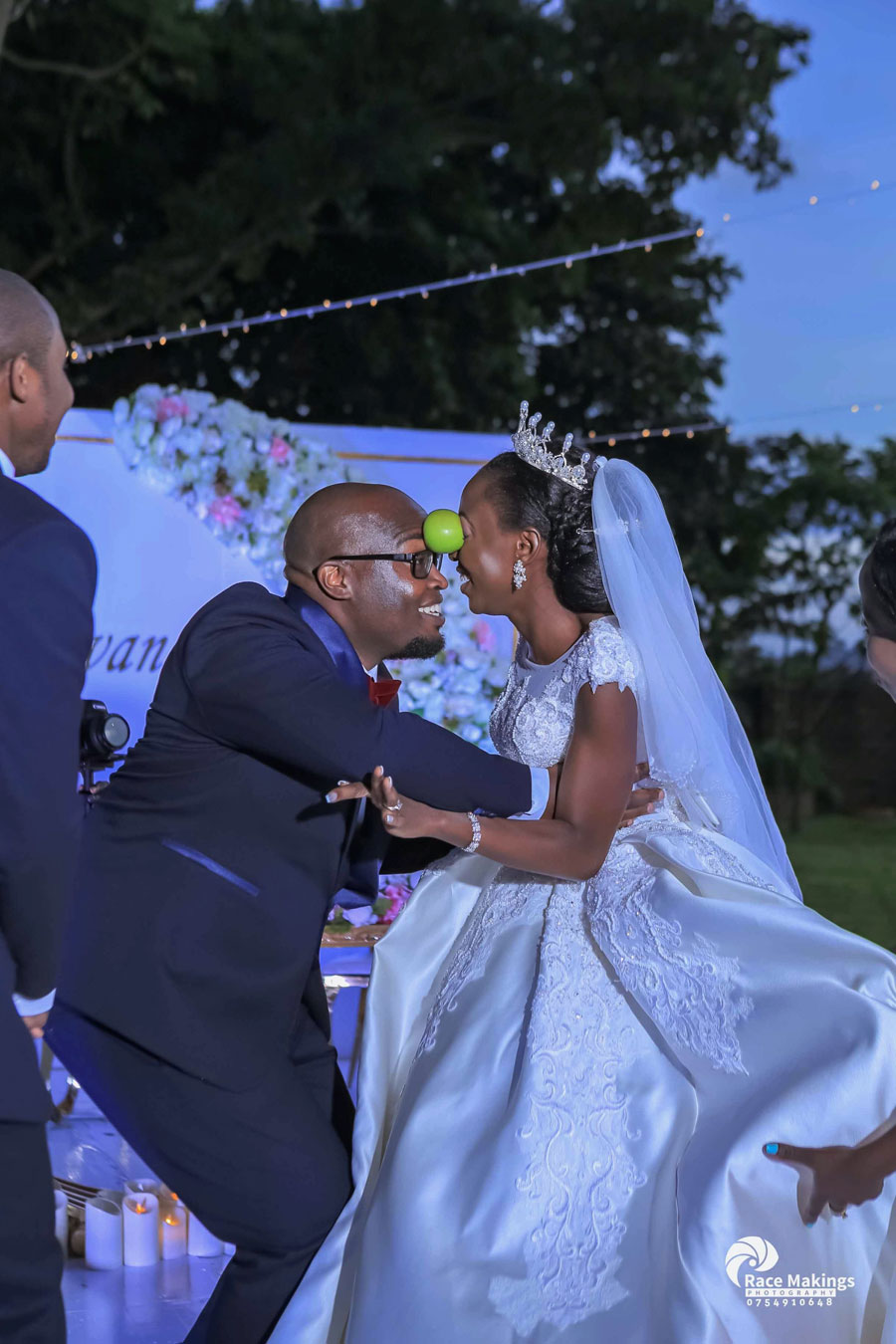 Mugimba: They were many so I do not have a precise one, maybe seeing my friends cheering for me
Mugagga: It was at the reception where it was lively with the best Emcee entertaining the guests and lots of dancing.
Did you have a honeymoon?
 Mugagga: Yes, I surprised her with a honeymoon at Blue Bay Resort Hotel in Zanzibar.
We used the services a travel company called Platinum Tours and Travel on Kampala Serena Conference Centre at Shs13 m to select the ideal destination.
Mugimba: The plan was to travel to Chobe Safari Lodge, Karuma for our honeymoon but I was surprised instead we were driving to Entebbe Airport to travel out.
I was very happy since it was my first time to travel out of Uganda.
Any advice to those getting married?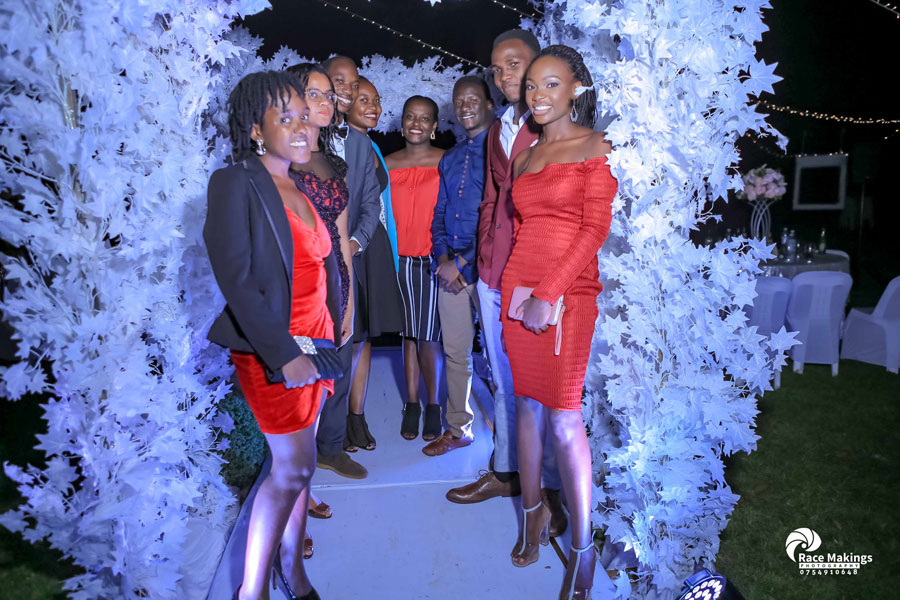 Mugagga: I advise them to avoid focusing on the wedding without having a plan for how they will survive after the ceremony.
Mugimba: People may suggest different things for your wedding. If it is not what you want, it's up to you and your partner to agree on what you want your dream wedding to be like.