By Joan Salmon
Almost every girl loves to get married to their friend, someone who loves them for who they are and one alongside whom they get to look splendid on their wedding day. Judithiana Namazzi was able to have that and more; getting married to her Joel and wearing a Vera Wang wedding gown even though it was worn at the reception.
However, the odds seemed against her on several occasions having organized her functions amidst the COVID19 lockdown and election period. "All the chaos tested our determination and resolve but God provided for us exceedingly, abundantly, and above all we could ask or think. I am still in awe and amazement at His love for us."
Meeting Joel Ndugwa at Radio City, there was no telling this marked the first step towards celebrating life together. "I had just started working at the radio station right after returning from Tanzania. Though not a full time employee, Joel was already part of the family and would occasionally sit in for people on leave. On one of these, we did the U Request show together; an evening drive show when Dave Dash was on leave, later on we did the Saturday morning mayhem which, in terms of radio, got us a buzz. Thereafter, we did Breakfast in the City, a breakfast show." Spending lots of time with an individual, either resentment or fondness is bound to happen. For these two, the latter was it and with time, Joel knew his life would never be that good if Judithiana was not in it. That led to two proposals.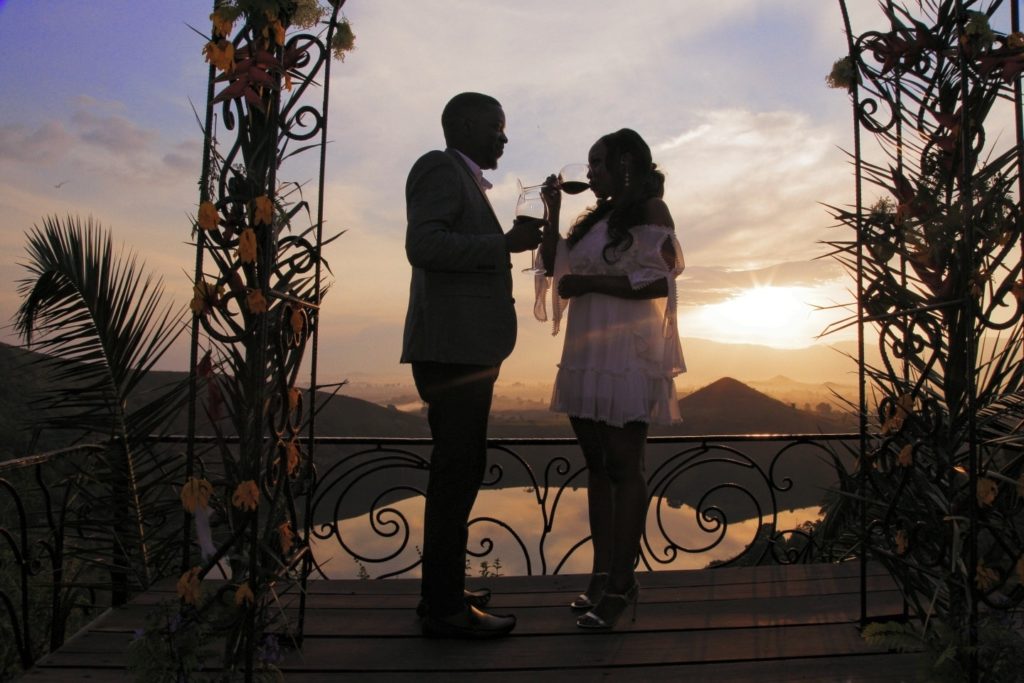 The first, which Judithiana calls an African man's proposal, your boyfriend tells you they are ready to see your parents, happened in December 2018 when she was in Nairobi at a shooting for Pearl Magic. "He called saying, "Listen to me Judy, whether you are ready or not, I am coming to see your parents next year and I don't want you to say anything. And surely hang up before I responded." While they left it at that, Joel was unfazed and a few months later did the White man's proposal on February 15, 2020. A day earlier, they had travelled to FortPortal and it was a normal trip with no clue for Judithiana who knew they were only going for a Valentine/birthday weekend away. "With my birthday a few days after Valentine's Day, he sometimes combined the two events and maybe have a weekend. So I did not see beyond that."
However, Joel knew his girlfriend so well that discreet was his only way out. Working with the manager of Kyaninga Lodge and his staff, he hoped to make Judithiana happy and fulfilled, in recompense for the road trip for he knew she hated these, and is paranoid of highways, and truck drivers. "I didn't know where we were going and being in the driver's seat, he insisted it was a secret location. Although I was not conversant with the locale, I must say, the greenery and tea estates were all so beautiful. At Kyaninga, there was a placard at the gate, "Closed for a private function", which left me confused as to what was going on. However, as Joel talked to the manager, I kinda smelt a rat, for a moment but pushed it away."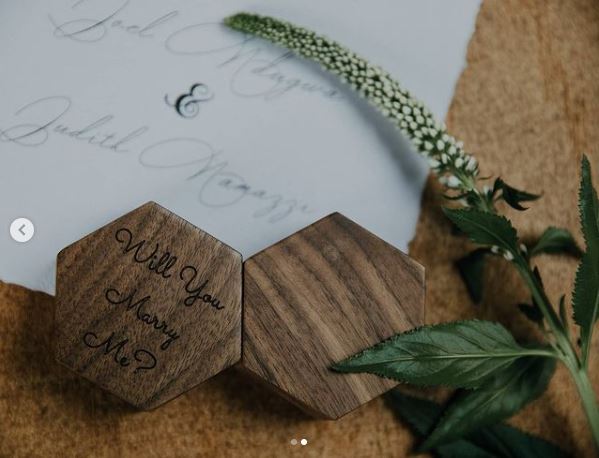 This weekend was meant to be splendid because well aware that she loves taking pictures with amazing scenery backdrops, he hired a photographer. "After a Swiss massage, doing make up and my hair, we took breakfast and I took pictures throughout the day." More to that, the lodge staff picked some beautiful wild flowers with which they decorated the arch placed right above the lake where you can see the Rwenzori Mountains ranges. It was here, at sunset, that Joel joined her for some pictures. "I was lost in the moment, oblivious of what lay ahead because while Joel hates pictures, he was here. Before I knew it, he started his speech, causing tears to flow down my cheeks. Events moved so fast, with him on one knee and proposing, people coming out, one with a bottle of wine, others with glasses and they were clapping. It was really beautiful because while were not my family, they made my day marvellous." Judithiana smiles saying it was really well thought out to the point that he strapped the ring under the car seat. "It was the only reason why I smelt no rat for he knows that I see things. Being a lady, I had looked around for clues and it is good he was really smart about everything because it really hit home." They later moved to the restaurant to a secluded corner with rose petals on the floor for their dinner.
While many will have their proposal on social media in a few days, Judithiana only shared after 10 months, a few months to the wedding. "It was the most amazing weekend and I still wanted to enjoy it by myself though we shared with close people such as our siblings, my parents and very close friends who we did not have to tell to keep it hushed. My followers also know that while I share a bit of me because I believe you cannot connect with people if you do not, I never post personal things on my page."
Judithiana is thankful to Kyaninga Lodge staff, who despite loving the pictures respected their privacy. "They were totally respectful and asked us to tell them when we share so that they could use them. With the wedding almost here, the timing was right."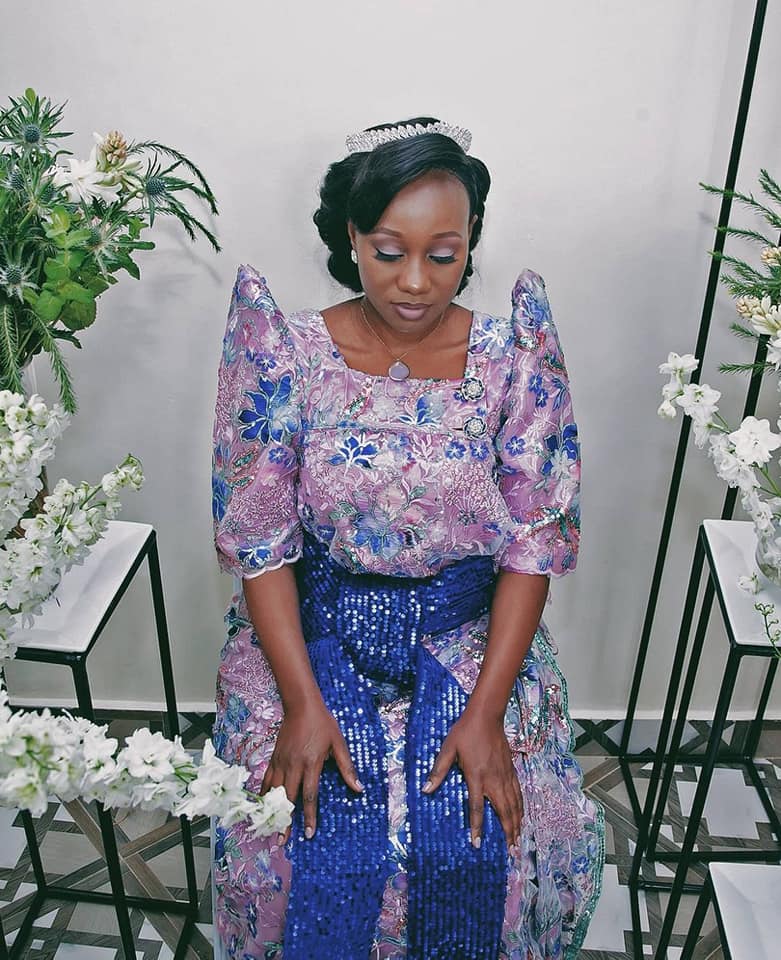 Delving into preparing for their functions after the proposal, it helped that both were on the same page; loving small, intimate and minimal. Kukyala at Senga's place was December 4 while that to Judithiana's parents was December 21. "With small functions, things move fast and smoothly and end very quickly so we were done by around 4pm." The Kwanjula was even smaller having happened just two days after elections. "Many had asked us to push it forward, concerned about the brutal riots. However, a chat with Joel helped us still stay on course for he encouraged us to trust God.
Nonetheless, with the riot speculations, I was scared deep within and did not think there would be any guests seeing that on some days, Kampala was deserted. My sister actually told me that at the worst, as long as the groom comes, mum and dad are here, kwanjula was happening." That aside, her father had not been well for a while so limiting the numbers would help him sit for fewer hours. Even if they had wanted to change dates, several people had flown in for the ceremonies. "There was no way we could downplay their commitment to us." That said, Judithiana says it was very beautiful with service providers such as Amagara Bistro and nineteen twenty doing an amazing job. "With 17 bako and 20 guests, we were allowed to dream and achieve. But also, I was getting married to my best friend and the weather was amazing. Truly, God was with us."
With the wedding, Judithiana enjoyed looking for her dresses and getting to the venue. However, the tide changed when lockdown set in, colouring the preparations with intense highs and lows thus several uncertainties. "We changed the planning for we did not know how long the lockdown would last if we should keep or move the dates if the airport would be open because all my dresses were coming from abroad. I also didn't want to use DHL services for the dresses because the service charge was dependent on their cost which would terribly dent our pockets. That made the preparations terrible."
However, they could not run away from courier services to bring in a few wedding items they needed to come in early for the airport was closed. "We had hoped to get help from family members that were coming into the country early or who usually visited these countries but it was impossible now thus using DHL for which we paid dearly. Honestly, I don't know what we were thinking, what was wrong with us but I guess God wanted to show Himself as truly God."
Then the election drama got her replacing her Tanzanian bridesmaids save one. "I had to make switches five days to the wedding because save my 'sister', all failed to make it. I believe she made the sacrifice because of our long relationship that makes us as good as family."
To add salt to injury, severally my family called for meetings with the idea of pushing the date further because of the chaos, while others said January was a cash-strapped month.
"So in all this, timing was glaring at us but God was in charge, doing beyond our imagination. For in all this, He gave us our dream wedding." Besides God, Judithiana is thankful to her husband who played right-hand person so well. "He would remind me of things I had forgotten about, seeing to it that even the small things were catered to. He was always looking for a way to make things work out. Even for the introduction, which though very small had lots of tasks to it, was only easier to plan because he ensured I did things as I had earlier planned."
Overall, they realized it is pivotal to have a family that cares for you. "Our family members were really there, going out of their way to make our day memorable and beautiful."
Vera Wang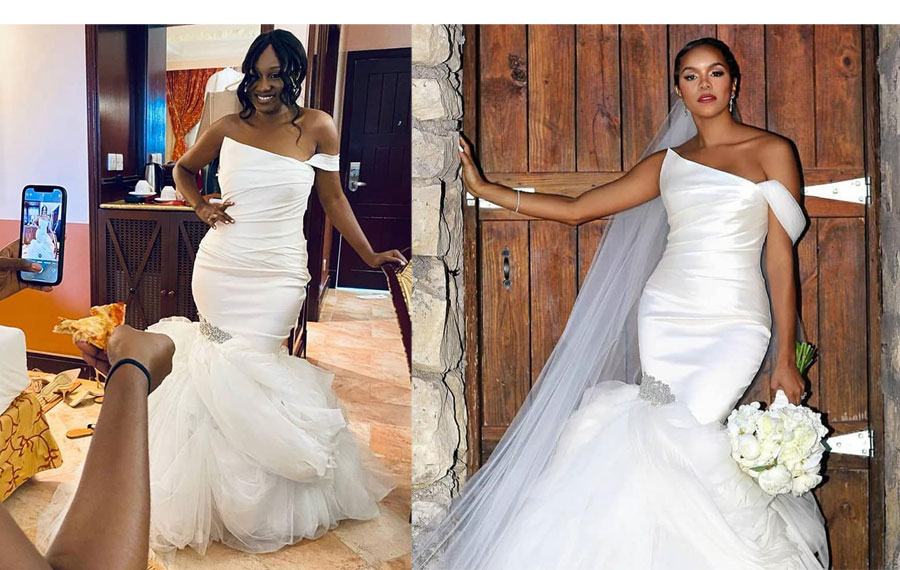 However, one item made Judithiana's day even more memorable; a Vera Wang wedding gown, one like what LeToya Luckett had once worn. "I started this hunt aware that I wanted an already made gown which was simple, minimal, clean and plain with some drama and an edge to it. After a long search, I reached out to my friend, Alexandria, in the US who suggested Pronovias and Less Posse. I had Pronovias in mind for my second dress so decided to look at the second suggestion for the first dress.
While going through Less Posse's gowns, I saw one that reminded me of LeToya Luckett's gown whose picture I had saved years back and I learned it was a Vera Wang gown." She asked Alexandria to find out if non-celebrities could also have this limited version. "It was a joyous moment after several correspondences to learn that she could get it at the Chicago outlet, looking at proximity and I could have it. The price was quite high but after a chat with Joel, we sent Alexandria the money."
However, the alterations could only be done in Beverly Hills thus shipping it there. "It was yet another blessing that the designer who worked on LeToya's dress worked on mind."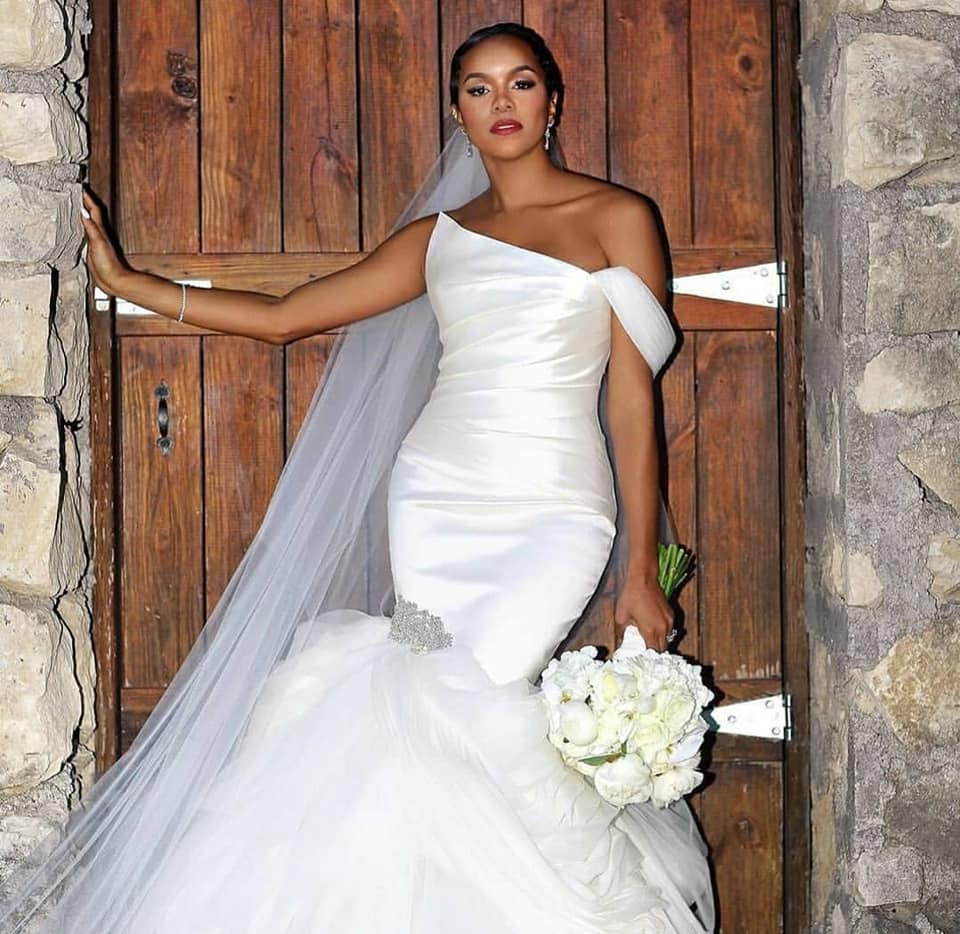 To have this Fiona gown was phenomenal and all the efforts Alexandria put in; flights, time, money and the audacity to ask made all the difference. "You may wonder why I had to go through all that but I believe every woman desires to have a certain thing on their big day. For me, fashion is everything and I wanted my dresses to represent that. Ultimately, with a leap of faith and help, I finally got it. This all felt that God was writing me a love letter, saying, "My child, I can do all things for you."
Then there was a twist of events. While the Vera Wang dress was finally here and was magical, the dress Judithiana had hoped to use for the reception, a Pronovias Barcelona dress, looked richer, with an amazing big trail. "I was at crossroads because while everyone was for the second dress, my mind was for my Vera Wang. However, on looking at the second dress, it was ceremonial thus church perfect, but also wealthy, simple, classy and would pale if I removed the trail. That way, the switch had to be done."