By Desire Mbabaali
It is popular that in a relationship, men are bound to be more forgetful about dates, but not Isaac Nuwagaba! He met his wife Angella Abaasa on September 18, 2008 while at Kyambogo University. She was a fresher in her first year at university and he was a finalist.
"I knew her from an old boy who was my roommate at the time. Angella had joined campus with his young sister. She was a calm, humble and polite girl and you would hardly hear a word from her. I got interested and wanted to know more about her, so I talked to my roommate to trick her into coming to our room with his sister so I could get a chance to speak to her," Nuwagaba recalls.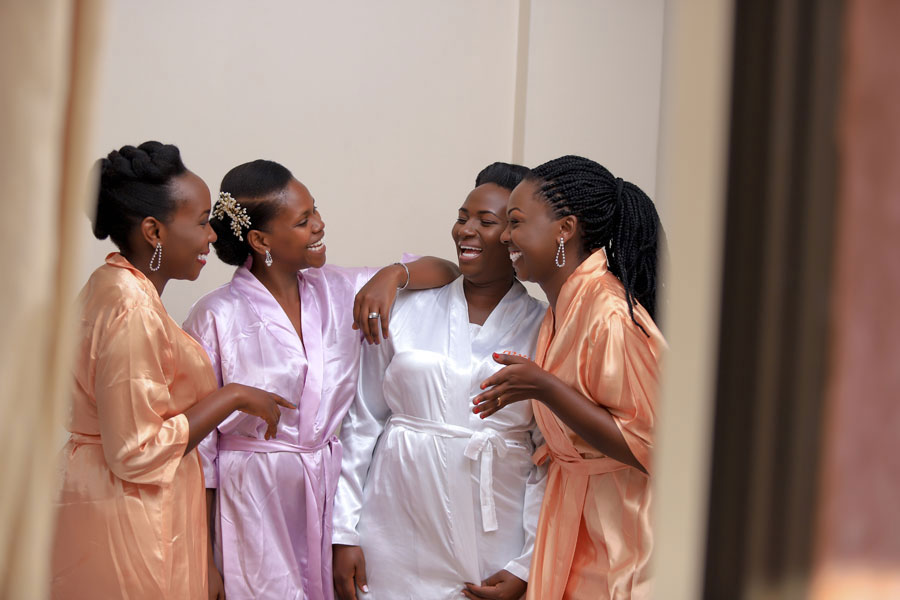 When the two girls came, he boiled them 'Chai Mukalu' which the four had. The deal had been that Nuwagaba's roommate and his sister move out of the room in pretence of having a private conversation, to give him a chance to talk to Abaasa. All went as planned and when the room was left to them, Nuwagaba made his intentions clear.
"I told her that I liked her and wanted to become friends with her. A day later, she came back by herself and asked if I had a novel she could borrow to read while travelling to her former school in Rukungiri to pick her academic documents. I gave her a novel and I also inserted my picture intentionally so she goes while looking at me as she reads but to also think about what I had asked her the previous day," Nuwagaba reveals.
When asked what was going on in her mind, Abaasa is not shy to say, "Well, first of all he spoke good English and that made me want to listen more to whatever he was saying, he was a book reader and so was I and of course, he was a handsome gentleman who was so caring and humble. I could not believe that he would ask me out. But as we got to know about each other, I found more great attributes about him that drew me closer to him."
The proposal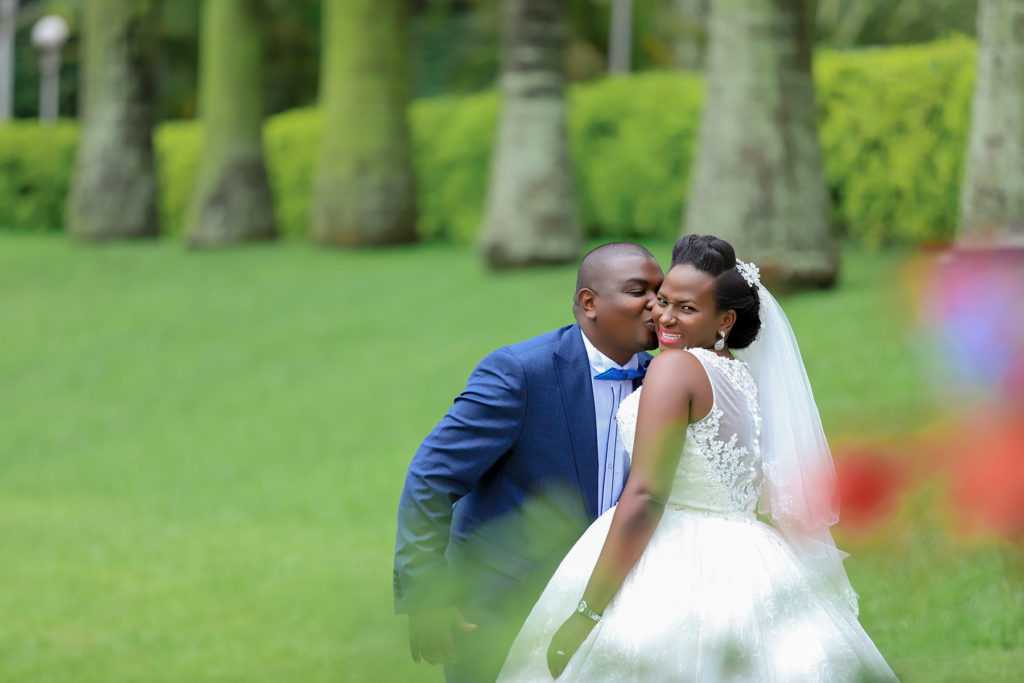 11 years of living together, on September 26 2020, Nuwagaba popped the question with help from his big brother and his wife (sister-in-law) while Abaasa was away for work.
"It took us two weeks to plan. I had to look for one of her dresses first so we could measure it on the one we would buy because I wanted to keep her in the dark.  So that Saturday morning, I told her that I had a shipment to drop at the airport and she also told me that she would be leaving home for a friend's bridal shower (our plan was working). So, as she was preparing my clothes, I asked her what she wanted to wear and she showed me a different dress than the one I had bought her. I had to talk her into wearing the new dress and she finally agreed," he explains.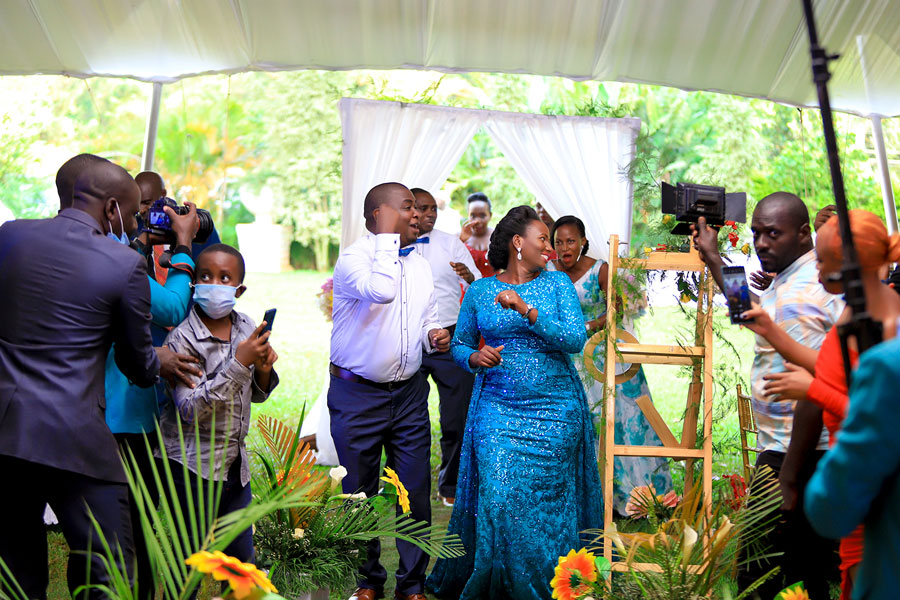 At 2pm, Nuwagaba left home and she (Abaasa) connected with her husband's sister-in-law to the salon to prepare for ''their'' function at Hotel Africana. Finally, when they got there, her friends, siblings, and family were around.
"She almost fainted. She could not believe her eyes, she wondered how her family could not have told her a thing. I went on my knee and asked her hand in marriage, and it was a Yes!," Nuwagaba gladly says.
"It was a very big surprise! I was duped into attending a friend's bridal shower and to my surprise, it was my engagement party. Everything was colorful and lovely though I was tense all through because it was unexpected," Abaasa recalls.
The couple had their introduction ceremony on December 28, 2020 and their wedding on January 23 2021.
Wedding planning 
Like anybody else, the Nuwagabas did not anticipate the coming of a pandemic and the consequential lockdown. They had planned to have their wedding on December 12, 2020 with a guest list of 400 people. Though this did not happen as planned, they weren't going to wait till the pandemic disappeared, so they decided to have the wedding anyway, with a guest list of 150 guests, though 172 guests attended the wedding.
"By the time we decided to do our wedding, we could finance only 60 percent of our budget which was Shs32 million. We had three meetings including the Wedding launch and I had an amazing team that helped plan everything. We also received enormous support from our family and friends and it was a smooth preparation. First of all, we looked at the basic things which were; church, venue and food. We had a committed team managing every department, so everything went well," says Nuwagaba.
The D-day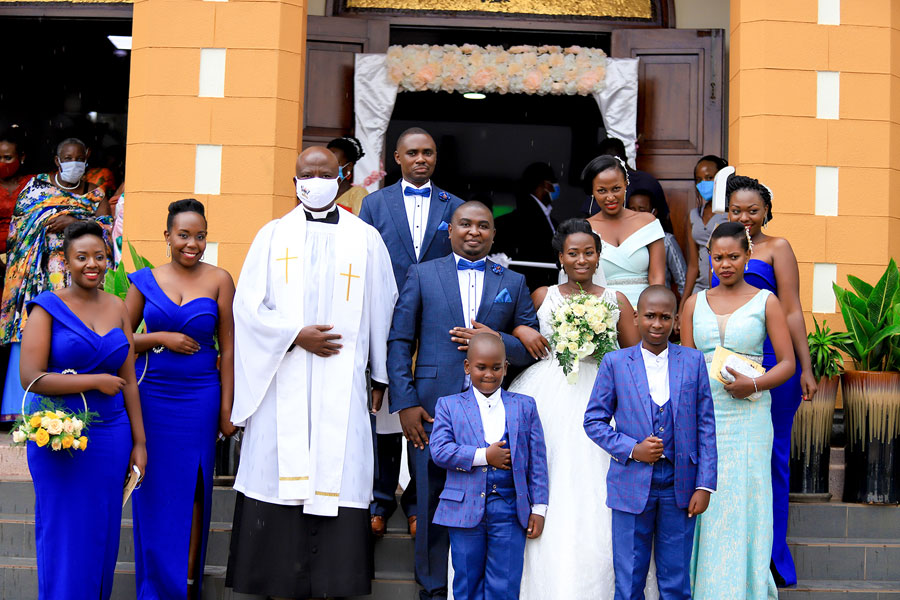 Elaborating on how their wedding day went, Abaasa shares that they walked down the aisle at St. Francis chapel Makerere University and had the reception at Seven Trees gardens Kololo.
"The day was colorful from the beginning and everything happened on time! We were at church by 11pm, though the service was starting at midday. We were interrupted by rain during the service so we missed taking pictures outside the church. But after an hour and a half, the skies cleared and it was shining again," she says – Nuwagaba adding,  "We then proceeded to Sheraton Hotel gardens for our photoshoot and at 3:30pm, we were in Kololo at Seven Trees for the reception."
To Abaasa, nothing was better than seeing happy faces of parents, relatives and friends all in one place and knowing that they had come to celebrate with them. "The party was smooth, the decor was on point, the food was delicious and all service providers didn't disappoint. We really enjoyed our day and by 7pm the party was done to allow people return to their homes before curfew time," she adds.
Wedding memories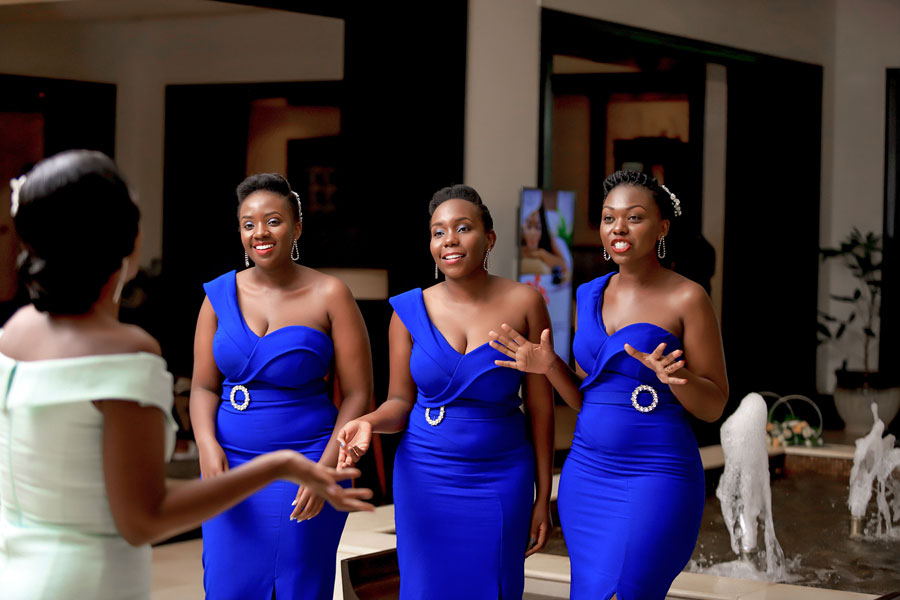 To Nuwagaba, this milestone was more than saying his 'I dos' to the woman he loves but was a celebration of life, and having a second chance to live it with his wife after battling COVID19 in November 2020.
"I broke down in the middle of my speech! I could not believe that the day had finally come, after I almost lost my life. Thankfully, God gave me a second chance to live and here I was, testifying his goodness. I found my tears rolling and almost everyone in the tent was sad and some were clearing their tears," Nuwagaba freshly recalls.
Fashion, decor, cake and more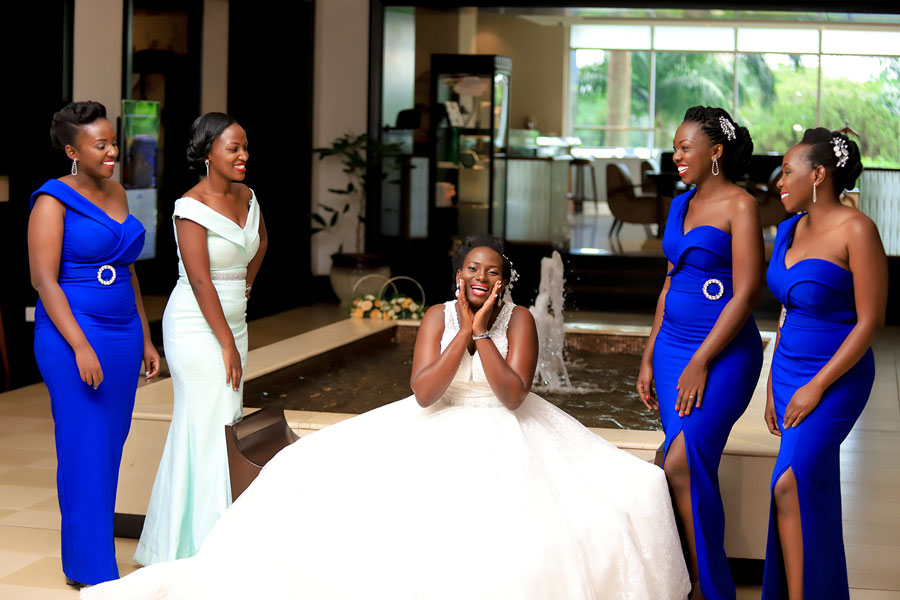 "I wore a Cinderella gown from Giant Bridals and it was the first gown I tried on. I had kept a picture of a gown I had seen and liked on Facebook a year or two ago. When I showed them the picture on my phone, they said they have a similar dress and boom! that was it! I never tried any other. Every time I went to town, I would make sure that I visited the bridal shop to check on my gown. I was in love with it!," she happily says.
For her changing dress, Abaasa wore a mermaid dress with a trail in turquoise green and a bridal entourage of nine people. Their cake was baked by Mugizi Food Hub. This had a  centerpiece that had three tiers and eleven give-away cakes. they used mixed flavors of red velvet, lemon and chocolate.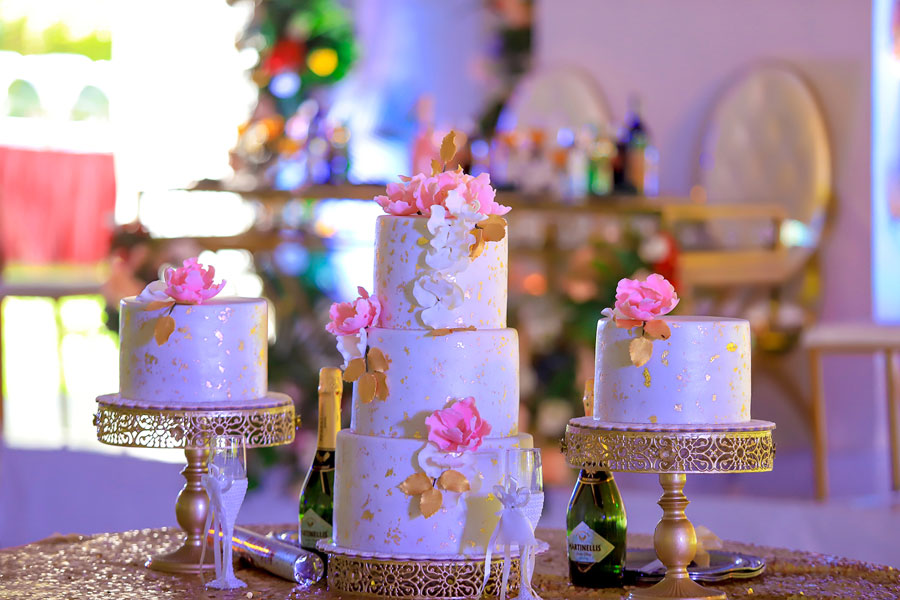 The decor was done by Posh Avenue in theme colors of emerald green, white with a touch of gold and photography by Kush Events.
Honeymoon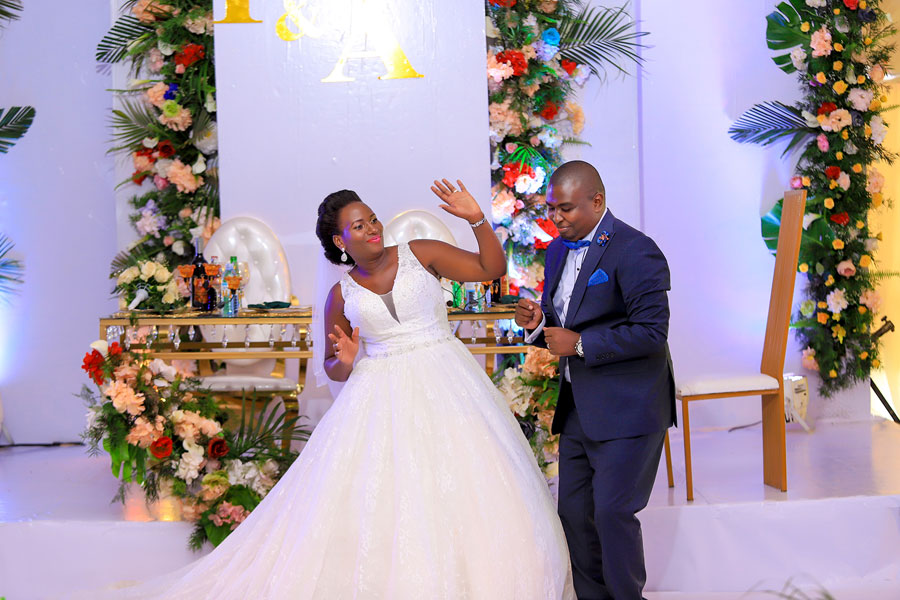 "Our honeymoon was in Maldives and Oh my goodness!!, the blue waters, the food, the breeze. I simply want another vacation there. Isaac kept this a secret until our wedding night. We spent four days at the Holiday Inn Resort Kandooma in Maldives," an excited Abaasa says.
Advice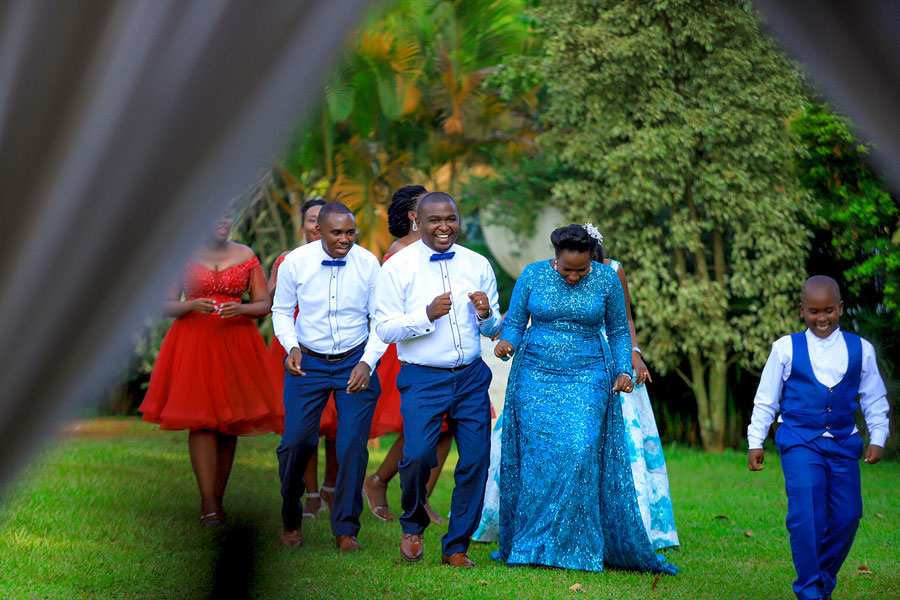 When asked for any advice for people yet to get married, Nuwagaba tips that one should marry someone who is their friend. He continues,  "If it is built on the foundation of respect, openness and mutual understanding, marriage is a beautiful thing, like the bible says; He who finds a wife, finds a good thing. It must also be spiritual so you raise respectful future citizens."