By Godfrey Lugaaju
Emmanuel Zzinda, a musician/music tutor and Erone Nambasa, a business woman met in 2018 at St Mark Church of Uganda in Masanafu.
By then, Emmanuel was a pianist and music instructor at the church while Erone was deeply involved in youth ministry activities such as sports, community service, and gospel crusades.
"After knowing and observing Erone for some time, I fell in love with her. This was not because of her beauty but her personality. She would not greet you without kneeling and was committed to her voluntary work at the church," Emmanuel says.
Erone's character won Emmanuel's admiration to the extent that even when he went to Nairobi, Kenya, for many years, he could not forget her. When he felt it was the right time for him to marry, his conscience disregarded every other person he had met, it had to be Erone.
"In 2016, I made up my mind and asked her to be my special friend. I talked to her on the phone. She did not turn down my request. She nonetheless asked me to give her enough time to think about the issue. During our later interaction, she opened up to me about some young man who was trying to make advances on her. This man was surprisingly my former classmate," he shares.
Emmanuel says although his former classmate was more established and had tried to go through her parents, his efforts ended in futility.
When Erone told Emmanuel about his classmate, he acknowledged her honesty, even more convincingly and was more determined to marry her.
"Good enough, she eventually allowed my proposal, but on condition that I am truly serious. She never wanted me to be just her boyfriend. She wanted me to marry her. So we made arrangements and I visited her aunt on August 23, 2016 in Bukoto, Kampala," says Emmanuel.
Erone says as they continued dating, she realised some interesting qualities in Emmanuel. She explains that he would play the piano and the violin with grace and expressiveness.
"He also loved God with all his heart. I later learnt we shared a birthday date, December, 25. He depicted strength and focus in everything he did. He would not give up on what he decided to do until he accomplished it. He was also a strict choir trainer and, to me, that was a mark of a real man," she adds.
Emmanuel proved to be a loving and compassionate man, which is one of the crucial factors that made Erone say yes to his proposal.
On Sunday, August 27, 2017, the couple had their introduction function in Masanafu where Emmanuel was permitted to live with Erone as they made arrangements for their wedding.
Three years later, in December 2020, they took their marriage vows. According to Erone, this is one of the best days in her life.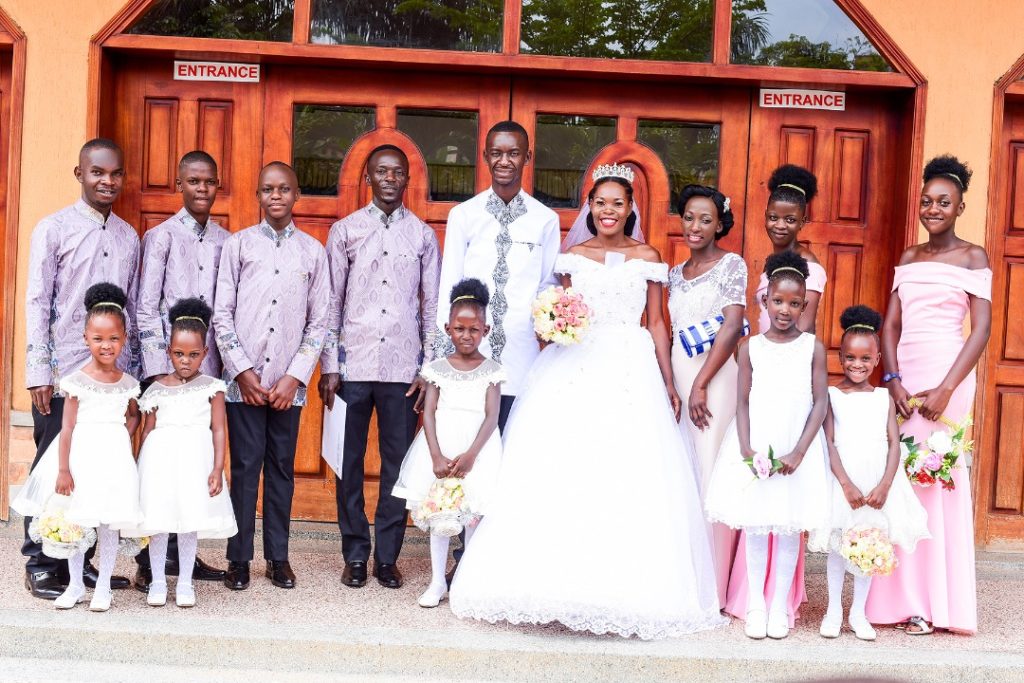 "I thank God that everything went on well as we planned it. On the wedding day, we were worried about traffic because we had planned to have a photoshoot at Kampala Serena Hotel after the Church before going to the reception in Bunga," she says.
However, the couple later changed the plan and took photos first after the salon before church then proceeded to Bunga Central Church before making it to the reception which was a few kilometres from church.
Wedding planner
The couple did not contract a wedding planner since Emmanuel has vast knowledge in events planning. He used his experience to plan for their wedding with two extra people.
Due to Covid-19, the couple had scientific wedding meetings. Most of their friends and relatives couldn't attend in person, so they resorted to creating a Whatsapp group for the wedding meetings.
"Many people, we least expected in and outside the country contributed generously. Our budget was Shs26m but we had to reduce it to what was available one week to the wedding since many friends and relatives were not financially stable. We reduced the budget to Shs12m and it worked out," Emmanuel says.
The couple dropped most of the expensive items on the wedding budget, including clothes.
"I approached my friend, Barbara Kakiroko of Embroiders Plus Ltd, who made for me a Nigerian outfit made from a bazaar fabric mixed with a kitenge and animal print design. I also bought my pair of shoes for Shs50, 000. So, my outfit was worth Shs120, 000 but it looked cute," he adds.
Memorable
According to the couple, the interesting cabaret entertainment by the orchestra, Saxophist Robert Aduba, singer Rachel Namubiru, a free pre-wedding photoshoot, and honeymoon at Kampala Serena were the most memorable highlights of their wedding day.
"The gown was Cinderella and a mermaid changing dress. Our designer advised me to wear that for changing and it was comfortable for me. Our cake was also beautiful in a violin shape which also looked marvelous," Erone says.
Advice
Emmanuel explains that there is something in life called Social Capital that people take for granted. To him, it is about the people you know; the people who know you, and how they know you.
"Social capital is not built overnight; it is reciprocal and does not need money (especially in this virtually connected world) to build. It just needs to be sensitive that people have emotions and that you can't sneak into their lives only when you need help," he says.
He explains that it is wrong for people to think or behave like social capital is only needed at weddings and burials.
Challenges
The couple says they found it hard deciding who to attend their wedding since the wedding was conducted in the wake of the pandemic.
"Change of reception venue due to funds also affected us a lot. Many youth out there like me who have struggled through to make it in life without family support, don't know that a wedding budget is mainly funded by the groom's side. I realised that about two weeks to the wedding day when I was asked the number of guests I intended to cater for from the bride's side but I thank God, we made it," he says.
Quick Notes
Date: December 27, 2020
Groom: Emmanuel Zzinda
Bride: Nambasa Erone
Venue: Fig-Tree Restaurant, Kansanga
Suit: African Wear (Embroidery Plus): Namuwongo
Gown: Mariam bridal shop on Kampala road at Shs700, 000
Cake: Mummy's cake company in Nansana- Shs1m
Entire wedding Budget: Shs12m
Photography: Beatrice's Studio at Serena Conference Centre
Number of Guests: 85
Decoration: Tinah Trendy Decor on Zai Plaza