By Claire Balungi
Joseph Tusingwire met Praise Katushabe in 2015. They were both under a Compassion project and became friends. Their relationship got serious in 2018 and two years later, at Hot Bite on Ham Towers Makerere, Joseph surprised Praise with a private proposal. "I told her I looked forward to a lifetime relationship with her. She accepted, in laughter and tears." The excited couple then drew a work plan of how events would flow thereafter.
Six months later, Joseph hosted his girlfriend at his family's home in Ibanda. It was the first time for him to have a girl over and the family happily received her.
In a function where Joseph was being priested in January 2021, Praise was in attendance and this meant a lot to Joseph. He is now a Reverend serving with West Ankole Diocese and a chaplain with Bishop McAllister College, Bushenyi.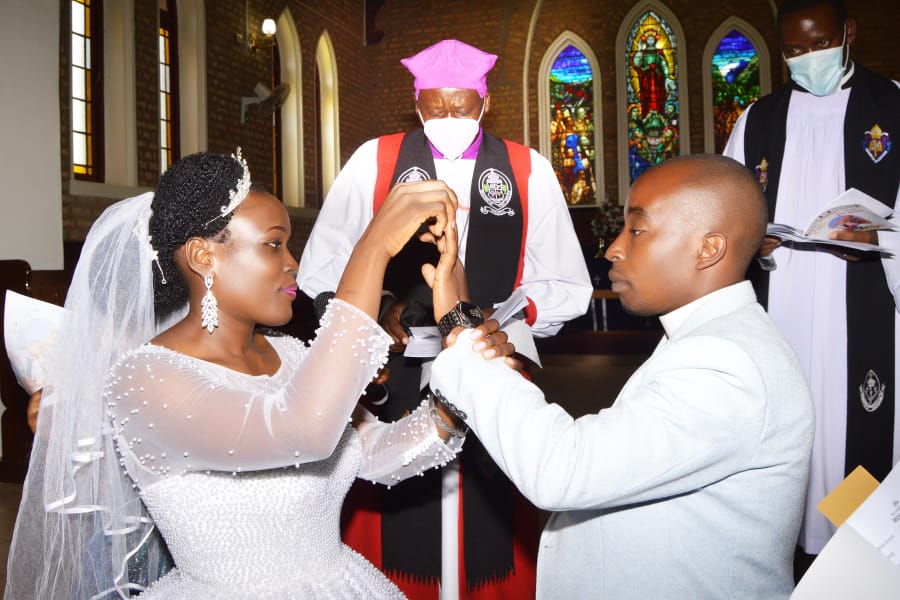 However, by the time the couple was making plans to get married, Joseph had no job and sometimes worried about how things would go. Praise comforted him and together, they trusted God for provision. She'd tell him that it was possible for them to do everything within their means. She also reminded him that their union was about them. Being a priest, Joseph had many people to consider for their union including the church, family and friends. The pressure however took no toll on him as he got supported by his fellow priest friends and family.
On February 6, 2021, the couple had their kukyala in Isingiro and later, their official give-away on August 27 and a wedding the following day on August 28.
Preparing for the wedding
The couple was lucky to have friends come through for them. Using friends as service providers greatly cut their wedding budget. It came all the way down from 27m to 13m. Joseph's cousin, Willy Kamuhangire acted as his events manager and offered him the necessary advice on life after the wedding and helped Joseph plan within his means.
Initially, Joseph's suit was meant to go for 500k but a friend, Peter in Mbarara, Mbaguta Street made the groom, his best man and the 2 page boys a total of 6 suits at only one million shillings.
The bride's gown which was meant to go for 1.5m was hired at 800k from Siimah Bridals, High Street- Mbarara. Joseph says that since it was lockdown, they had the time to prepare at their pace and he was able to negotiate well with friends who were service providers.
Whereas the décor was meant to go for 3.5m, Diana of Kanuma Events on High Street opposite Shell Ankole in Mbarara did their décor at 1.5m. Their 5-tire cake came down from 1.5m to 500k. It was delivered by Afia from Kabohe in Shema. Joseph had been interested in a simple cake since they were going to receive a total of only 100 guests.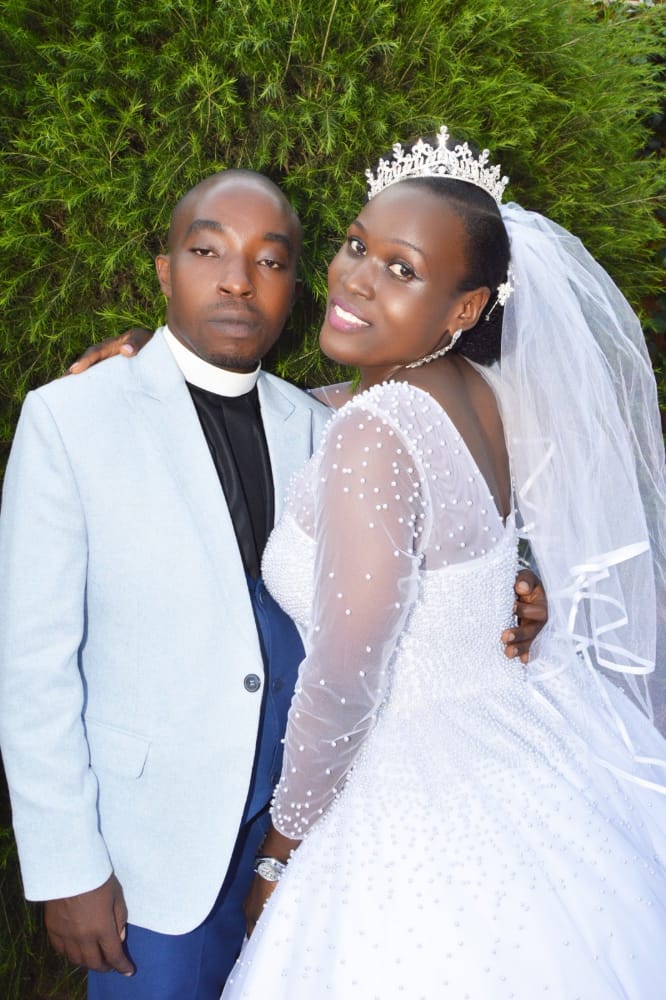 Moreover, the couple had no pressure of buying food. They hired Jacinta Catering Group in Nyamitanga who provided food for their 100 guests at 3m. The caterers served extra people like service providers and the food was enough, everyone ate.
Instead of designing invitation cards that would have cost much, the couple used WhatsApp messages and SMS to invite guests to their wedding. "I would write and say the invitation was inviting individuals, not couples. I picked individuals to represent the families. We did this to manage the numbers. Only a few special invitations called couples, for example, parents of my wife and my bosses," streamlines Joseph. Also, the couple never held any physical meetings.  The main mobilization was done on WhatsApp led by Joseph's good friend and prayer partner, Innocent Ainebyoona. He says the platform did well and people there contributed generously.
For the price of 750k, the couple enjoyed a great photography package from Simon of Simo Events, Bushenyi. Since he did their photography as part contribution to their wedding, the package which was meant to go for over two million went for that 750k. It included photographs, videos and an album.
 Wedding day
 Joseph and Praise tied the knot at St Peters Ruharo on August 28. The Rt Rev Johnson Twinomujuni served as the main celebrant for their service which had less than 30 people in attendance. The newlyweds later received their 100 guests at Nim Motel Mbarara, Nyamitanga. Joseph says committing to a lifetime of love and happiness with his friend made the day worthwhile. "It is the best choice Praise and I have ever made," he revealed.
Since the attendance was minimized to 100 guests, the couple had a virtual connection so that other people who weren't able to attend physically still caught the action online. The team which handled the live coverage was led by Cathy Nabimanya, the Communications Officer of West Ankole Diocese.  "We paid 250k, which money was to hire a separate camera to do the virtual coverage and to facilitate the team that handled that," Joseph says, adding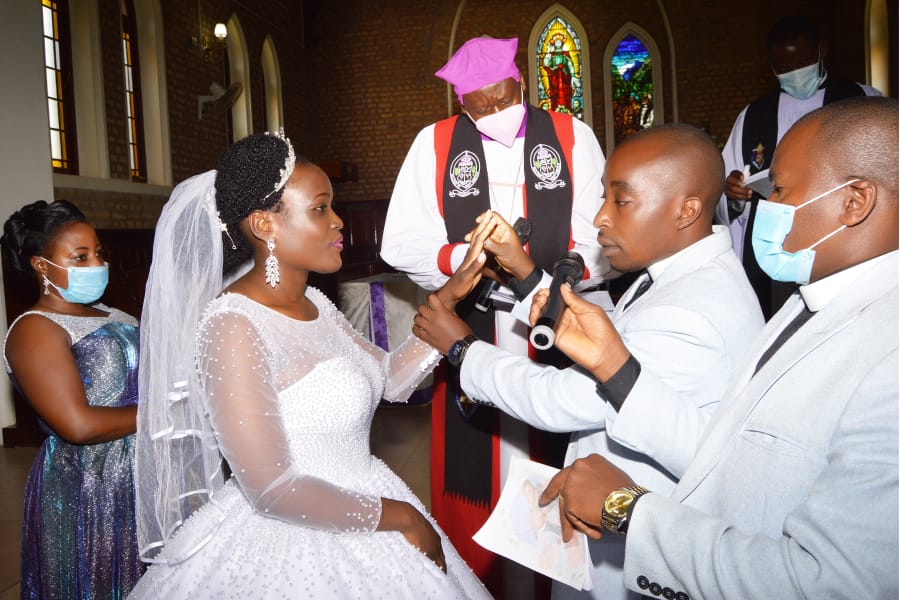 "We talked to most of the friends that contributed and were away and informed them that we had the option of attending on Zoom. There were about 200+ attendees by Zoom. It helped all members to attend and it paid for us because I have friends from overseas, about 7 families attended from Canada."
The couple had a friend, Obed, Manager of Nuwaza Music Academy in Kampala, play them the saxophone at church. His music made them extremely happy. At their reception, the All Saints' Mbarara choir band sang for them. These were friends of Joseph's and he says they bagged some 250k for their presentation. Theirs was also a contribution because it was a full band, and they played at a function, so the money might not have added up but it was basically a token of transport.
The couple is very grateful to friends who also doubled as service providers for reducing the costs.  Joseph advises couples to use friends as service providers in order to cut on wedding costs.
We wish the couple a happy marriage.