By Beatrice Nakibuuka
George Kamuremere, a lawyer met Rose Namanya, a journalist in September 2016 at Land Division Court in Nakawa. On several occasions, he went to her workplace to check on her.
How did you meet?
George: I needed to follow up on a client's file so I was told Rose would help me get it. When I saw her, my heart skipped a beat. She was helpful. Although I was not able to get the file immediately, I asked for her contact.
Rose: I had promised to call him back when I got the file but he returned before the call. I looked for it but innocently because I did not know his intention. He came to my office several times just to say hello.
Several months later, he called to seek my permission to send me a text message and I accepted because several people asked to send me texts of the file details they needed.
When did you become close?
Rose: The text read, "My heart beats for you alone." I thought it was a wrong number but he called again to confirm if I had received the message. I needed time to think about him so I thought I would answer after five months but I felt sorry about the way he frequently called to follow up. Finally, we agreed to meet.
George: I asked her out on a public holiday March 8, 2017 and while on the way, we did not talk too much because we are both reserved. I however made my intentions clear. I had not dated before but was sure I wanted to marry her.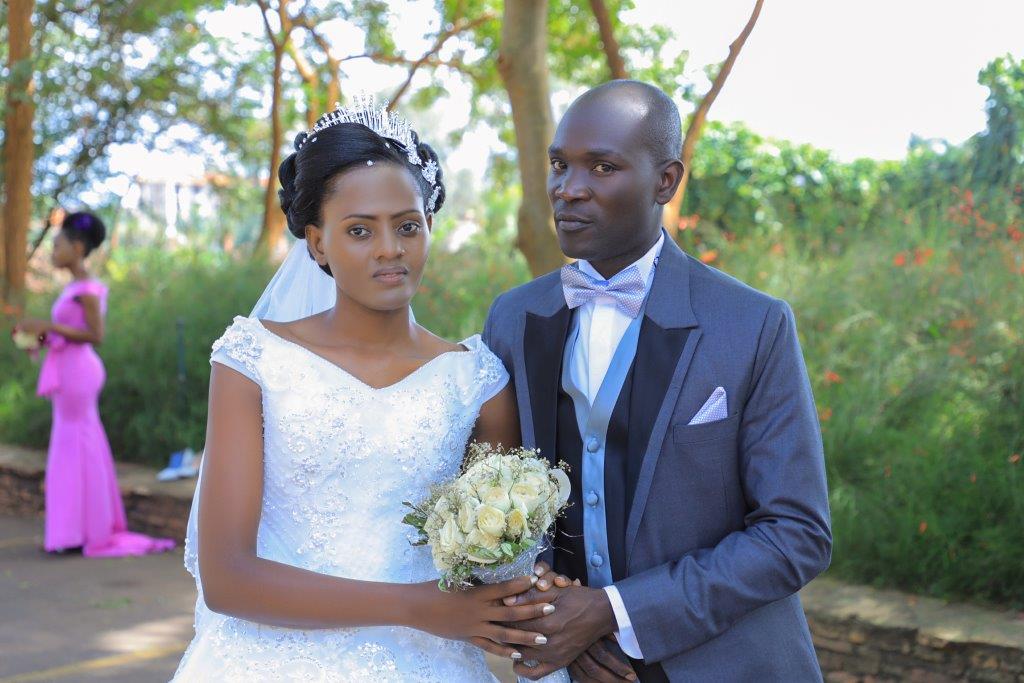 How did you go about it?
George: On our second date, I asked her to skip church and this time we were free and talked at length. The problem was that she was not willing to convert and she thought that was a barrier but I always believed God would make a way. I tried to answer all the questions she had about my religion.
Why was religion a barrier to you?
Rose: People had told me that Seventh Day Adventists were too strict but George is loving. At some point, I realised I was marrying George and not religion, so I got baptized on the day of our first counselling sessions.
What attracted you to each other?
George: Rose is gorgeous (from the first time I saw her). With time, I realised she was caring because she kept thinking about her sisters even when we went for dates. She is God-fearing she would not skip a Sunday at their church and she paid her tithe faithfully. She rarely wore make-up and jewellery. I knew it would be easy for me to preach and convert her.
Rose: He revealed his intentions right at our first meeting. He was so straight forward. He was God loving and would preach to me whenever we met. He is loving and caring. I also always wanted a dark-skinned husband so that was a score for me. I was unable to do pre-entry exams to become a lawyer and with him, we have a lawyer.
What took you so long to wed?
Rose: We were both students. It would be hard for us to handle school and the wedding preparations at the same time. There was a time he got so busy with school and he cut communication and only talked after 9pm because they were not allowed to have phones at LDC. I was committed to him because I trusted him.
George: I did not have money. I thought of doing a civil marriage because I knew it was cheaper but friends and our pastor advised me otherwise.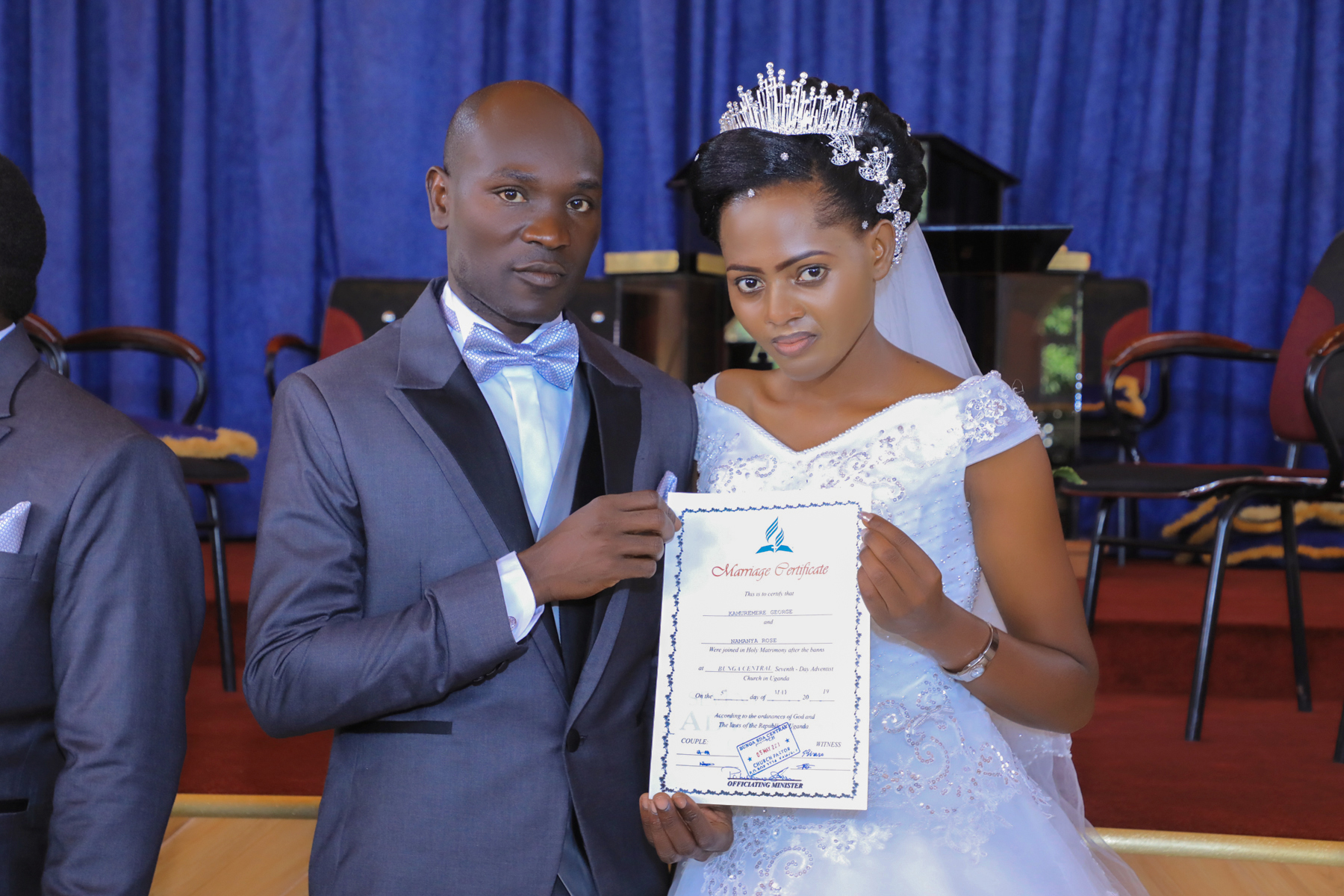 How did you come up with the wedding date?
George: We never had dates in mind. After I had gone to her home, her mother told us that we would return anytime we felt was right for us. On her graduation day, January 18, 2019, I met with some of her mother, uncles and other relatives who had travelled from Mbarara for her ceremony and I asked for their blessing for our marriage.
I first chose March 30, but friends advised me that it was too soon, then in late April but my best man would be out of the country so I pushed it a week later.
What was your budget and how were you able to hit the target?
George: I had just graduated without a job. I did not have any money that I had saved for the wedding but our wedding budget was Shs15m and friends contributed a lot. I went to see friends and asked for support. My wife had some money and her family contributed towards her attire.
How did you cut costs?
George: Our friends gave us bridal cars and we bought the fuel.
Rose: We knew the service providers and had higher bargaining power. We chose to reduce on the quantity of the items in case we had little money but not the quality of what was being offered.
What was your happiest moment?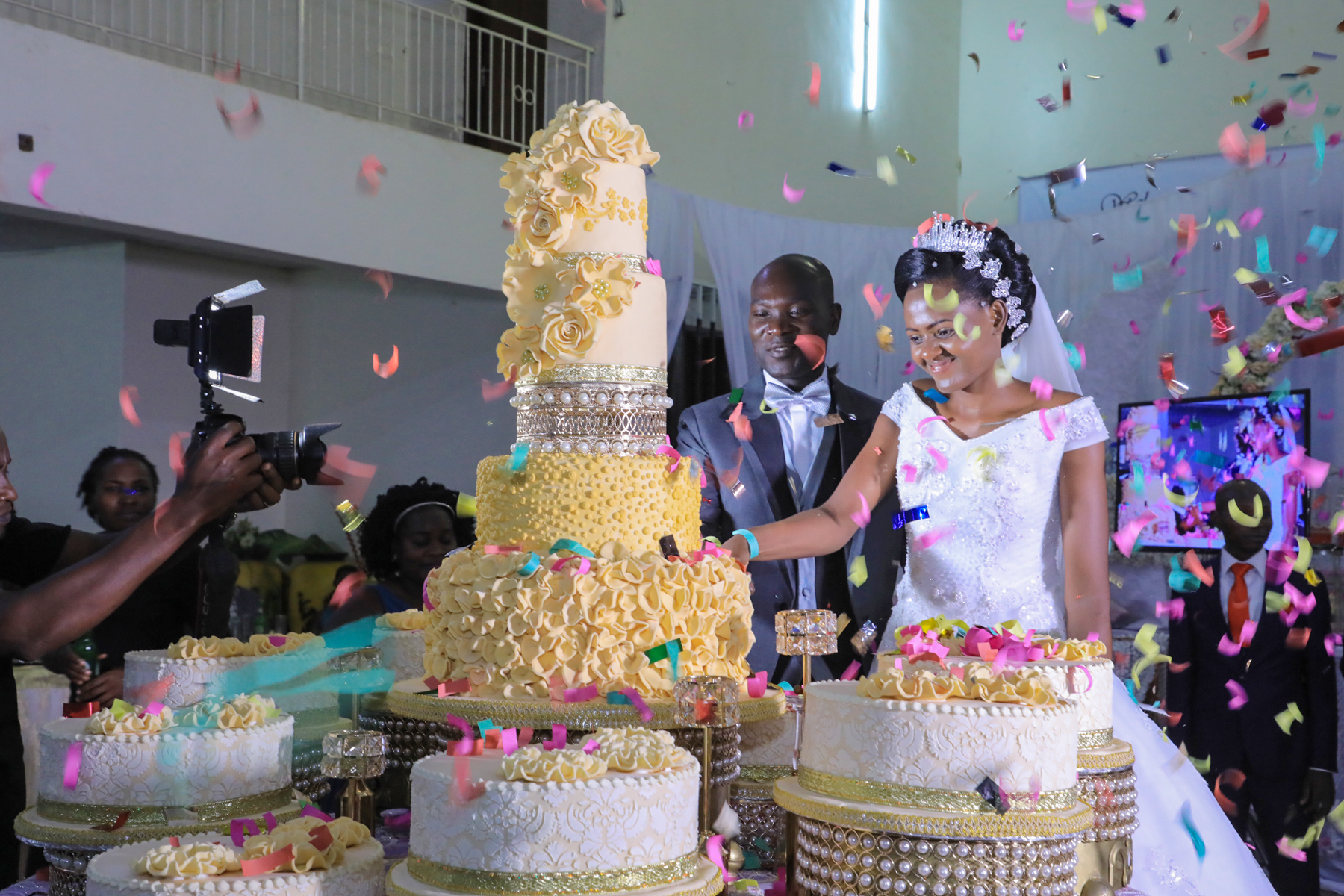 George: When we arrived at the reception. The decoration was breath-taking. I did not want the day to end but time flew so fast. Also, the time when we cut cake was great.
Were there any disappointments?
George: My phone and that of the best man were stolen from the high table when we went to cut cake.
Rose: The people that packed my gown forgot to put the tiebacks. The lady that styled my hair had to improvise
What is your advice for those intending to wed?
George: A simple, affordable, stress- free but jolly wedding is possible. It is important to assess yourself to know how much you need then plan to be within your means.
Rose: There is life after the wedding. Real marriage starts after the wedding. Do not be extravagant to make a show and starve afterwards. You can do something classy but within your means.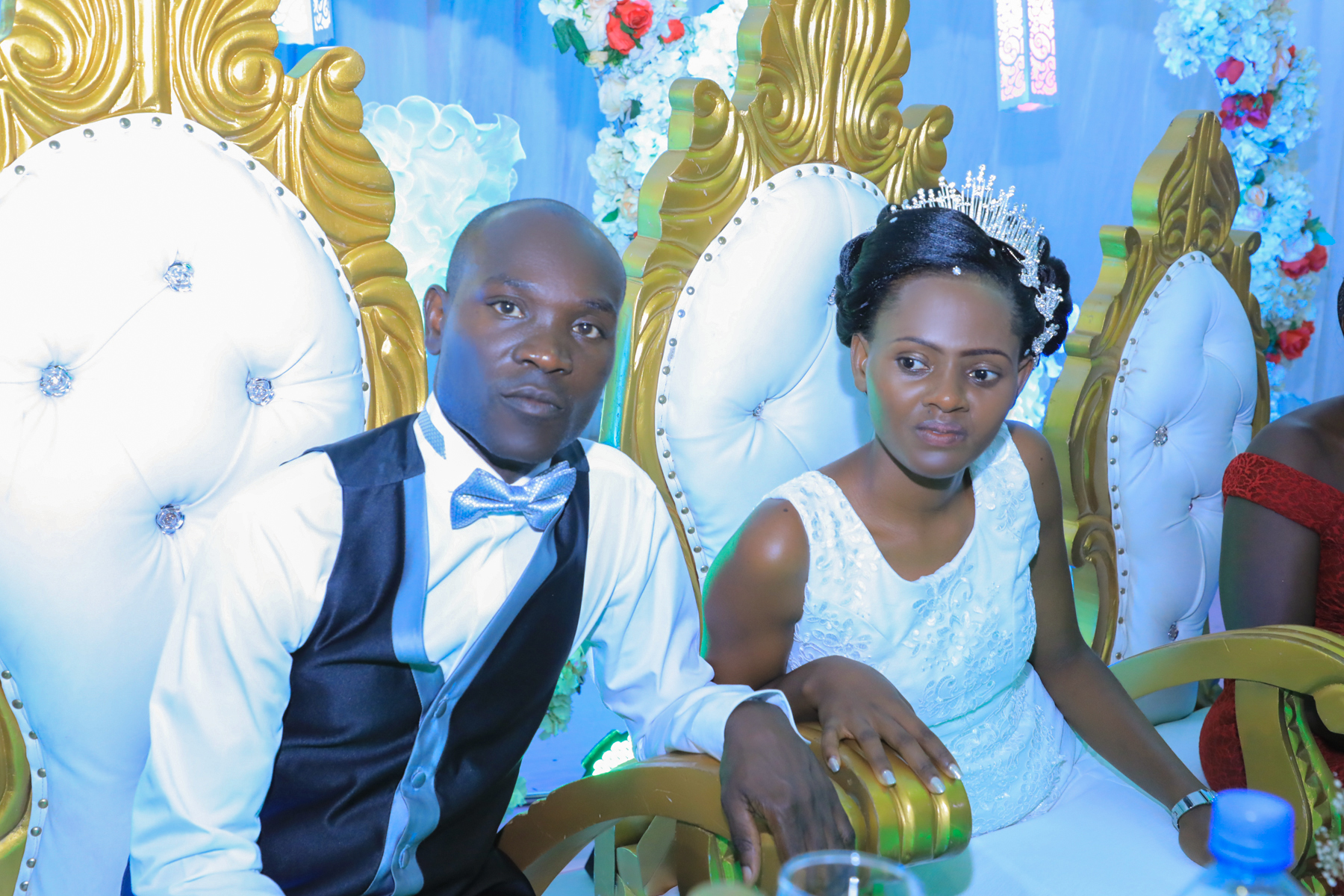 Titbits
Date: May 5, 2019
Groom: George Kamuremere
Bride: Rose Namanya
Church: Bbunga SDA church
Main celebrant: Pr Godfrey Lubwama
Reception: Adventist Centre Hall
Guests: 300
Budget: 15m
Cake
The 12-tire white and gold cake had marble, cinnamon, vanilla and chocolate flavors. A service provider known to Rose gave them the liberty to choose flavors and made it at Shs 1.8m.
Photography
This was the most expensive item for the couple. It was done by Kajoba Golden pictures and cost them 2.7m including a pre-wedding photoshoot and more photo moments at Munyonyo.
Makeup and hair
Rose chose to do simple hair and makeup done by a friend at Shs 500.000