By Maria Immaculate Owechi
Alphonse Ochieng, an 81-year-old man is one of the 62 couples that formalised their marriages yesterday at 77 Dogs mass wedding with his wife after 53 years together.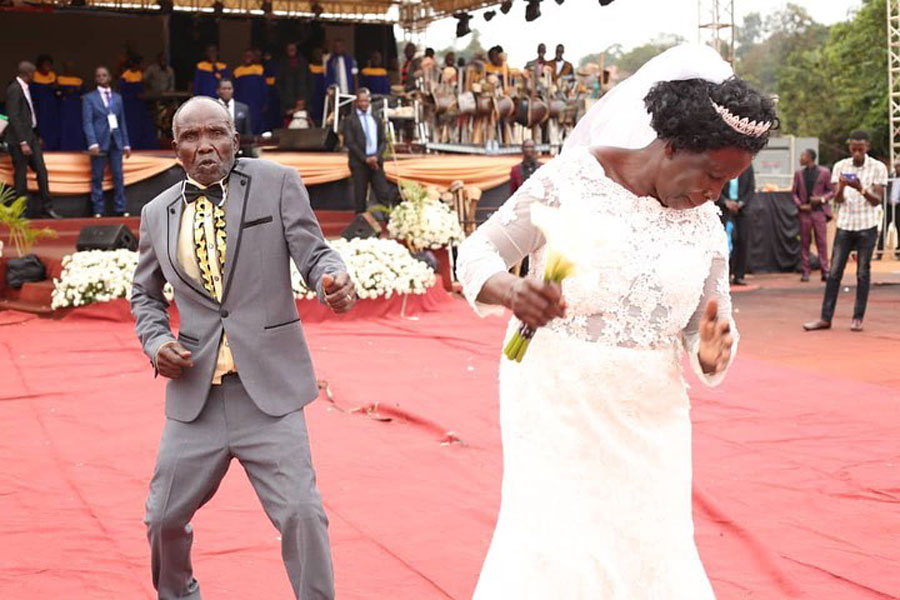 The mass wedding was organised by Rubaga Miracle Center, Kampala as it does every year for couples that want to sanctify their marriages but have failed due a number of challenges.
In an interview with the church's media team, Ocheing said, "Each time he thought of the wedding, something else came up, like school fees, building etc."
"It was until I attended one of the 77 Dogs miracle crusade when my son was healed and delivered which encouraged me to enroll at Miracle Bible College," he shared.
It was during the bible lessons that the couple was encouraged to wed in holy matrimony.
This explains the energetic dance moves and Jubilation, Mr and Mrs Ochieng pulled off after their marriage was sealed.
The jolly groom was well dressed in a grey tuxedo with a yellow shirt that had ruffle designs at the buttons matched with a black bow tie.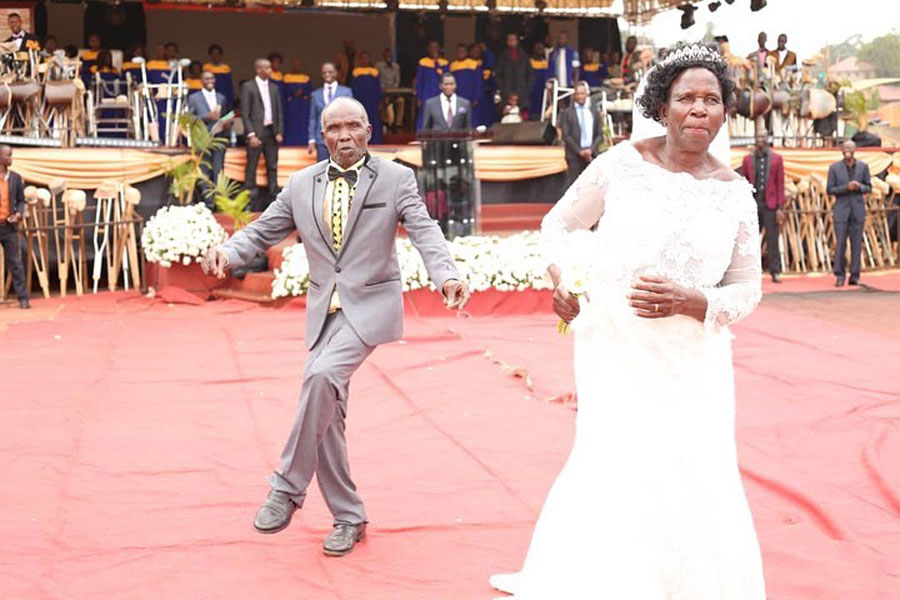 His bride wore a long sleeved A-line floor length gown while holding a white lilac bouquet. She accessorised her afro hairstyle with a small princess tiara and a medium veil.
Social media users heaped the couple with a lot of praises with many being inspired.
One user wrote, "If this couple can purify their marriage, how about you. Thank pastor Kayanja and your great team congratulations to everyone."
 Another added, "Congs papa. Let this be a lesson to others."
One user said however pointed out that a ring is in no way an assurance that marriage will work. Everyone has to put in effort for their marriage to work and be successful.
One person was not convinced about the reason for the delay, she commented, "Some people just take others for granted, cos building and marriage which one comes first? Can't tell a reasonable person that I failed to marry your daughter because something like building came up, "priorities" many people need counseling. They are living life upside down, so help us Lord."