Love born out of friendship has a way of slithering up on us. You almost never see it coming until it starts knocking at your doors. And that was it for our newly traditionally hitched Mable and her spouse Allan Nsamba—because although she works with Fast Mobile Communications, their love didn't come as fast.
According to Mable, the two soul mates met during high school when they both attended Ndejje S.S.S.
"But we only became friends and started talking after we were done, and that was around the end of 2012 while in my S6 vacation," Mable tells.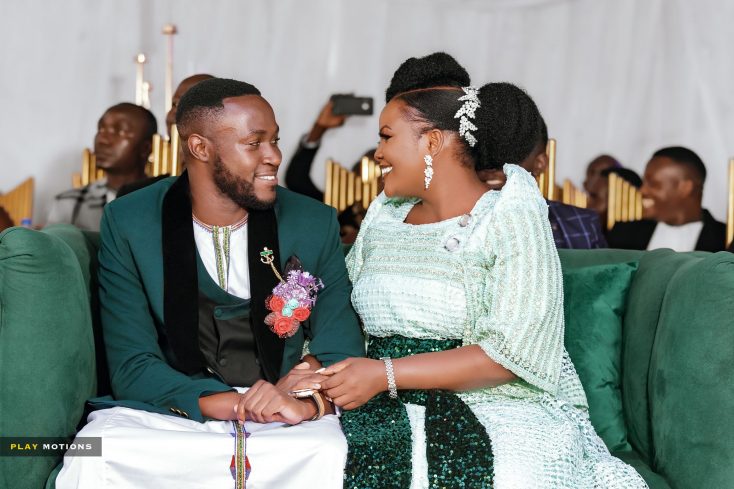 Somewhere along their friendship journey, they started pushing out and "had been dating for over 8 years—(she smiles)" before Allan asked for Mable's hand in marriage.
On 3rd January 2021, Mable welcomed Allan home for the first time as they held their kukyala (pre-visit).
Asked about what she loves most about him, the bride smilingly noted; "My God, he's the most understanding, patient, respectful, loving, caring man I've known. Allan will do all it takes to fight for what he loves, he is just an amazing man."
No wonder she went on to introduce him to her family, friends and loved ones on Sunday 17th October 2021 at her parents' home in Namasuba-Kikajjo, off Entebbe Road. It was such a beautiful function, spiced up with the performance of Aziz Azion
Although she acknowledges having a few contentious issues here and there, the better part of the planning process wasn't that hard.
"Well, it wasn't that hard to be honest, just like at some point we disagreed on a few things like how many people we should invite, but for most part of it, it wasn't hard," she recounted.
Mable was also kind enough to share some little advice with couples planning to get married, noting that;
"First of all they should be on common ground that that is what they want, there shouldn't be any pressure from anyone, some decisions have to be made by the two of you. Above all, do everything in love, you'll enjoy every bit of your function."