By Ambrose Musaasizi
Andrew Basasira a banker at Finance Trust Bank Masaka branch lived in the same neighbourhood as Hellen Nalweyiso but hustled to win her over. After departure from Bukalasa Seminary in Masaka city, Andrew was prayerful as usual and met Helen on his way to Church. He stopped to say hi to her as he asked whether Bonny, Helen's brother who happened his OB would be at Church.
"My intention was not knowing where Bonny was at that time because I could trace him but I wanted to speak to Helen," Andrew says, adding that he wanted to make his intentions known.
She did not know where Bonny was at that time which gave Andrew a chance to ask for their home phone number and she hastily gave it to him.
Andrew says on reaching home, he called the home phone number and luckily, Stella, who is Helen's sister answered the phone and they had a lengthy chat. Andrew quickly revealed his intentions.
"I later met Stella and we became friends as she threw me a few tricks that would fulfil my plans of meeting or talking to Helen. When Helen joined Mengo Secondary School, I made sure that I got her phone contact from her sister and we kept talking on phone," Andrew recalls.
Despite their lengthy conversations, Andrew says whenever he talked about love-related issues, Helen would switch off her phone.
"I decided to pay attention to my studies lest I would fail and ruin my future," she says.
"Andrew persisted, despite my rejection of him speaking about love issues and we later met in Masaka during my Senior Six vacation. It is at this point that we started connecting," she recollects.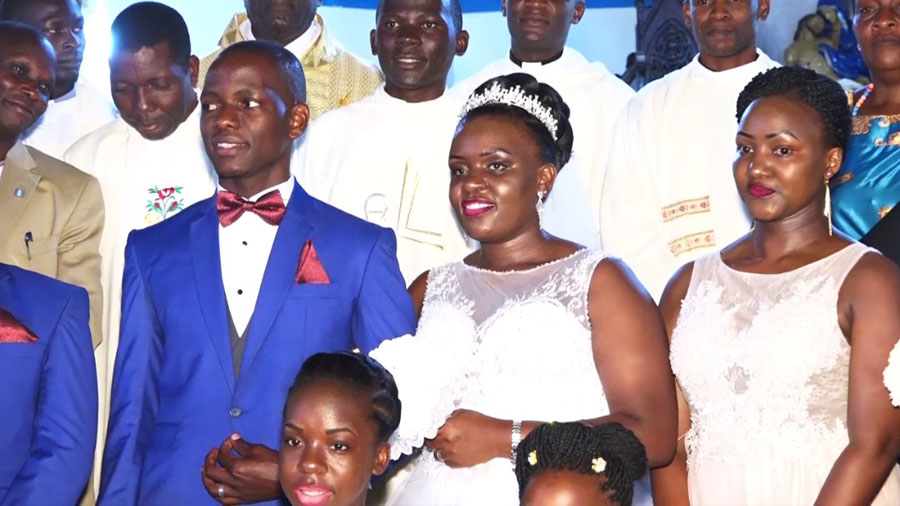 The spark
Helen was attracted by the kind of friends Andrew had and the fact that Stella introduced them, they started bonding.
"I remember meeting her at Ten Tables in Masaka City and it was memorable. We had a lot of fun given that it was our maiden physical meeting as a group who had been friends for some time," Andrew says.
Their bond grew when Helen joined university in 2011 to pursue a Bachelor of Science in Engineering. Both felt they had grown physically and spiritually.
The similarities
In our conversations, we would put God first because we are from staunch Catholic families," Andrew relates.
While at the university where he pursued a Bachelor of Philosophy, Andrew was too calm and believed one day he would marry Helen. He prayed days on end for his dream to come true.
Andrew later enrolled for a Bachelor of Business Administration which he completed in 2016. While at the institution, he recalls having engaged with different youths but kept the temptation to start a relationship with any of them at bay.
"I would see and interact with different girls while at university but I felt that my destiny would be with a Catholic woman who had known me for some time and the perfect fit was Helen," he says.
At work
He returned to Masaka and got a job just like Helen but she worked in a distant place. This did not however stop them from communicating and talking about their future.
Hellen says they later became best friends and Andrew was so committed that whenever she asked how their marriage would be, Andrew said he would legalise it. "I feared that Andrew would let go but what comforted me was our continued conversations that he wanted us to have an official marriage ceremony," she says.
Andrew further explains that his longtime friend Alexander Lule, a lawyer, played a big role in his process of making the marriage official.
"Counsel Alexander insisted that at whatever cost, I had to marry Helen. Having been raised in a Catholic family, I embarked on meeting Helen's parents and thank God, we visited them on January, 21, 2018."
Andrew recalls that he had plans of returning for their introduction after three years, but the pressure from the elders mounted and he was forced to fix dates in the same year.
"My aunt, Jane Nalunga asked me the date I would propose and I told her three to four years from that time and she replied saying it was unacceptable. I insisted that I did not have enough money. She also asked me whether I was sure that after three years I would have raised the money. We then proposed October 13, 2018, as the introduction date and wed seven days later," Andrew says.
Making it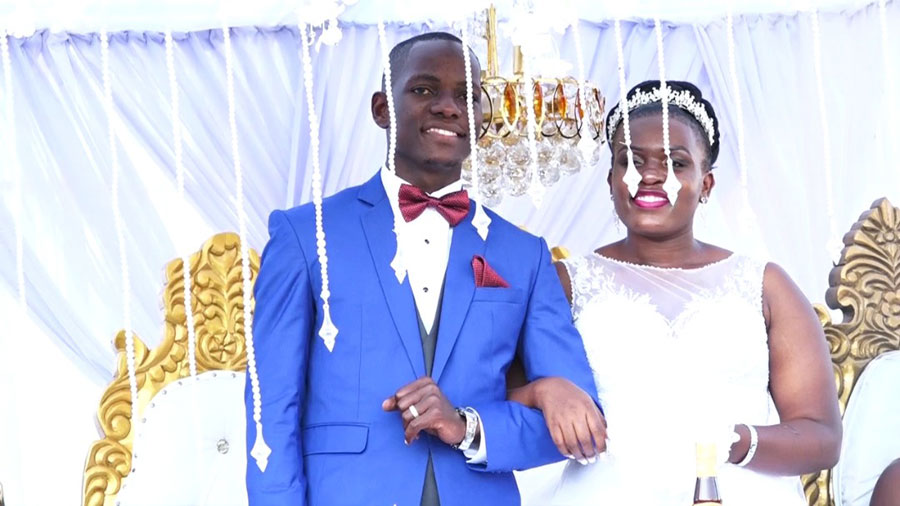 Despite Andrew having feared the Shs29m budget, his friends managed to help him raised the resources. The duo wedded at Kitovu Cathedral Parish and the function attracted 700 guests at at Maria Flo Hotel in Masaka.
For transport, his friends Farouk Ssonko and Sir Henry Mulinde offered the couple a Chrysler and a Mercedes Benz. Helen's gown cost Shs 2.8m whereas Andrew's suit cost Shs1.2m. Their function was attended by 33 priests since most of these were priests who had attended Bukalasa Seminary with Andrew in Masaka City.
Premarital counselling made them understand that in marriage ego should be put behind.
Titbits
Groom: Andrew Basasira
Bride: Helen Nalweyiso
Church: Kitovu Cathedral
Budget: Shs29m
Guests: 700
Reception: Maria Flo Hotel in Masaka
Theme colours: Hot pink