By Promise Twinamukye
Walter Kabuye, also known as Walter Keys is a photographer and the founder CEO of Walter Photography. His wife Leticia Nabukalu is the operations manager at the same company. They tied the knot on December 1, 2021.
During a church event on September 1, 2018, Walter had gone to take pictures. Leticia was in attendance, "He asked if he could take a picture of me and later asked for a hug, which I gave him. He later asked for my number but never called until a month later," Leticia said.
"I wanted to take her out if she was not so busy. She first complained about my not calling her earlier but she accepted to go out with me," Walter says.
This led to six months of partying and trips on end.
"We were just us hanging out. She neither knew much about me, nor did I know much about her," he says.
Amid fun, he realised she had something special and he wanted to keep around her.
"She understood me and wanted to be with me without expectations. She also helped me grow my brand as an African storytelling photographer. She was managing a big healthcare facility and I guess it helped her get more clients for me. She later became my manager and we were inseparable," he said.
He reached out to her and told her how he felt and told her they should try dating.
"It was not more of an attraction. The more time we spent together, we just bonded. We listened to the same songs, loved the same drinks, and just clicked," she says.
The proposal
Though the proposal was on Walter's mind, Leticia was just focused on their kukyala (prospective suitor's visit to the girl's home). Because of being in between events (work), the proposal almost never happened.
The day before kukyala, Walter, who had a job to do asked his friend to buy him a ring, invited Leticia home and sent his best friend to distract her as he planned the proposal.
"I did not expect a proposal. His friend kept me talking for a straight two hours. I was anxious to leave for my home since kukyala was the next day," she says.
She was shocked when he called to open the gate for him. Candles, roses and smiles on their friends awaited her, and his fiancé going on a knee with a ring.
Moving in
After kukyala, they moved in and nearly three years later, they did an introduction.
"I knew this was my person and did not want to leave any chance for her to be taken away," he says.
Uncertain of their finances, they set the introduction date for September 2021. Before the introduction, however, they got many bookings and could not even do meetings to solicit for money. The money they made helped them, family and a few friends pitched in.
Wedding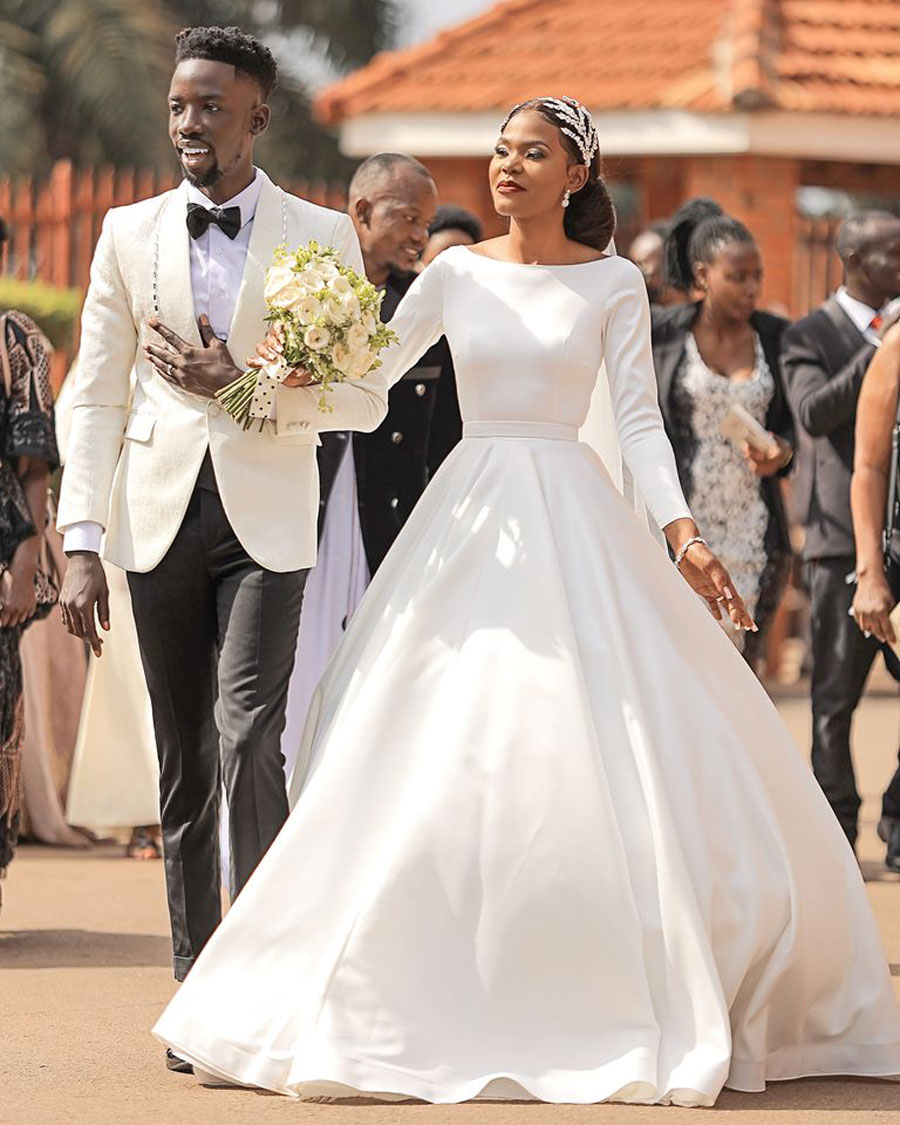 The couple chose to wed in 2022. But Walter told Leticia that they should get married in December 2021.
They went to church for a reservation and the couple was turned away because of Walter's hairstyle [dreadlocks] and clothes [ripped jeans]. They set another date. The only date available was December 1 at 9am, otherwise they would have to wed in 2022. They settled for that. Before the wedding, Walter's friend introduced him to a fellowship and the members contributed money to enhance their preparations.
The couple was warned to keep time or their ceremony would be postponed for evening.
So they spent the night near church. From there, the bridal cars took them to Namirembe Cathedral.
They arrived on time although the groom was taken to Rubaga Cathedral and had to be driven back.
They were married by the church vicar.
Church
Leticia revealed that getting married was surreal. On the other hand, as she walked down the aisle, Walter was just awed.
"I knew she was great. But that moment felt different. Nothing but her was running through my mind. I did not really think of how we got here. She has always been beautiful but at that moment, she looked magical," he said.
At the reception Leticia loved dancing to her favourite songs the band played.
"Then there was the last outfit we wore. There was drumming, the royal guards entering and surveying the place before us the king and the queen to come in… we felt like royalty," Leticia says.
Honeymoon
"It was so vital that we are even planning a second one," she says.
The couple thinks it is important for every couple to commit some time to themselves. It is the time it sinks in that this is your partner and the way you look at life changes from the honeymoon.
"Remember this is you and him, you are not waking up early to prepare breakfast. You just sleep, wake up, eat, and have fun. You get to know about each other's love language. You also get to find out if you are the kind of couple that is okay with public display of affection or not," she says.
Advice
Walter: Start spending more time with your partner and less time with your former groups. It is important to adapt to each other and learn how to be together in the same space.
Leticia: Marriage should be a priority. Work, children, family, friends, goals should never come before your marriage.
In all you do, protect your spouse from family, friends and society. Even if someone tells you of something you know he did, never lead them on. Talk to him about it instead.