David King Mongoyi, an engineer and Shalom Ayebale, a lawyer met in 2015. The two were at a fellowship in Mukono. They became friends and before long, set their marriage dates. They wed in December 26, 2020. They share their love journey with Olivier Mukaaya.
David King Mongoyi, an engineer and Shalom Ayebale, a lawyer , met at Jesus Is King Ministries International fellowship at Uganda Christian University (UCU), Mukono, seven years ago. The two were only brother and sister in Christ who later became friends.
"He would always look out for me even when I went quiet on him, I would always run to him about my relationship issues, so we were friends. Even my parents knew him as my good friend," she says.
By then, Shalom was the mama of the fellowship branch at UCU and she often mobilised the alumni of the fellowship for events or needs and through calls, David got the opportunity to make his interests known.
"David did me the honour of a gentleman. He approached me first, made his intention: that he wanted to marry me clear. He went ahead to add that I should come up with a date, when he could he officially visit my parents as soon as possible," Shalom says.
Shalom adds that when she got to know David's intentions, she said yes. After all, she knew him as an amazing person and that when both started dating officially and a few months later, he officially visited her home.
They both recall that during their friendship, they rarely met but would talk for long on phone but things changed when Shalom got a job in Jinja where David lived.
"We often met and made frequent calls to each other in Jinja," They recount.
Shalom adds that what attracted her to David and still does is his humility, fear of God, great body physique, a good listener and attentiveness.
"His light side of life makes me want to be around him all the time," she says. David says what attracted him to Shalom was her passion and focus, "when she sets her heart on something she will put in her all, from ministry, to her love for God and people."
"Above all, her openness and communication has taught me to be accountable as an individual in everything I do. She is a beauty with brains, which makes me a blessed man."
Proposal
Few months to their wedding, David agreed to meet with Shalom somewhere and proposed to her.
Shalom adds: "He proposed to me few months to our wedding and it was a proposal between us."
Preparations
After the proposal, the two decided to have their introduction ceremony on December 17, 2020 during the Covid-19 lockdown and it was an indoor event which cost approximately Shs20m.
The lovebirds, after their introduction scheduled their dates.
"We set our wedding date for December 26, 2020 and the wedding preparations were enjoyable because I knew what I wanted. So, no one would sway me to look for other options and above all God had provided us with enough money to get us what we wanted," Shalom says.
Adding:"Wedding preparations are always stressful when you are financially constrained, which was not our case."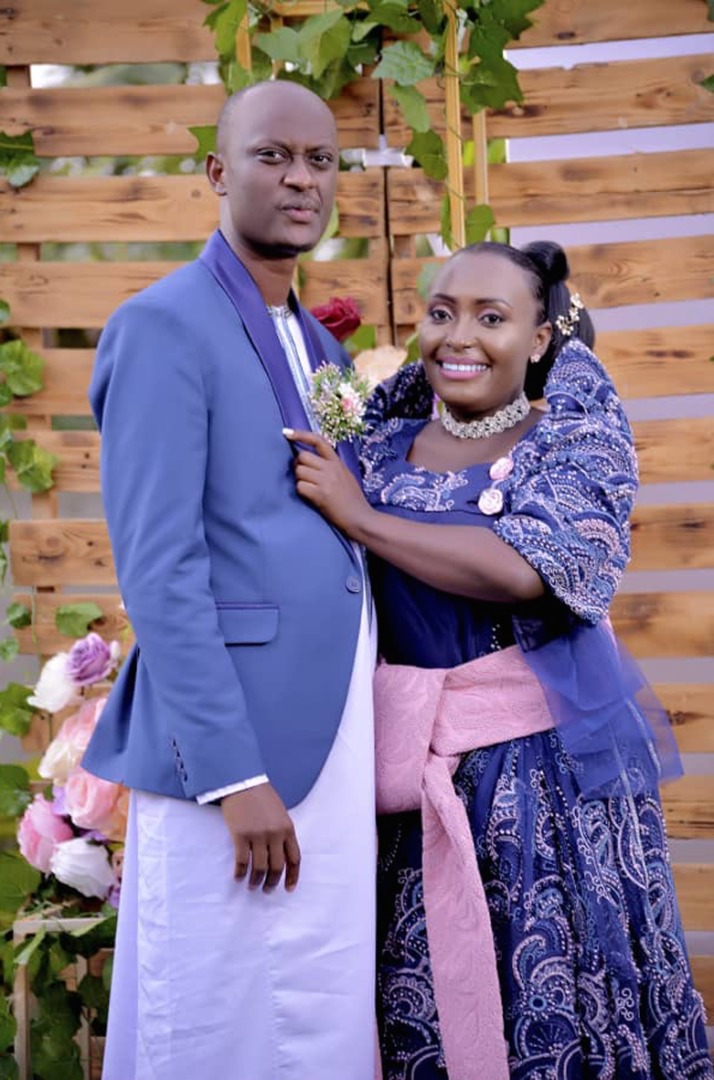 "The support accorded to us, especially by our families and friends made everything fall in place as per our plan. We never had any setbacks at any point," says David.
The couple were their own planners.
"We did everything because we always knew our wedding was our first project as husband and wife-to-be and its success was dependent on what we wanted to see on our day."
They add that they made it work by praying for it and also, they made sure they always stood their ground on their wedding needs.
They add that keeping constant communication regarding any decision prevented stress on the wedding day.
While planning for their wedding ceremony, Shalom picked Eve Kalule Nansubuga as matron because she had earlier set a good example for her.
She was also her best friend of more than 15 years and a fellow born-again Christian. However, David settled for David Kamya, his brother as best man whom he describes as a man of integrity anyone would look up to.
The couple imported their rings from the US Shalom's ring was silver infinite cushion ring set and David's was titanium ring.
Shalom chose a Cinderella gown while David chose turquoise green, gold and white suit.
Meanwhile, the couple learnt that communication and transparency is key in marriage. They also got to know that once their communication lines are open, the rest will fall in place for a successful marriage.
Challenges
Covid-19 movement restrictions and also virtual preparations due to the lockdown were their biggest challenges during preparations. Not all was gloom, as there were memorable moments.
"The entourage performed a special dance and my husband was so happy and surprised me by dancing on that day yet I had thought he would be shy and boring," Shalom recalls.
For David, exchanging vows in church was heavenly.
Nuggets
"There is no perfect woman. All you need to do is ask God for that wife material. Ask Him to mould her into the wife you desire. I am a testimony to this living dream of having a virtuous wife," David says.
Shalom cautions single women to be patient, and not to compromise their pick.
"God is faithful enough to give you the kind of man you always pray for. Wait on Him as you pray and serve Him," she concludes.
Details…
Groom: David King Mongoyi
Bride: Shalom Ayebale
Church: Kakira Deliverance Church
Celebrant: Pastor Elijah Siwu
Venue: Forever Resort, Jinja
Guests: 400
Budget: Shs42m