By Joan Salmon
Hollywood singer Jennifer Lopez, 52 and Ben Affleck, 49  got married in Las Vegas over the weekend.
The couple, who were engaged in the early 2000s before splitting up for 17 years, tied the knot on Saturday night in a Las Vegas Chapel according to Lopez.
"Last night we flew to Vegas, stood in line for a license with four other couples, all making the same journey to the wedding capital of the world," Lopez wrote. "We barely made it to the little white wedding chapel by midnight. They graciously stayed open late a few minutes, let us take pictures in a pink Cadillac convertible, evidently once used by the king himself (but if we wanted Elvis himself to show, that cost extra and he was in bed)."
Lopez wrote she wore a dress from an old movie and Affleck wore a jacket from his closet.
"We read our own vows in the little chapel and gave one another the rings we'll wear for the rest of our lives," she wrote. "In the end it was the best possible wedding we could have imagined."
The Bennifer love affair, as the media refers to it is one that's been more than 20 years in the making. The couple initially met in December 2001 on the set of the rom-com "Gigli," where they played criminals stuck on a job together and the pair strike up real-life friendship.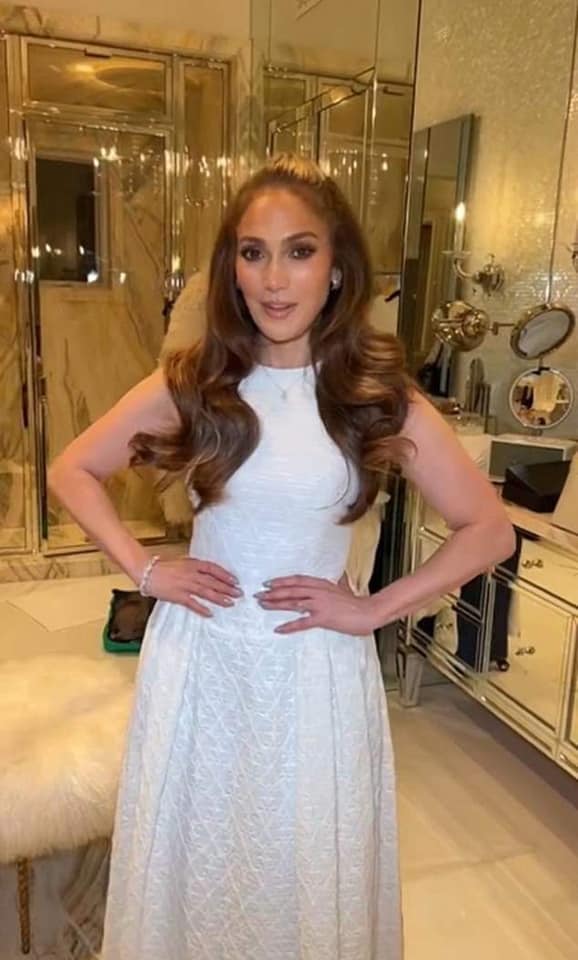 By November 2002, the two were engaged, but postponed their wedding in September 2003 citing "the excessive media attention" surrounding their wedding.
They never made it down the aisle and officially called off their engagement in January 2004.
It then took another 17 years with children and marriages before Lopez and Affleck found their way back to one another.
Affleck proposed to Lopez again in April while she was soaking in a bubble bath.
"I was taken totally off guard and just looked in his eyes smiling and crying at the same time trying hard to get my head around the fact that after 20 years this was happening all over again, I was quite literally speechless and he said, 'is that a yes?' I said YES of course that's a YES," she wrote in her newsletter.
Then on Sunday, July 17, 2022, Lopez shared a clip of herself in a beautiful white textured sleeveless wedding gown contrasted with her thick wavy caramel-colored hair yet accessorised with a large cream handbag. Her groom donned a white tuxedo jacket coupled with black pants spruced with a classic slim bowtie.
That was the aftermath of tying a knot at the Little White Chapel, a late-night Las Vegas drive-through chapel on Saturday July, 16, 2022