When the news of the engagement of Stanbic Bank Chief Executive Officer, Anne Juuko to city lawyer Apollo Nelson Makubuya broke in January 2022, it was no doubt a match made in high-profile heaven.
Makubuya had shared the news with close family and friends in private social media chats.
"Dear friends," he wrote, "I am pleased to announce that Omumbejja Anne N. Juuko and I were engaged this last Sunday. We plan to get married this year. We thank all of you for your love and support. God bless."
What would the wedding of a reputable high-profile lawyer, also the chief advisor of Buganda Kingdom with the holder of 'Best Woman CEO' in Uganda's Banking as named by London-based Global Brands Magazine look like? Would there be pomp? Would we see all the 'who is who' attending? How would the bride dress? What about the groom?  Will it be a small intimate ceremony or a big one?
All that was left to us to wonder as the couple has since remained low-key about the ceremonies. However, what they haven't held back from is showing the deep affection they have for each other.
On March 12, 2022 at Sheraton Hotel during a celebration to mark the 10th anniversary of the Rotary club of Naalya, a party that doubled as an honourary day for women in Rotary, the New Vision reported that Anne Juuko who was the guest of honour at the event sat with and her beau at the front where they each wore 'his and hers' matching black outfits. The couple is reported to have whispered sweet nothings in each other's ears throughout the ceremony.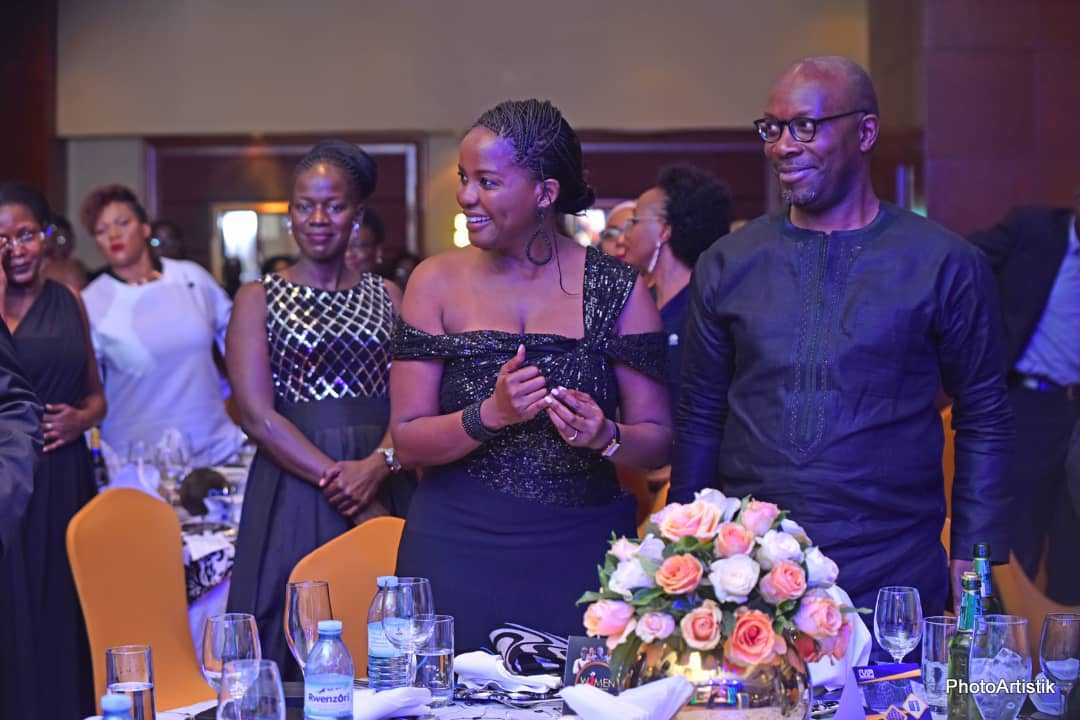 When Anne gave her speech, it is reported that she mentioned Makubuya a couple of times, referring to him as 'my partner'.  The couple also spotted a ring on their marital fingers, an indication that perhaps they already had a private wedding?
What we know for sure is that the couple's love is getting stronger as on Sunday July 17,  Makubuya, escorted by a few friends and family visited Anne's parents in a kukyala ceremony. (The first visit a groom makes to a bride's home).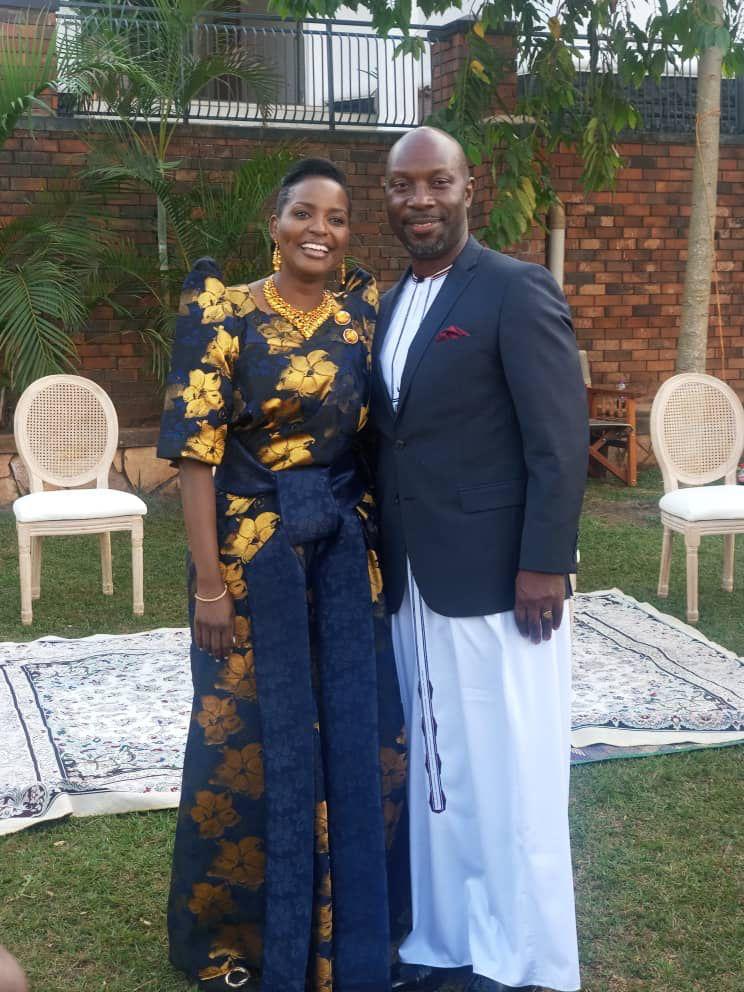 As is known of high profile people that need not prove anything, Anne chose a simple yet elegant black gomesi with golden flowers. She was all smiles next to her beau who also choose to wear a black coat over his Kanzu.
Anne's golden necklace and earrings added a bridal feel to her outfit, while her choice of hairstyle and minimal makeup accentuated her beauty without overdoing it like the case is for many brides.
The guest list tells the tale of a high-class ceremony with the brother of the Kabaka of Buganda, Prince Daudi Kintu Wasajja, being one of the people that escorted the groom-to-be to Anne's parents' home.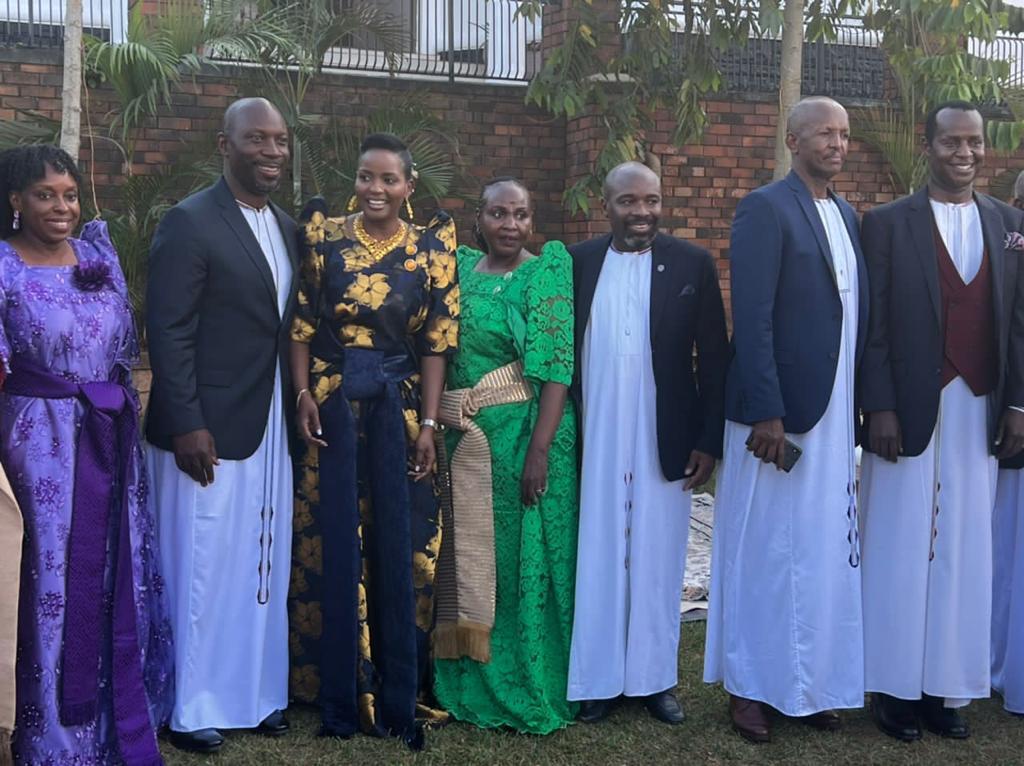 Makubuya is one of the founders of MMAKS and a senior partner in the Corporate Advisory Team at the law firm. He is an expert in corporate mergers & acquisitions, energy, mining and natural resources; arbitration, tax & revenue law and constitutional law. He was widowed after the loss of his first wife, Stella Nansikombi Makubuya in 2018 with whom he had three children.
Anne Juuko is the Chief Executive of Stanbic Bank, Uganda's largest bank by deposits, lending, income, profitability and assets with roughly about 21% market share across the board. She assumed this role in March 2020 from Standard Bank Namibia (Standard Bank is the mother bank of Stanbic), where she was the Head, of Corporate and Investment Banking.
Before returning home to run Uganda's largest bank, she worked in various roles within Stanbic and the mother company, Standard Bank, as well as at Citibank in Uganda and Kenya.
Anne has two children with her ex-partner, Joel Lutamaguzi, who was also an employee at Stanbic Bank.
My Wedding wishes the couple a blissful wedding planning season.
Also Read: Stanbic Boss Anne Jjuuko, lawyer Apollo Makubuya married
 Stanbic Bank CEO Anne Jjuuko introduces lawyer Apollo Makubuya in Zirobwe