By Bash Fahad Mutumba 
The wedding day, is almost always the most thrilling day of one's life. However, wedding anniversaries are often equally thrilling; as couples celebrate the love they have shared for many years. 10 years after they exchanged their vows, Ivan Kagimu shares the story of how he married Margaret, the love of his life.
"We first met in Munyonyo where we grew up from; we literally grew up together. But for marriage, I met her during her final year at MUBS." Ivan revealed. "I loved her personality since childhood. She was a Tom boy. I loved the way she always handled things like a man. She is so social and easygoing."
"I always wanted a supportive, understanding and Godly woman, and in all honesty, I found all these things in Margaret. I wanted my wife to be my friend above all." He further iterated that it was written in the stars that Margaret would become Mrs. Kagimu,
"I decided to marry her after realising that we were meant to be husband and wife; because we kept on bumping into eachother at different levels of our lives until we both finally accepted  our destiny. We had spent many years without seeing each other. When I came back to visit her at the university, she was no longer the innocent person in played with during childhood; she was a companion material.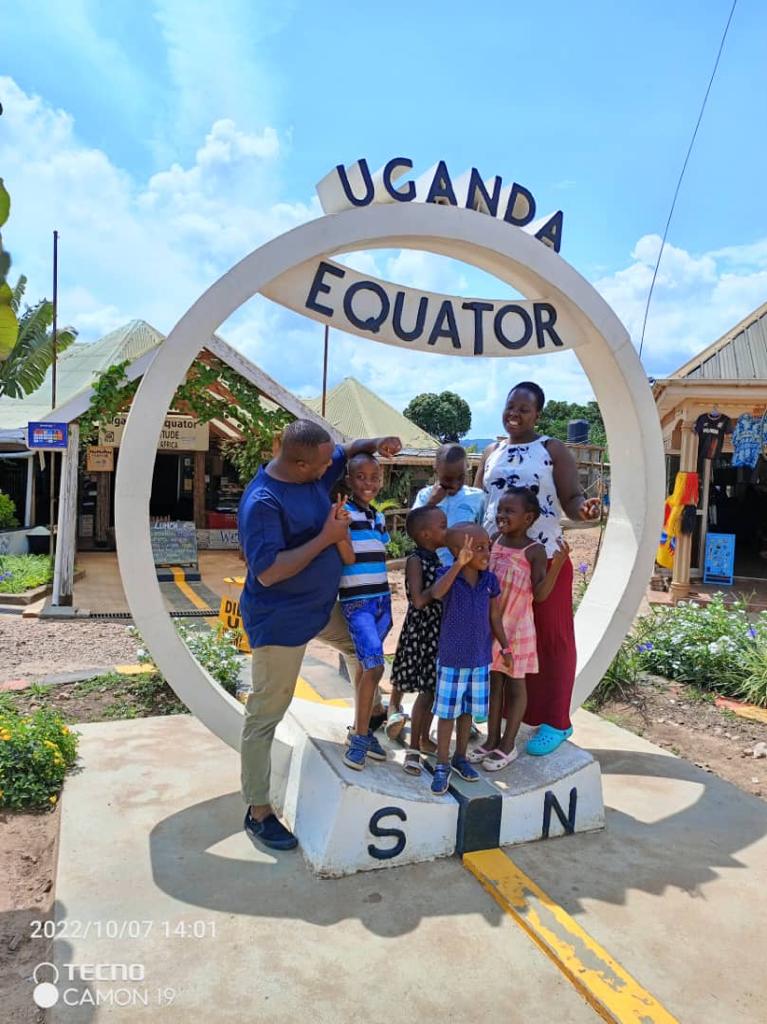 Margaret also felt the same way.
"When he showed up, it was a confirmation to me that he would be my husband, before he could even say a word." She also agrees that their personalities clicked in a way, "I love his personality so much; it is so much like my dad's."
Mr. Kagimu continued singing his wife's praises.
"Her composure and the way she carries herself overall, drew me in so much. She was so organised and cared so much about our home. She was very developmental and built me as a man, right from when we were still dating. This made me fall in love even more."
On the 22nd of September 2012, Ivan, then 25, married his 22 year old bride,
"I was a florist/ interior decorator by that time, and she was still at the university. Getting married at a young age was my decision, because I felt it was the right time for me." Ivan added that in retrospect, he is glad he took that decision, "We have now been happily married for 10 years."
He said the main things that have kept their young couple together for ten years, have not been the most complex,
"The grace of God, believing in our union, and nonstop conversations about things in our midst. We also do everything together, whether business or not."
"Because marriage is a solution to achieving different gifts that life has to offer, anniversaries should be the moment to celebrate those achievements." Ivan argues; disagreeing with those who downplay anniversary celebrations as a waste of time and money.
He went an extra mile by supporting those that redo fully fledged weddings on their anniversaries, as a way to renew their vows,
"It is worth spending money on renewal of vows, because the journey has a lot to reflect on. Sharing these moments with friends and family is not something to take for granted."
Ivan proposed to Margaret at her cousin's baby shower, and given his job as a decorator, he ended up working on the most important aspects of their wedding,
"I supervised the reception decor and practically made my bride's bouquet. Our wedding was themed around a sunset."
"Planning our wedding was not so hard because I was already in the events industry and I had already chosen some ideas. I had my Jamaican friend Yvonne Wilson and her team fly in from London to organise and do the decoration for us. I supervised the night before and went to sleep at 10pm on the eve of the wedding." He added.
Wedding mornings are full of anxiety, even for someone who works in the business like Ivan,
"My plan for the wedding morning was to be calm, relax and wait for church. However we used Jaguar cars for our wedding entourage and we had a shortage of one. Luckily someone sent me a million shillings that morning and I just hired the extra one. Haha!"
Ivan and Margaret exchanged their vows in Namirembe Cathedral, witnessed by a full-to-capacity church. They then headed for the reception,
"One thing I will never forget about our wedding is, we planned for 400 guests and we recieved 1000 plus. Haha!"
"We really wanted a garden wedding. We felt that the number 400 was suitable for gardens and thank God we managed to control the extra number that appeared. The reception was in one of the beautiful gardens at Centenary Park." Ivan revealed.
The couple found a challenge with numbers, as parents from both sides had big guest lists, "It was so hard for us to decide who to invite and who not to; keeping in mind the planned number of guests. Both families had leadership in church and numbers would be hard to control."
"My Kasiki plan was to have a church service and dinner afterwards. It was so easy to invite the clergy since my mom was in church leadership."
About the budget, the big wedding interestingly did not cost the couple as much as it would have cost them today,
"We used about 50 million shillings at most." That was still a steep price to pay, but Ivan says it was not too bad on his side, "I used to work for a big decoration and design company and I was in charge of operations, so decor being the most expensive thing about the wedding did not bother me so much. I managed to get it at almost half its price. I also had big funders among my friends and family."
For all the married couples out there who would like to last forever together, Ivan has one simple piece of advice,
"Put your marriage in God's hands, and it will all be alright."