By Bash Fahad Mutumba
When they set out to organize a non-conventional barbecue-based wedding, Winnie Nyangoma, a businesswoman, and Stephen Mugabe Magunda, a Computer Scientist faced a lot of pushback. However, with unwavering commitment to their vision, the artistic couple made everyone appreciate how beautiful their idea was after execution.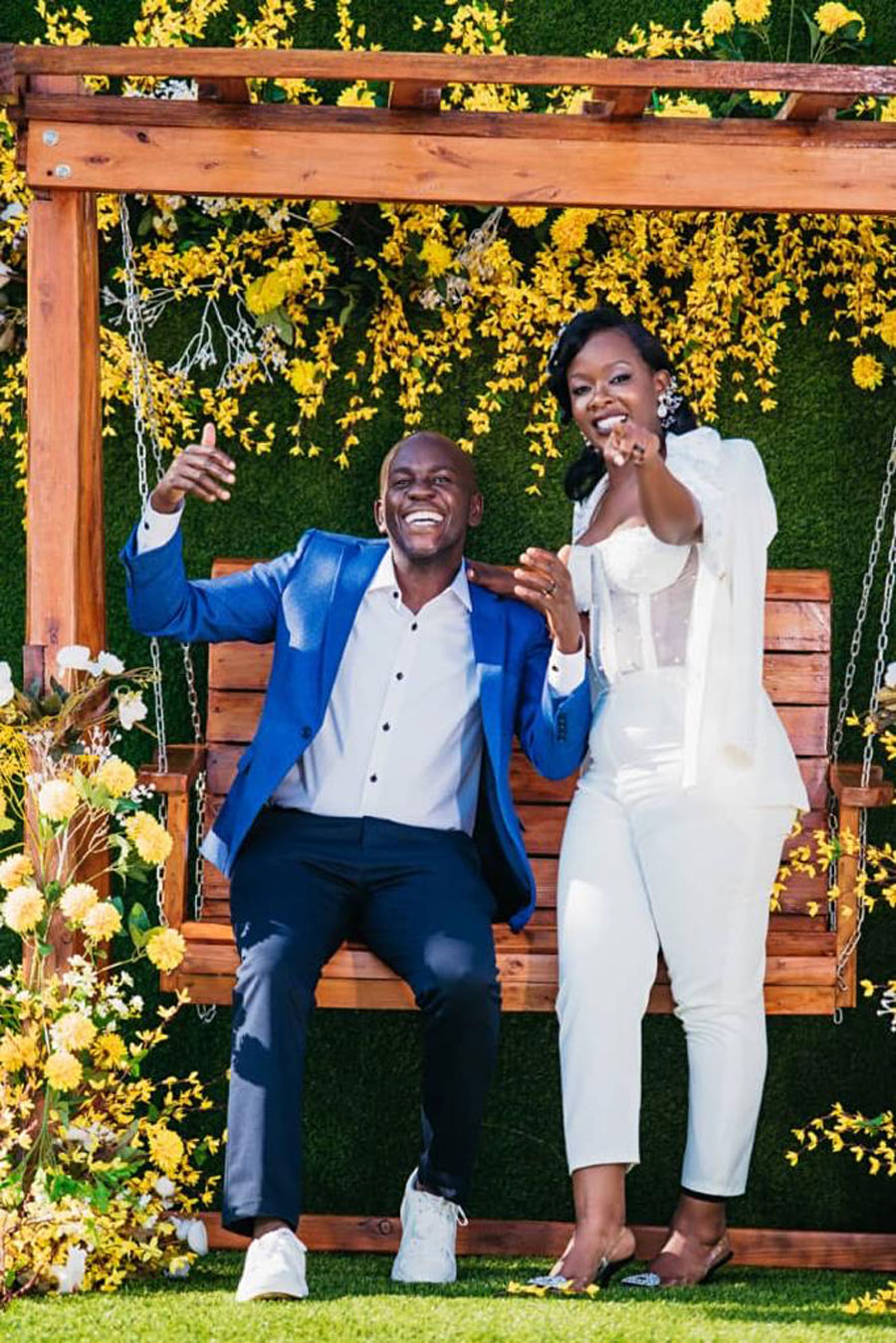 The couple had a barbecue setting for their wedding reception, and they share how the idea was conceived.
"We just needed people to be happy and at ease, because we want to be different from the usual, we wanted people to come freely, and have a good time."
Given the uniqueness of their function, the couple had a lot of opposing opinions to deal with,
"Everyone kept wanting to push us to the usual things. Questions like 'how will people come and not find the usual food?', 'How do you miss matooke at a function?', and so many more. The decorator could not believe that a function could be there without a walkway, a special place for the bride and groom to sit, a well-decorated background where the bride and groom sit, and all that.
"There were questions about what 'casual smart' should be, and at one time we had to share some pictures on the wedding WhatsApp group.
There were calls to cover up/decorate the metallic tent poles. 'How will elders and other important guests sit on pallets?' And the biggest of all was, 'Steve you know the whole of Kampala how shall we handle the numbers?'"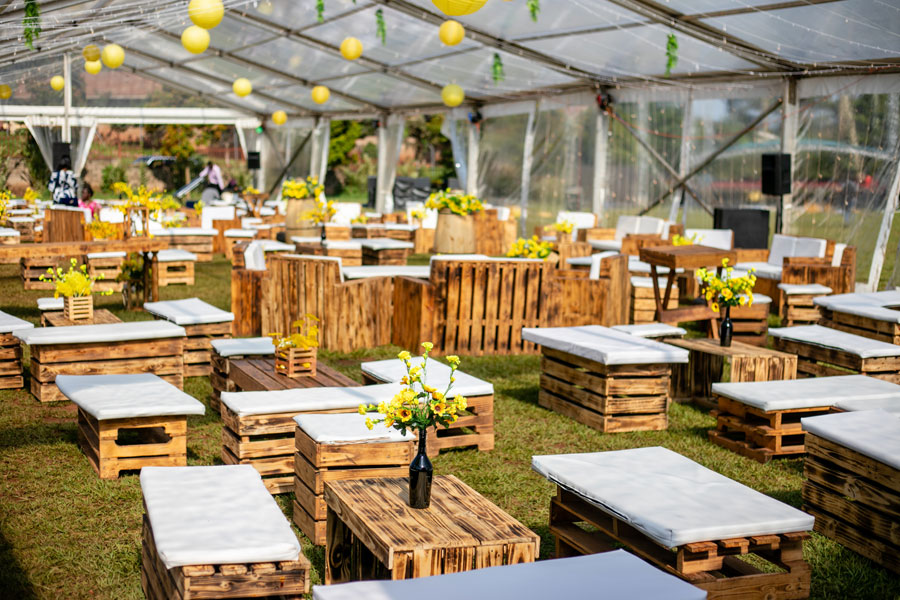 "We emphasized the fact that people should not forget to have a good time. I had so much fun interacting with all the guests. We did not have a high table so we just kept moving around giving people shots, laughing, and ensuring everyone was sorted. The way people treat the bride and groom like little gods was not the case for us. We treated our guests to a warm reception and refused to fake appearances to please people.  We were just happy."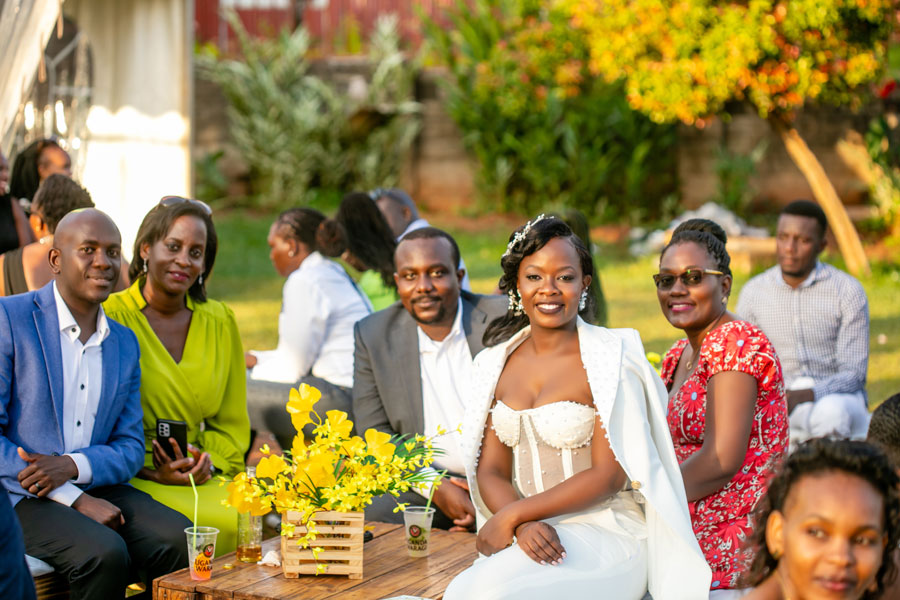 Getting the older generation to accept bohemian concepts is never a simple task, but the artistic couple were committed,
"We have parents that love us so much to a point that talking to them about the function we wanted to have, and asking them to be brief on their speeches, was easy. When they reached the reception, it was easy for them to realize that this was not one of the usual functions they had been at."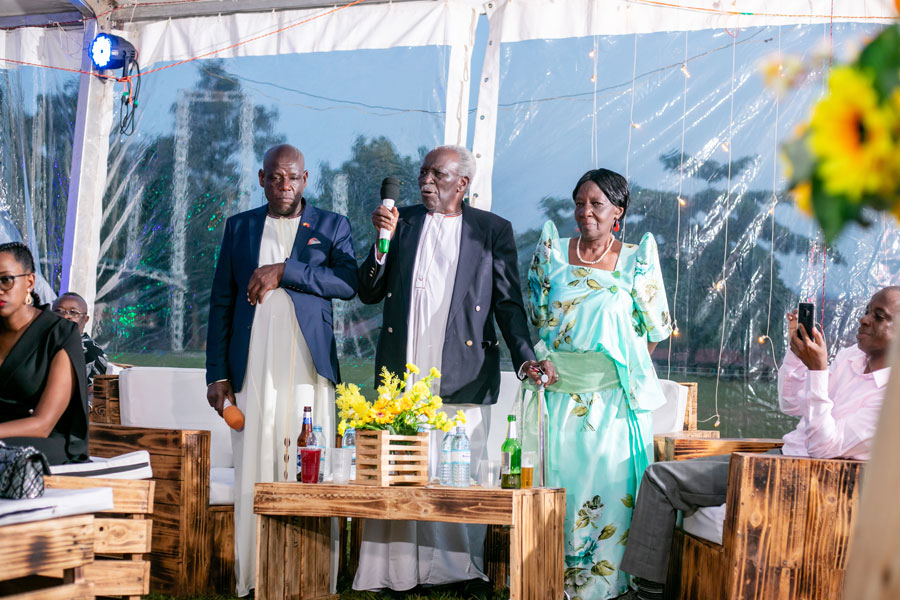 "They did not know what to expect until they got to the reception and actually loved the setup, enjoyed the free sitting, and in the end, they were so happy."
The meal arrangement was equally unique,
"We did not have the usual menu, and neither was it overly exotic. We served people the food they needed to blend in with the event which had lots of drinks. We had the first serving of food available for anyone to eat whenever they wanted, and later served barbecue.
One had to go get meat whenever they wanted." The couple bought their food items at about Shs15m and paid labour of Shs6m to the cook.  Food was served from 3 pm-10 pm.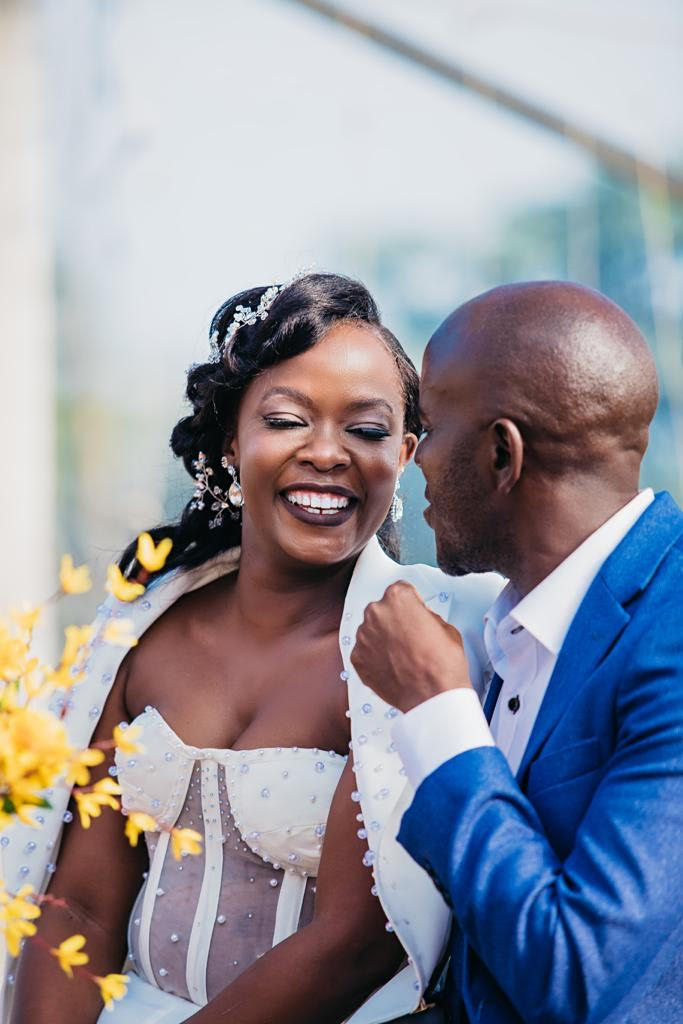 "It was a well-thought-through function. We are two friends getting married, and we both like seeing people happy so we sat down and made a list of things that make people happy: alcohol, food that is meat in particular, music and being free." Winnie says. "At that point, we decided the reception should be so welcoming, without any protocol. People should be served as soon as they arrive."
"The function was creatively thought out to bring up new ideas in celebration other than the usual wedding protocol. All the way from church, we had very unique songs and unique readings. The entourage dressing was so different from the usual; they had same color dresses, suits and so on.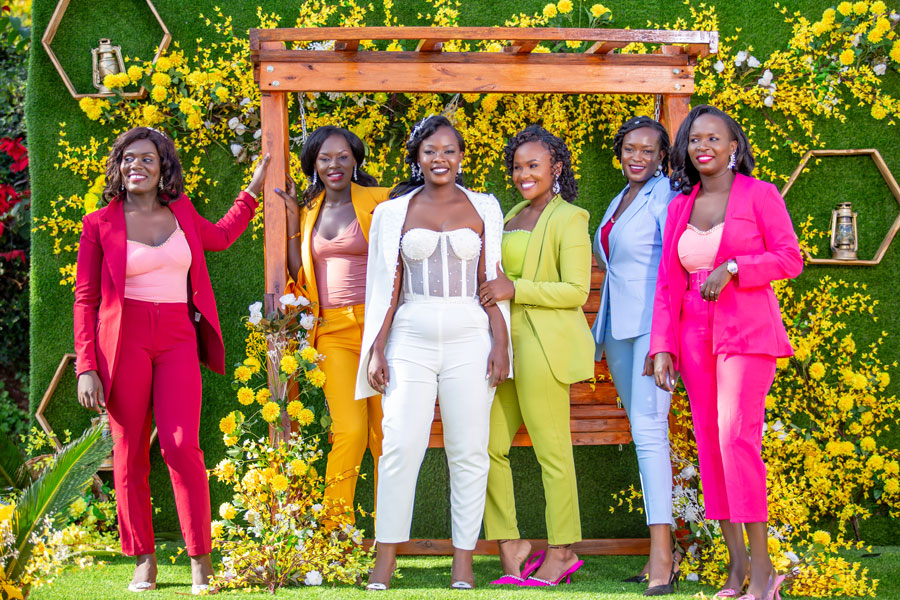 We also personally welcomed our guests to the reception, which was like a shocker to many people who thought that being newly wed we needed to be at an unreachable high-table seat."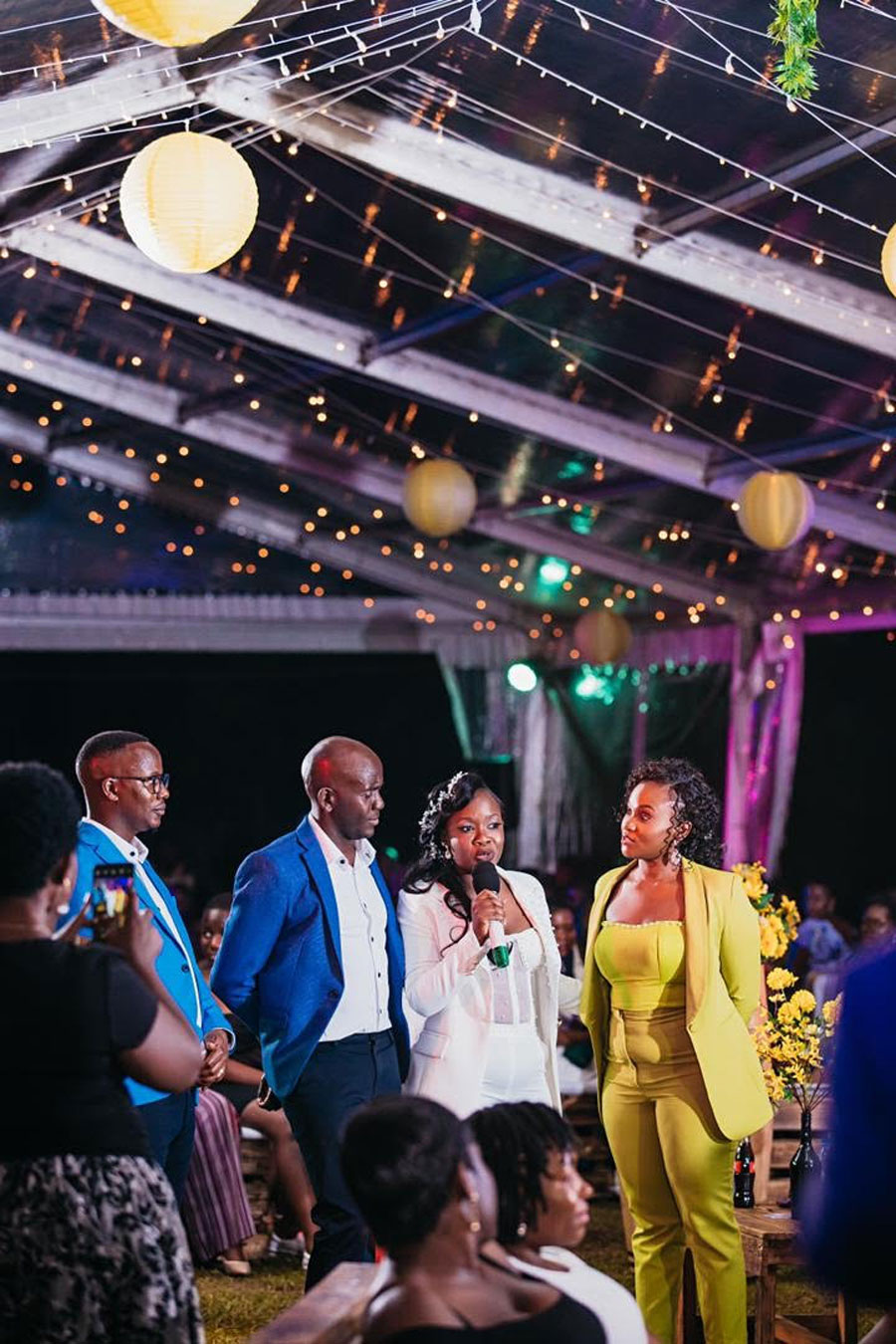 The interesting aspects about the wedding continue,
"The decoration was so unique, not seen before here by those that attended. The setting was unique to allow for free sitting and movement. The no-high table, no red carpet walkway arrangement; allowed us the couple to move around and actually greet our guests. The program had minimal speeches that were also short to ensure people pay attention to being happy. We did not have the protocols of when to serve food and so on. Alcohol and food were served at all times.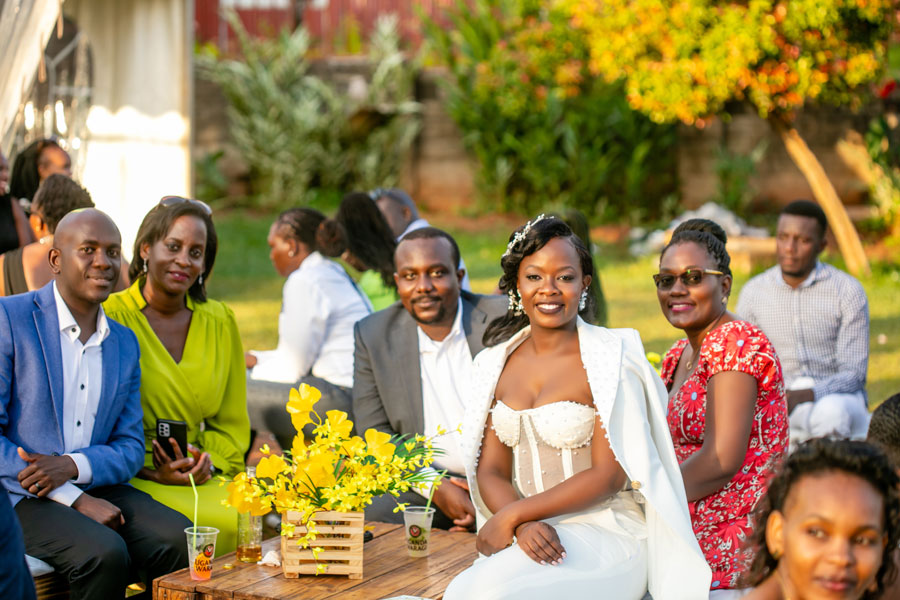 The couple stresses they lost count of the number of people who attended,
"We honestly cannot tell. We have so many friends, and almost everyone turned up and guests also called others to come and join in on the fun."
"From the onset, the facilities had to be open to allow us to do everything we had in mind. There was never a chance for a closed venue for our wedding since we both love seeing people free, and needed to define what food and drinks are served."
Given the nature of their wedding, the couple did not have time to relax on the eve of their function,
"The day before was to check and ensure everything was in place. That different committee members were in touch with the service providers, and that our outfits were ready."
The bride then shares the source of inspiration for her wedding gown,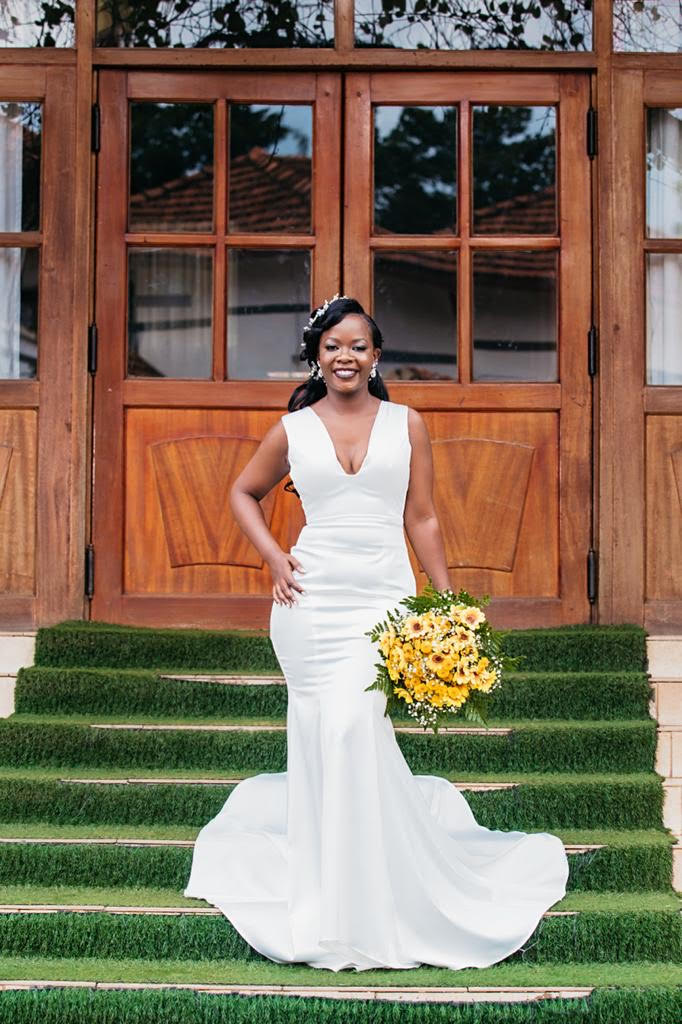 "There is nothing Pinterest will not solve. I hate big dresses. I just did not see myself kicking a huge gown. I had two simple dresses and a female suit for my reception. The girls also had suits and it came as a decision because I have so many bridesmaid dresses from weddings I was part of, which I have never worn again. So I told them to choose a colour for their suit and yeah!"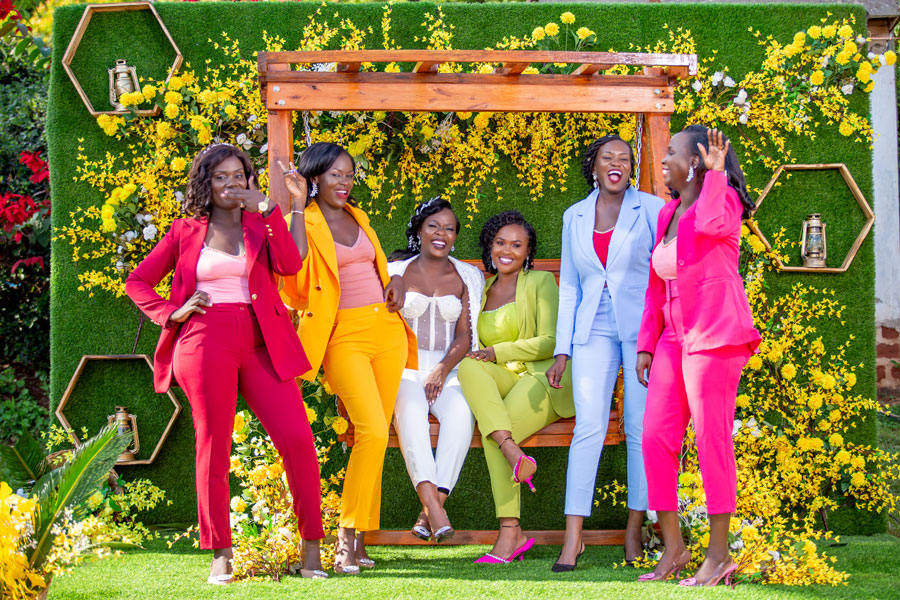 Expectedly, Stephen shares the same sentiments,
"I just like to dress freely and there was never a chance of me to lock myself up in exaggerated suits and all sorts of usual wedding outfits. I had to make it as simple and comfortable as possible and also remain in the causal smart bracket."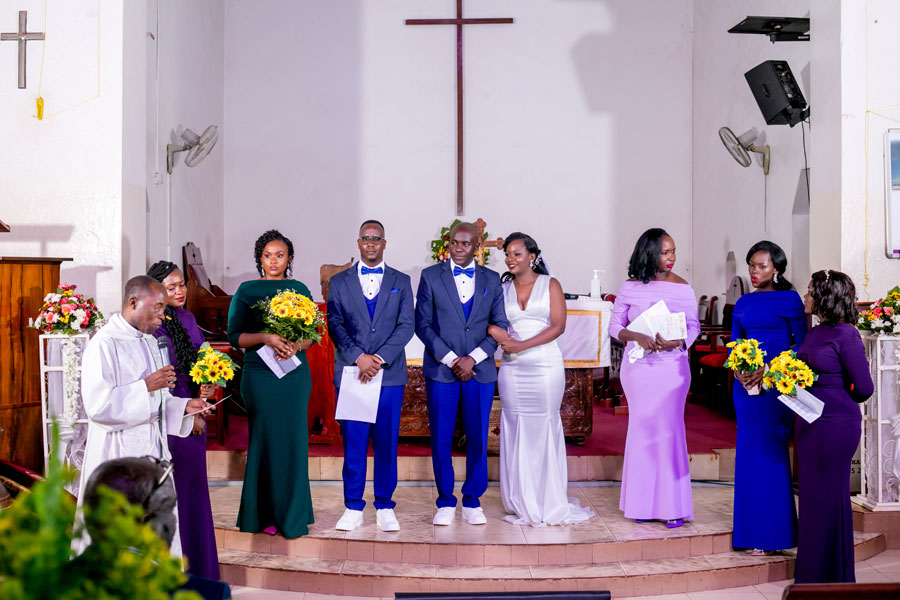 "For my church suit, I got a design online and had it tailored by Ashraf. The shoes and reception outfit were from the UK, my best man was on a trip the week before we had to do the orders and he came with them."
The bride and her maids' female suits were made by Bisa Styles. Jamillah Brown did the corset and suit embroidery plus the first dress, and Exquisite Bridals also made one gorgeous gown for Winnie.
"It took a week to make my gown since Jamillah Brown knows me and always delivers. Bisa Styles delivered in four days after I made the order. Exquisite Bridal also delivered and adjusted very easily."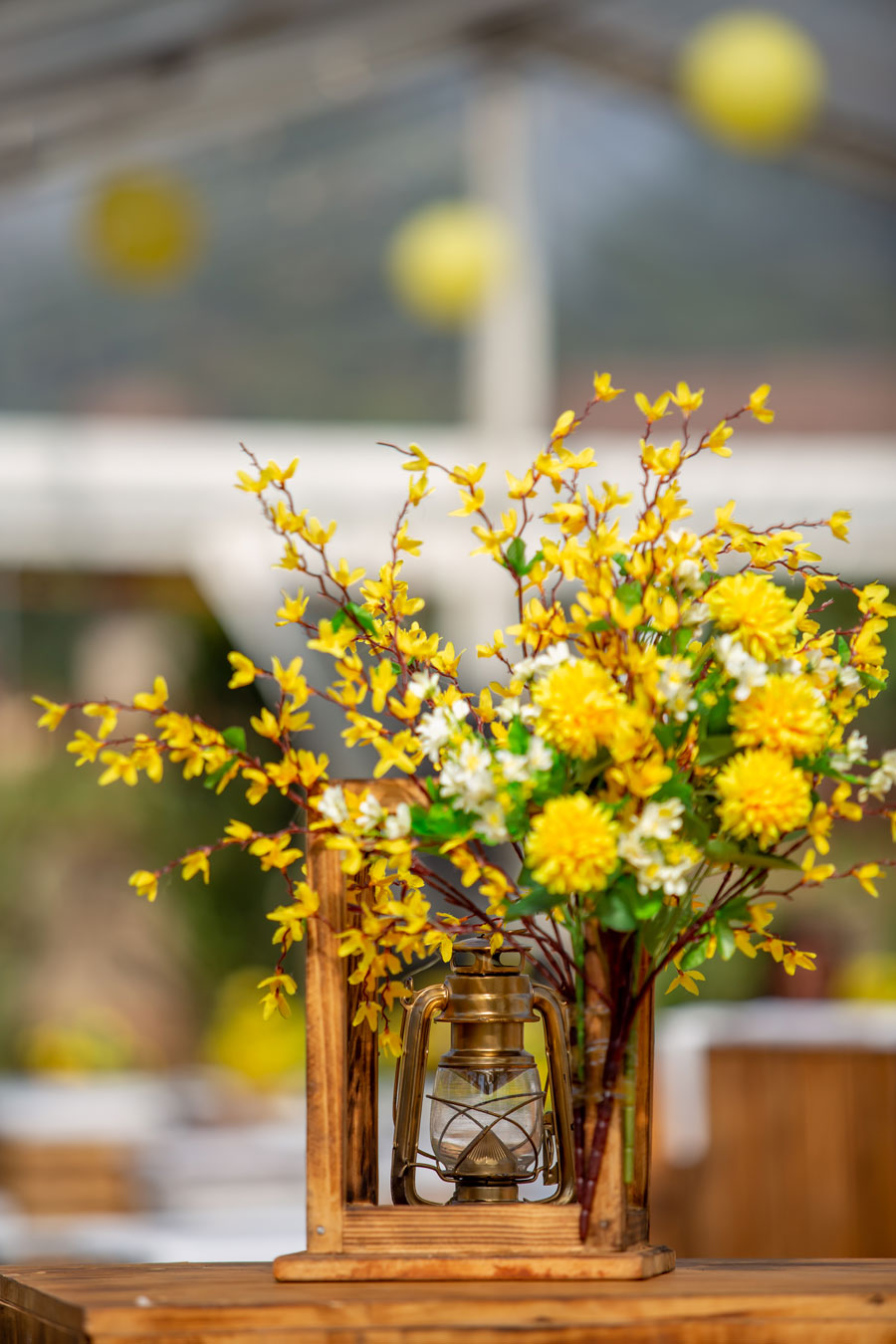 "The decor was beautiful and Vicky of the Pallet House did a good job. We sat with her multiple times explaining the concept and she was convinced she would pull it off — she did not disappoint. That decor cost about Shs30 million, including the pallets, bar area, lighting, flowers and other detailed decorations and the tent which was Shs5.5m. It was planned and we kept drawing 3D visuals of how we needed the final show."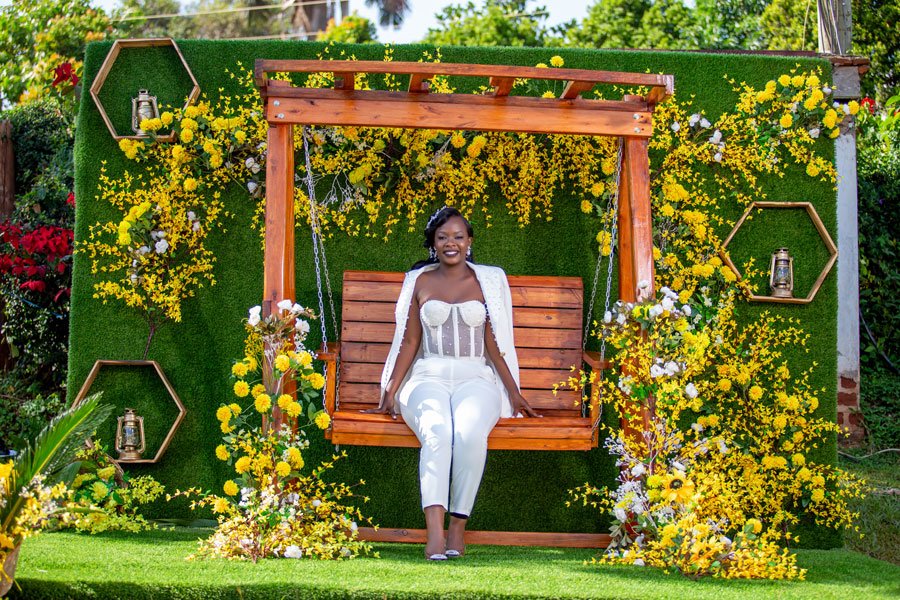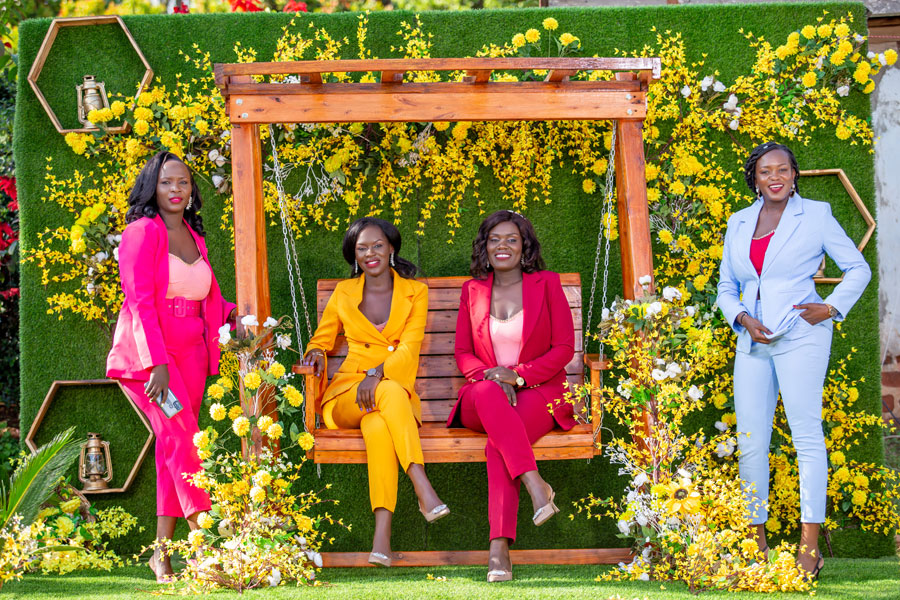 The budget was about shs 80 million, even though the actuals went up because of some simple, last-minute additions.
"I must say we have a great army of friends that supported our function. And by friends I mean friends, family and workmates. They are all one thing: our friends. They were there for us throughout the preparations, the meetings and all. The money kept coming even as far as the reception. The attendance, smartness and people actually enjoying the day like we wanted to, is exactly what happened. Every face was happy."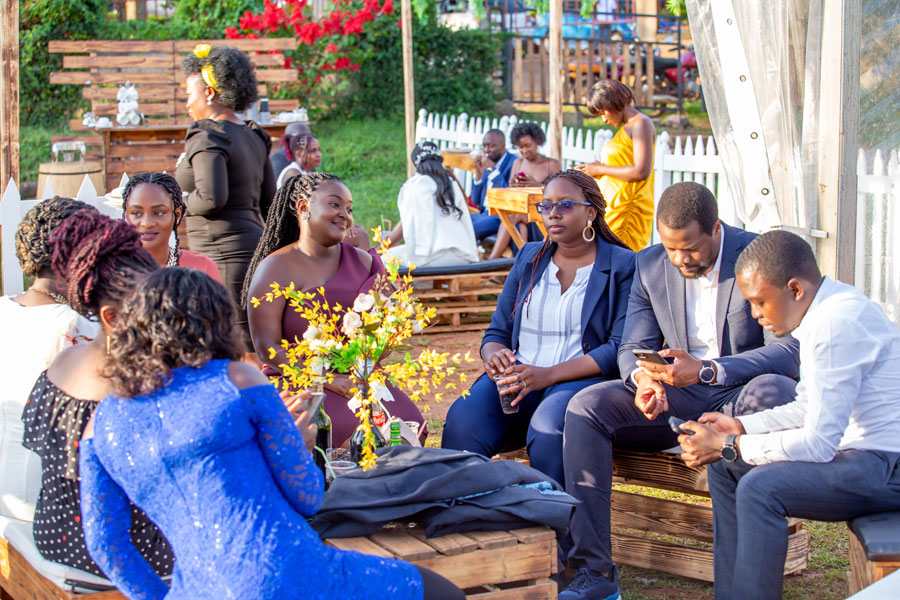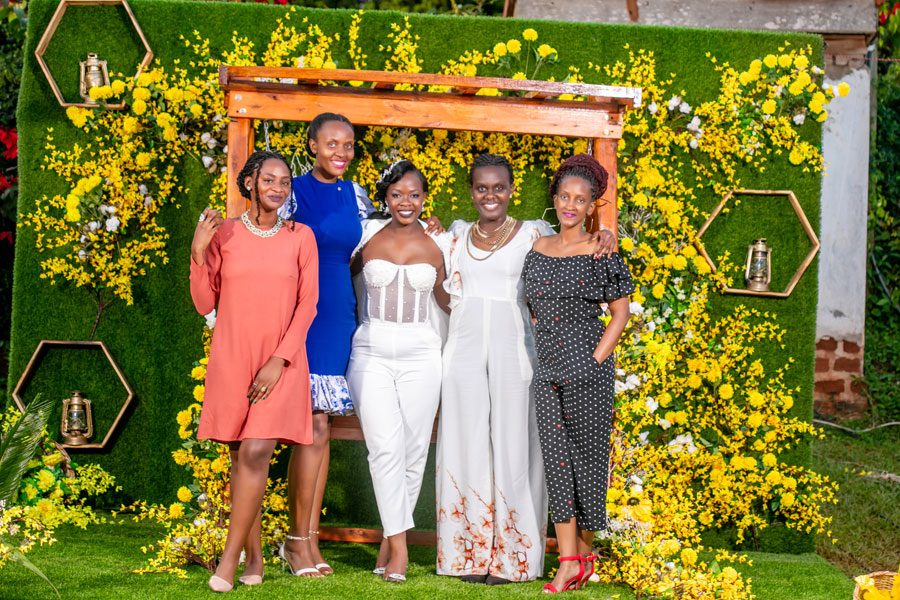 Finding love
Growing up, Winnie saw her father as the benchmark for her future husband,
"My father was the happiest husband I ever saw, of course all his flaws put aside. His character was one I admired; free, open-minded, a good listener, and most importantly respectful. I grew up wishing I would get a husband like that and voila Stephen showed up. Hehe!"
Stephen also did not feel so different,
"I always thought about someone I would be happy and free with, and got exactly that in Winnie."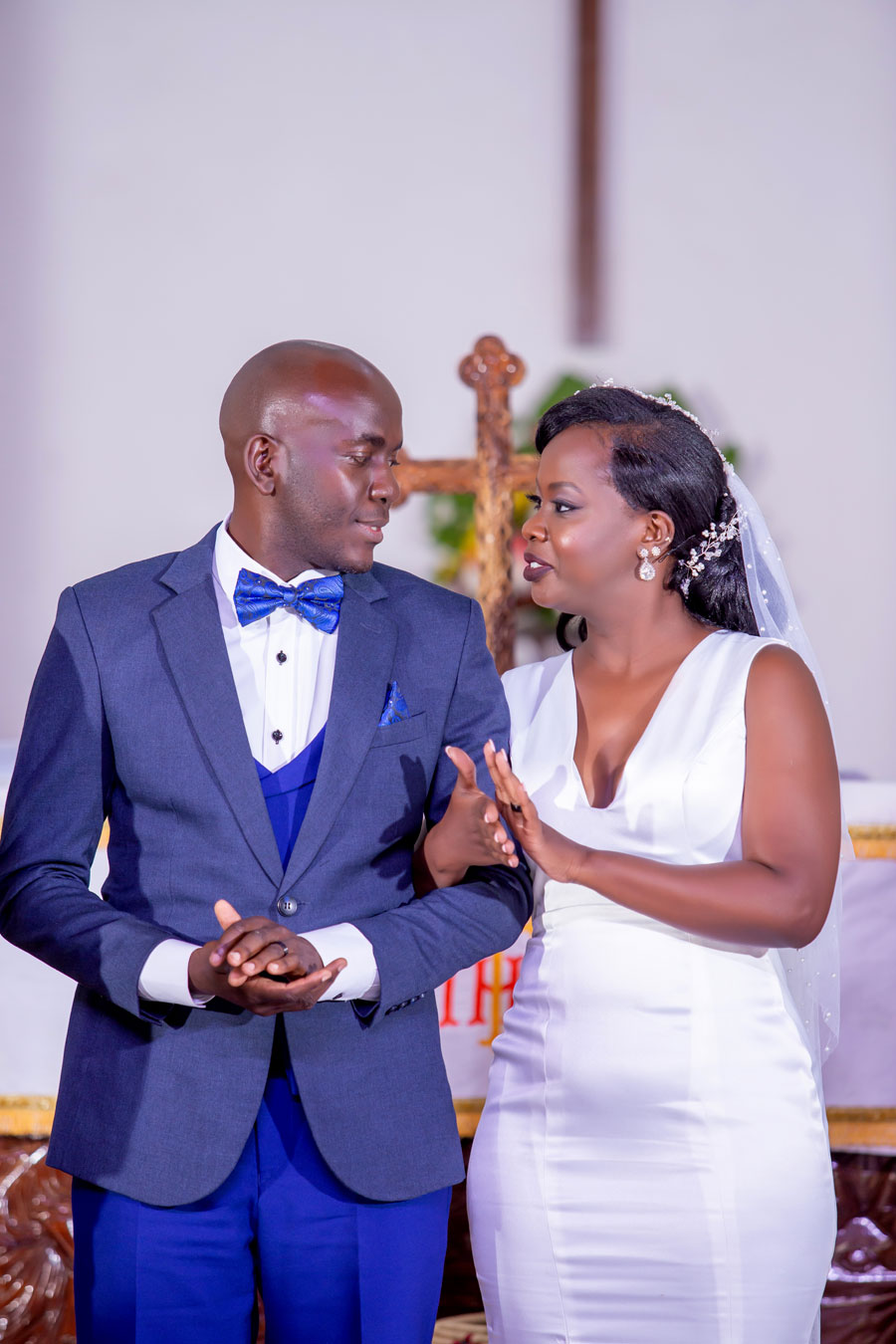 Clearly a person one might classify as an elite, Stephen is rather grounded,
"I am a Computer Scientist, Information Security specialist, and Data Protection Manager with the Personal Data Protection Office (PDPO) at the National Information Technology Authority Uganda (NITA-U). But most importantly, I am a muntu wawansi(a common person)."
The two first met at a social gathering organized by a mutual friend, and Winnie was hooked right away,
"I love good vibes. Hihi! He was happy in the morning, which I liked so much, since very few people are happy during morning hours. He then asked for a beer at that function. Haha! I looked at him in shock and he asked me 'At what time do throats open?' I found that so hilarious and laughed so hard. I brought him the early morning beer, and decided I needed to know him more."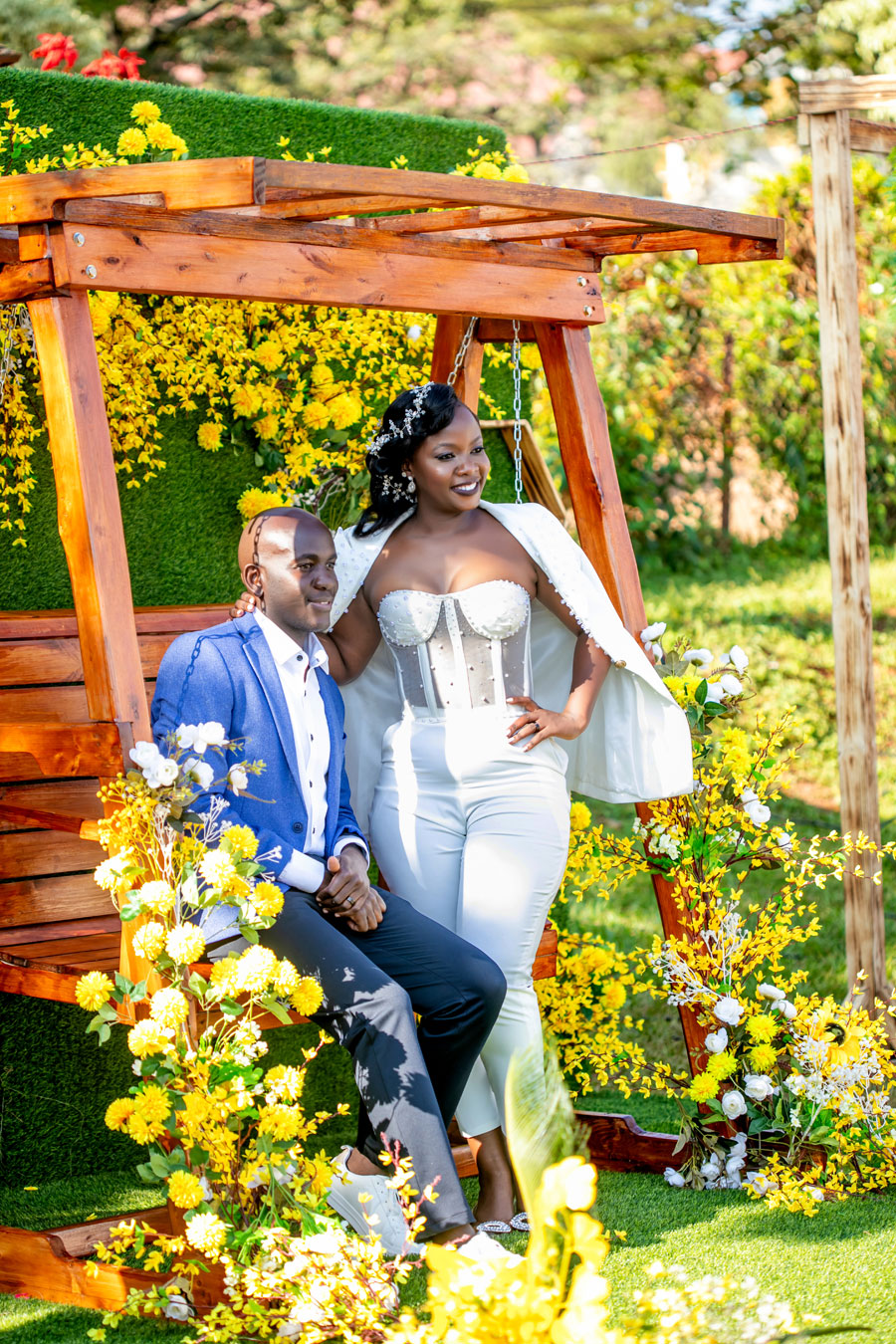 Stephen also remembers the day vividly,
"She was so smart. She came and greeted us, and even though it was 11 am in the morning, I asked her for a cold Guinness. She opened her eyes in shock and told me it was too early and laughed. But she brought the beer after I told her my throat was open for the beer at that time. I then decided to keep tabs on her."
Stephen's wit really caught Winnie, and it is still one of the things she loves most about him. Amooti, like her friends and family, affectionately call her, describes her husband,
"He is very brilliant, caring and I know I have him in my corner to cheer me on even when things are hitting me. We usually take a moment and laugh so hard about life's challenges.
The groom on the other hand, loves her personality even more,
"She is Nyangoma; what you see is what she is. Wrong or right she will openly talk to you about it. Also, she is good vibes; I do not want to witness a moment where she is not happy. She will cheer you up at any moment."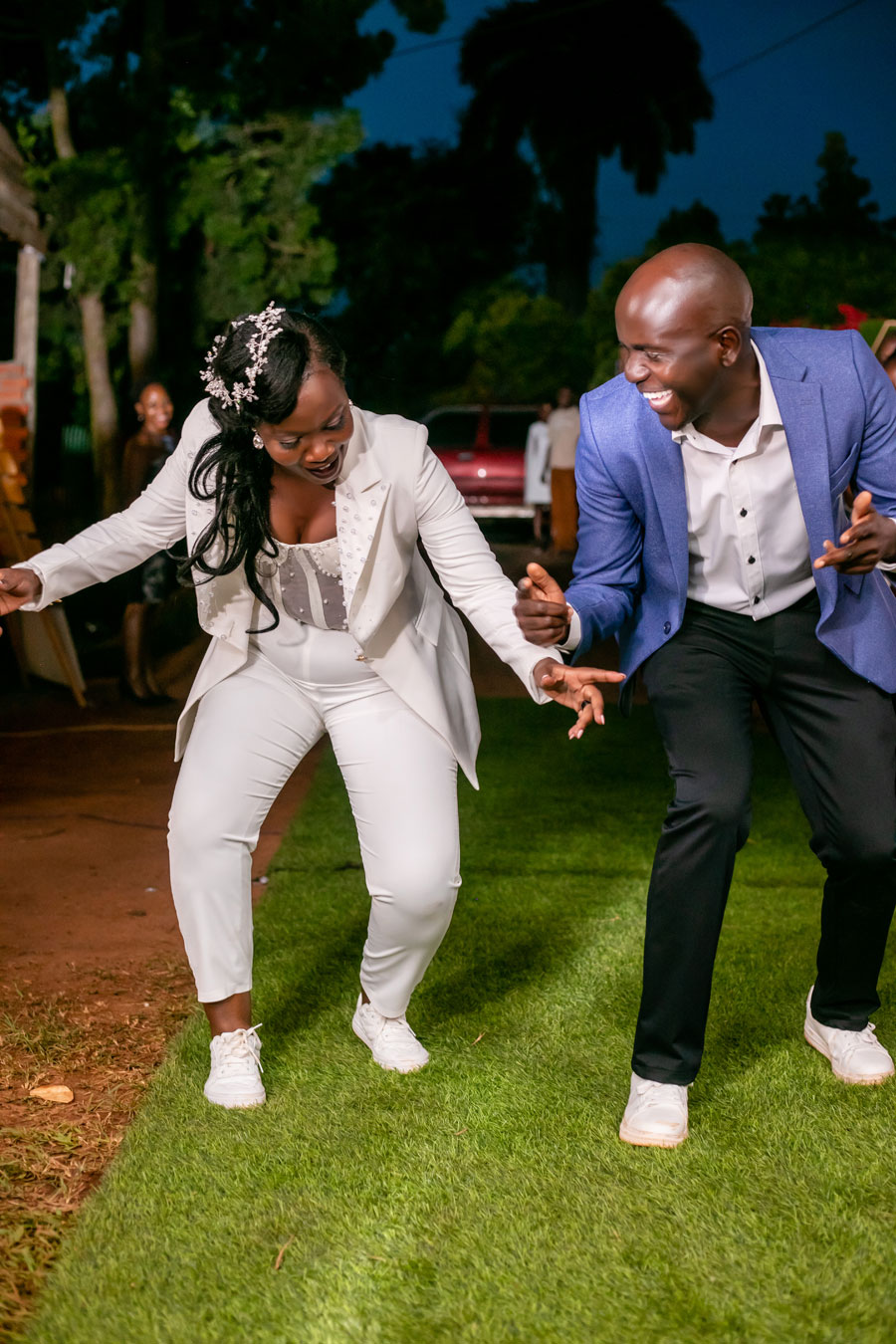 About the decision to get married, Stephen says as soon as they clicked and were on the same page, the rest moved automatically. Winnie says she was just living life and enjoying herself at the time they met. When they felt like the time was right to make it official, the couple saw no need for a proposal,
"We had a mutual understanding, so there was no proposal. We sat down and agreed on what we wanted."
The bride however confides that she got a bit anxious towards the D-day due to some delays."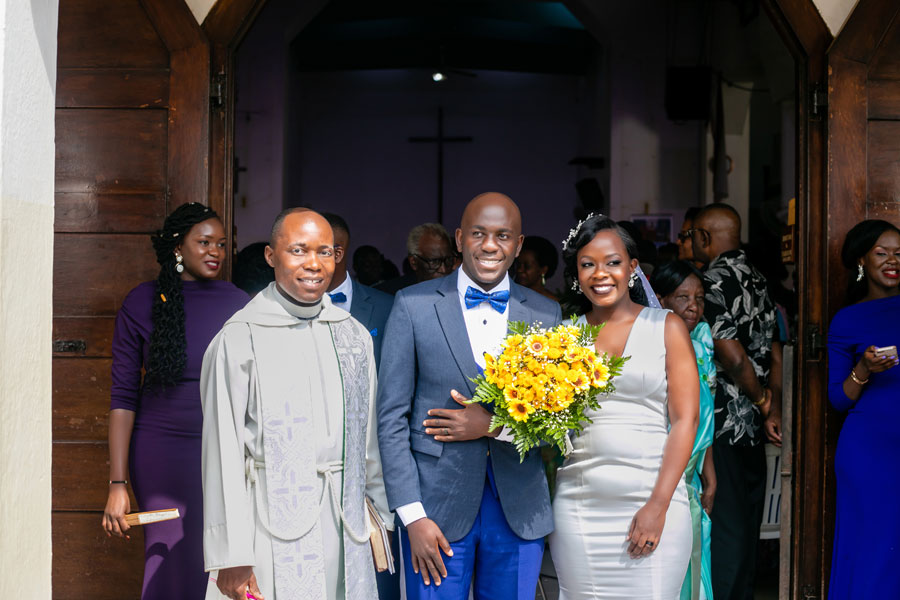 The groom narrates his own wedding morning experience,
"The morning was generally okay. I had a friend, Don Nyakahuma come over to my house. We had a meal of Kalo, Katuzi and Mukaro prepared by my aunt, and then left home. We both drove to the reception venue to check out the setups. Because the organization was not the usual, I had to make sure everything was properly set up. My intuition was right, as I found a few issues. I had them fixed before heading out to meet my best man at the saloon."
"The church ceremony was at All Saints Cathedral at 2:00 pm and the service was so on point. We chose Hymns that speak to us, readings that speak to us, and Rev. Gerald Ayebare with the sermon was so good. Everyone that attended church realized that we were on for something different."
"Steve and I are friends who have known and been with each other for some time, so the wedding has changed nothing about us," Winnie says.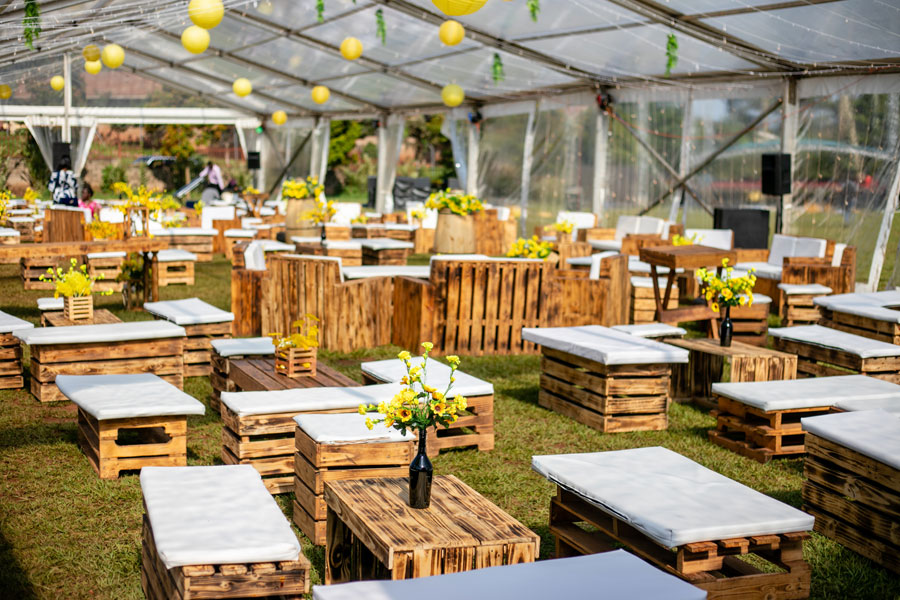 "A wedding like ours is very achievable, you only need to have an agreement of minds as the couple and have a strong organizing team. We had the best organizing committee. The team did not rest from the time the setup started. A group would be around for one-quarter of the day, and another would come later and so on, till everything was set up. They ensured everything which was organized for the function, was served for everyone to drink and eat."
About their marriage, Winnie confides,
"For marriage, it is more than about the wedding day. Let us comment after some years, but still, marry a friend."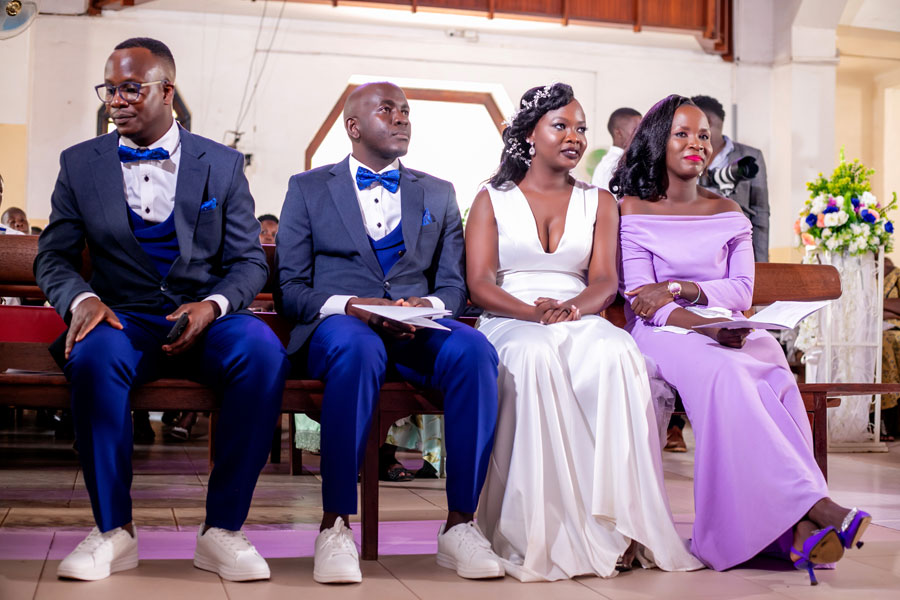 Gallery