Your wedding day is a significant milestone that calls for a celebration filled with elegance. Selecting the ideal decor that aligns with your personality and establishes the ambience for the entire event is undeniably one of the most thrilling parts of wedding planning. If you are seeking to infuse your special day with artistic flair and allure, we have got you covered. These distinctive and captivating wedding decor ideas are bound to leave a lasting impression on your guests.
Garden wedding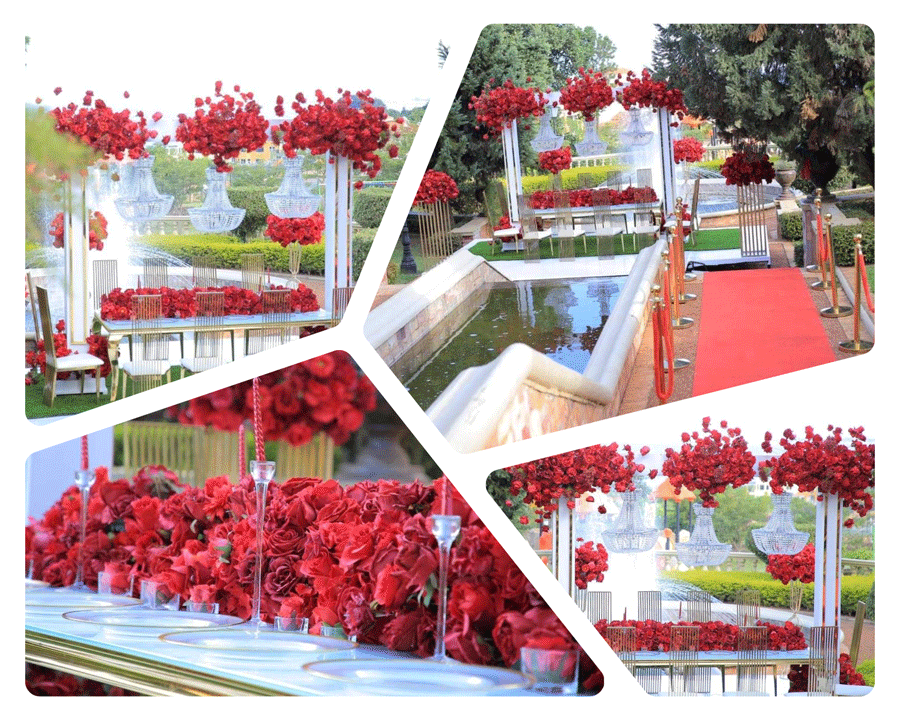 You can embrace the charm of a rustic garden theme with soft, and natural elements; or you can decorate the venue with wooden accents, wildflowers, and vintage-inspired details. Some might even hang string lights and use mismatched vintage chairs for seats. Koller Hiob, the proprietor of Catahena Decor, suggests using all-natural blossoms. "What is common today is the total opposite. People have their weddings in gardens, but then style them like halls; with too many artificial themes," he says. "Garden weddings are the most elegant, dreamy weddings and should not have tents and all that artificial stuff. People should enjoy the great outdoors."
Poolside cocktail wedding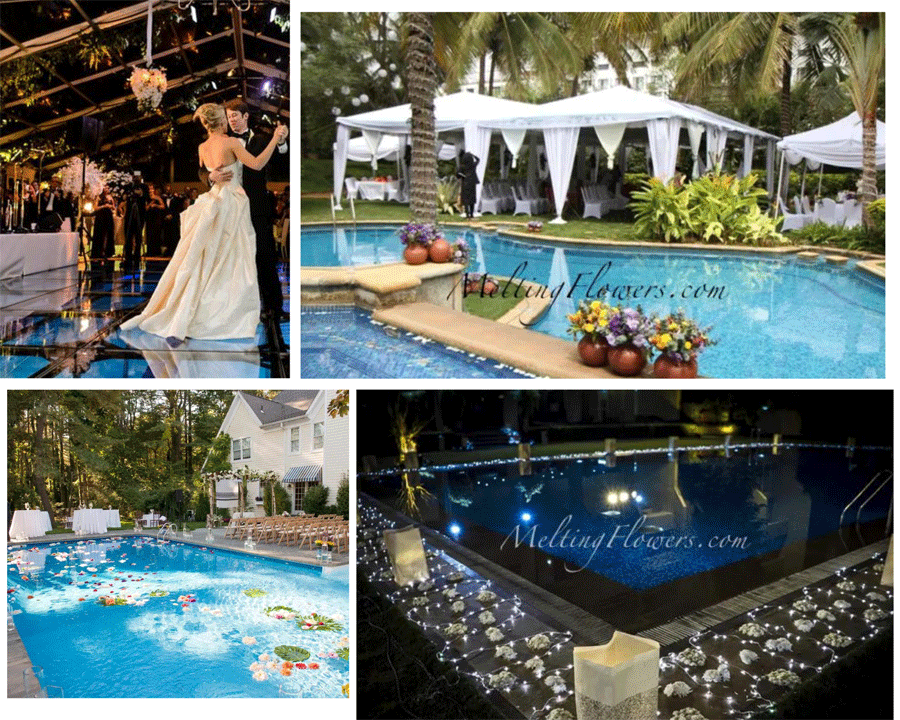 For the poolside cocktail wedding decor, you would embrace a tropical theme with vibrant colours, tropical flowers, palm leaves, and exotic fruits. It is completed by poolside lighting, floating candles, lounge seating, and a stylish bar area to create an inviting atmosphere. Hiob has a liking for it.  "My best wedding would be a poolside cocktail wedding. Running for a few hours with a few speeches, attended by a few close family friends and guests. It is ideal for today's struggling economy; as one can still have elegant and classy setups at a low/ affordable budget."
Indoor/ hall wedding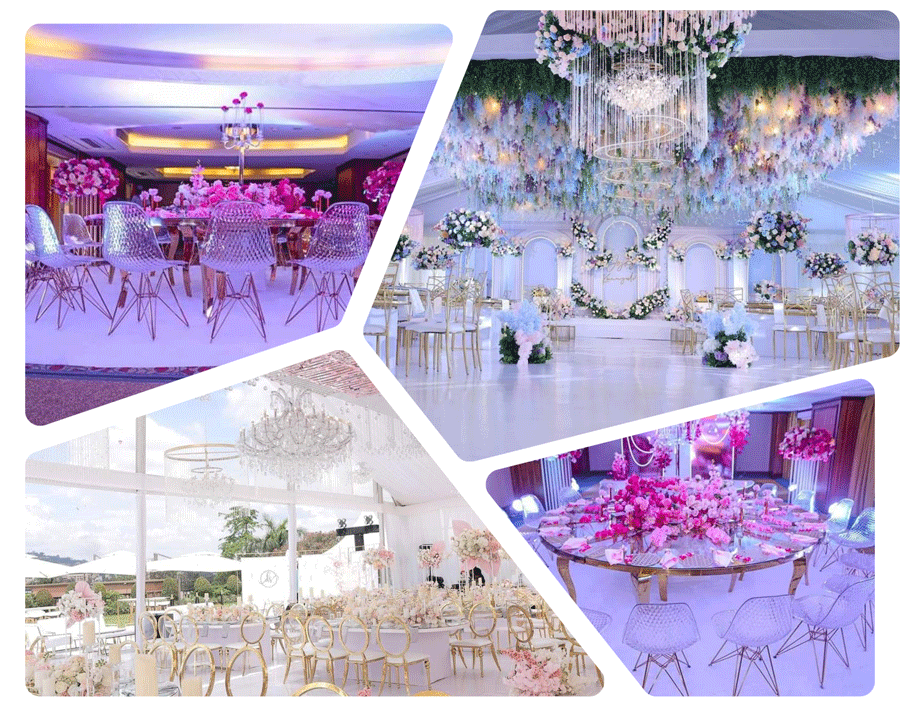 An indoor wedding theme by iCandyAccording to Hiob, hall weddings are by far the most common wedding setup in  Uganda. "We have seen some luxurious setups here in hall weddings. It is usually suitable for guest numbers of 500 and above."
Henry Kikonyogo, the proprietor of Bloven Decor says conceptualizing wedding decor does not come so easy, because different clients have different expectations and different budgets. A client might ask for an idea, thinking it is easy to be done, yet it is complex.
Rustic-themed wedding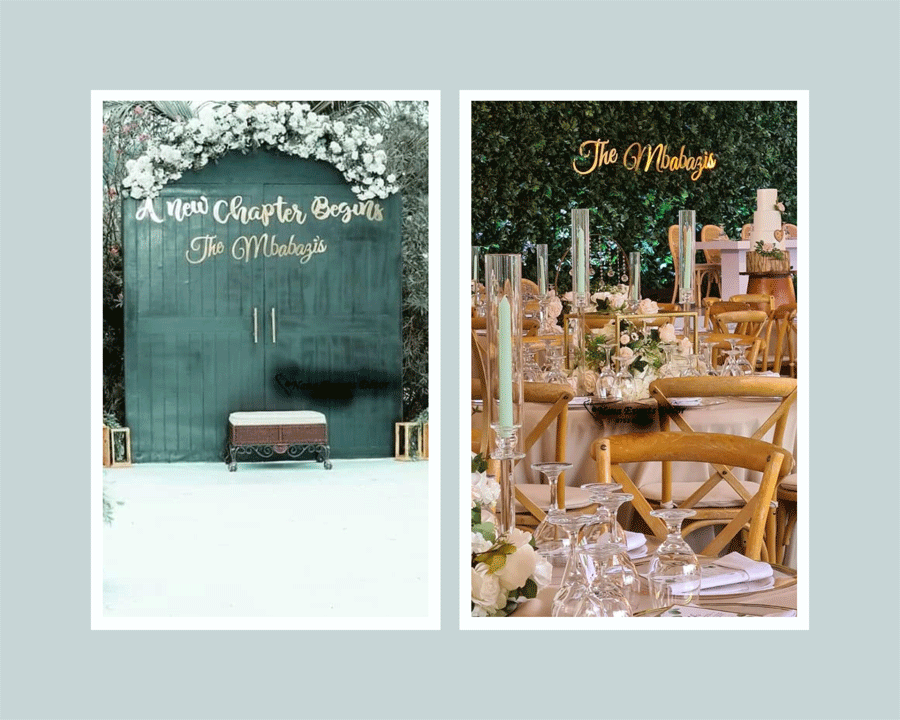 A rustic wedding or introduction usually comes in browns; with pampas flowers, feathers, dry leaves and so much more. It can be best done when using tables with linens in combination with either wooden chairs, chameleon chairs, or chiavari chairs.
"Not any kind of chair or table can comfortably make a rustic theme," Kikonyogo says.
"They are not expensive to be done but are a bit tricky to pull off. You must be so creative to nail the look. If it is a big tent, you can do some greenery on the top, with baskets, warm-lit bulbs and fairy lights. Brown flowers can also make a very good component of the ceiling; minimise chandeliers and replace them with warm bulbs and fairy lights. But a client might still want a rustic theme with lots of chandeliers and glass tables, so it is up to you to do your magic based on your expertise." Orange also looks good with a rustic theme; you can incorporate it with napkins and linens.
"The cost will depend on the extent of beauty and complexity of the client's specifications. A client might not have much to spend on decor, but a great decor idea can be put in place with simple details that cost less, and the vision still comes out," Kikonyogo says.
Mugabe Stephen Magunda, a data scientist and his wife Winnie Nyangoma had a rustic theme for their wedding reception, "The decor was beautiful. Vicky of the Pallet House did a good job. We sat with her multiple times explaining the concept and she was convinced she would pull it off, and she surely did not disappoint. We made 3D models of the entire setup before execution."
Boho chic-themed wedding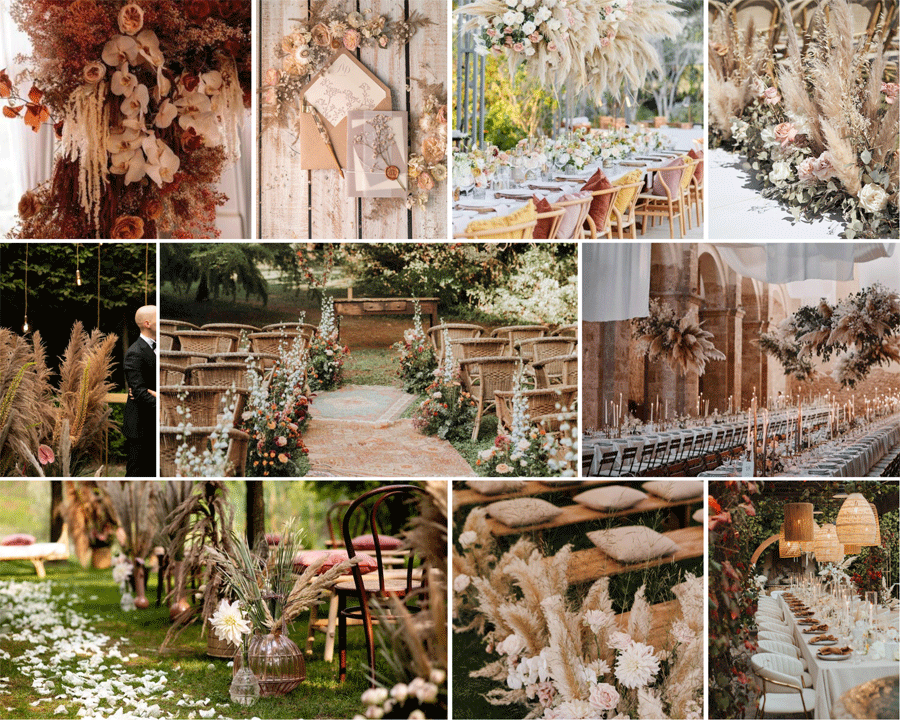 "The bohemian chic theme is similar to rustic, but are not the same," Kikonyogo says.
"It is a combination of brown flowers, pampas flowers and soft colours like brown, blush and mild pink. It also looks better with linen on tables. Simple chairs like chameleon or chrome chairs can be chosen, with white and gold coatings, adorned by beautiful linens of white or off-white, and brown or blush napkins. Choices depend on whether you have a ceiling or not."
Boho weddings are usually expensive to do because of the combination of items like linens, and chairs but primarily flowers. Henry says conceptualising a boho-themed wedding needs a lot of creativity from the decorator.
"It can also be made as a variation called contemporary boho, with glass. For example, add a mirror on top of a round table with linen. Fashion-forward, elite and luxurious couples are the ones that mostly go for the contemporary boho theme. It is a trend of decor not every client will understand because of the colours and flowers. If you ever find a client that wants such a wedding theme, it is almost impossible to convince them to try something else," he says.
Wedding photographer Edward Watson used a variation of the boho and rustic theme for his unique traditional wedding last year.
White weddings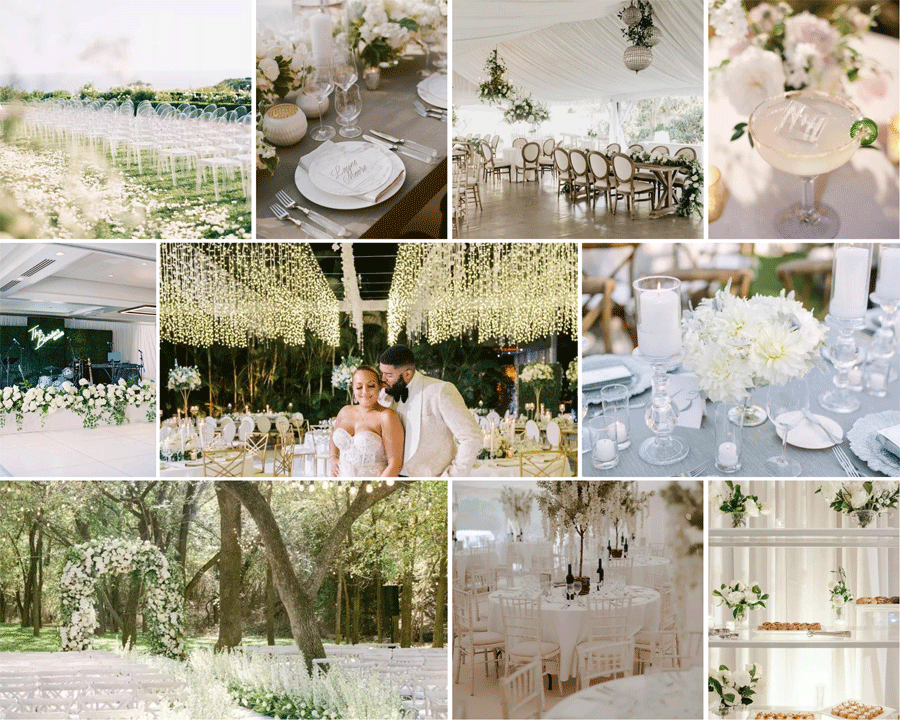 "White weddings have been so popular in the last two years," Kikonyogo says.
"The uptown clients appreciate the theme so much. However, they are expensive to accomplish, because they need a unique selling concept and many items from drapes, hangings, chandeliers, and fairy lights, but they must be white. Other times used in white weddings can be silver and a little bit of grey. To get the best outcome from a white wedding, you might need to do a full white floor if you are in a tent or a full white carpet if you are in a hall. You can also do it with linens and white chairs to make it cheaper," he adds. The cost will vary based on the furniture chosen.
"You can use imported tables or wooden tables with white linen. White weddings can be done by large and mid-budget clients too. With a good concept, a white wedding is one of the most popular. Decorators believe that a white wedding represents elegance, however, you have to make sure that the client appreciates such a wedding. For example, clients who love colour, might not want a white wedding," Kikonyogo says.