By Owechi Maria Immaculate
A wedding is too significant to go without a fantastic hairstyle.  It should actually be about what you want and how you want to express your personal style. Don't try to hide who you are for a lace and veil. Are you looking for options that will cause your guests to stop and stare at the sheer elegance of what your braids or natural hair can do? Then yes, go for it!  You don't have to limit yourself to the usual straight or gel bridal hairstyles. Whether you want to go for a traditional hairstyle or look  for a modern and chic hairstyle, there are many hairstyles to choose for different hair styles. And with embellishments  like flowers, pearls or tiaras to decorate your hair, you can never go wrong.
Your bridal hairstyle should feel natural and glamorous. Whether you want to maintain your signature hairdo or change it up for the big day, we rounded up  how you can think out of the box with your hair and get a stylish look.
Braided hairstyles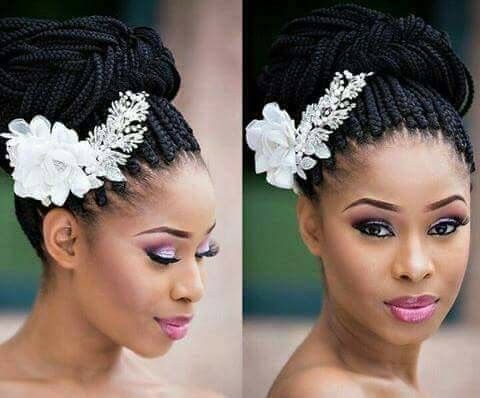 Braids are capable of enhancing your look as well as dignity when you artistically design and style them well. There are so many braid variations and searching for a unique hairstyle is the only task at hand. You  can decide to go for a low or a high bun, and decorate  the bun with a veil.
Jessica a beautician at Amazing Grace Beauty Salon, Mukono, advises that the veil should either be medium or have a short length to give you an awesome effect.
"The veil can be placed under or over the bun," she says, adding,  "Long hair braids are recommended since they are easily styled compared to short braids."
You can accessorise the braids by adding beads, flowers or a small tiara to add the spark to your look.
Dreadlocks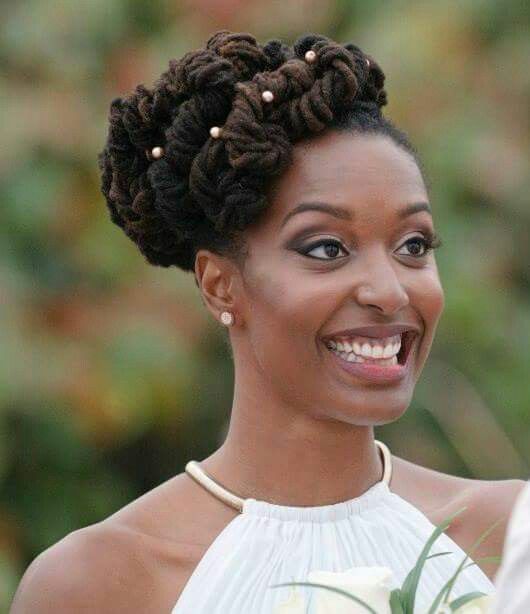 If you have been wearing dreadlocks for some time, you should not  be intimidated to take them out before your wedding. Dreadlocks can be a versatile style option for your big day. Some relaxed and natural haired women are intimidated by dreads because they believe that they are a permanent style that lack versatility. However, dreads can be styled into many artistic designs and wedding hair options with them are nearly endless.  They  create more sculptural impressions than natural hair. So, style them whichever way you want. You can let them loose with flowing curls, wear them in a number of different updos, or use braid or long hair styles for inspiration. You can also add a pop of colour that blends well with your skin tone or go for a dramatic updo.
Brian Lutaaya dreadlocks hair stylist explains that if your dreads are short, you can create a puff of hair into which you can tuck flowers or pearl's by creating bantu knots.
"You can spray or curl the ends and weave in flowers as you desire, "he adds, saying, "The medium and long dreads are the easiest to style. For purposes of exposing your facial features,  you can just style them into a simple bun, then place a veil or any other bridal accessory you desire."
Weaves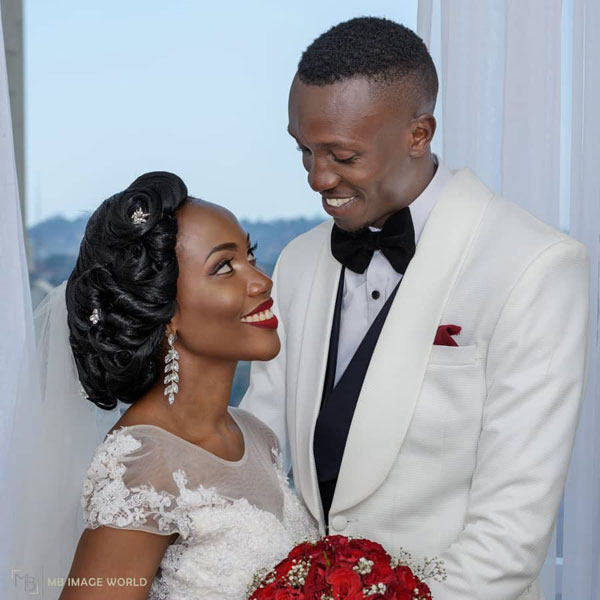 If your hair is damaged prior to your wedding day, or you simply desire it, you should consider going for straight or curly weaves. They are like human hair and look extremely awesome on any lady. Purchase either the coloured or black weaves for that day. Also consider whether you want an updo or downdo, half up and half down  so that they plait you accordingly.
Jessica, a beautician advises that for coloured weaves, it is important to observe the rules of dyes and skin tones to avoid any regrets.
"Some weaves don't need styling and are simple by just adding bridal accessories that are befitting for the day." She adds. "Thick weaves give a refreshing feeling to a ladies look" She however cautions that coloured looks are daring for a function like a wedding.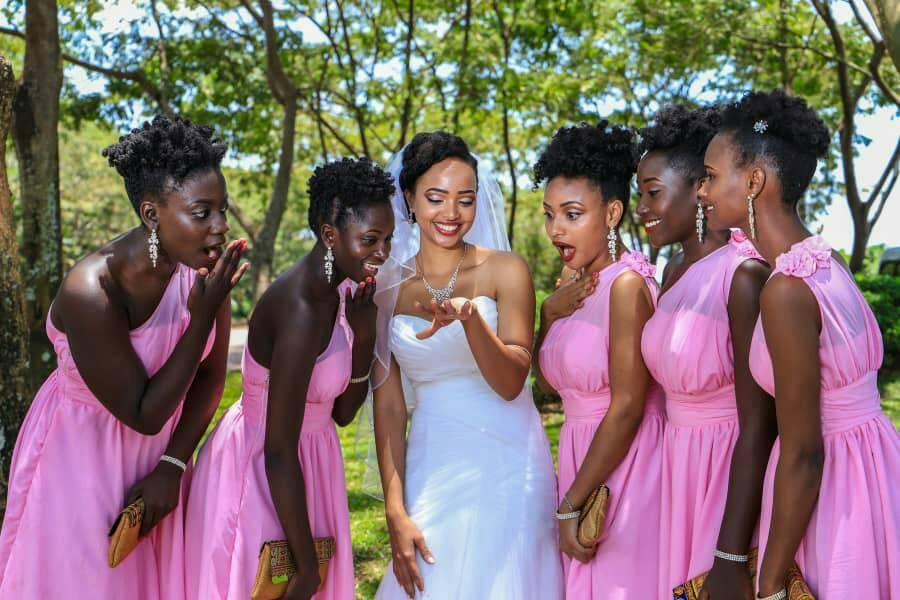 Natural hair
In the past, women with natural hair struggled with the decision whether to plait a weave,  relax their hair or style their natural curls on their big day. And with the limited natural bridal styles available, the naturalistas always turned towards fixing weaves.
Well, times are different now and who says you can't slay your natural hair effortlessly. Natural hair salons are available in Kampala to cater for even a bridal look.  Whichever natural look you will want to rock on your wedding day. From twists, braided, waves, curls, coil kinks or  natural hair locs, they got you covered.
"If you know you will be natural for your wedding, make sure you get to work . Find a hairstylist and schedule a trial," Maggie, a hair stylist with Natural Hair Revive Salon on Kampala Boulevard Building comments.
Bald and bare headed brides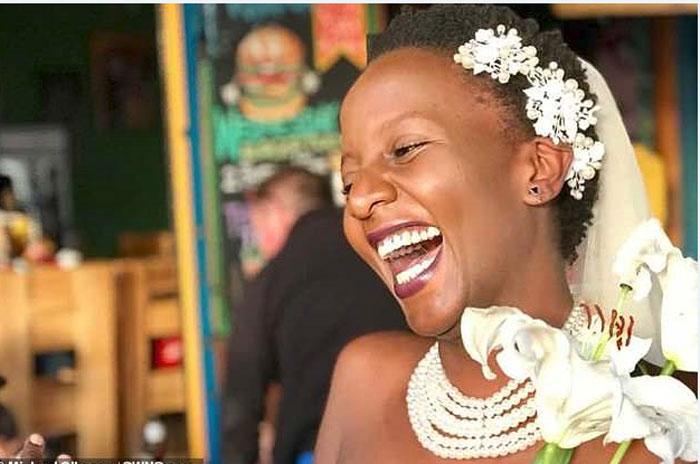 Shaving off your hair and going completely bald takes immense courage and super high confidence for a woman. For some ladies it's over health issues and others for personal style. Baldness doesn't hurt your femininity at all. You just have to choose the right bald hairstyle  and carry that off with a proper attitude. Whether you choose to go complete-bald, almost-bald like Amber Rose or go bald on both sides of your head but keep hair in the middle, hair while keeping the hair in the middle segment.
A birdcage veil  is a perfect accessory for you paired with a bold lipstick and vintage-inspired accessories. Its best for those ladies that prefer simplicity. Curly gel, if you want will add more femininity to your look on your wedding day.
All said, try different styles quite early before your big day to make sure you are getting what you want.