Your wedding gown is probably your most important wedding purchase. You have done shopping for a large part of your life, but buying a gown can be quite an experience.
Dress shopping should be fun. Sadly, many brides are disappointed the very first time they go out shopping for a wedding gown, from unfriendly shop attendants, to finding only ill-fitting gowns, to failure to find an attendant that will explain to them the pros and cons of choosing a particular gown.
Clare a petite lady, who got married last year, says her first time at a bridal shop on Luwum Street was a nightmare. "I got into this shop and said I was looking for a wedding gown for myself, and the attendant said to me: you are too young, why are you getting married? I doubt you will get a gown here. I didn't spend more than five minutes in that shop, because I felt frustrated from the entrance."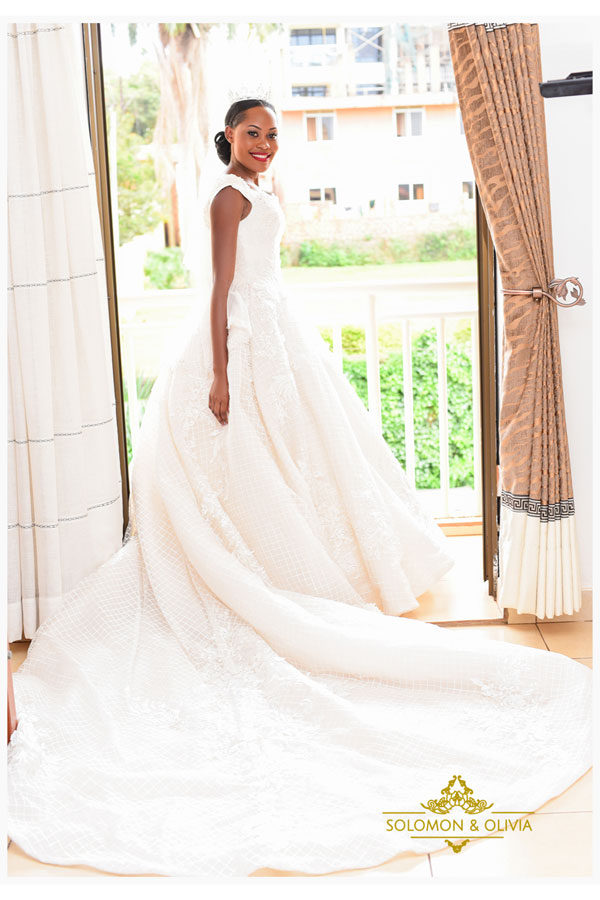 What you should consider…
Before stepping out to looking for the perfect wedding gown, do some research and find out the latest trends, styles and price ranges.
Maria, a wedding dress-designer and owner of Maria's Glamour Bride Shop in Kampala, says that lately women are going for a little bit of colour and floral print.
To buy or not to buy the dress
Many prospective brides face a dilemma: to buy or to hire the wedding dress. This, of course, depends on your budget although it makes more economic sense to rent a gown. Hiring a dress ranges from Shs500,000-Shs2m and buying goes for anything between Shs1m-Shs10m, at various bridal boutiques. At Bridal Memories, renting a gown goes for as low as Sh300,000 depending on the type of dress you want. Once you have decided to buy or to hire, it's time to go shopping. Below are some of the tips to help you sail through the stormy waters of shopping for a wedding dress.
Scheduling
For many brides today, saying that you are a "busy woman" is an understatement. You have a full time job, and you're planning a wedding. First, check out which bridal shops have the designs you are looking for and then make appointments to start trying on the dresses. Start with the bigger boutiques that may have vast designs to choose from and then move on to the smaller ones.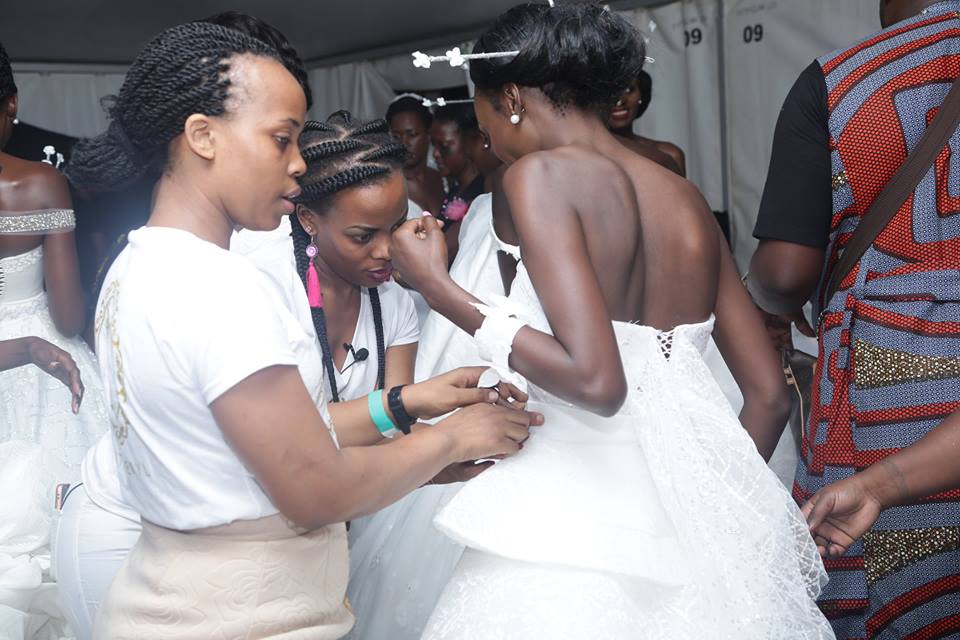 Who and what to bring to the dress fittings
Here you will face the dilemma of who to bring to the fitting. Should it be your mother, your sisters, your sisters-in-law, your friends or some combination of these people? Remember, the more people you have with you, the more opinions you will hear and it may turn into the case of too many cooks spoiling the broth, hence confusion. Invite the one person whose opinion you trust and who you know will be honest with you.
Also, remember to bring a strapless bra, preferably, according to Maria, a push up bra to give the dress a perfect fitting at the bust. Also, carry a pair of shoes so that you get the length of the dress just right.
Information to have with you
By now you have a good idea about the kind of dress you want. Sit the designer down and describe in detail the kind of dress you are looking for, the kind of party and the venue and any other information you can think of that will give a good picture of your wedding. This will help her figure out the dress closest to what you are looking for.
Maria advises that one should "start shopping for the dress at least eight months before the wedding to give you ample time to get the perfect dress. Last minute shopping can be very frustrating."
Nina Ahabwe knows this only too well. Her seamstress promised to deliver her gown the morning of the wedding. But by 11am, she was nowhere to be found and her mobile phone was switched off. Determined that nothing would ruin her big day, she walked into a bridal shop and bought the first dress she saw. She walked down the aisle in an ankle-length dress.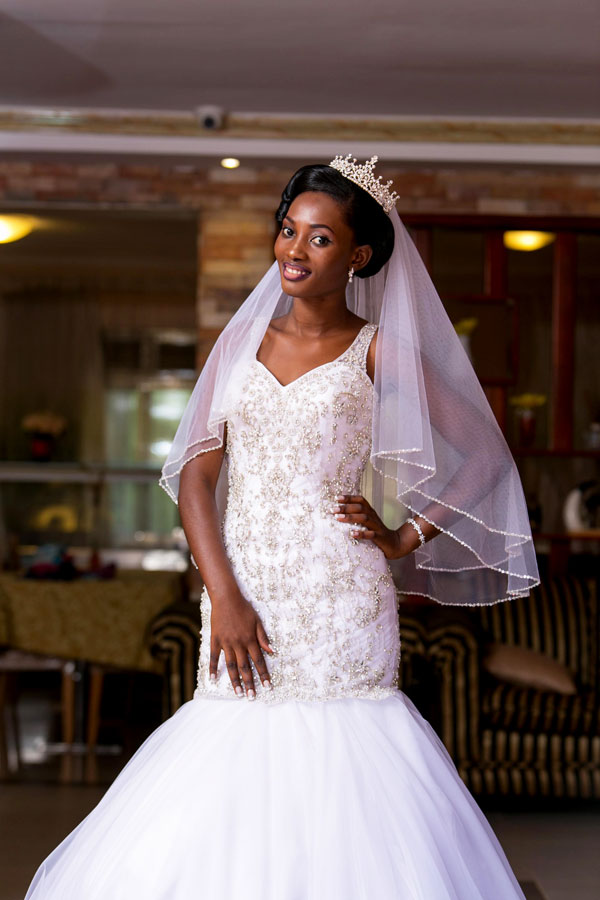 Dress for your shape
Viola Atwooki, a wedding dress tailor, says it is challenging for many brides to find a dress perfect for their shape and size. Many times, a bride will just buy a dress because it is beautiful, never considering whether it is the right one for her shape.
"The best advice I can give a bride is to always consult the experts before making such a big decision. Ask those who have been in the business long enough to help you make a guided decision before buying the most important outfit of your life," she says.
Dressing for your shape is about flattering and enhancing your best attributes, so be careful when selecting that gown.
Here are some tips on how to pick the dress for your shape.
Pear shape (slender at the top, curvier at the bottom): If you are a pear-shape, look for a slightly dropped but defined waist. Your waist is your greatest asset. Show it off. Gown skirts with soft flowing fabrics that fall over the hips will flatter you.
Hourglass shape (locally known as figure eight): This is where the bust and hips are in proportion and there is a defined waistline. Typically, this is a size 14 or above, with a full bust and shapely hips, the majority of styles look great on hourglass figures. Strapless gowns look good on this kind of figure. The best look is strapless at the neckline, with an A-line skirt. Also a dress gown is best, as opposed to a two-piece gown.
Short and petite: For the short and petite bride, the best skirt shape is a slight A-line, not too full as you can almost look lost in the dress. Also, do not choose slim, straight gowns as you will "disappear" in them. If you prefer a straighter look, a good option is the mermaid skirt, which is fitted to the mid-thigh, then flares out.
Plus-size woman: For brides of all sizes, shopping for the perfect dress is often complicated and a bit intimidating. It's even harder for a bride searching for a plus-size wedding dress. You have to deal with samples that are too small, sales people that are sometimes unfriendly and the worry of not finding a shape that flatters your body type. "Women who are size 16 or above will probably struggle to find the perfect gown for themselves, says Atwooki, the wedding dress tailor. Choose a gown with very few design patterns – the less fuss the better. Get a dress with light beading, or some lace, and an A-line skirt. Draped styles also look good, provided the drapes are diagonal, not horizontal. Two-piece gowns are often a good choice and define the waistline. Full gathered or pleated skirts add bulk to a larger woman.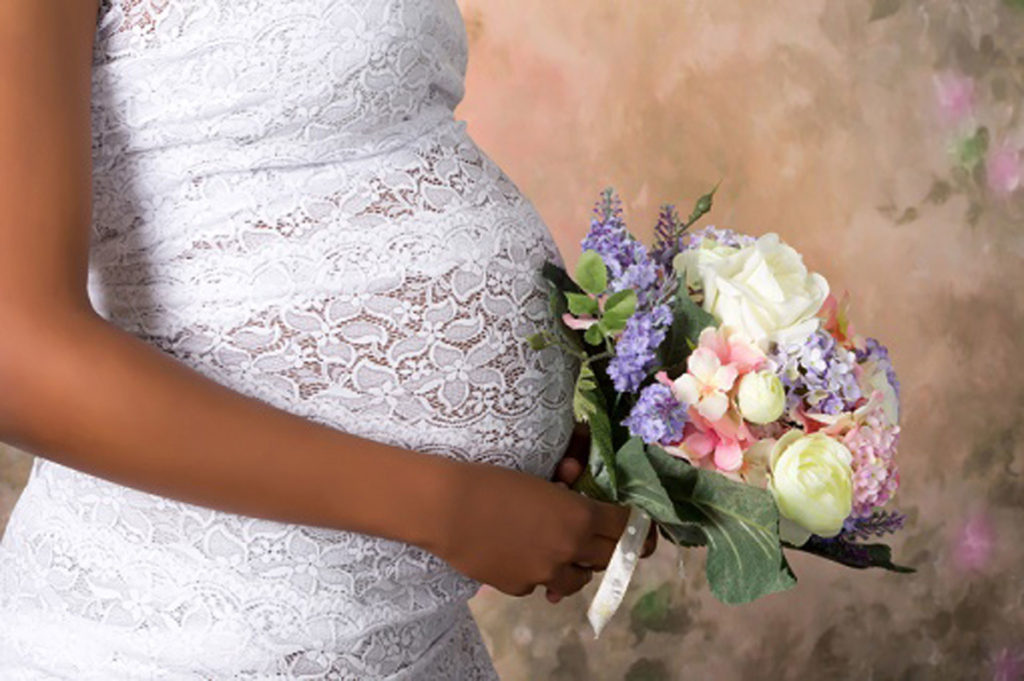 Having your wedding dress made is certainly the best way to go, if you are not a standard size. Choose a fabric you love and go for a simple, uncomplicated design. Most bridal shops in Kampala have dresses in all sizes. Besides, Maria says not to worry if you find a perfect dress that does not fit, because it can be altered to fit your size. For all other shapes and sizes though, the Cinderella gown is the way to go. It has an extremely full skirt and can look very romantic and stunning on most brides, according to i-village.com.
To wear or not to wear a veil
The veil may shadow your pretty face and nice hair-do. But when choosing the veil, make sure it is the size and shape that compliments your face and gown. Also, because gowns do not always come with veils, be careful to find a veil that matches the colour of your gown.
Most brides are going in for more and more colour lately. The gown does not have to be a colour dress. A touch of colour here and there can work to enhance your gown from looking plain and boring to fabulous and stunning. Colour can be used in the embroidery, or as a detail on the lace. However, Atwooki says, make sure you pick a colour that matches your whole party colour scheme including the bridesmaids' dresses so as not to appear the odd woman out at your own wedding.
Can't stop looking at yourself in the mirror? Congratulations. You have found the dress!