By Maria Immaculate Owechi
On 3 July, 2017, Angella Kirunda, a fashion designer  wore a uniquely designed gown that astonished her guests as she marched down the aisle to meet her husband, William Kirunda.
Indeed her off-shoulder mermaid gown broke the monotony of the usual all-white gowns. It was uniquely accentuated with beads and blue feathers on the upper part and bottom part of the gown, the veil also had a blue lining.
Mid this year in an interview with My Wedding, Angella explained that she decided to add a touch of blue to the gown because it's her husband's favourite colour.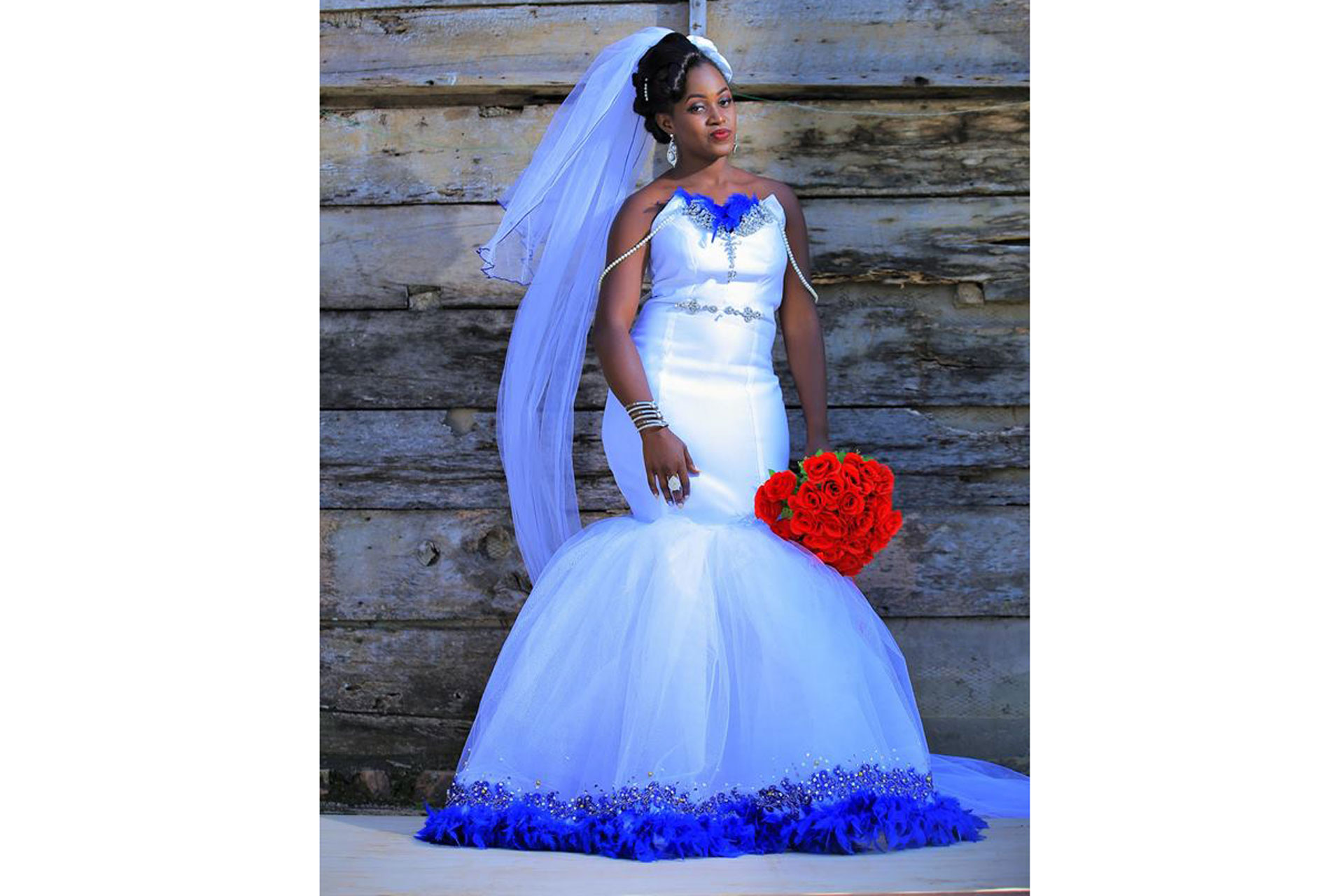 She advised brides to design their own gowns and if they can't, to research about new wedding gown designs to avoid looking like everybody else.
Wearing an all-white gown is classic but a non-conservative bride may desire to have unique designs and colours on the dress to stand out from the rest.
The following are designs that brides today can add to their gowns to make them stand out.
Using embroidery to make the gown stand out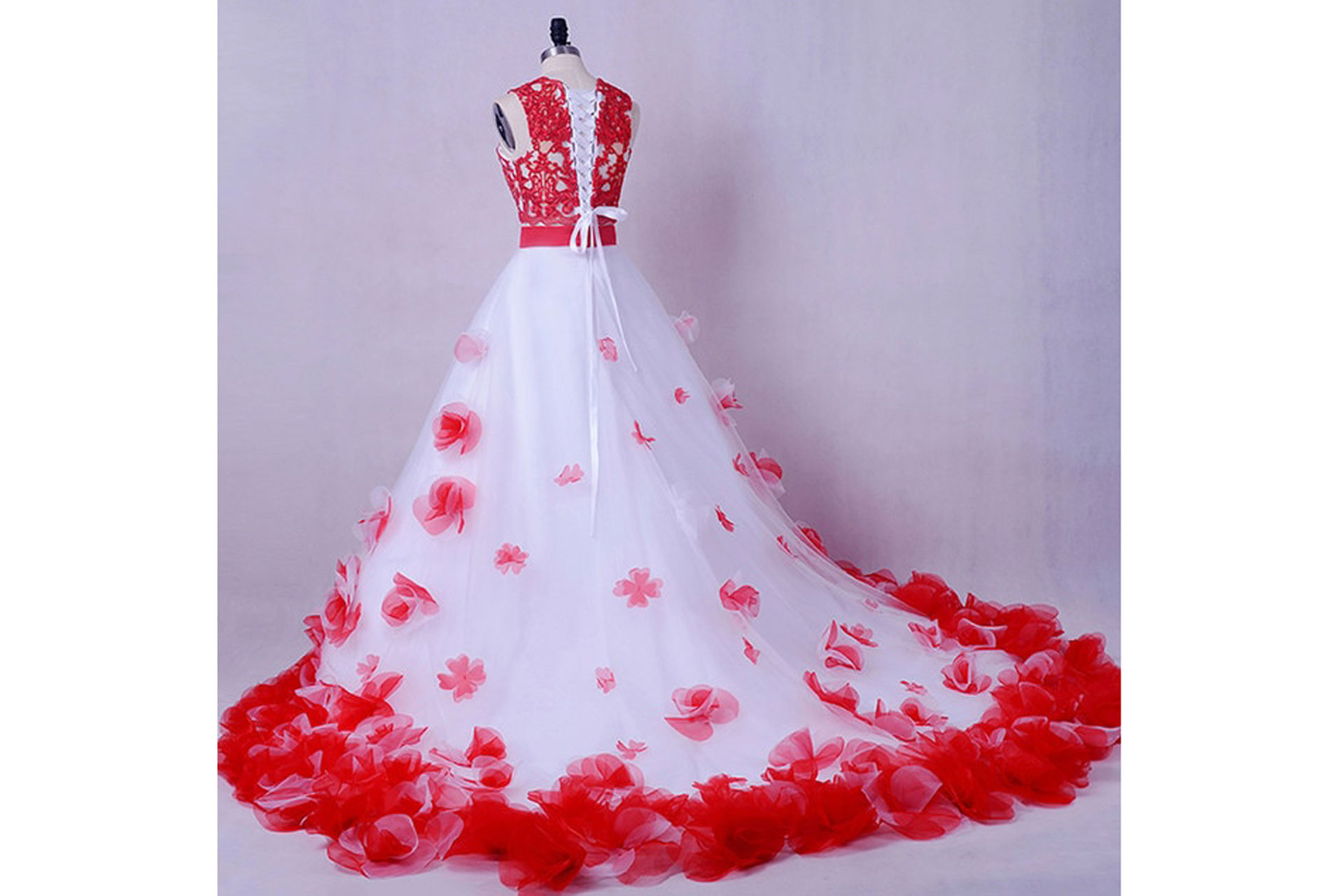 Embroidery is a smart way to create a pattern of colour and designs to your gown. There are options of using a colour that's embroidered on the dress that matches your husband's tie or brides maids' dresses for a fantastic combination. What's more, the bride can create designs or write a nice message in the front or back of the wedding gown.
Anita Beryl, the Creative Director of Beryl Couture, a Ugandan fashion house says that it also depends on how busy the bride wants her dress to look.
"Let's say she does not want a white dress and opts for ivory or champagne and really wants a very busy look, they can embroider the bottom part to create a new design, more like she is putting on a lace fabric," she recommends.Charlotte embroiderted her champagne gown with gold.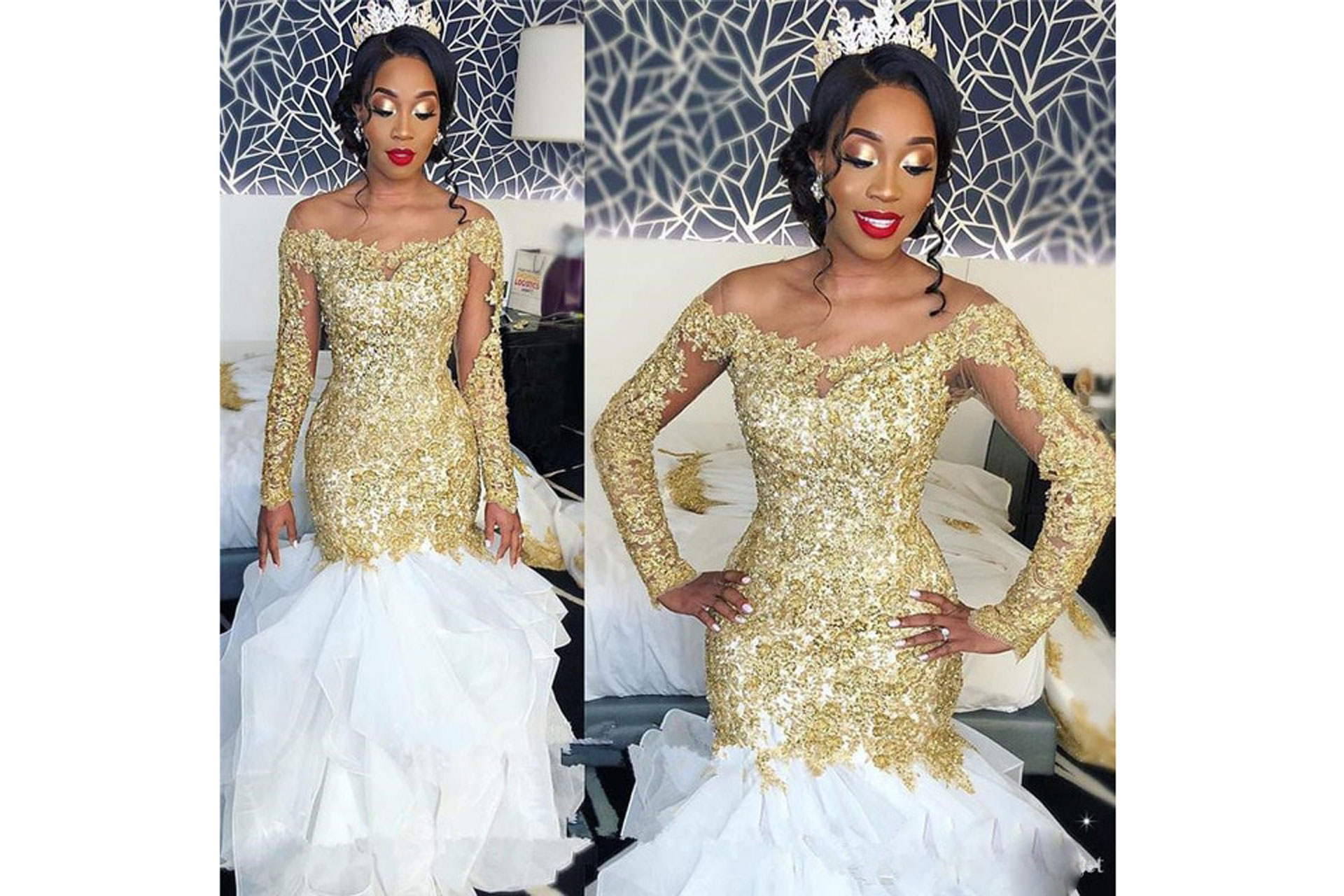 "Or if the bride wants to maintain a calming effect on the dress, then she can only embroider the edges of the hem and neckline; or she can put it only on the waistline and have it fade into the middle and the upper part and bottom are left bare," she explains.
"If the bride wants the whole fabric embroidered, then she can pick a colour like of grey, maroon on a white or ivory dress, making the entire dress to be covered with embroidery," she adds.
In 2012, Charlotte Mayanja, the daughter to Sarah Kizito, a proprietor of Lady Charlotte Salon and Boutique looked elegant in her personally designed champagne wedding gown with artistic embroidered beadwork and detailing.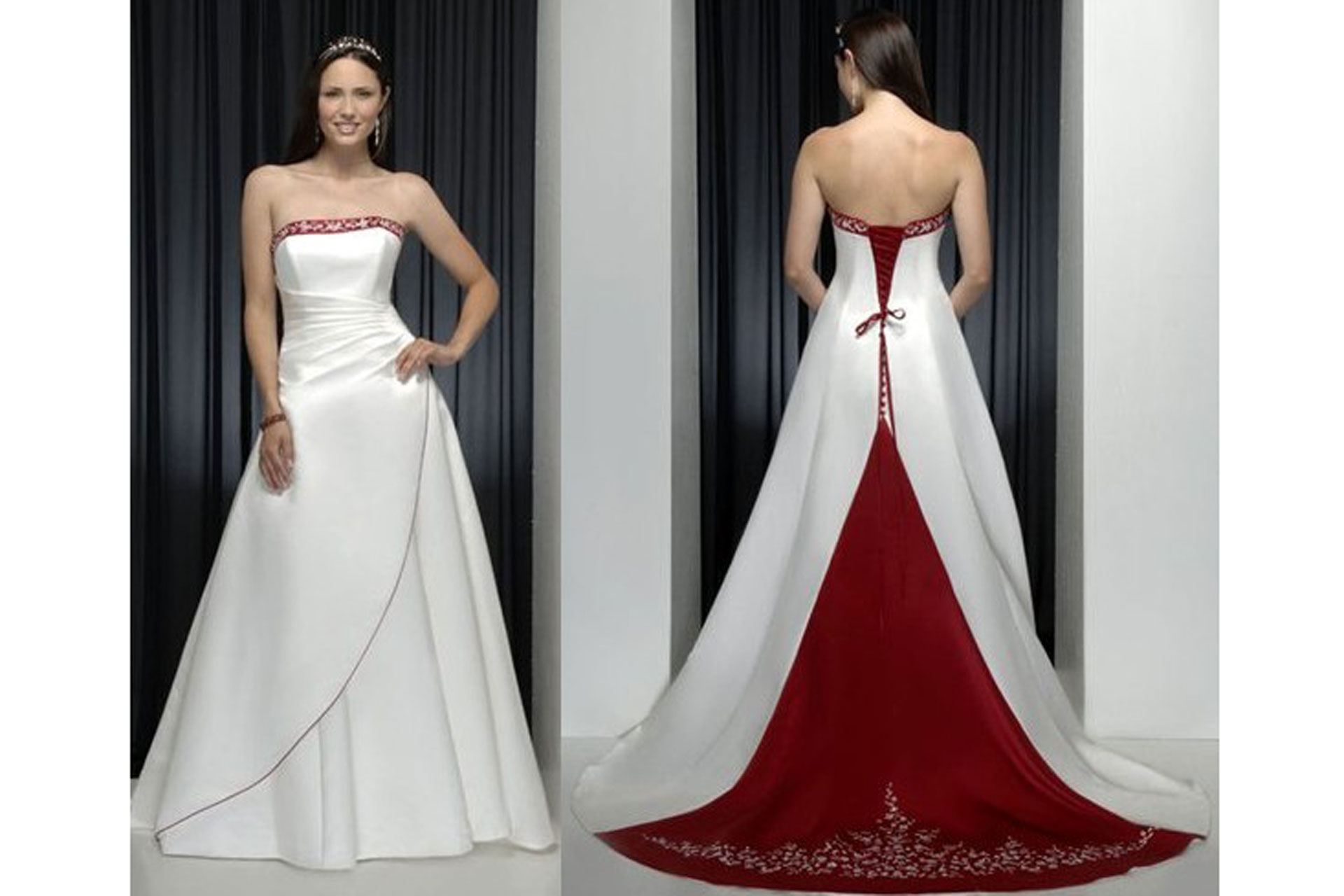 A gown partly designed with African fabrics
African fabrics such as kitenge are commonly being purchased for unique designing purposes. A piece of the fabric may be added such as a sash around the waist of the wedding gown. This adds an African touch to the European inspired white gowns.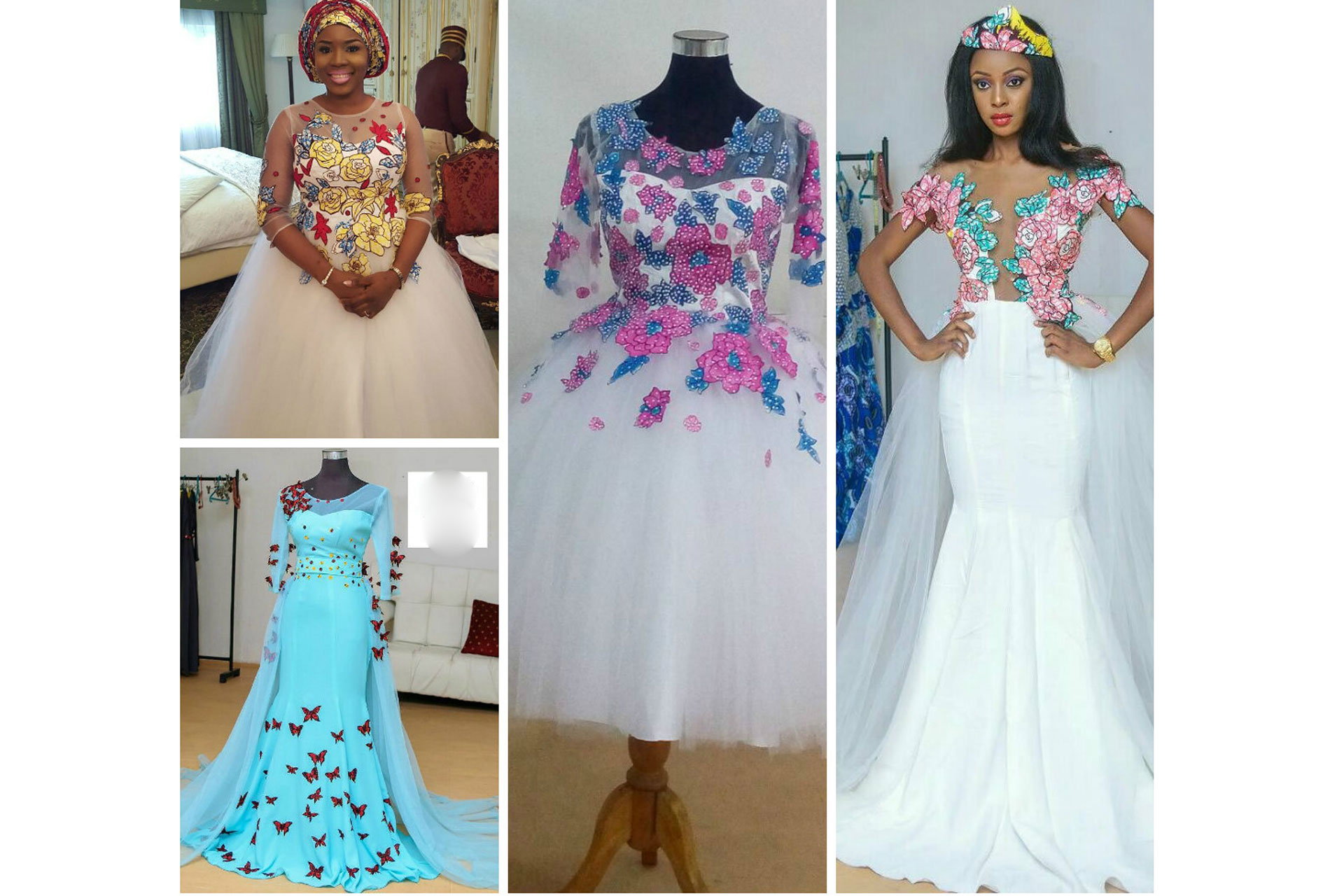 Anita also explains that the African fabric can be designed to fit on the gown just as embroidery work. They can just cut a piece and add to the top or hem of the gown.
Adding coloured silky waist belt to the gown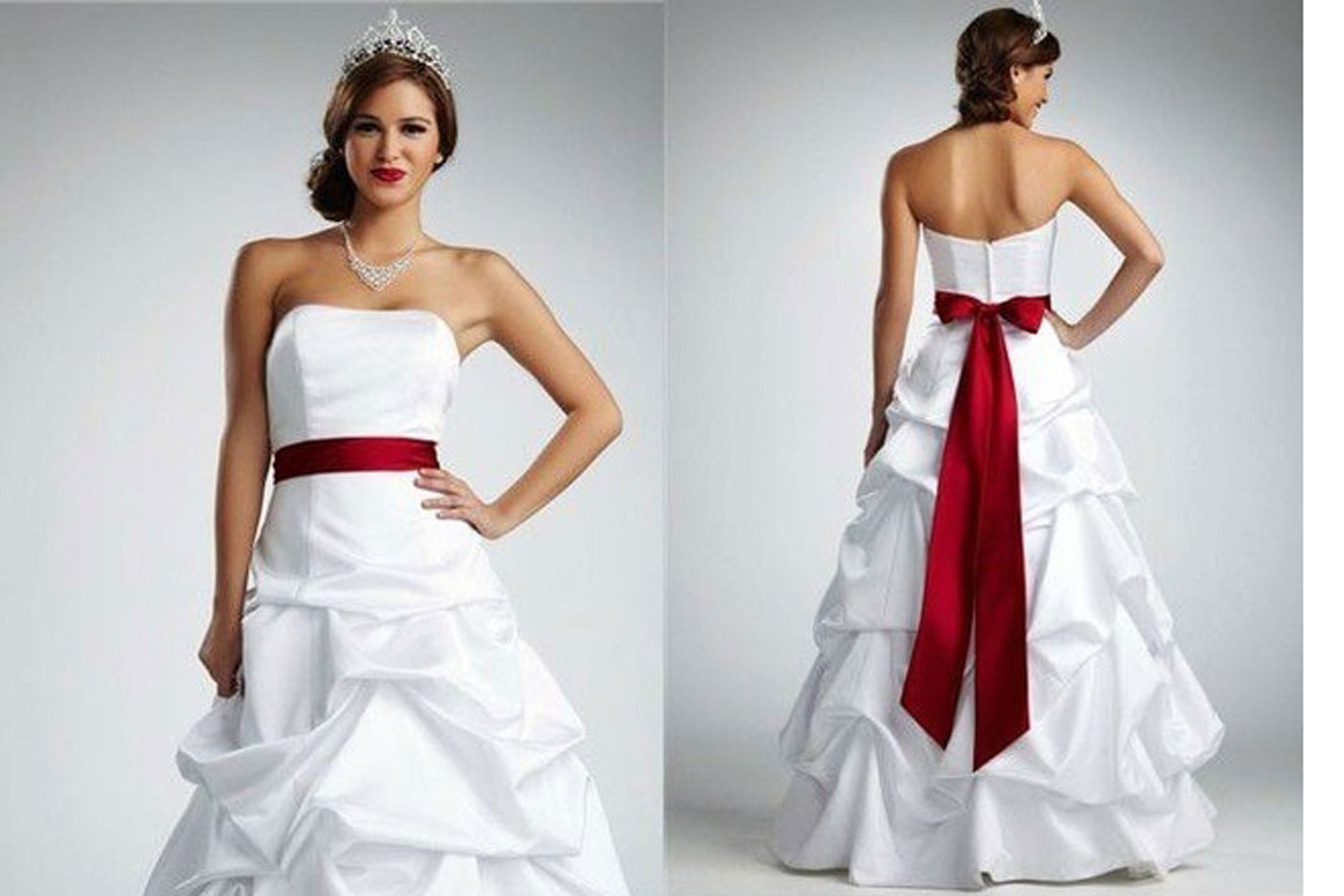 Having a piece of silky material added as a sash around the waist line of the gown is a common trend that many brides have embraced in Uganda.
This colour may be coordinated with that of the groom's tie and waist coat or the bridesmaid's dresses.
In 2009, Rebecca Kintu was a lucky winner for My Wedding Your Style Campaign, a competition that prized the lucky couple with covering all the expenses of their wedding ceremony. Rebecca walked down the aisle in a snow-white gown with a bright red sash across the waist that co-ordinated with her husband Anthony Kaggwa's red satin waistcoat and matching tie.  This also matched with her bridesmaids' long satin dresses that had a touch of black.
A piece of this silky material can also be tailored to different parts of the gown like the bottom and the back part.
Dip dyed gown
In September 14, 2002, popular American Singer, Gwen Stefani was considered iconic for wearing a rose-pink dyed gown at the bottom, on her wedding day to her now ex-husband, Gavin Rossdale. The gown designed by Christian Dior, a top French fashion designer ushered the trend of dyed wedding gowns in different colours of red, peach or rainbow.
As a classic bride, deciding to dye the bottom of your white gown with the theme colour will be a fantastic way to amaze your guests.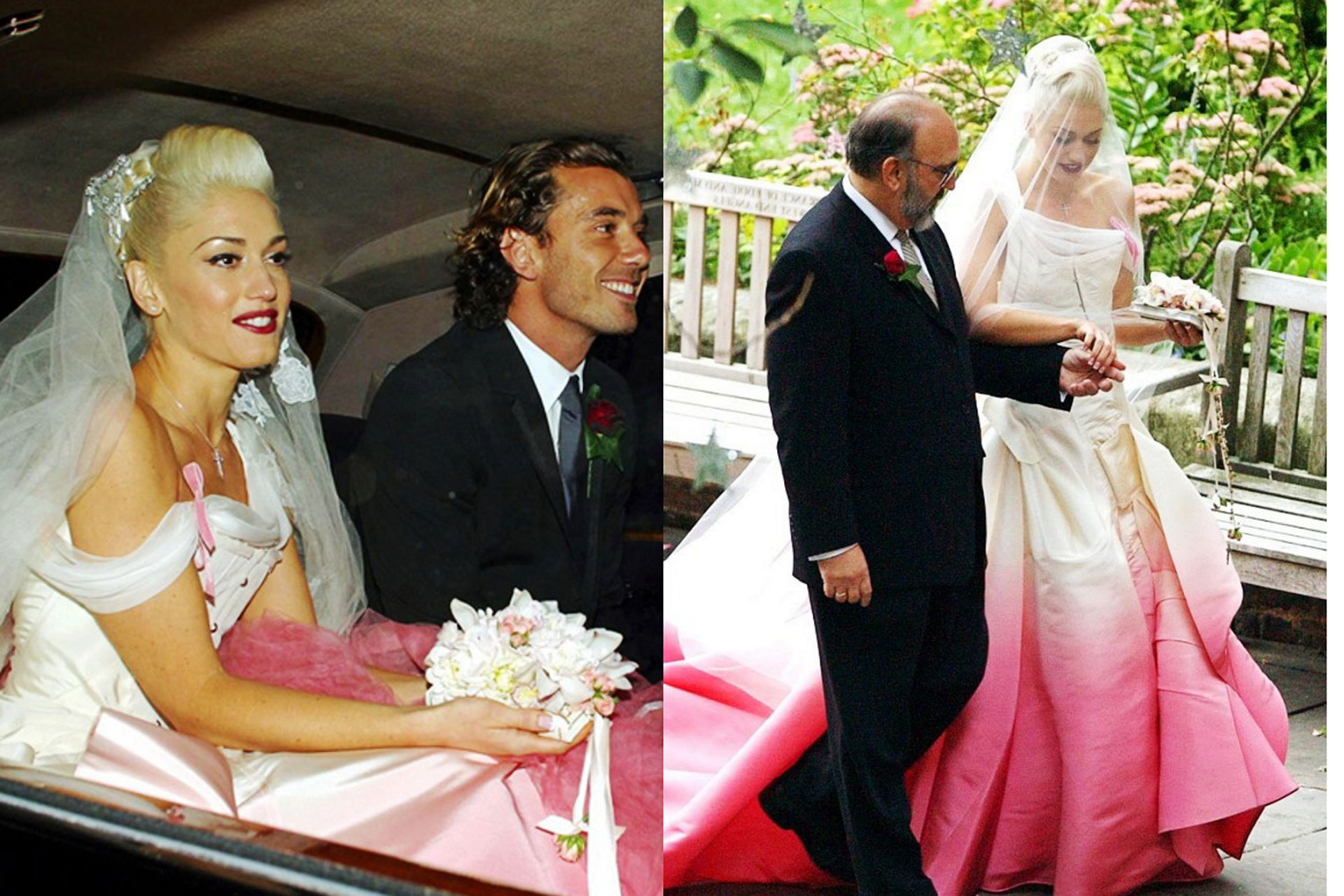 Coloured petti coat underneath the gown
A coloured petti coat visible beneath your wedding gown is a fun way to brighten your look. This can work best for a short length gown and the choice of colour may also be in relation to the theme. If adding colour might feel a little too much for you, you can always choose a gown in another colour that is not snow-white but which will still leave you feeling the beautiful bride. There are options of cream, ivory, gold or champagne.
Adding unique designs and colour to the wedding gown is a fun way to spice your wedding and to celebrate your uniqueness.  Just ensure you are comfortable with the colour, amount of space it will take on the dress, what type of material it will be and where exactly it will sit.