By Maria Immaculate Owechi
Around the 1930's, brides started to wear changing dresses as at the close of their receptions. The dresses would be more chicky for their grand exit as they headed to honeymoon. Today, the trend continues. Mercy Birungi, a dress maker at Glamorous Bridal Store, Mukono explains the advantages of  having a second change of cloth for the reception;
The restrictive nature of ball room gowns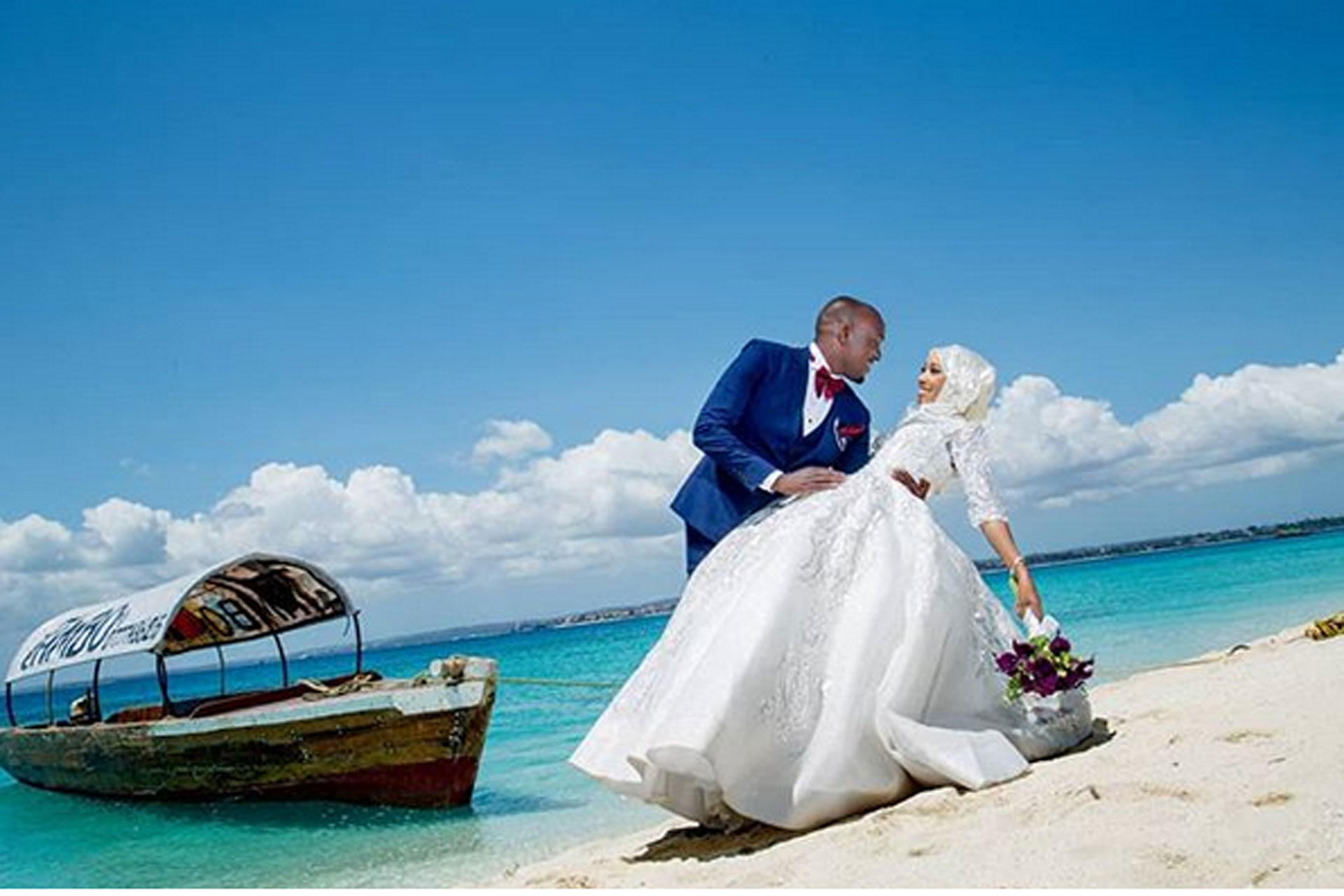 Birungi explains that some brides choose wedding gowns with long and grand trains which can start becoming burdensome when engaging in certain ceremony activities like dancing.
"It is evident that most brides when dancing in their gowns take careful steps to avoid stepping on a net or even tripping and falling," she states adding, "In this case, changing into a nice evening wear at the reception is a great way to be comfortable and carefree as you have the first dance as a couple and also with the guests."
It's an alternative when the white gown becomes dirty at the end of the day
"It is difficult to maintain a spotless white gown for those who opt for ball room size. This is common for outdoor weddings where due to dust or muddy grounds, the train of the gown is prone to become brown, not forgetting the sweating that comes from being adorned in that heavy material under a hot sunny day."
Having a change out of the gown is the best way to wear something clean and fresh for the evening.
Adding some diversity to photographs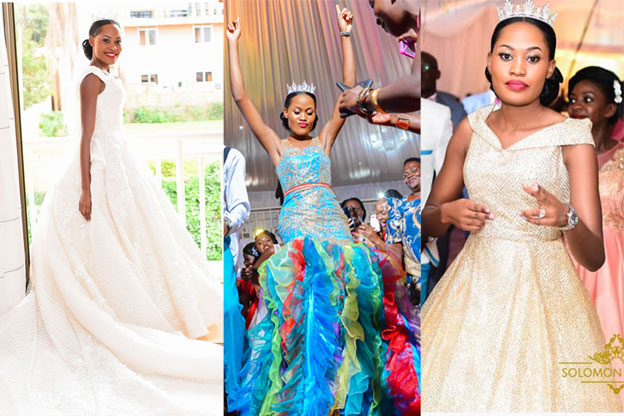 The photo album will be dull and boring seeing you all your poses in the same outfit. But having a glittering or colorful cocktail dress will add some spice to your photos.
This helps to break the monotony and throws some variation into the wedding portfolio.
It is an opportunity to express your personal style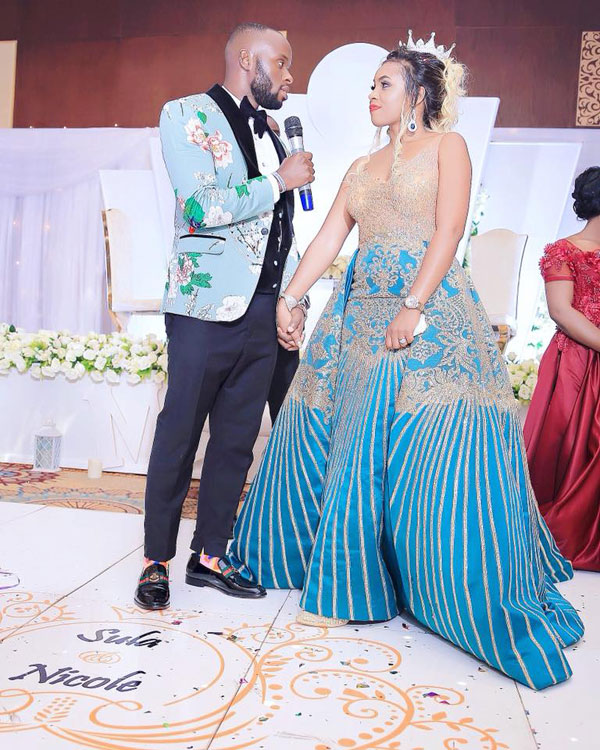 Birungi explains that some brides may be forced to wear certain designs in order to accommodate certain religious or ceremonial rules. For example, in the Muslim faith, the bride has to put on a gown that completely covers her from head to toe. It may only be at the reception where she can easily wear a sleeves gown and also let her hair out
A changing dress can be worn again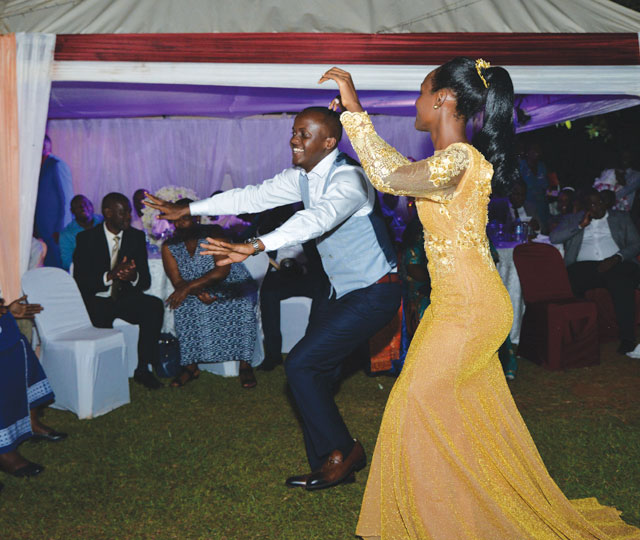 Compared to a wedding gown, a changing dress can be worn again to different occasions.
"Most brides actually request that I make for them a versatile style that they can still wear even after the wedding. They most especially prefer the African fabric because it is flexible and also can be worn for a normal church service," Birungi explains.
Success Amony, a fashion designer says that the bride has to sit down with their fashion designer or tailor and then come up with several alternative designs that can transform the changing dress into a different unique outfit after the occasion.
"If it was a sleeveless dress, sleeves can be added to it using different fabrics. And if it was long and round, it can be made short and tight," she explains. She adds that this entirely depends on the bride's taste in fashion, comfort, fashion and type of fabric because some dresses are really complicated to adjust. For example those with lots of stone, or rare material that cannot be easily found.
What dress to choose if you are not changing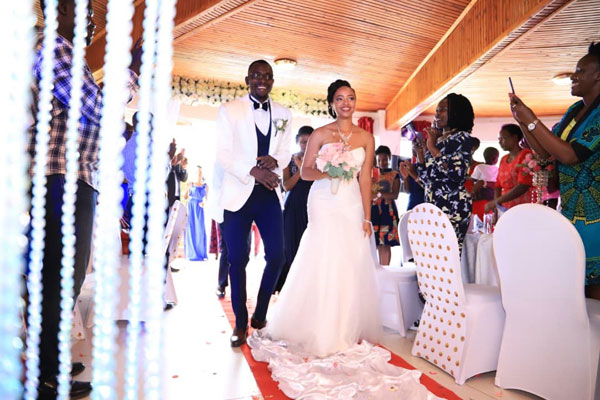 "I intend to wear my wedding dress the entire day, including during the reception. I mean, when I am going to wear it again?"A friend, soon to get married this year told us even when the sister tried to make her see the beauty of having a change of dress for the evening session.
Brides wearing cocktail dresses at the reception venue is a trend that has existed even in the past but some brides may simply choose to remain lovely whole day in their main ceremonial gown. Apart from saving money,the bride may feel that her time in the white ceremonial gobe has been well used. Susan Kirabo Mukiibi, the owner of Suki Events that deals in décor, salon, wedding gowns and events planning explains what wedding dresses are best for such brides;
Consider choosing a gown that is not white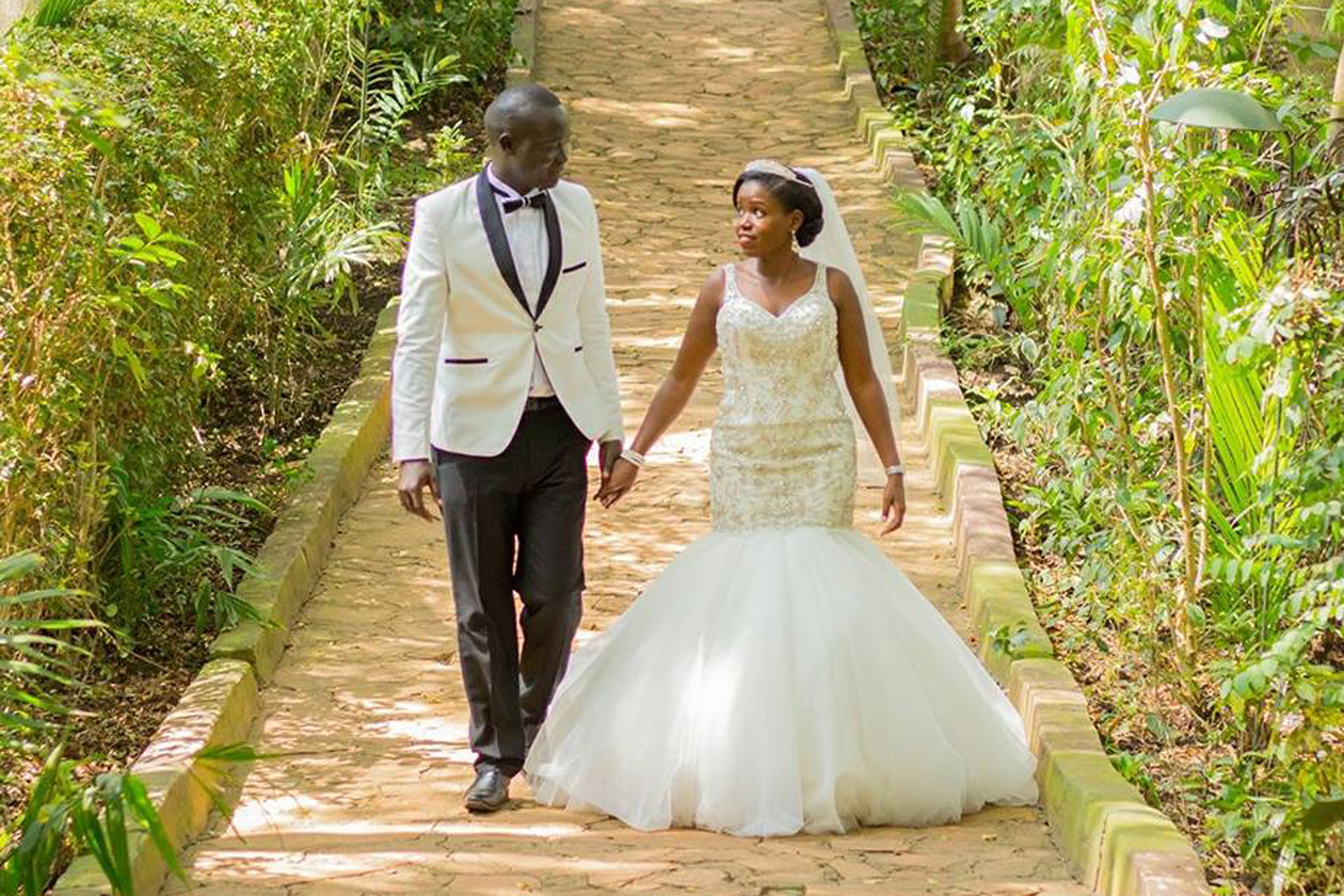 "Choose something that is different like wearing a gown that is not white but of colors like Champagne, Ivory or gold," she states.
She gives an example of in 2012 when Charlotte, the only daughter to Sarah Kizito, the proprietor of Lady Charlotte Salon & Boutique wore a custom made champagne dress with nice embroidery that could even pass for a changing dress.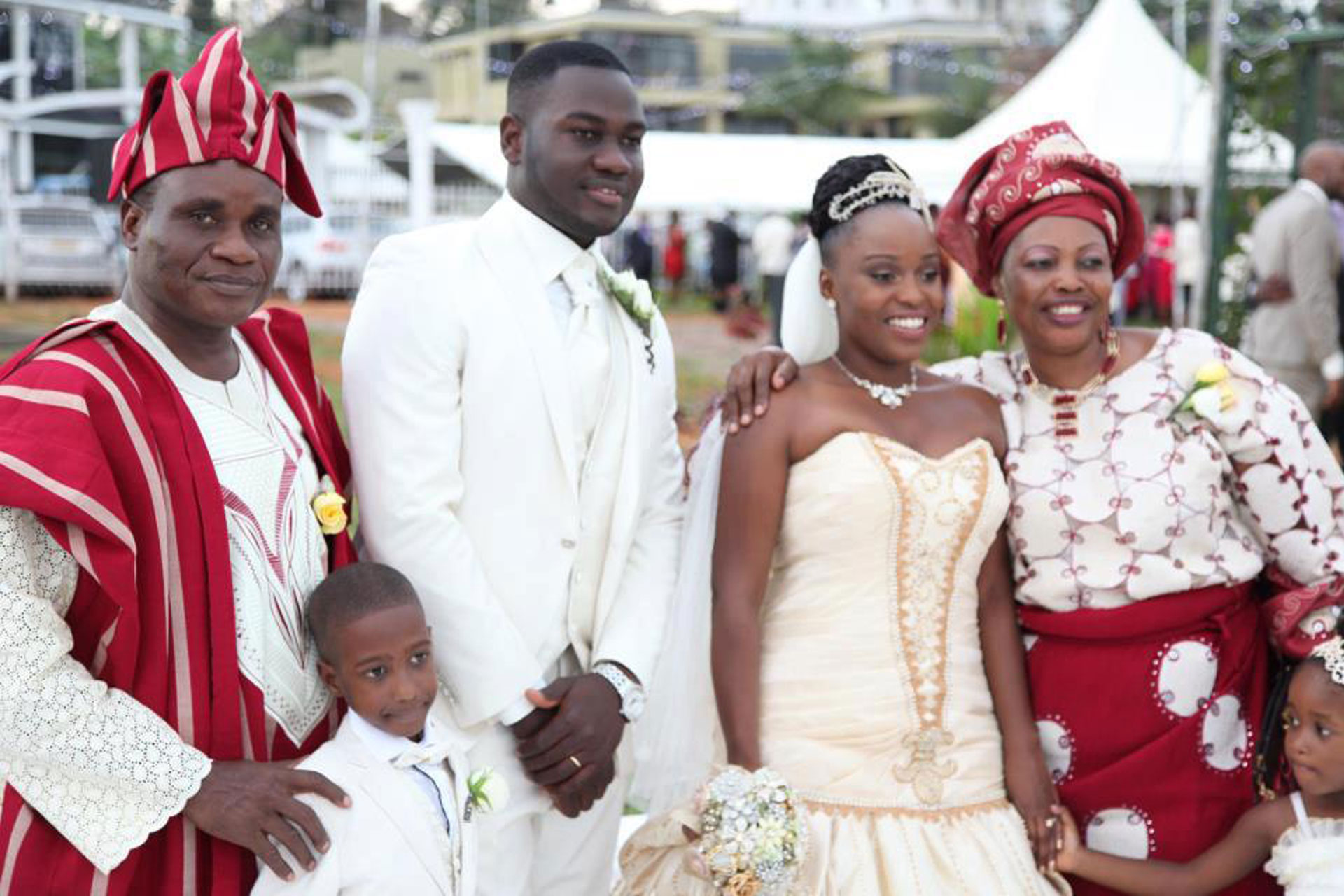 Add color or designs to the gown
She explains that if the gown is pure white then they can still add some colors to the bottom of the dress, the waist line or the backside. Or even design those parts of the dress with African fabrics. This trend has been embraced by the brides of the 21st century.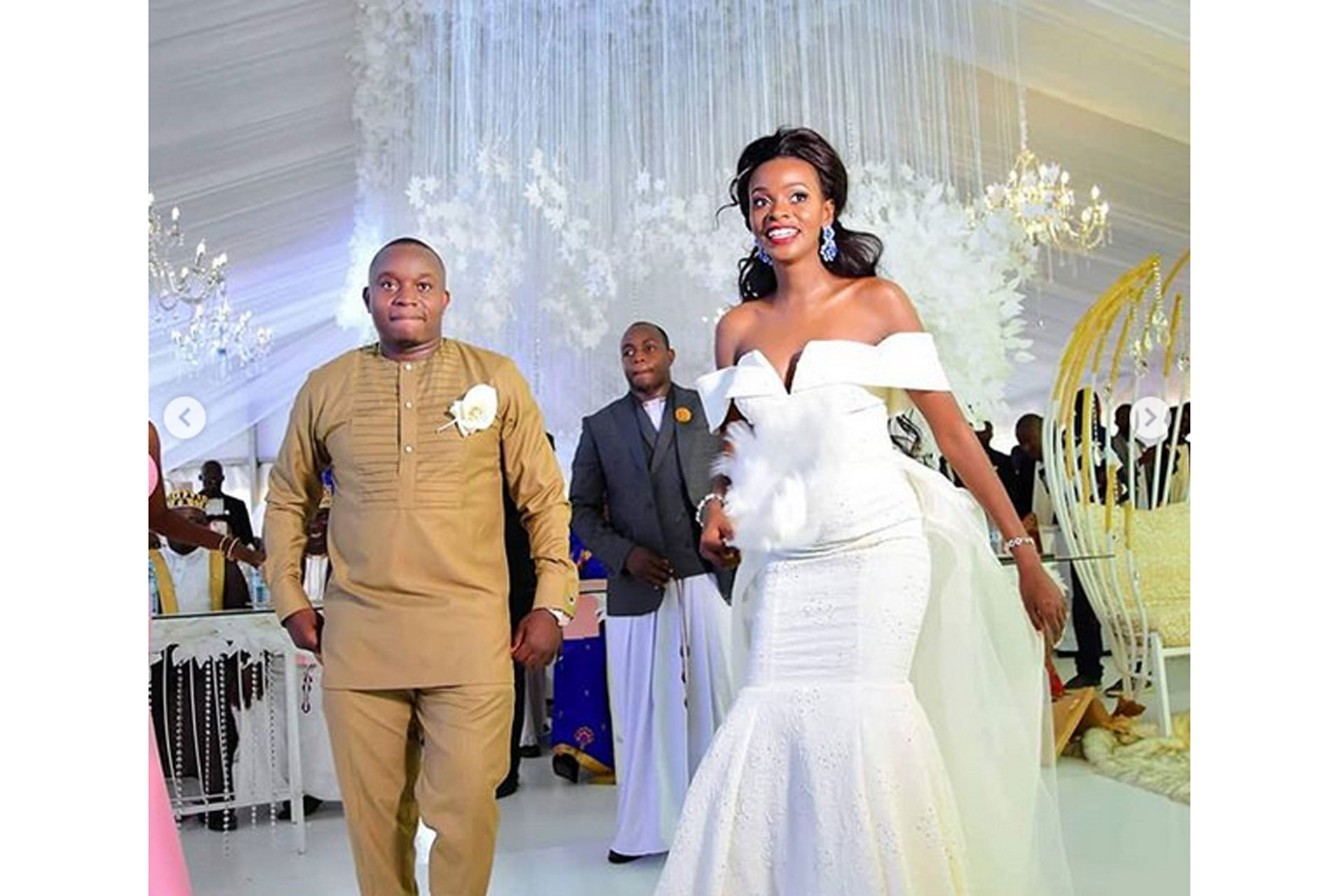 Choose a lighter material for the dress
"There are heavy or simple gowns which all depends on the material. As the bride is selecting the gown, she should ensure that she chooses one that has a lighter material that she can comfortably walk in for the whole day. That's why some opt for the mermaid type because they have lighter and comfortable materials," she explains.
Consider switching up a few details
"For instance taking off the veil at the reception ceremony to clearly reveal your hair and accessories. Or selecting those gowns that have adjustable long trains like wearing a long one for the church and then taking it off to have a mermaid version during the reception," she illustrates.