By Olivia Mukaaya
Jackson Wobusobozi and Carol Nassuna had their introduction on October 5, 2019 at Nassuna's parental home in Bwebajja, Entebbe. The two had earlier met in Mbaale where they were both serving on the hospitality team of Musaale church.  Wobusobozi still can not place a finger on the day or time when it manifested, but he found himself drawn to the beauty of Carol.
His kindness soon attracted Carol and she developed feelings for him,
"He was unlike any ordinary man. He was dedicated to serving the Lord, hardworking, a friend and was relentless in showing me how much he adored me," she professes.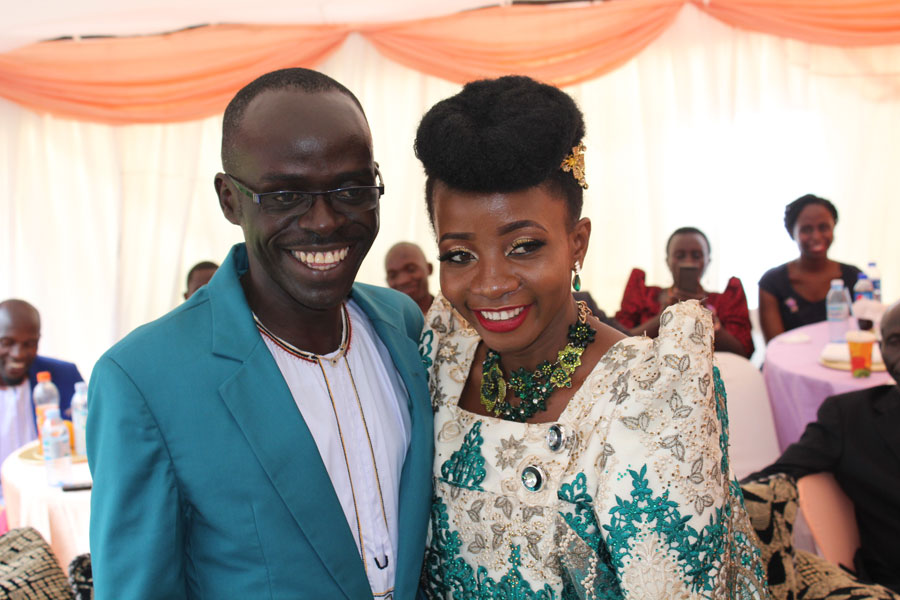 More than her beauty, Jackson was attracted to Carol's positive attitude, passion and unwavering commitment to things, ''She is an epitome of the virtuous woman in Proverbs 31 woman," he paints a picture of her for us.
The two professed their love for one another in December, 2018.
Jackson who had always had intentions of getting married and after a year of dating was convinced that Carol was the one. Carol, on the other hand, had been in a disastrous relationship prior and although she had been blessed with two amazing daughters, marriage was a feared territory for her.
"It took some time for God heal me from my past and to develop a passion for marriage again, so by the time he proposed me, I was happy to be in a marriage relationship."
The two set their introduction date after engaging both their parents who blessed their union.
Jackson also pulled out some stops to make sure he proposed in the modern romantic way even they were miles apart.
"I was in Mbale and she, in Kampala. I sent her a bouquet of flowers and a card with the love message and of course the big question; " Will you marry me?". My best man delivered the message disguised as being from another of her suitors."
"It was a surprise! The best man gave me this message on the roadside in Wandegeya. I was so overwhelmed with joy and I said yes. Of course I talked to him on the phone to affirm it."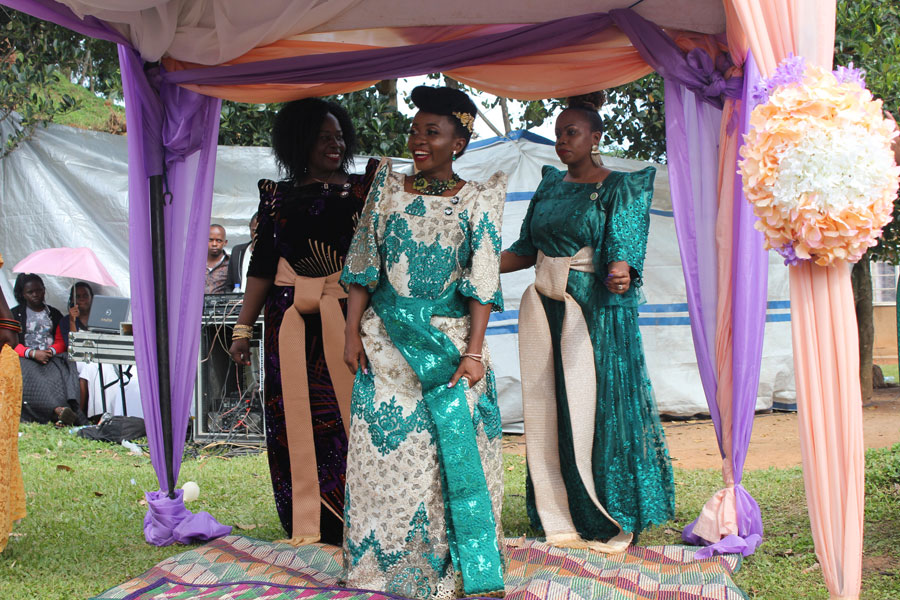 The introduction preparations started and the couple faced a challenge preparing the ceremony. Jackson had just lost a job and his new business was still yet to reward much in profit. In the same period, Carol's contract ended leaving them destitute. Unlike many couples, Carol and Jackson were not about to be stopped by a setback in finances. The couple decided to devise means and still have their function.
"First, we made sure to host a few people. In total, I had 60 guests; Jackson had 15 escorts, I invited 15 friends. The rest were family, and a few elders from my village."
Carol adds that a few people also helped them keep time. Their ceremony started at 12:00pm and was done by 5:30 pm.
"We also did not have many family members greeting the guests. Only one group, the basawo greeted and the Sengas came out next," she adds.
Jackson explains that their savings and contributions from close family members and friends helped to see them through.
The couple shares the rest of their story
What was the most expensive item on the budget?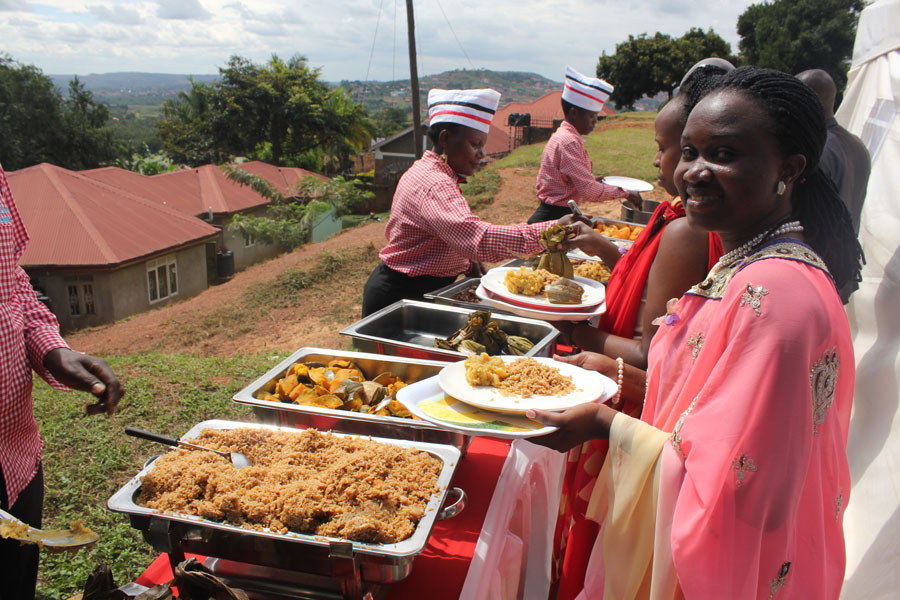 Carol:  It was food at Shs1.5m
What was the cost of your attires?
Jackson: My attire cost about Shs500,000
Carol: Shs800,000
How many times did you change on your introduction?
Carol: I changed thrice.
Where all the attires bought on the Shs800,000?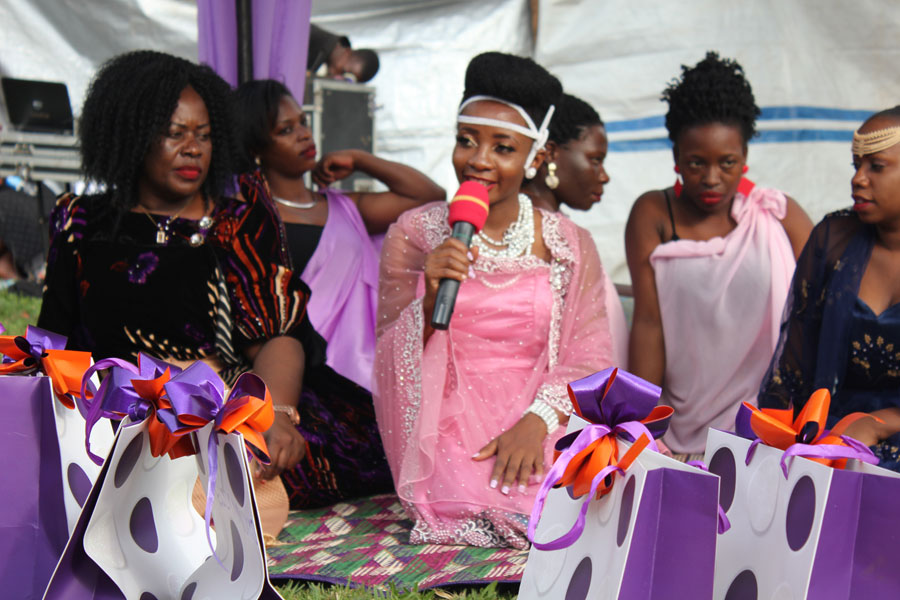 Carol: Yes. My first gomesi cost Shs250,000, I wore a mushanana also bought at Shs250,000 and a changing dress at Shs200,000. The extra Shs100,000 was for shoes.
What were you doing on the eve of the ceremony?
Jackson: Buying gifts for the occasion
Carol: Moving all over town to have the final touches done like the day wouldn't come.
What did you enjoy most on the introduction day?
Jackson: When Carol's parents said a blessing over us.
Carol: When I set my eyes on my husband and when our parents and pastors prayed over us and blessed us
Did you involve a planner?
Jackson: No it was my wife Carol, my best man and I who were the chief planners of the day.
Where you disappointed by any service provider?
Jackson: No everything went on as it was planned.
Carol: All was well, except the sound providers did not follow the song list I gave them.
What was going through your mind during the introduction ceremony?
Jackson: I was amazed that we had come this far.
Carol: I couldn't believe that it had come to pass and that God had given me another chance at marriage.
How did you manage to finish the ceremony so early?
Jackson: We had a programme which was shared with both sides including the spokespersons of both sides. And also we were involved in every detail of the planning and execution the plans.
Carol: I had few guests that were manageable and I stuck to the program.
So when do you plan to wed?
Carol: On February 14, 2020.
Why Valentine's Day?
Carol: We didn't purpose to have it on Valentine's Day, we only wanted a Friday of the second week of February and boom it was Valentine's Day.
What is your advice to those planning to introduce?
Jackson: Simple and elegant is the way to go.
Details
Groom.  Jackson Wobusobozi
Bride.  Carol Nassuna
Guests:  30 invited plus my family
Budget: Shs6m
Cake: Shs250,000