By Maria Immaculate Owechi
It's that time when we round up the best of the best of the year 2018.  Last week, we rounded up weddings that made the buzz this year. (Click here to see) But then again, this list cannot be complete without a round up list from the best wedding website in the country. My Wedding team chose 5 weddings, from those that run on the website, that were exceptional this year.  See which ones and why.
William and Angella Kirunda's Wedding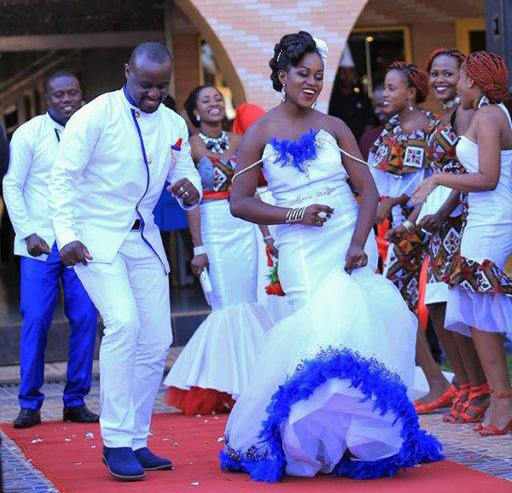 Angella Kirunda, a fashion designer with Fashion line, creatively designed her own wedding attire and that of the entire entourage and husband.
Angella's off shoulder mermaid gown was quite different from most wedding gowns. It was accentuated with beads and blue feathers at the bottom of the skirt. She also added feathers and a blue lining to her veil and dress.
She explained to My Wedding that blue and white were her husband's best color hence the choice in tribute to him.
William, her husband was also wore attire sewn by her. He looked elegant in a white and blue designed suit with well-matched blue leather shoes.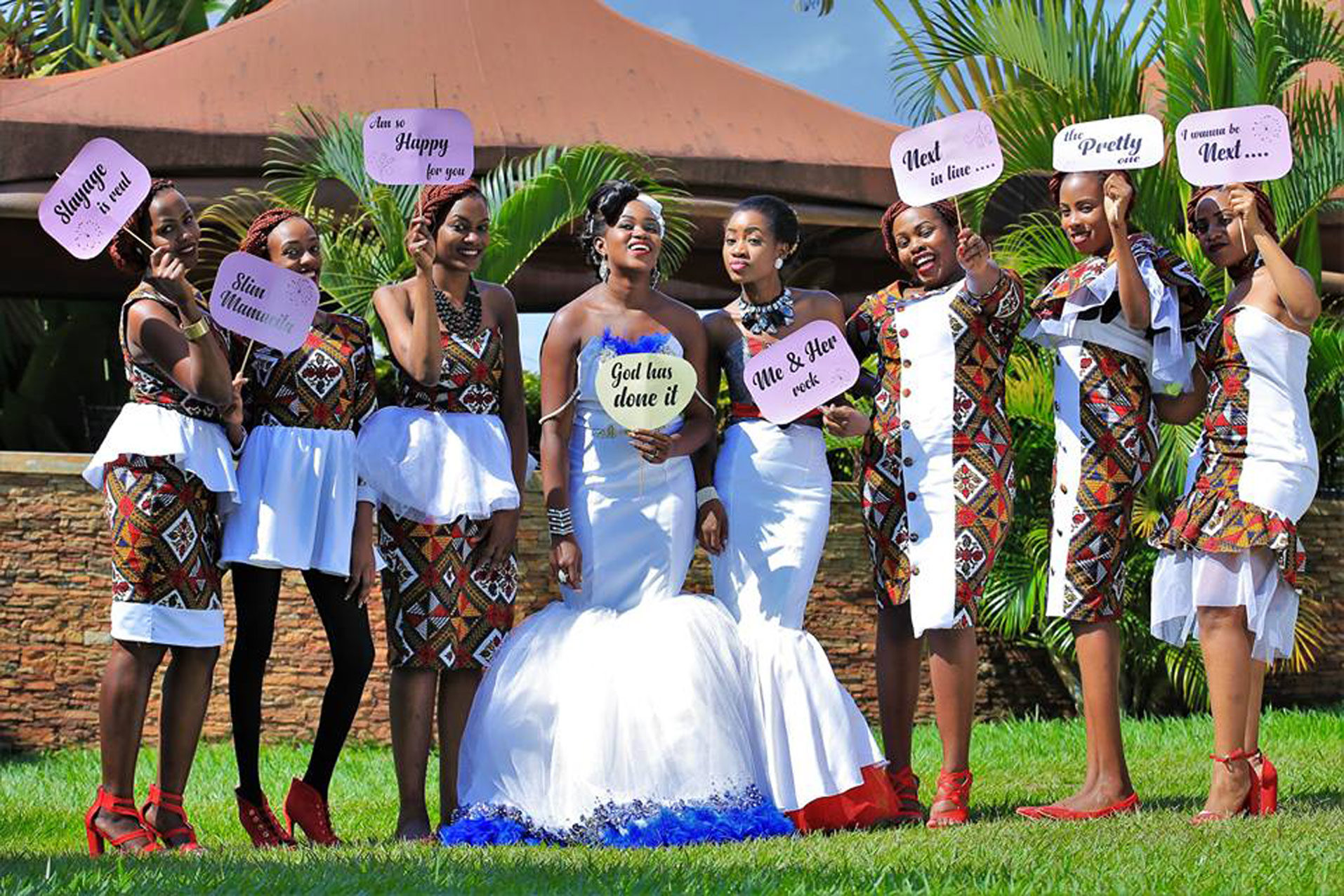 Then, in order to sort out the dilemma of six of her brides' maids having different body types and shapes, she asked each to choose a design that was comfortable for them and could be worn even after the ceremony. Indeed all her maids and flower girl looked stunning in their differently designed outfits. One wore a body hugging dress, another leggings, another a free dress, some even got to wear pumps. How more cool could it get?
She also individually made the wedding invitation cards which were made of African fabric and banana fibers.
To add icing to the cake, Angella and her entire entourage entertained her guests in an energetic choreographed dance. They all changed into damaged jeans, T-shirts and sweaters wrapped around their waists for the dance.
This was an alternative when she failed to hire a dancing troupe because of their high charges. Click here to read Angella's full story.
Solomon Sula Matovu and Estella Namubiru's wedding ceremony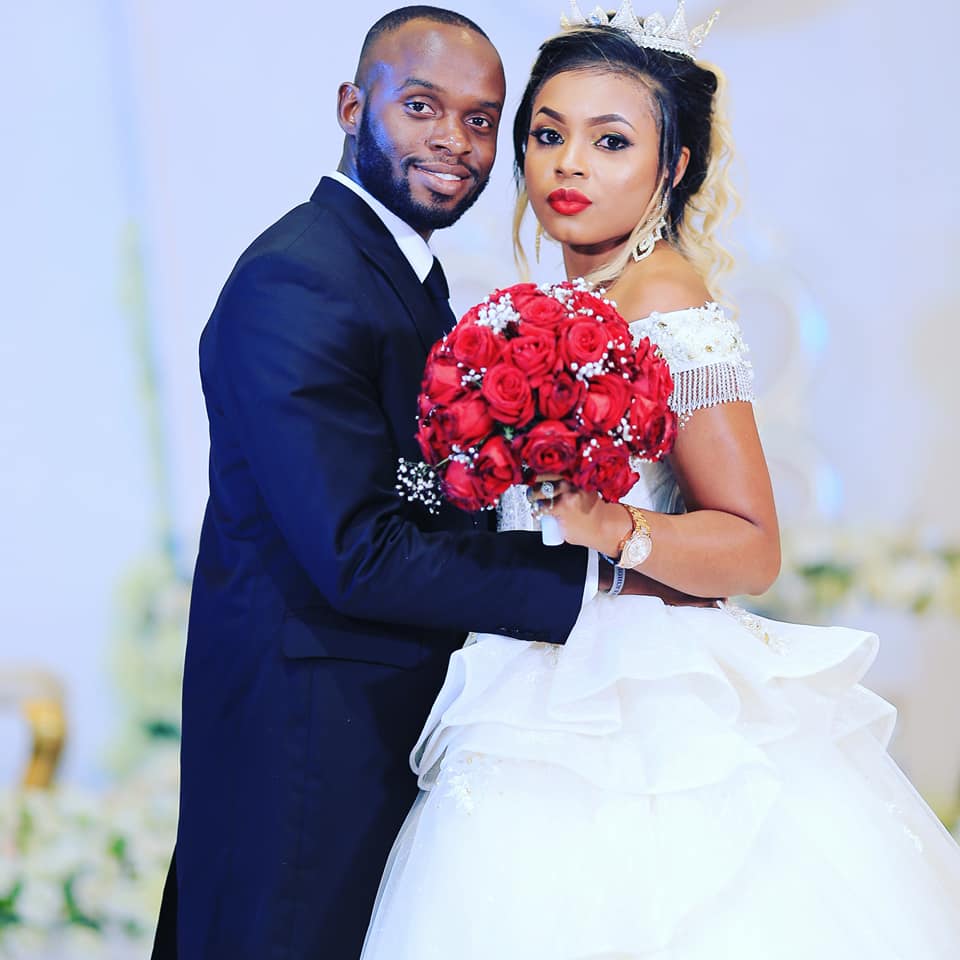 This wedding will make you fall in love one more time each time you read it. On 7th July, Solomon Sula Matovu, a professional footballer walked down the aisle with his girlfriend of three years, Nicole Estella Namubiru, a business woman in a spectacular wedding.
This wedding is one our favourite starting with its classy dress code to the elegantly arranged décor up to the tiniest detail.
Estella looked glorious in a 'peachish' and 'creamish' detailed Cinderella gown which was quite unique from the traditional white gowns. She spiced her hairstyle with blonde highlights which was daring because some brides would play it safe with a black colored bridal hair style.
Her husband, Sula wore a classy custom made suit inspired by David Beckham's suit to the royal wedding of Prince Harry of England and Megan Markle.  And his colored happy socks put a big smile on our faces, which was quite different from the normal block colors most grooms decide to settle for.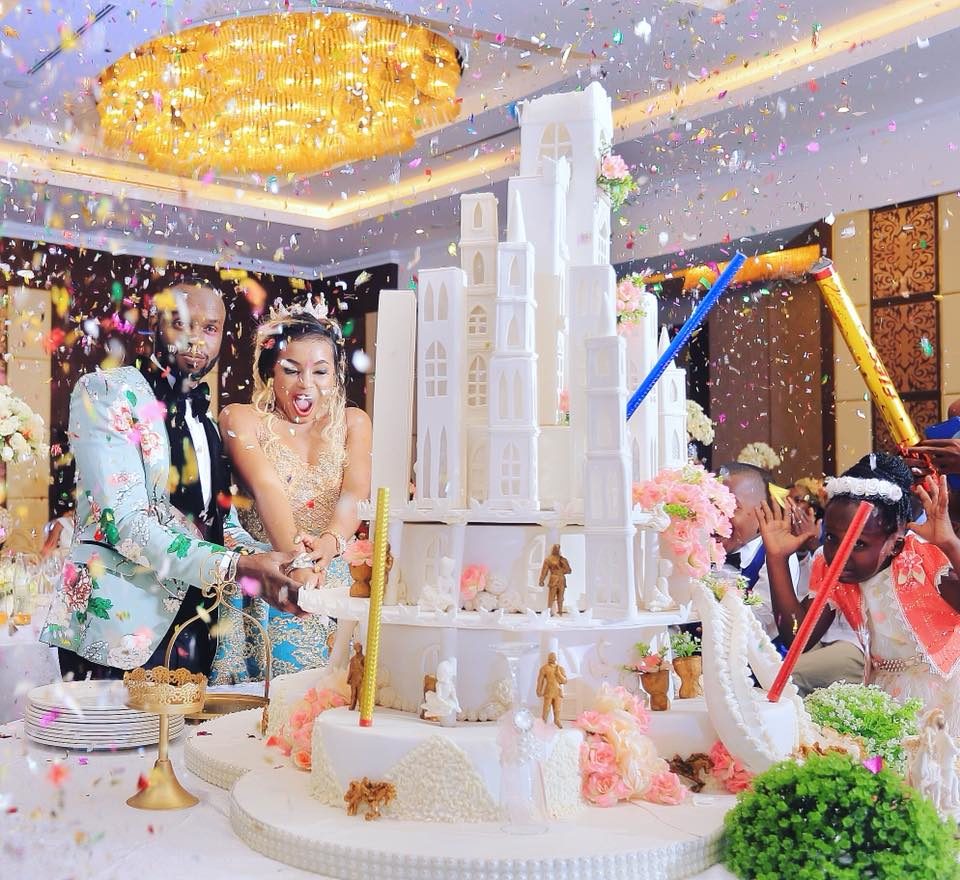 Their service providers did an amazing job in giving the reception hall a touch of class, for instance Sheebah's palace designed a state of the art, castle designed fruit cake.  It looked heavenly with magical lights lit inside.
Suki events also designed a truly royal décor for the couple from the table setting, lighting to the ball room decorations. Click here to read this story.
Bonny Kibuuka and Emily Nicole Merifield's wedding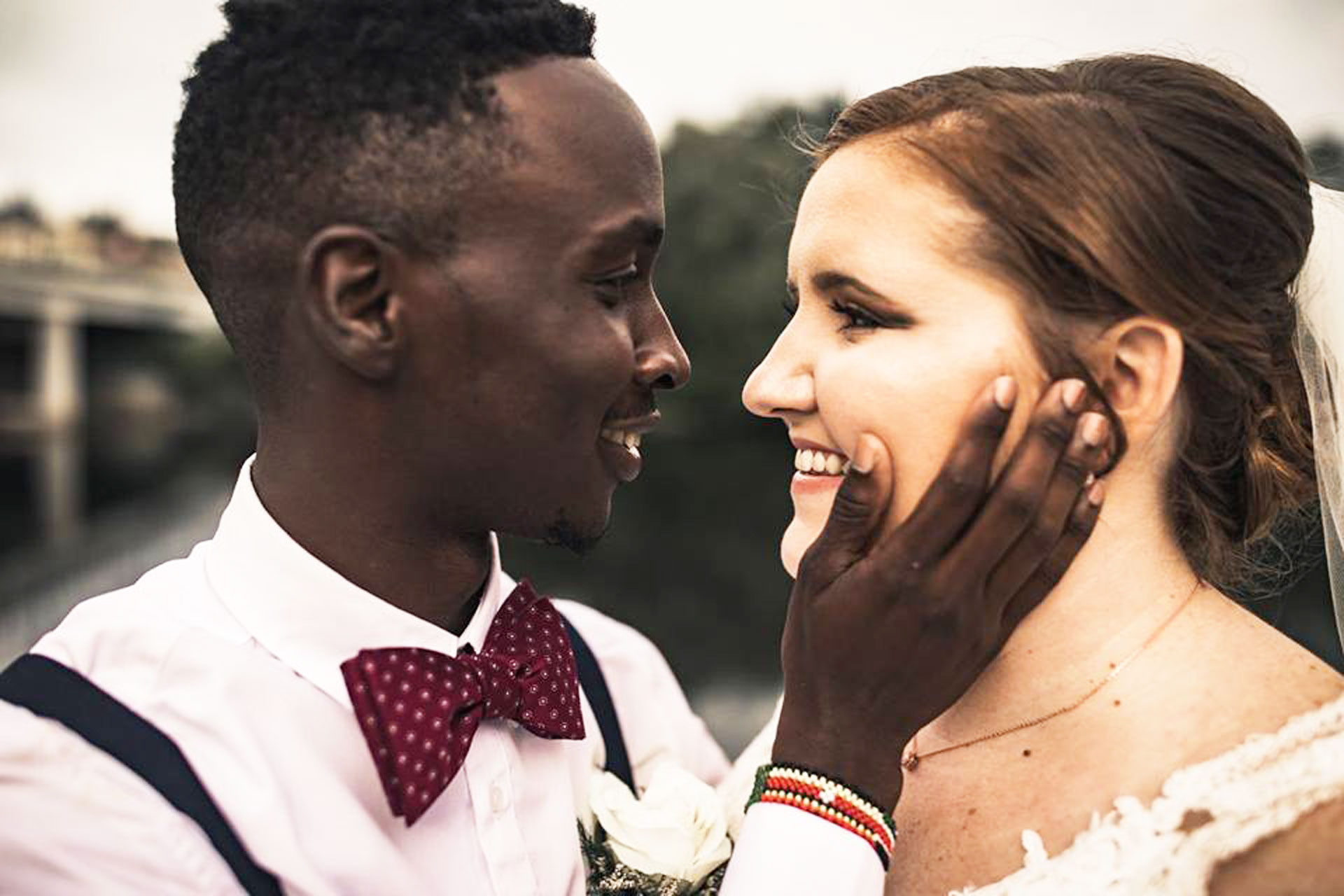 We have heard about love at first sight but in this Ugandan-American love story, we meet a girl that sees a foreign student for the first time and boom, she decides he will be her husband which comes to pass.
Bonny and Emily tied the knot at The Opera House in Grand Ledge, Michigan on the 7th September. Unlike most weddings, the church ceremony was outdoors while the reception was inside.
This wedding delves into the differences of the American wedding culture from the Ugandan. For instance, the bride's father first getting to dance with her plus the groom also dancing with the bride's mother. You can imagine Kibuuka's shock for in Buganda, a groom doesn't even sit on the same table with his mother-in-law.
We also see the bride embracing her husband's African heritage when she puts on a masai outfit for her changing dress.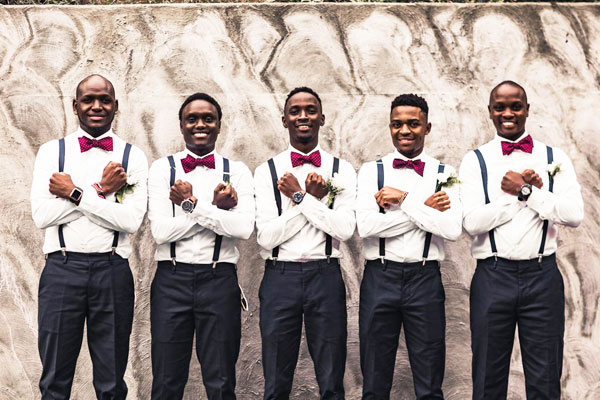 As if that not enough, Kibuuka and his groomsmen also looked different and trendy when they decided to ditch the common wedding suits and instead wore their long sleeved shirts with bow ties and suspenders. Click here for full story
 Joseph Matsiga and Efi Koelewijn's wedding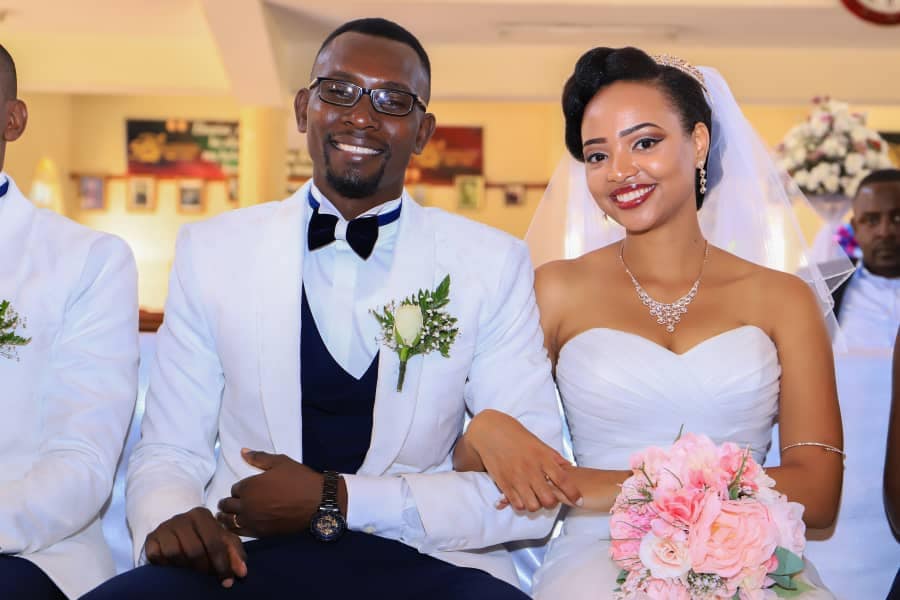 This wedding hits the list of our top 5 as it shows possibilities of a great wedding on a small budget. With only 13 million shillings, Joseph Mastiga, a Communications person at University Community Fellowship (UCF) and Efi Koelewijn, made an elegant classy wedding.
This model couple managed to find clever ways of cutting expenses on their budget. For instance  the bride and her entourage did their own nails and the couple fully utilized friends as service providers who willingly gave those professional services at discounts.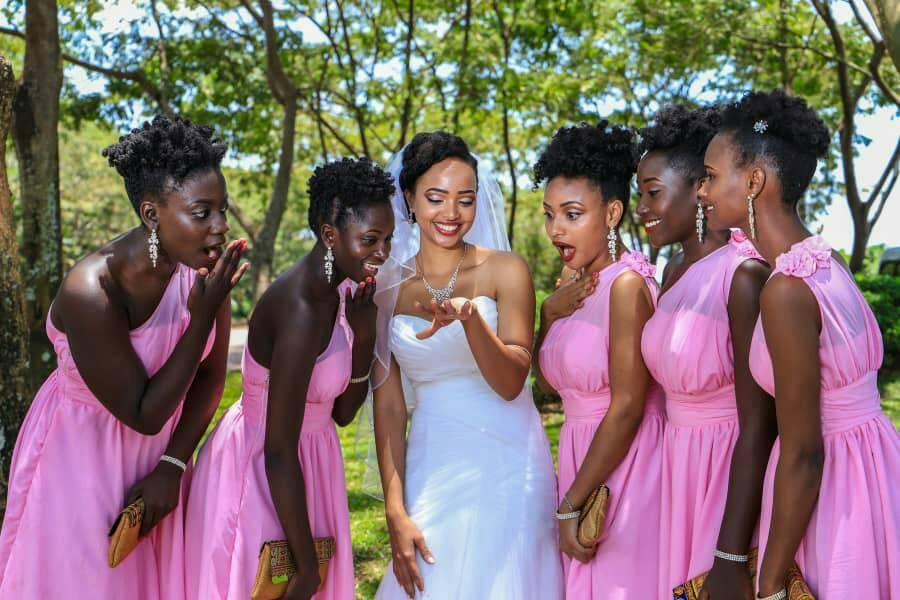 Jemimah Lulu's wedding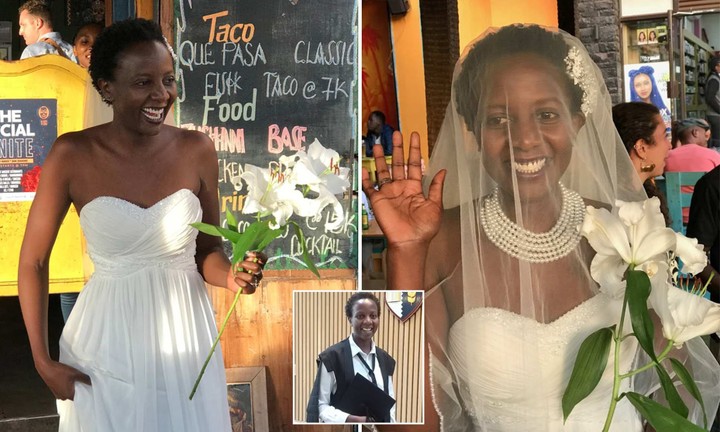 32 year old Ugandan woman, Jemimah Lulu shocked the nation when she got married to herself on August 27 to silence pressure from parents. Lulu  was also making a point that a girl has more to achieve than just marriage and she preferred to first finish her master's degree.  Lulu even went ahead imitate how a full wedding ceremony is made.
She looked lovely in her strapless white gown accessorized well with a pear laced necklace and, also managed to beautifully style her short hair.
Her friend played the role of a priest as Lulu staged a mock exchange of vows with herself. Click here to read full story.
This bizarre wedding later led to a dramatic twist of  a former radio queen Siima Sabiti "marrying" a man she had never laid eyes on before, Bernard Mukasa, a city lawyer in a wedding dubbed, Karbenz. This second mock wedding was done to help Lulu fundraise for her education at Oxford University. The entrance fee was Shs20,000 for early birds and shs30, 000 for late comers. Click here to read about the karbenz wedding.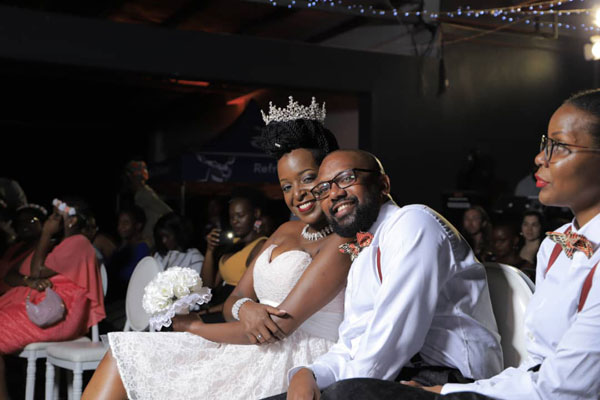 And let's not forget to mention the official traditional ceremony/Kuhingira for NTV news anchor Flavia Tumusiime to fellow journalist, Andrew Kabuura. Click here for more on this story