By Dorcus Mulungi
Thomas Tayebwa, MP for Ruhinda North and Anita Rukundo, wedded on February 14, 2009. The Tayebwas celebrated their 10th anniversary and their child's baptism on Valentine's Day. They tell their story.
When and how did you meet?
Thomas: I met Anita on May 8, 2005 at a friend's place. As soon as I saw her, I felt something magical; there was this spark between us that I could not explain. I told her instantly that I wanted to marry her and she laughed about it, calling me a crook.
Anita: I met Thomas through Bruce Kabasa, who was a mutual friend. Thomas was talkative yet interesting and I found it fun being around him.
What attracted you to each other?
Thomas: It was love at first sight. I was speechless when I first set my eyes on her because deep down, I felt like this was the perfect person to spend the rest of my life with.
Anita: I first became friends with Thomas and I noticed he was loving, kind, hardworking and above all, God-fearing, which were the qualities I needed in a husband.
What happened after?
Thomas: After a number of years dating, we decided to get married and on February 14, 2009, we wedded at St Augustine Chapel, Makerere.
Anita: I was sure of the person I was marrying; not only a partner but a friend.
Is there anything different today compared to when you met?
Thomas: In our love life, nothing has changed; we are still the same sweethearts that got united 10 years ago. However, as you stay together longer, some realities of life such as pressure from friends and family start setting in and you have to address them accordingly.
Anita: Thomas is still my friend like he was 10 years ago and everything has been moving smoothly.
Most people celebrate anniversaries after 25 years, why did you choose 10 years?
Thomas: Anniversaries are not only supposed to be celebrated by people in their advanced age. We chose to celebrate ours after 10 years in marriage so as to reflect on what we have passed through and appreciate people who have been there for us when we are still energetic.
Anita: Also, our anniversary fell on the same day as our son's baptism, so we were celebrating both our love, as well as thank God for the gift of a child.
How did you arrange your anniversary?
Thomas: The same way as our wedding, except that we did this ourselves for two months.
Anita: We organised our anniversary in a simple way but we prepared it to bring us nostalgic memories that we shared on our wedding day.
Why did you choose the same venue for your anniversary?
Thomas: Ten years ago, we were in the same hall, Sheraton ballroom, and eager to move ahead together. We opted for the same venue because it gives us good memories.
Anita: This venue brings back special memories.
Do you have any children?
Thomas: Yes, after nine years of waiting, God blessed us with Timothy Rubandamayonza. The name Rubandamayonza is a direct translation from Runyakitara, our local language, which means a thorny plant that has delicious fruits.

It requires patience in order to navigate and eat those fruits, which is exactly what we want him to know when he grows up. We want him to always be patient, hardworking and be persistent.
Anita: We made a pilgrimage to the Vatican in 2017 and asked the Pope to pray for us to have a child, which he did. The following year, we were blessed with a child on Liberation day (January 26).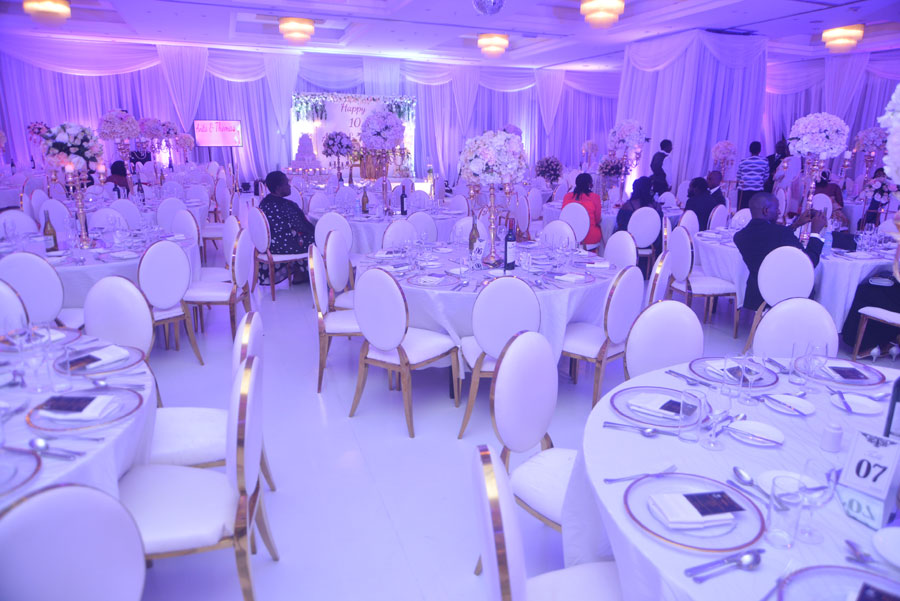 Did you look for any specific attire for your anniversary?
Thomas: No, I just looked for something smart to wear.
Anita: Yes, my husband and I went to Milan, Italy to shop for clothes. I spotted a nice changing dress which I was afraid to buy because it was costly. I do not want to reveal the price. To my surprise, my husband went back to that shop behind my back and bought the dress for me and just gave it to me a few days to our anniversary.
What was the most expensive item?
Thomas: We offered a Madonna worth Shs60m to St Augustine Chapel Makerere but when you add other contributions that were raised by our friends, it was about Shs100m that we managed to raise.
What is the best memory of your wedding?
Thomas: Seeing my bride walk down the aisle.
Anita: My husband was happy throughout.
Which criteria did you use to select your guests?

Thomas: We invited our relatives and friends who could make it.
Anita: I do not think there was a specific criteria we used; we just invited friends and family.
Did you go for premarital counselling?
Thomas: Yes, we did go for counselling at St Augustine chapel. I found it so useful because some of the virtues they counselled us about including unconditional love, forgiveness, trust and care have played a big role in our marriage.
Anita: Yes, we went for counselling and it has been of great importance in our lives.
Did you go for honeymoon?
Thomas: Yes, the government of South Sudan sponsored us to go to Sun City in South Africa. We went to the love cave; the love bridge and also got a chance to rub shoulders with many 'big' people.
Anita: We spent so much quality time together which was so instrumental to our relationship.
What lessons have you learnt from your marriage?
Thomas: It is important that you do not allow other people to discuss your relationship issues. Also, a man always protects his wife.
Learn to trust God as a couple because He is the Alpha and Omega.
Anita: Deal with issues as a family. Also, pray, have faith in God and love like never before.
What could lead to a short-lived marriage?
Thomas: Some people do not take their wedding vows seriously.
Anita: Some people do not treat the marriage institution as sacred as it was in the past.
Given chance to change anything, what would do differently?
Thomas: I do not think there is anything different I would do because our relationship is still the same like it was 10 years ago.
Anita: My husband is still the same.
Your advice to those planning to get married?
Thomas: Young people should stop living movie lives and face reality because marriage only needs reality. Before our wedding, I was one of the top activists in the Opposition but after getting married, I changed because I needed to live in reality, not fantasy.
Anita: Couples ought to learn to trust God because it is Him who gives.
Why did you choose February 14, as your wedding day?
Thomas: February is a month of love and we chose to wed on a day on which love is celebrated.
Anita: People choose days that are special to them, for us February 14 is a special day in our lives hence the reason we selected that day.
How long did it take you to plan for the anniversary?
Thomas: About two months.