By Perez Rumanzi
On Saturday May 25 2019, hundreds of people gathered at Rugando village to witness the giveaway and introduction ceremony of twins, Ms Priscilla Babirye and Ms Pereth Nakato, daughters of the Late Kaddu Ssalongo of the same village. They were given away to Mr Asiimwe Edward a businessman in Mbarara town (proprietor of A2E classic works, a cleaning, school materials and printing services company located in Kakyeka Mbarara municipality) and Mr Amos Besigye the Ntungamo district fisheries officer who hails from Bugamba in Rwampara district respectively.
Interestingly, the grooms are also twins, although they each come from different families.
We interacted with the two couples about their love journey thus far.
How did you meet?
Nyakato and Besigye
Besigye: I had gone to a burial of my friend's wife who happened to have been in the same nursing school as Nyakato. I had gone there for the husband and Nakato and her sister had gone there for the wife. I was seated in a tent as one of the VIPs, and across  was this beautiful lady standing in scorching sun. I called this lady and asked her to come and seat on my chair. After she had sat, I was surprised to see the same person standing in the same spot. Someone told me they are twins. I had to get another chair for the two to sit. I made no advance then. I later asked a friend for contacts and all I could do was to text her. I later found out she was working in a drug shop near our home and I had to make it a habit to go home every weekend so that I could at least look at her.
Nyakato: We met at the burial in Ibanda. Later, I received his sms and did not reply but he was persistent. My sister and I had agreed from primary that we would marry at once. When she told me she was dating a man, I had to become serious too. He would bring me ice cream in an ice box of animal medicine, biscuits and other small gifts.
Babirye and Edward: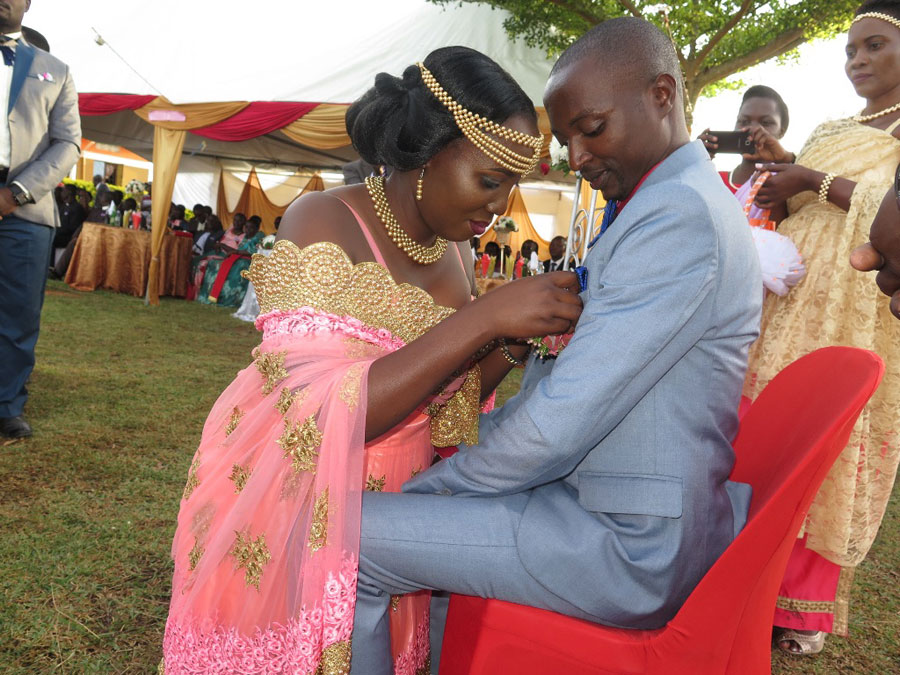 Babirye: I had gone to the same school Trinity College Kabale with him where I was with my twin sister. We were not friends and had never interacted. We were coming from a burial in Ibanda on December 16, 2017 with my sister, and just as we disembarked from it, we met Edward. He asked for my phone contact which I gave him. He later started calling and whispering pleasantries into my ears. I shared with my sister who also told me that the guy we had met at the burial was keeping her busy. We both agreed to take our relationships seriously.
Edward: When I met the twins, I started calling Babirye but she sounded disinterested. I wanted to marry a twin because I am also one so I kept trying.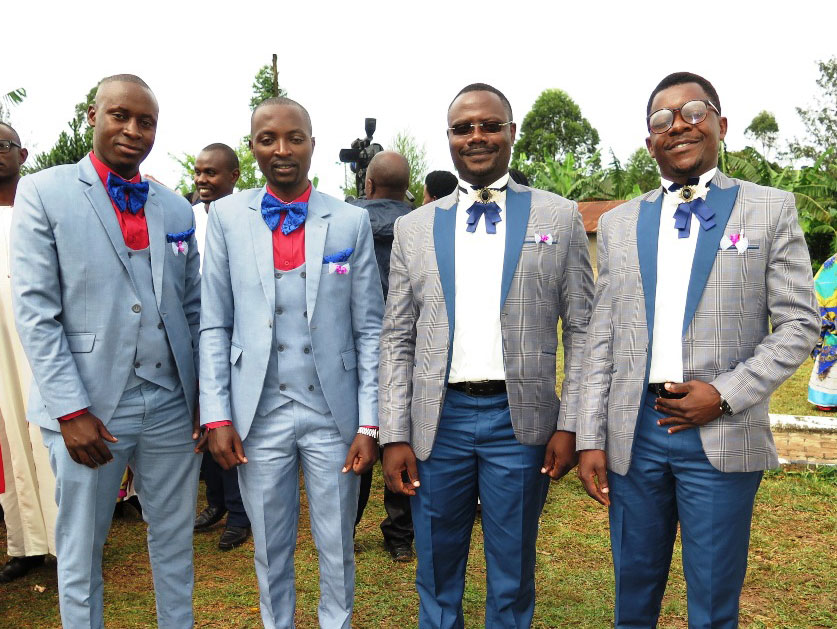 Was the courtship of the four of you going on at the same time?
Besigye: We kept trying but did not know that the girls were sharing what we were telling them. When things got serious, they asked us to meet and share how we would come up with the money and what we would do. We started meeting and exchanging what we will do, shared the budgets and so on.
Edward: We kept contacting each other until she paid me a visit. When she visited me the first time, I was sure I was going to win and by the next visit, we were discussing how we were going to have a party.
Babirye and Nakato: Because we met them on the same day, we kept exchanging what was happening and buying time to see if our dream of having a party on the same day would be achieved.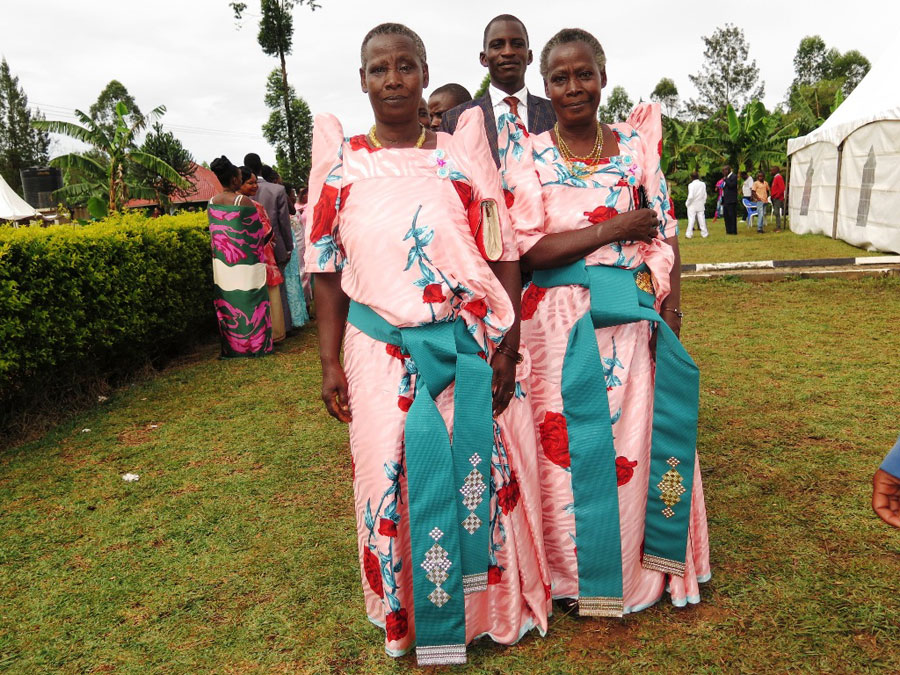 How many people did you invite?
Besigye and Edward; We were both each asked to bring 40 people as the groom's entourage.
Babirye and Nakato; We had planned for 600 people but the numbers exceeded that. Most of the invitations were left to family elders who wanted to keep the name of the family of our late father. This made it much easier, however we had so many complaints from our friends that missed being invited. We hope they attend the wedding.
Did you have a separate cake for each couple?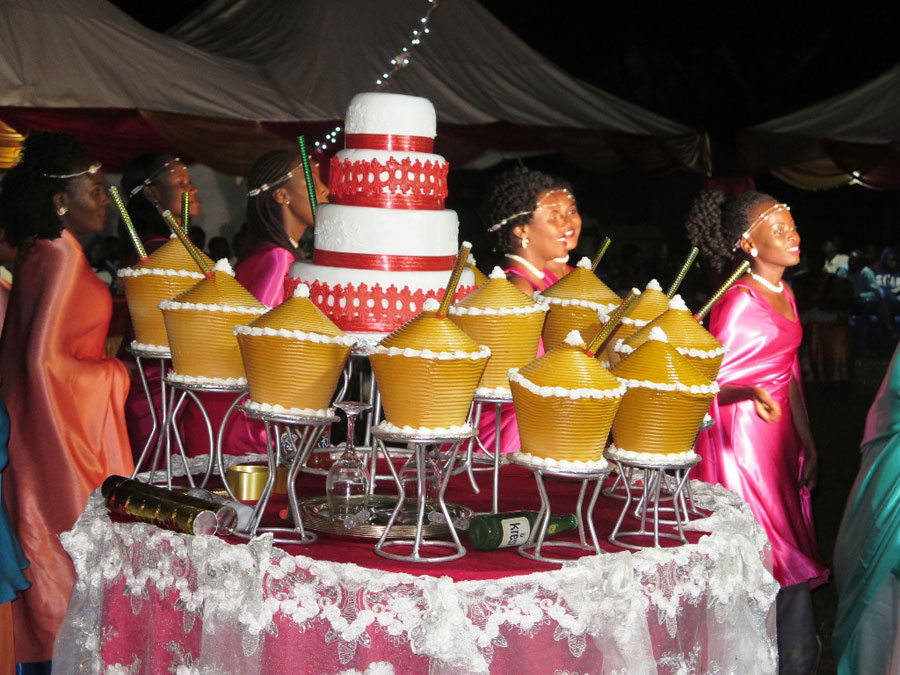 Babirye and Nyakato: We had one cake because we have one brother who we cut it with. We cut the cake at once and served it as a couple in intervals according to the MC's direction.
Did you bring different gifts to the family?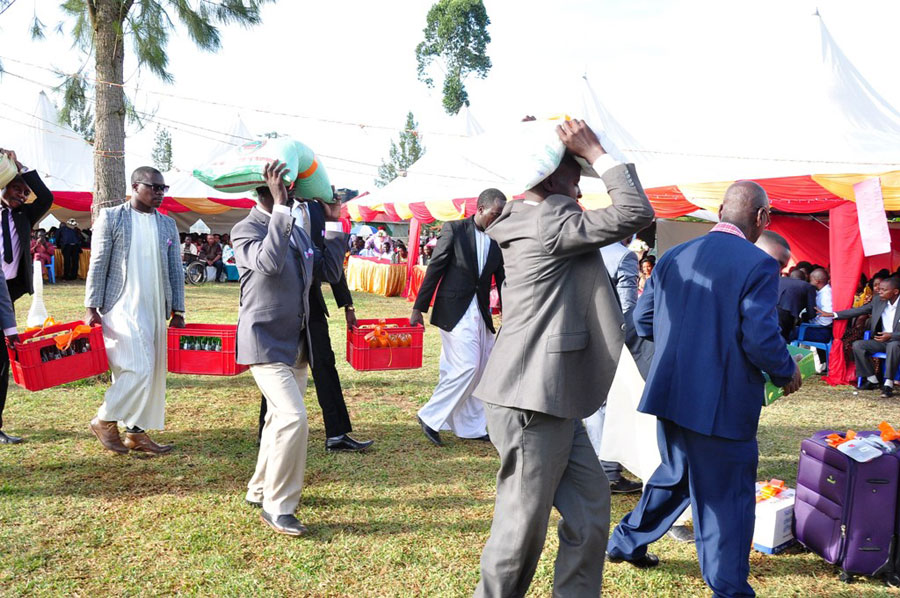 Besigye and Edward: We met before the official ceremony and agreed on the gifts to carry but each team carried their own gifts. If it was four crates of beers, one would bring two and the other two and we make four. Each of us brought 50kgs of Sugar, the same was done with sodas and other items. But this was our own arrangement as grooms, as far as the family was concerned, each presented their own gifts to the family and were approved separately.
Did you have different entourages or you used the same people?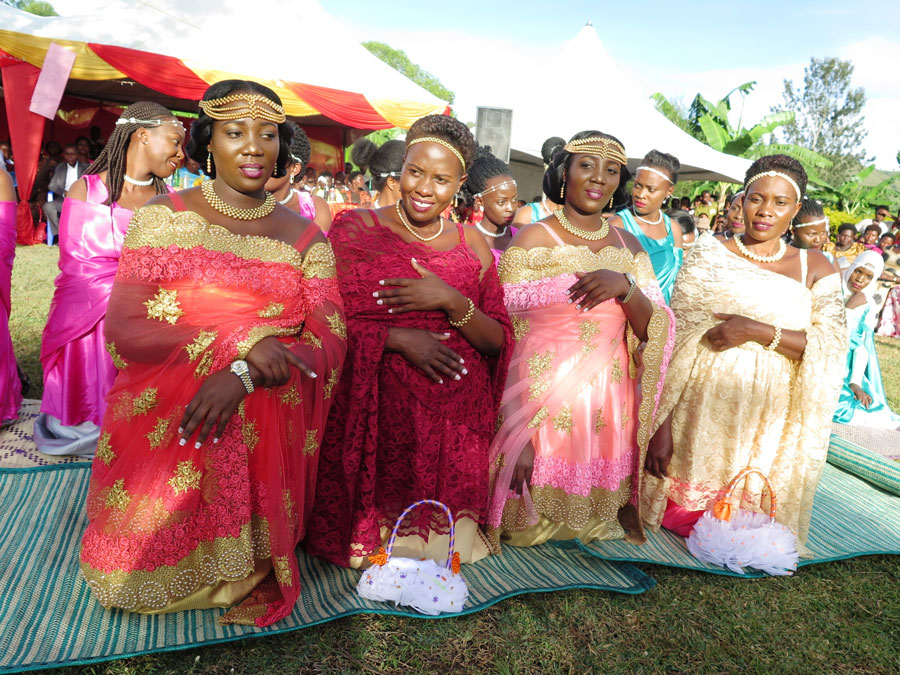 Babirye and Nyakato: We had two functions in one – the introduction and the giveaway. While both of us had their entourages, we merged them for the introduction. Our matrons were our cousin twins too. The elder twin was the matron for the Babirye and the young one for me. When we came to the giveaway, we separated the entourages because we had to come in two lines.
As grooms what challenges did you meet in coming to the same family on one day?
Besigye; While the girls were prepared to do this at once, we as men were not prepared to do it at the same time – at least one of us must have been rushed. The other challenge is that the people I came with thought I was taking few gifts to the bride's home, but I had agreed with my colleague on what to bring so I could not exceed.
Edward: I may not have been ready for a double wedding, but I was comforted by my colleague. Even when the finances were low he would come in. When he was low, I would come in. We just enjoyed doing this together.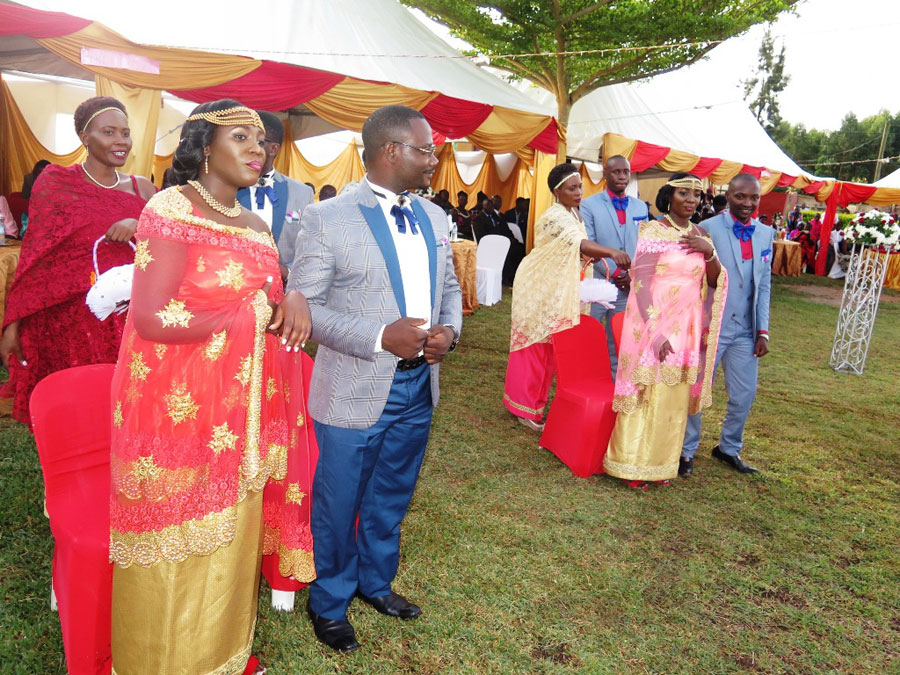 Challenges for the girls
Babirye: We were under a lot of pressure because everyone in the village and at work wanted to attend our party. We kept worrying about numbers and what would be done if they exceeded what we could handle.
We also had to make do with the money we had. We used what our husbands gave us and contributions from friends and other family members. We needed some more backing and direction.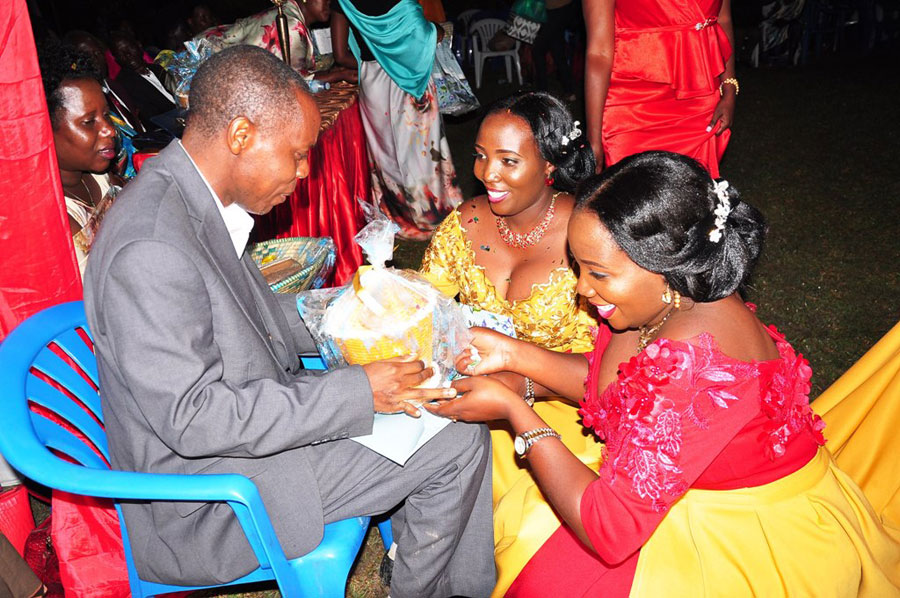 How did you choose the theme colours for the party?
Nyakato: Because Babirye is older by at least a few minutes, I had to allow her take lead in some decisions. Fortunately we have the same taste in colours. We chose gold and maroon. These were our colours from childhood.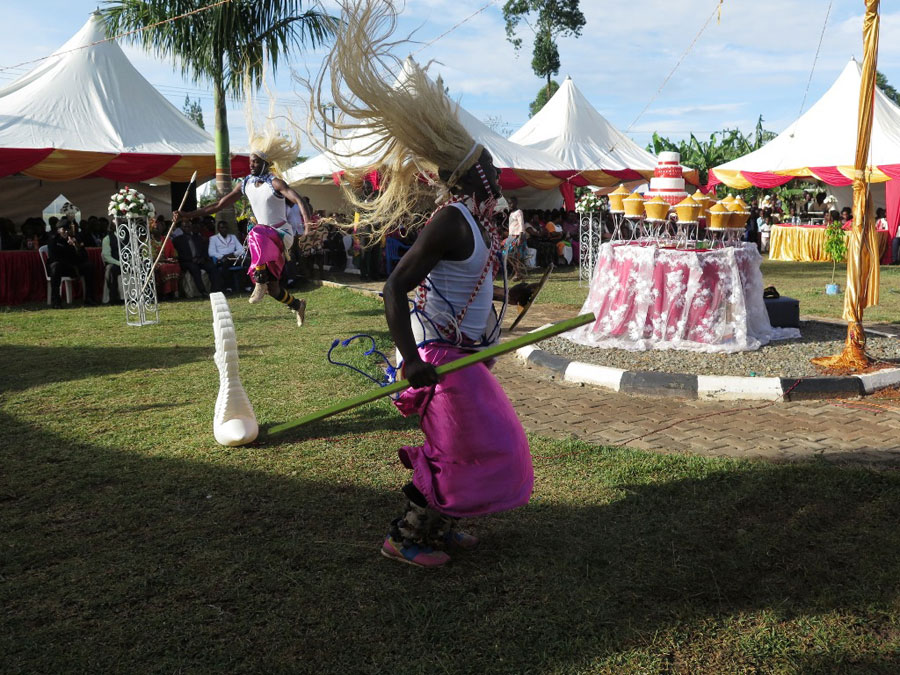 Are you planning to do official church wedding together?
Nyakato and Babirye: As ladies, our function was the giveaway. We shall live the wedding to the men. What they decide is what we shall go with. But we at least wish to attend each other's weddings and we have agreed that we shall be matrons for each other if all works out as we hope.
Besigye: I think we need to separate the weddings, this would make each enjoy his with their people and we will also make it more intimate if they chose to be matrons for each other.
Edward: I wish we could do it the same way we did the giveaway. That would be the most interesting thing this world will provide. The giveaway was a great day.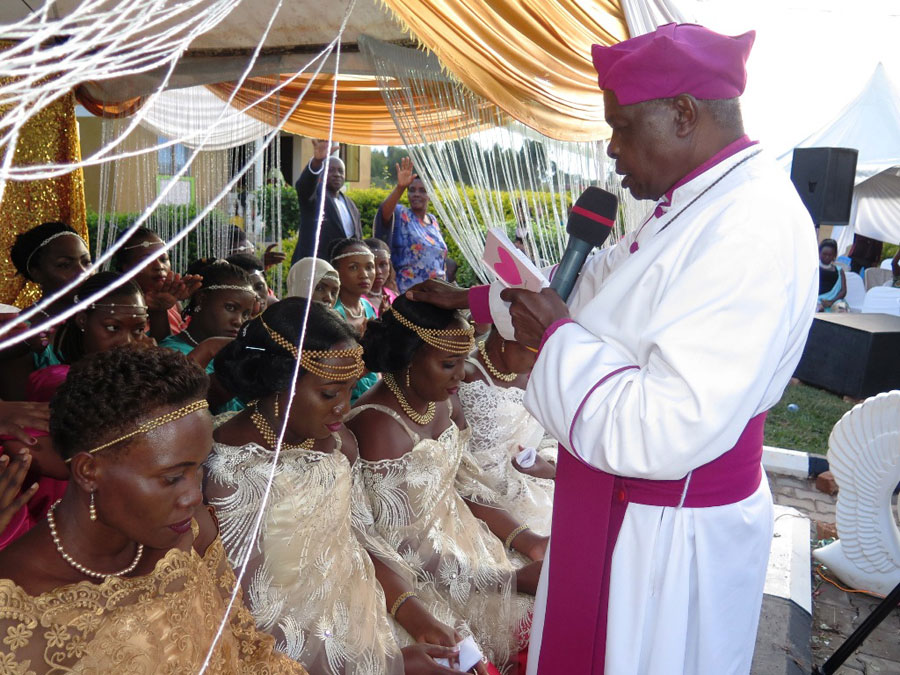 Who were the service providers?
Cake and decoration: Sab and Save decorations Mbarara
Salon: Stella and Appo collections
Dressing and makeup: Angella makeup artistry
Photography: JK media
Entertainment: Afri-Doves entertainment, Steven Baba
MC: Locally sourced
Main celebrants: Retired Bishop of Ankole Em.  Rt Rev. Dr George Tibesigwa, Rwampara MP Mr Charles Ngabirano .
Venue: Muhumuza Gardens Rugando Rwampara.
Amount spent: About 24million