By Shamin J. Nakawooya
George Fredrick Musanje, 45, a rehabilitation officer at Surrey County Council in London, UK exchanged vows with Jane Nassali Musanje, 40, a nurse at Middlesex Hospital in UK  wedded at Kimanya Parish Church in Masaka. The couple shared their love journey.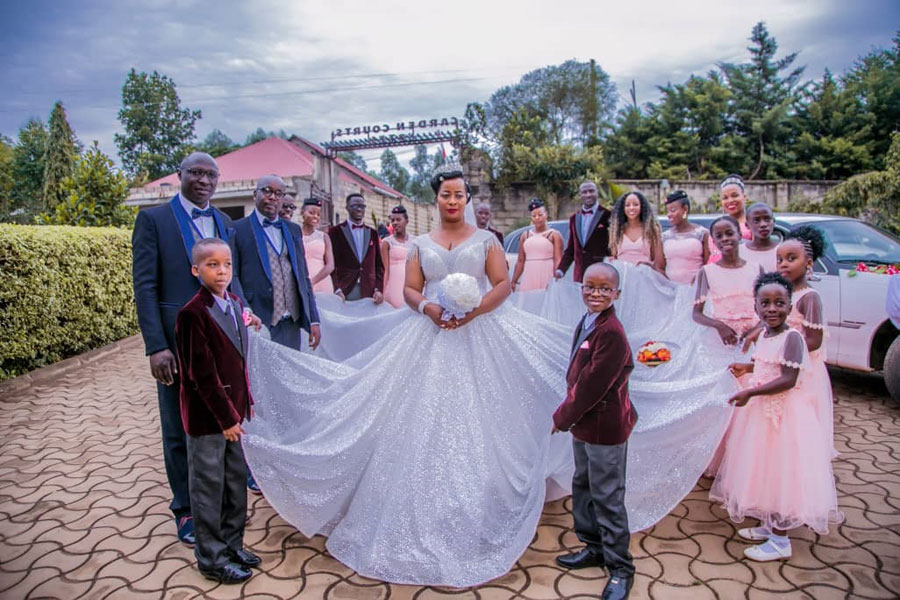 Fred: Surprisingly, my Jane and I went to the same primary school, and we were taught by the same teacher who is my mother. When we went to London, we met at one of the Ugandan meetings, so, we got to know more about each other and the ball started rolling.
Jane: We were not friends in primary school and later we met in UK at one of the Ugandan parties but  Fred recognised me and, we exchanged phone contacts.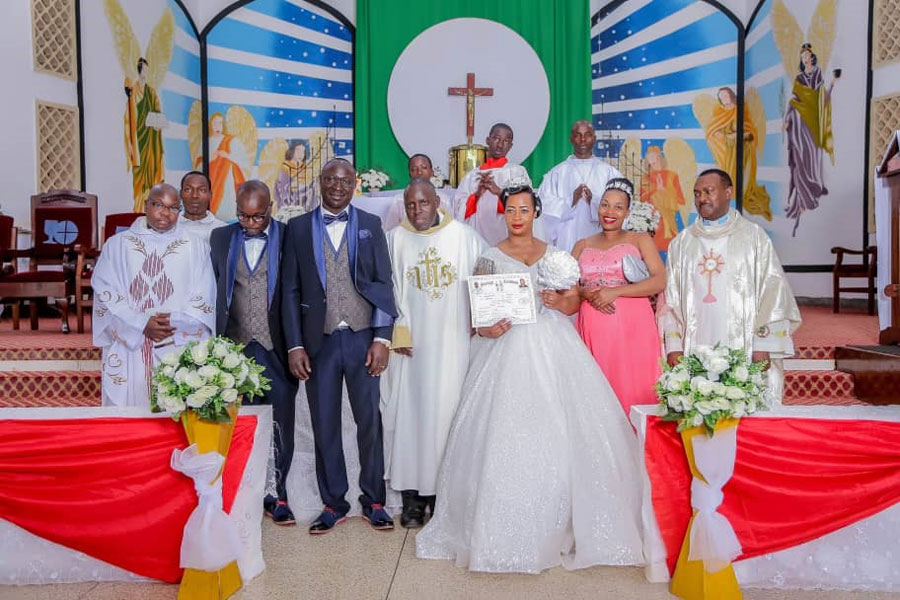 So, how did the two of you become so close?
Fred: I was based in East London while she was in West London.
At first it was a casual meeting, followed by phone calls, numerous meetings for dinner, outings and then we started dating.
Jane: You know when you are abroad and find someone whom you share a language with, it is like you have met your brother. It was exciting that I had met someone from Masaka that shared many things with me. We started a friendship and eventually we developed a relationship.
How was the proposal?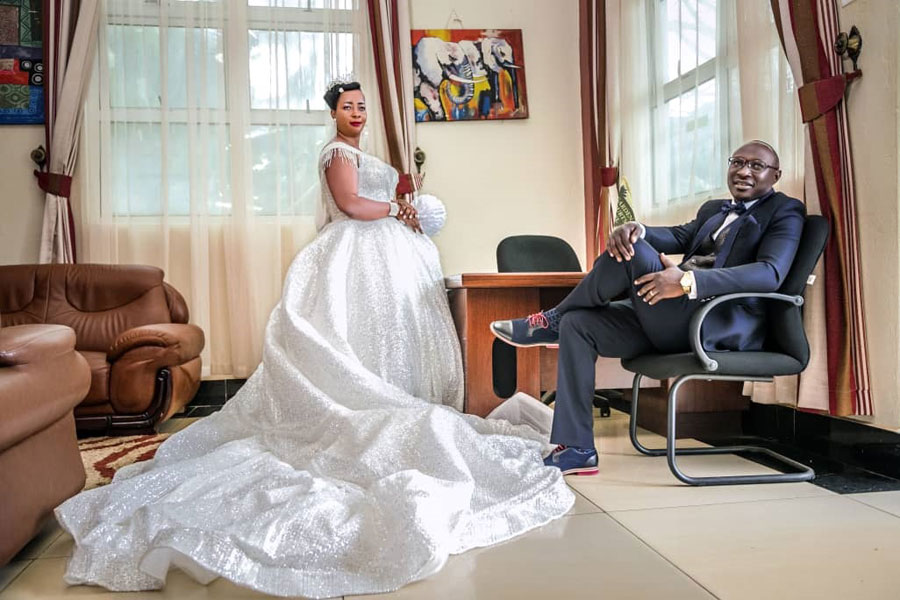 Fred: It was a long process since we had to relocate. We started cohabiting and got children.And in 2012, I proposed with an engagement ring and we had a civil marriage in London.
We came home [Uganda] in 2013 to visit her parents  [kukyala] and then introduction and church wedding in  2019.
Jane, how did you react when Fred proposed?
Jane: It was a long process because I first bore two children. Two years ago, he took me out for dinner and he said that he wanted to marry me. I thought he was joking because he jokes a lot. He told me he was serious because he had also set a wedding date. I was over joyed, excited and felt loved.
 Fred, what took you long to propose?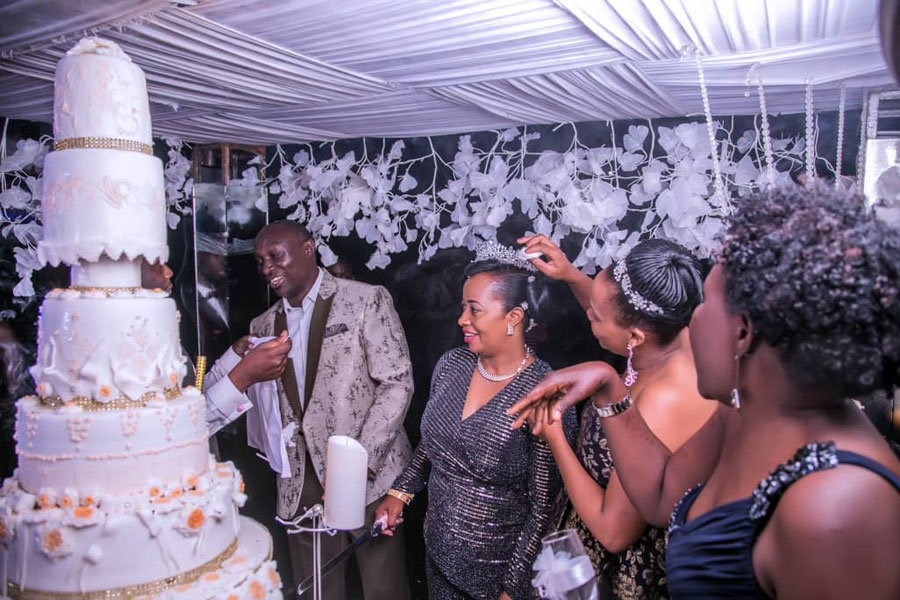 Fred: Since were staying together, there was no rush and I think everyone was busy with different schedules but we knew everything big was waiting.
What attracted you to each other?
Fred: Sharing a culture. Jane loves my family, she is hardworking, kind and social.
Jane: Fred loves my children and family, he is jovial, a friend, and down to earth.
 What was your budget and how did you raise funds?
Fred: We had family and friends contributing from the UK, Kampala, Masaka as well as our little savings. It was expensive but I will not disclose figures.
What was the most expensive item?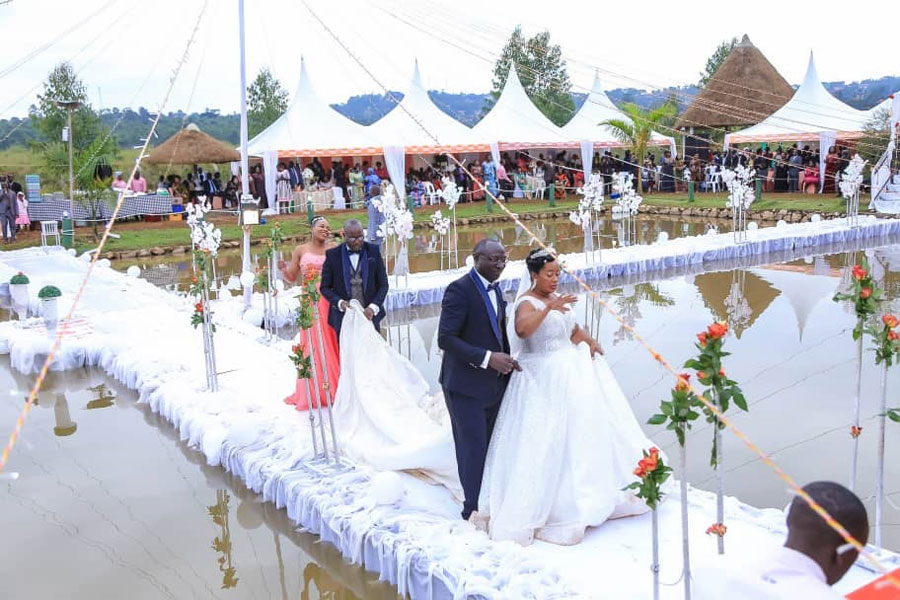 Fred: Drinks because we shipped wines and liquor from the UK. Also my suit, the best man's, groomsmen as well as page boy's were imported from UK.
Jane: I bought my two gowns from the UK at Shs10m, also bridesmaids' and flowergirls' attires.
What was your wedding eve like?
Fred: We went out with friends for a drink at Club Ambiance, Masaka and entrance was free. It was nice to catch up with old friends.
Jane: I was checking on service providers since some of them were from Kampala and putting final touches to everything.
What was your colour theme?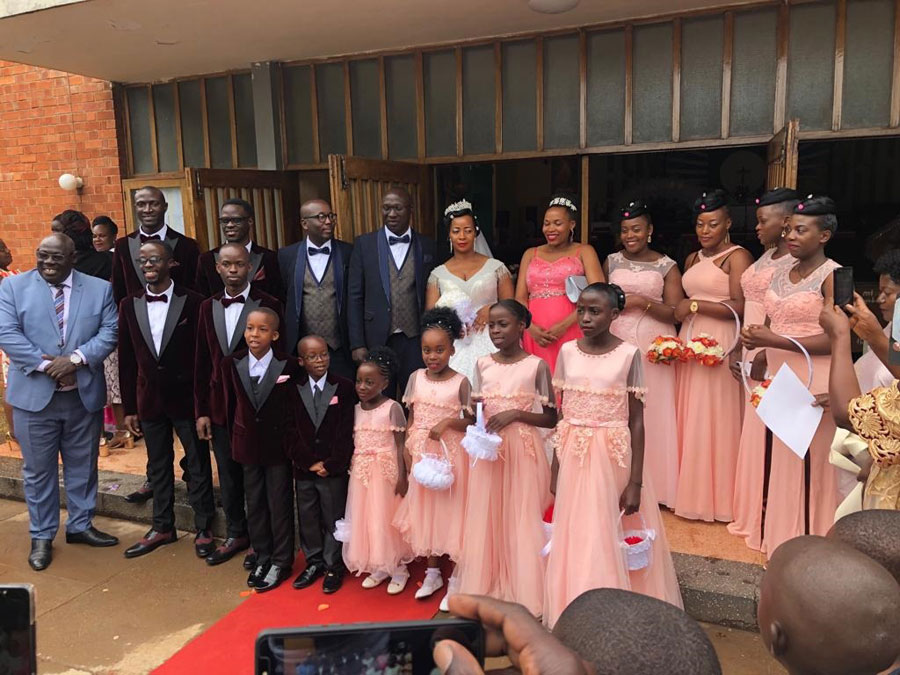 Fred: Navy blue, cream and pink. My wife planned and ensured that I wear a navy blue suit. The shoes were navy blue with baby pink shoelaces and the neck tie was navy blue with baby pink dots.
Jane: I used peach and white. Peach is unique and not so common and obviously white has to be at every wedding function.
Did you go for premarital counselling?
Fred: Our church demands that and we went to St Michael Church of Feltham in West London. We learnt many things including communication in marriage, having children and looking after them, listening to each other among others.
Jane: We had our preparations in London and we went to Fr John, an English priest and Fr Ben Lutaaya who is based in London but hails from Masaka. We learnt a lot but the most important thing was communication in marriage. The priest told us that there is no marriage which can be successful without communication.
Where did you shop for your attire?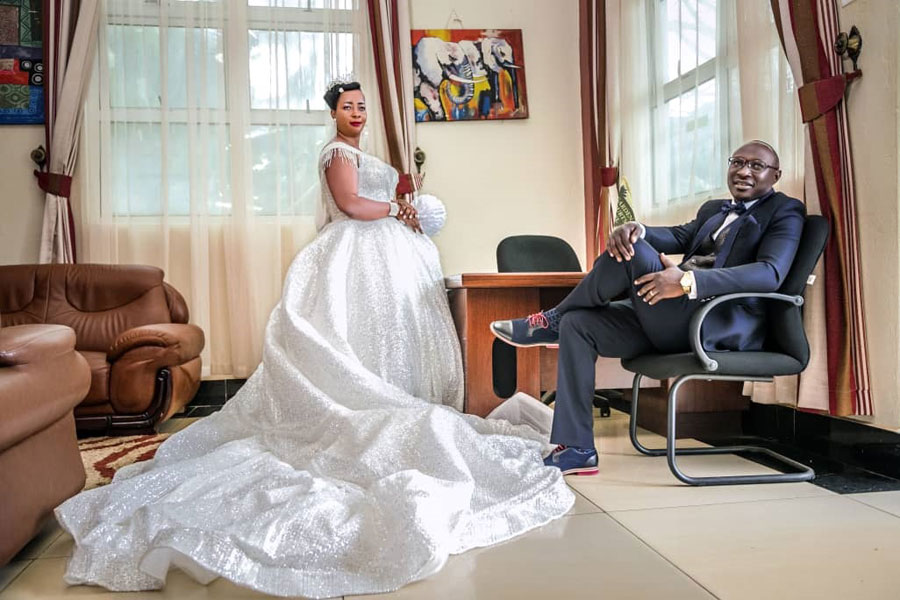 Fred: My suit and the bestman's were tailored by Desi Designers in London and the shoes were handmade by Undandy in Portugal. The rest of the team's attire were brought from Moss on Liverpool Street in London.
Jane: I bought my attire alongside the entourage's from Always and Forever Bridal Studio, the shoes were from Lovebird Bridal Boutique and TK Max and jewellery from Debenhams in London.
What was the most exciting moment on your day?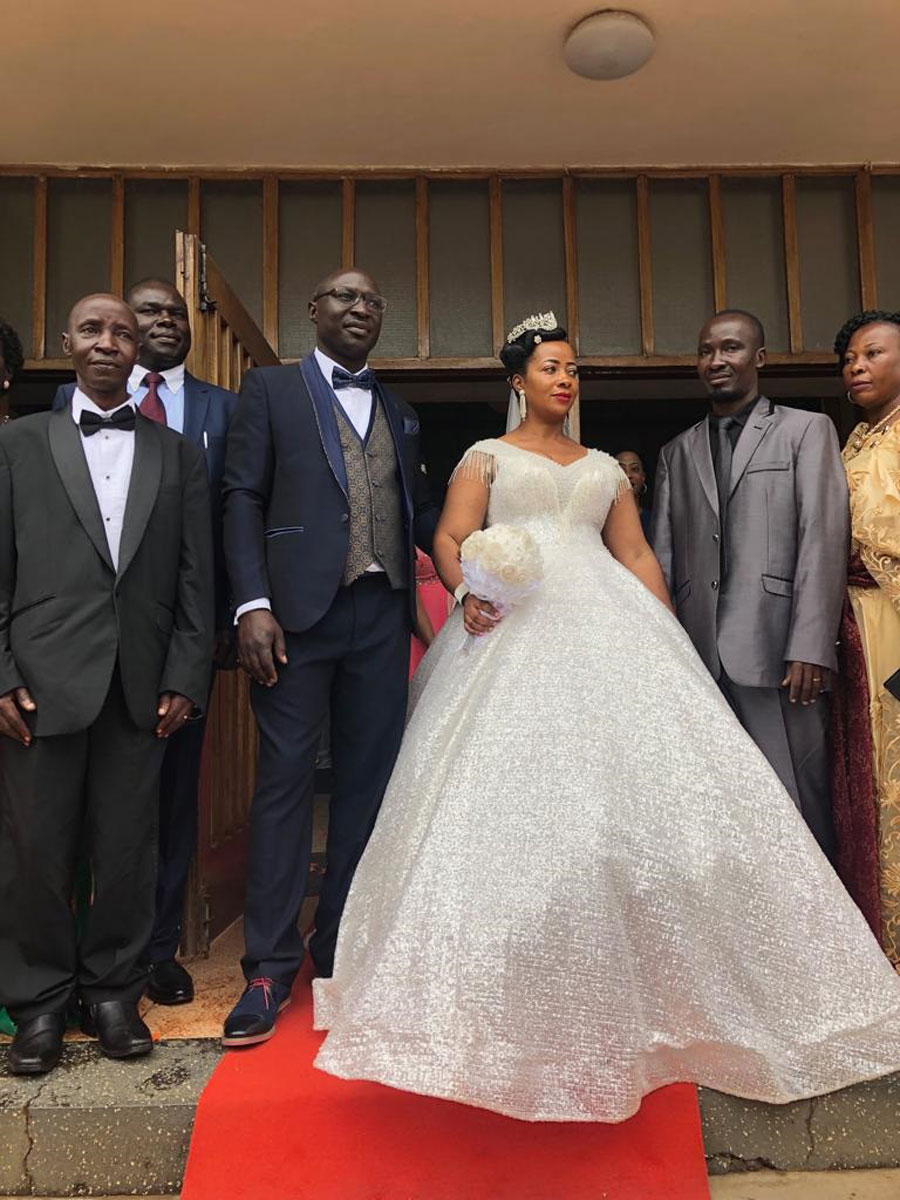 Fred: My wife hid her gown from me and on our wedding, she unveiled it and she was extremely gorgeous. Also, the venue and the decoration looked nice since the high table and walkways were raised above the water.
Quality Events did an amazing job and I liked every bit of their decor.
Jane:  Exchanging vows, when my husband said "I do", committing himself to me and arriving at the reception were exciting and memorable.
 Were you disappointed in anyway during the wedding?
Fred: I think everybody executed their part except the transport service providers who did not deliver what we agreed upon.
Jane: It rained in the morning and I thought that my gown would get wet but by reception time, the weather was better.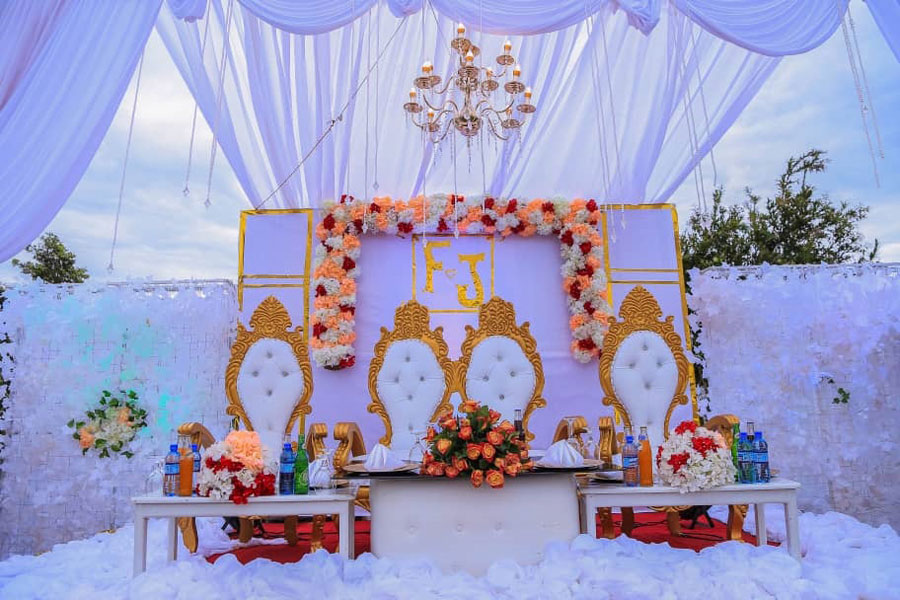 Who comprised your entourage?
Fred: John Joel Ssekiwu my best friend who is more than a brother. We have known each other for more than 20 years from Makerere University.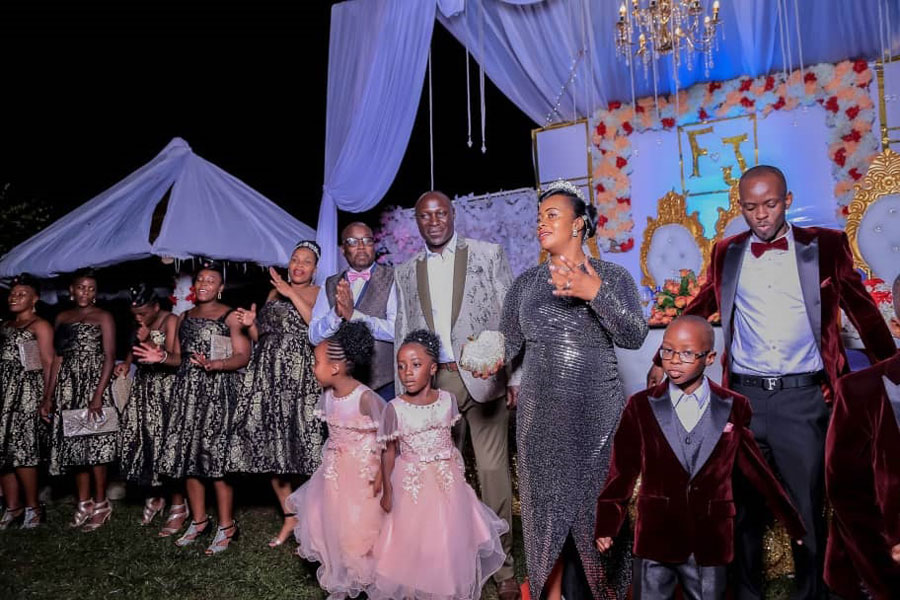 The groomsmen were our relatives
Jane: My matron Caroline Pinto is a friend and a wife to the best man. Then the bridesmaids were our relatives.