By Beatrice Nakibuuka
Jimmy Katumba aka Zazu a conjurer met Maria Nalumansi in 2010 during one of Zazu's shows at a wedding in Ggaba. Surprised at how he did the magic, Maria got closer and little did she know that Zazu was going to be the man she was going to spend the rest of her life with. The couple spoke to Beatrice Nakibuuka and shared about their love journey.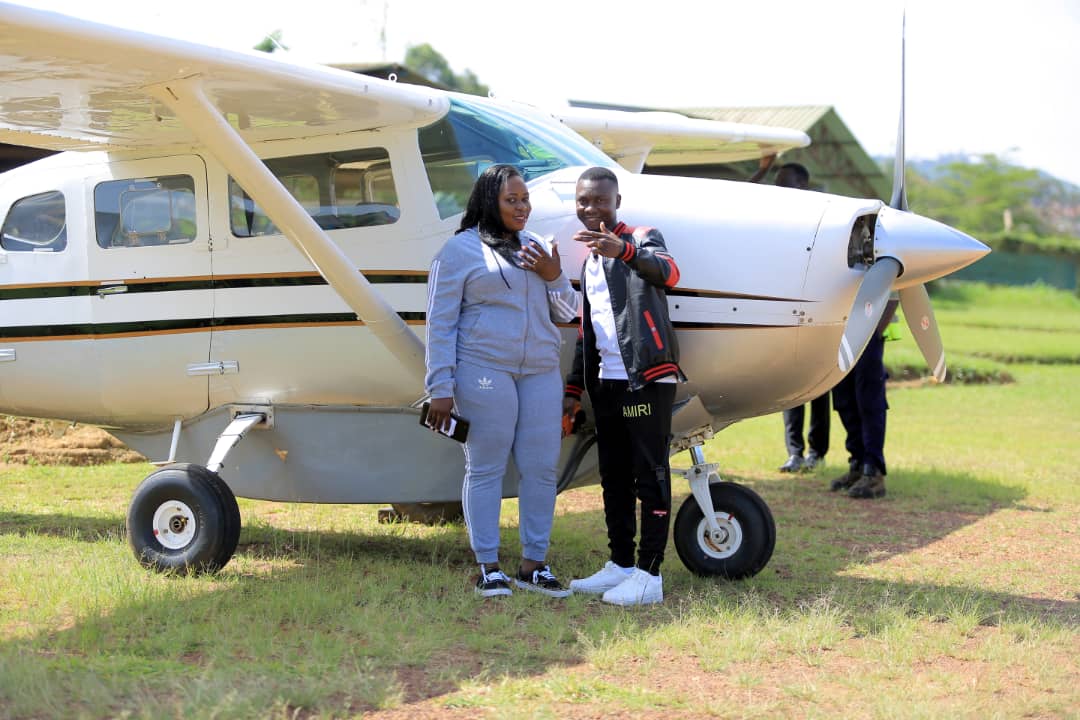 Maria had known Zazu but not from the entertainment field and when she got to see what he was doing, they exchanged contacts because she got interested in the magic tricks. They would meet after the performance and thereafter became friends. A year later, he proposed and they had kukyala and introduction at Maria's home. They thereafter lived together for 10 years now and are blessed with two children. In December 2021, they decided to make it official in church too.
To Zazu, Maria is a very down-to-earth woman, so understanding and intelligent. He knew she was going to be his wife from the first time he saw her.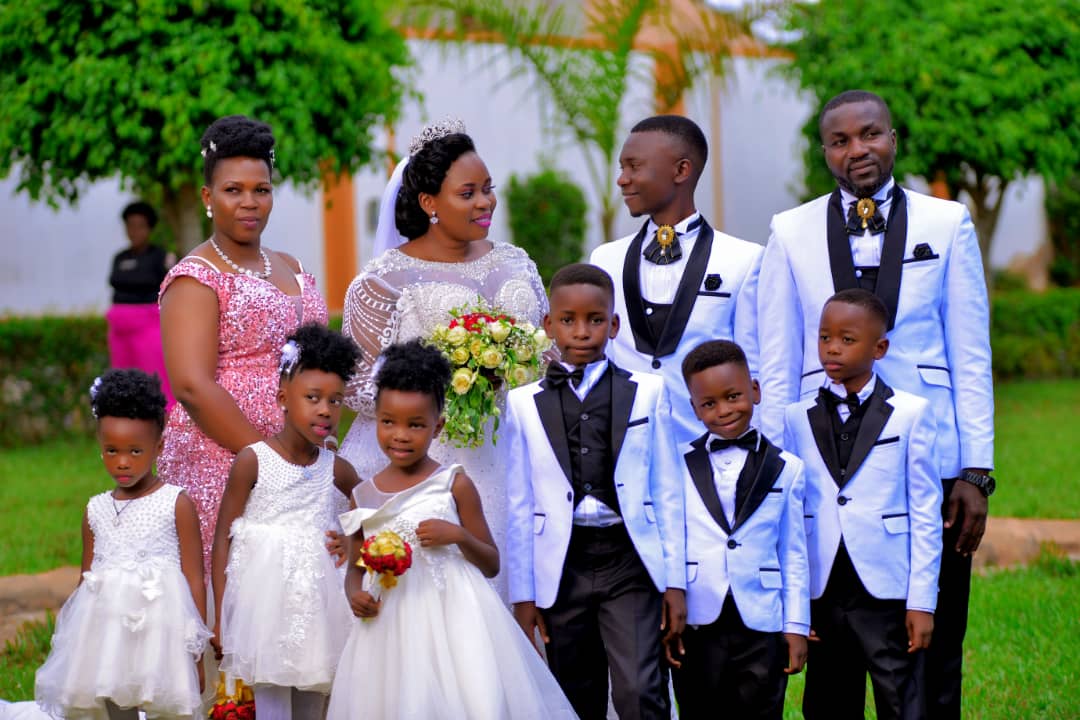 He says, "She is also beautiful but if you are going to stay together for the rest of your life, you have to look beyond beauty. My wife is God-fearing and for all the years we have been together, I have not seen her get angry. I feared I would lose her so I decided to wed her legally. Such women are hard to find nowadays."
Maria loves Zazu for the fact that despite his magic tricks, he is still a God-fearing husband, loving and forgiving. In fact, she believes that the time they have spent together before legalizing their marriage has helped them understand each other and that there could be no better time than December 4, 2021, to make their vows.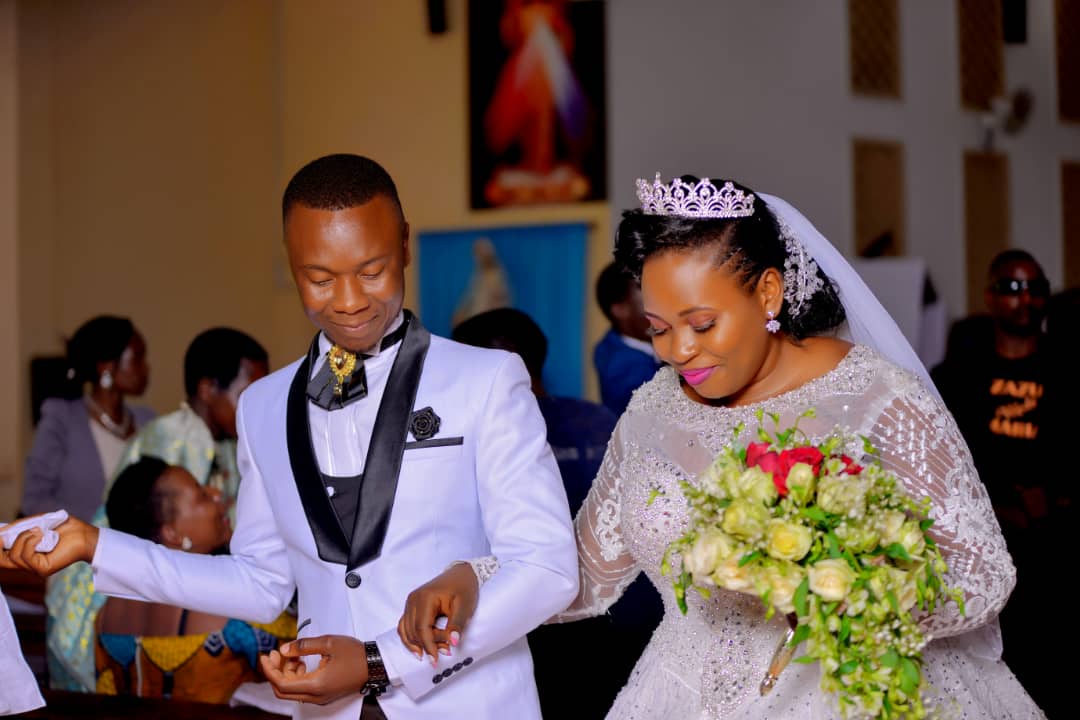 Throughout the 10 years, the couple has made several investments and businesses besides the magic performances Zazu has always made especially before the lockdown. "We chose to wait until we have made enough money to do our dream wedding. All the money we used was our savings and some contribution from a few friends and relatives," he says.
The couple dedicated a whole year of planning guided by their manager Chris. There were two organizing committees, one in Kampala and another in Kyazanga where the wedding took place.
Maria remarks that she had a stress-free wedding since all she had to do was get her gown and the rest of the things were handled by the wedding planner. "I did not know the cost of many things because I did not want to get stressed. Finding service providers was not my responsibility except for finding my gown and changing dress then fixing my makeup and hair," she recalls.
How they prepared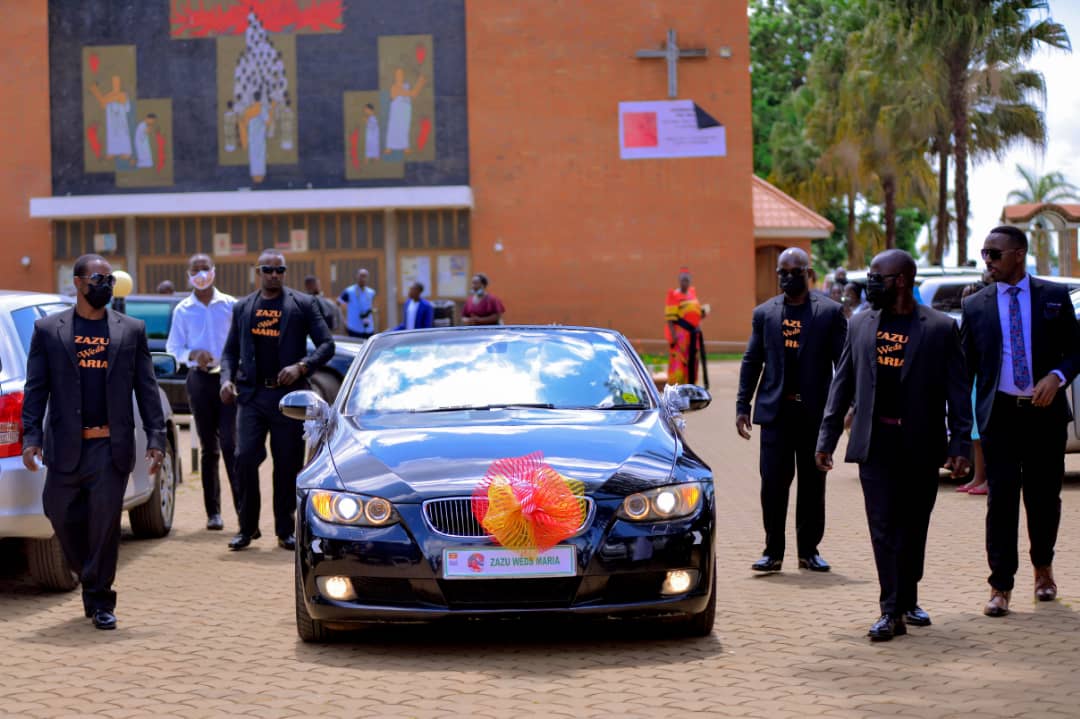 Zazu and Maria had planned to wed 10 years after staying together. They made savings towards this goal and by the end of May 2021, the couple had booked their church service and before the D-day, they requested the priest to start the church service at 9am instead of the initial 10 am agreed time.
Zazu chose to have the wedding reception at his parents' home in Kyazanga because he wanted to celebrate with his friends and relatives who would otherwise not be able to come to Kampala.
"We were overwhelmed by the number of friends who agreed to attend our wedding. This is what lit up my day. Besides the cake at the high table, we also had cake on each of the guests' tables and at the time of cutting cake, all the groups at the different tables cut their own cake."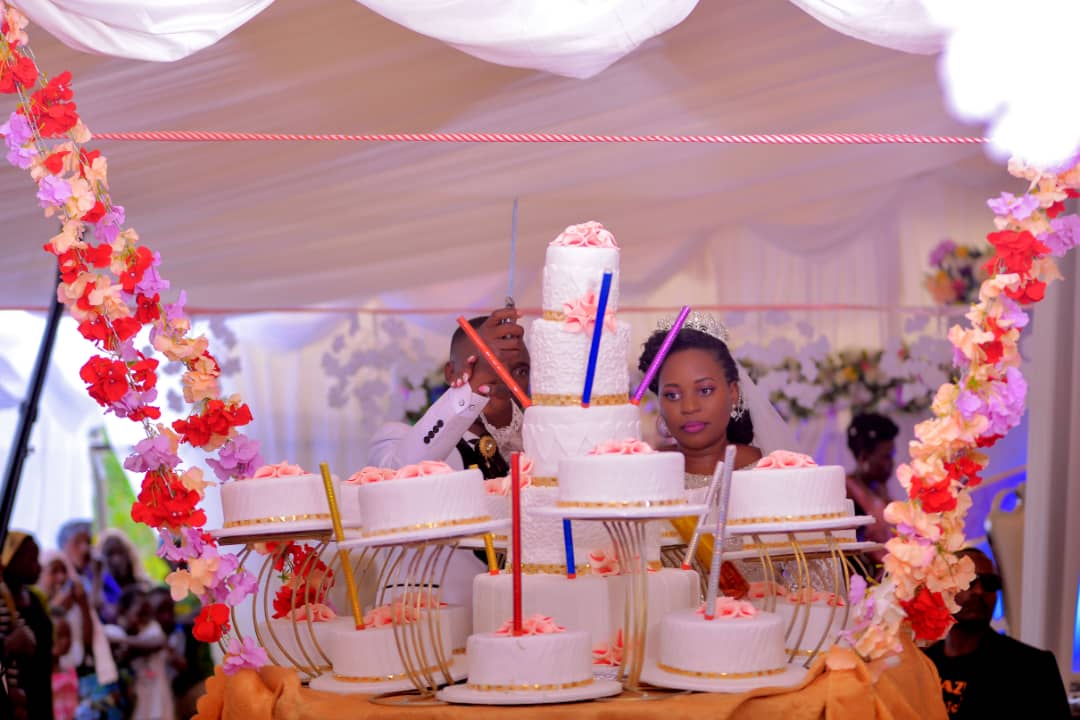 Maria got her gown and changing dress from Angel's Bridal shop and these cost about shs 5m. Her makeup and hair were done by her friend Jennifer at Shs 2m. She chose her sister for a matron and her sisters-in-law offered to be maids. "I had the best entourage. I was pampered throughout the preparations and on the wedding day. They helped in choosing the gown and were very happy throughout the day; doing everything willingly."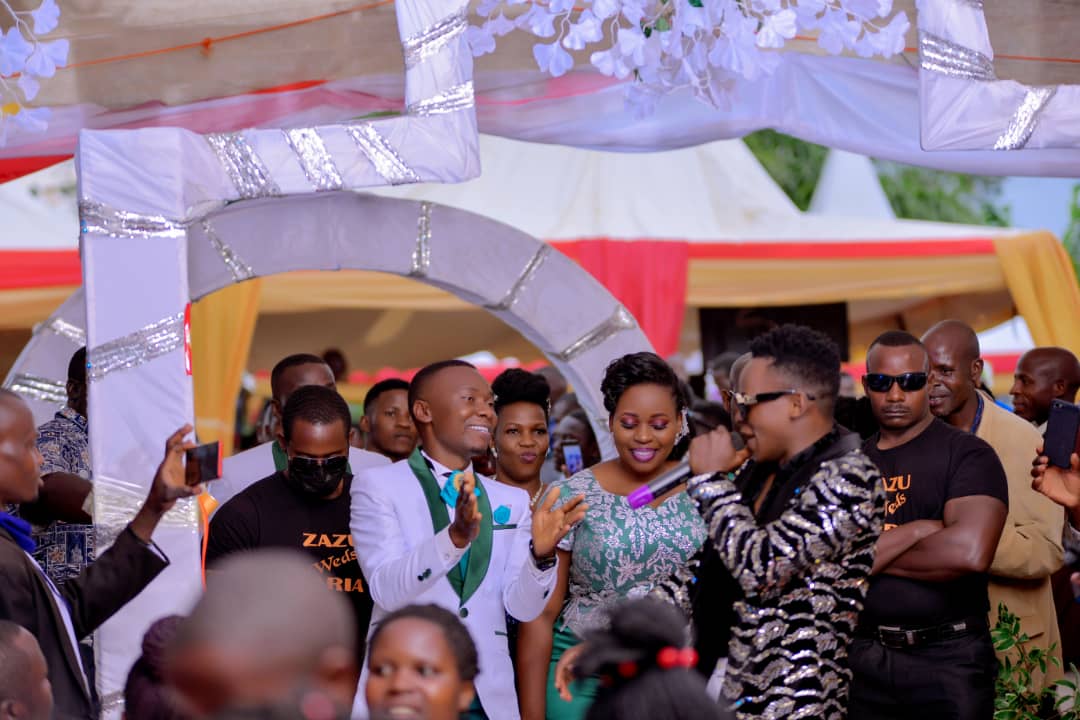 On the eve of the wedding, Maria's sisters-in-law organized a bridal shower.
The moments
Everything went on well for Maria and Zazu. They describe their wedding day as a perfect one, fun-filled and happy moment with their dream coming true. Maria says, "The weather was very good. Everything happened the way we planned it to be. Many people came to celebrate us at the reception and they were all jolly and happy. We did everything on time and were not worried that people would be caught by curfew."
Despite the perfect day, Zazu was somewhat disappointed by some entertainers and artists who did not appear even when he had paid them fully. "I paid them but they did not come and they never communicated why. I however got over it since the majority of the artists came and it was hard to notice that some entertainers did not come because of the overwhelming number of guests we had," he said.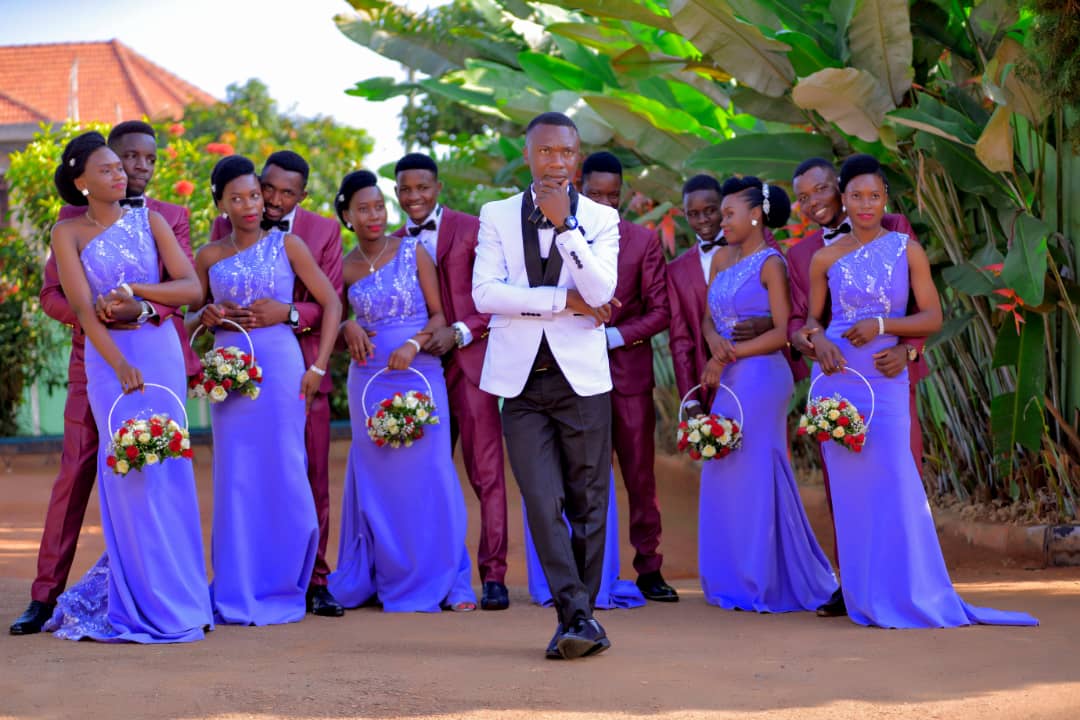 The most expensive service at the couple's wedding was décor which cost them Shs 20m. Their food and drinks cost them Shs 40m. Zazu paid Shs 30m for entertainment to make his day coloUrful.
Tit Bits
Bride: Maria Nalumansi
Groom: Jimmy Katumba
Church: Blessed Sacrament Kimaanya
Main celebrant: Rev. Fr George Ssali
Date: December 4, 2021
Theme colours: Red, white and gold
Guests: 2,500
Cake: Shs 5m
The budget: Shs 130m