Perez Rumanzi
Hundreds of people thronged Ruguma village, Kikoni parish Ntungamo Sub County on Saturday May 24, 2022 as the Ntungamo District Person with Disability councilor, Mr Patrick Rwakabare exchanged vows with his love, Mary Boona.
The two love birds wedded at St Mathew Cathedral, Kyamate and later treated their guests to a reception at their home in Ruguma.
In a ceremony officiated by South Ankole diocese, Bishop Rt Rev Nathan Ahimbisibwe, Mr Rwakabare and Mary exchanged vows before an audience of over 1,000 people who included the State Minister for Disability in the Gender ministry Ms Hellen Asamoah.
"This is a great moment, a moment to feel that God has an answer to everything we have in this world. A moment to prove that we are all equal before God. God created us in a way that some of us feel important before others, but the only thing that makes us differ is our heads. If you have the head, you have everything. When your head is working you let other parts of the body make a choice," Bishop Nathan Ahimbisibwe said while giving his sermon.
Bishop Ahimbisibwe said disability should never be an excuse for failure to work or for begging, as God has blessed the work of  those who have tried to work.
After an hour and 25 minutes of the officiation service, Ms Asamoah and Rwakabare's friend Ms Gloria Kamayangi presented a wheel chair to Mr Rwakabare as the couple exited church.
"It's a great honor being part of this historical function that the whole country shall know that disability is not inability, that a person with disability does not only marry but also weds and at a function like this one. Rwakabare, you are our pride." Ms Asamoah said in her speech.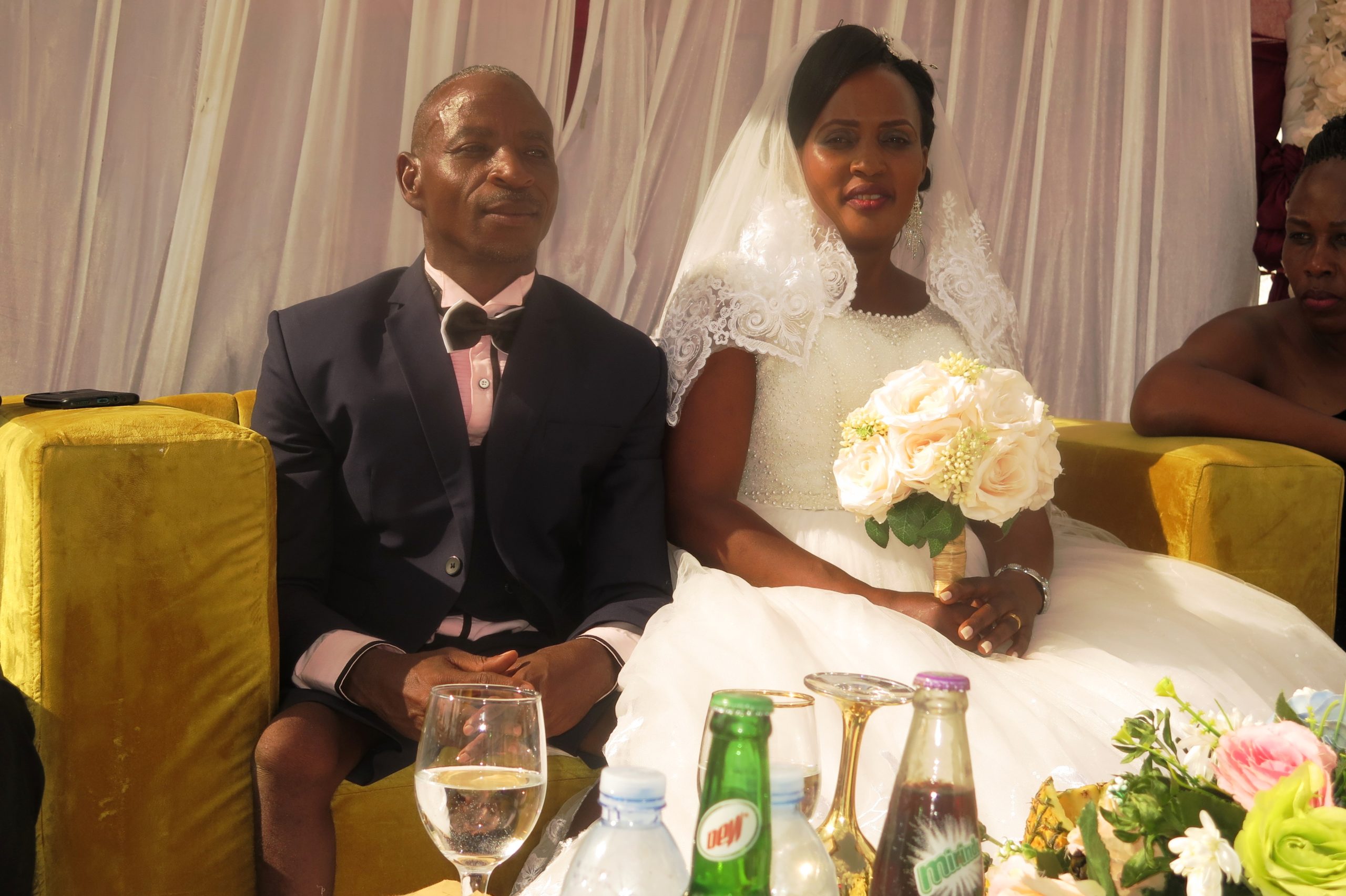 Five bridesmaids and five groomsmen constituted the entourage, which also had the couple's children; the peg boy and flower girl. They had been baptized earlier in the day.
A convoy of 38 vehicles including 5 Toyota Harrier cars carrying the entourage snaked through Ntungamo town hooting as many gathered on the verandas of buildings and road sides to witness the ceremony.
Four kilometres away, along Ntungamo- Rukungiri road, a wedding reception was prepared at Mr Rwakabare's home. On arrival, Mr Rwakabare left his wheelchair and used his hands to walk to the bridal seat and sit besides his wife. He smiled and kissed her cheek as he got cheered on by the congregation.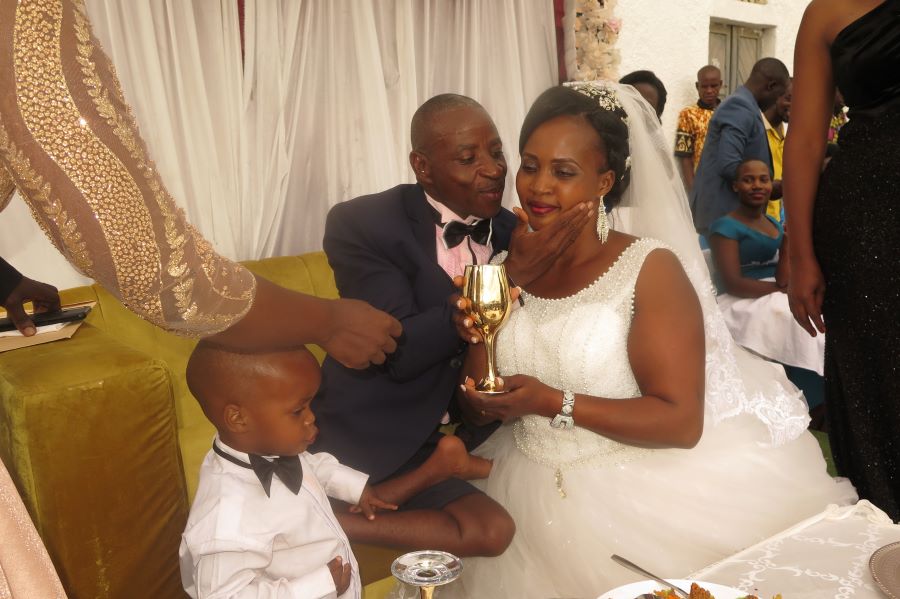 Various dignitaries attended the ceremony including the district chairman Mr Samuel Mucunguzi, one of the 64 Ntungamo district councilors, the Ruhaama county MP, several technocrats and religious leaders.
A tent was organized for persons with disability and had over 80% individuals with different types of disability. Entertainment was strictly by artistes with disabilities.
Mr Henry Nkwasibwe Zinkurateire the Ruhaama county MP described the groom as a person of value who can be trusted in all spheres of life despite his disability.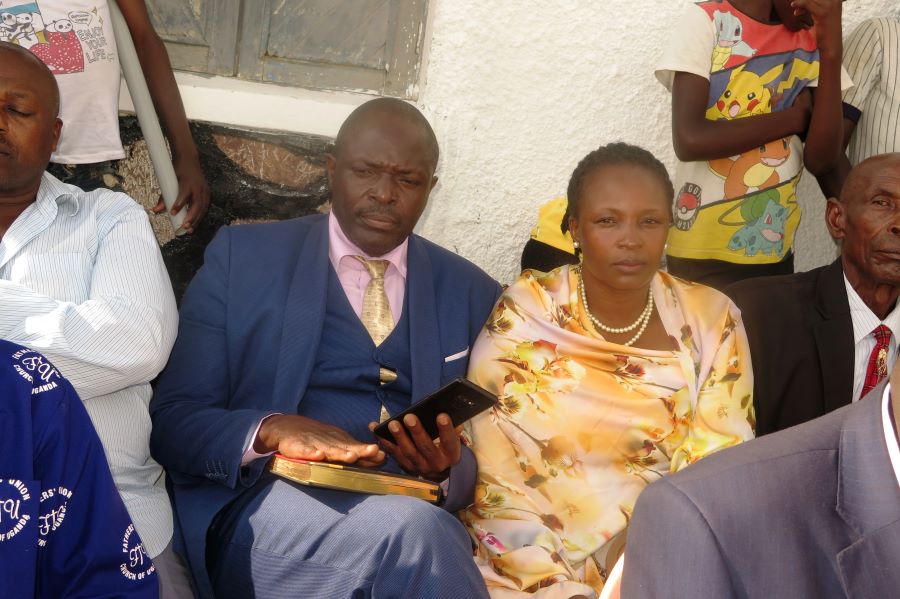 The District chairperson Mr Mucunguzi said this was a great moment in the life of the Ntungamo district council that such a party was organized by Mr Rwakabare.
The groom and bride give their speech.  
In his speech, the groom revealed that he found love, when he found his wife: "I am so privileged that this day has happened when I can really speak. I want to tell you that I am so happy, not for myself but for my wife and my children especially. For my in-laws and my siblings, I am happy. I found love, I found my wife. I want to tell you my wife, I will not let you down. Thank you people for aiding me marry her officially.
"My father died in 1999, he left when most of us had no families, his successor died, even the one installed after successor died. They gave me the role to head this family of over 20 children. Finding a wife was difficult for me, it was hard for me to approach my in-laws given the way I walk, I am happy I was accepted."
Mr Rwakabare 48, walks on his hands. He never uses a wheel chair under normal circumstances, a reason he has become  popular in Ntungamo.
Ms Boona's father Wilson Katureisho alias Kateta is one of those whom Mr Rwakabare represents in the district council (the PWDs). He has speech and hearing impairments.
Although Mr Rwakabare and Ms Boona have spent nine years together and have three children, many expressed disbelief had Mr Rwakabare having had a long term partner. Mr Rwakabare has four other children from a previous relationship.
Narrating the story of how he grew up and how he found his dear wife, plus introducing his seven children and siblings was a mixture of sadness and joy during the ceremony.
The bride, Ms Mary Boona described the relationship with her husband as a joyful person that she never wishes to spend a day without. "There are so many men in this world, but I can't believe there can be a man like my husband. I am in a relationship that I enjoy in every way. We laugh, we joke, we chat and we do everything together. He loves children and works a lot. I gave my life to God and I will always thank him for my husband."
Mr Rwakabare says he  became disabled at five years after a Polio attack. Has been a councilor for the past 25 years, 15 in the district council and 10 in the Ntungamo sub county council.
My Wedding wishes the Rwakabares a happy marriage.