From the first time Moses Kimenya laid eyes on Shifa Biryeli, her beauty, calmness and poise gripped his heart and he had to get to know her. The lovebirds' first meeting was at a friend's shop and after Shifa had left,Moses asked the friend to introduce him to her. She promised to only do so, if I genuinely loved her.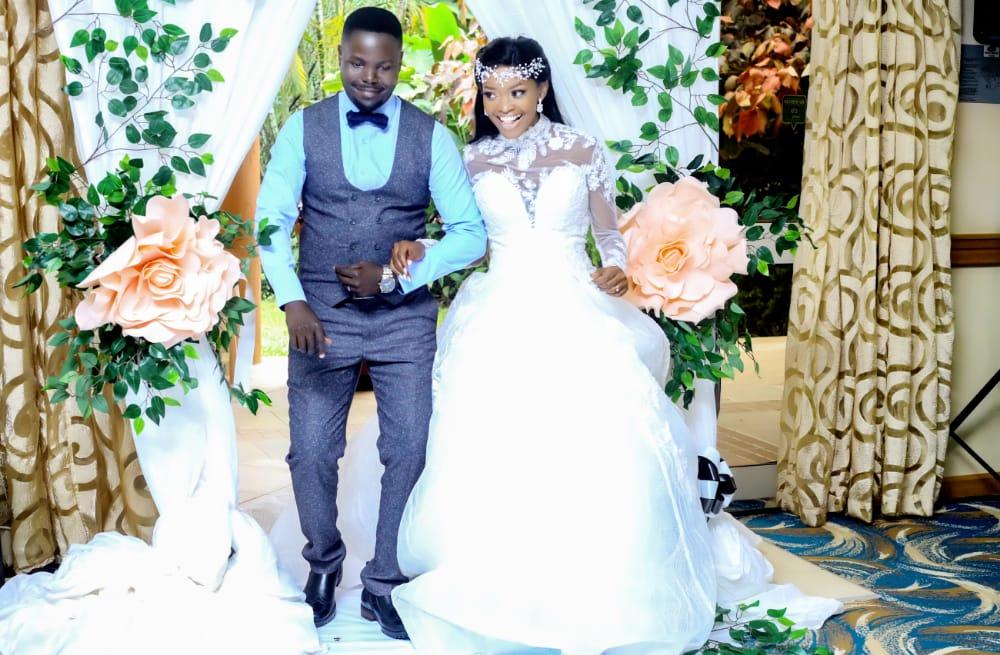 "I set up a date with her at a restaurant in town and had a good time. I told Shifa that I liked her and she said she promised to think about it about her own feelings and get back to me. During that time I actively wooed her to make her feel the way I felt," Moses says.
They kept in touch and would occasionally chat on Whatsapp or call each other.
Shifa further says won her over was Moses' humility, his attentiveness to her, his moustache and beautiful smile.
"He brings joy to my life and that makes me want to keep around him," she says.
However, Moses says he could not resist Shifa's her beauty and her gracefulness.
"She is wise, supportive, straightforward has taught me to be accountable as an individual," Moses says.
Proposal
After dating for one year, Moses invited Shifa to his home in Mbale City.
"I made up my mind to ask her to marry me and she said yes on that day," Moses says. And, the rest was and is history," he says.
"He proposed to me at his home without a ring but he brought the engagement ring at my kukyala," Shifa adds.
Preparations
After the proposal, the two decided to combine their introduction and kukyaala on September 27, 2020 during the Covid-19 lockdown and it was an intimate event which cost them approximately Shs7m.
With the traditional ceremonies out of the way, the lovebirds scheduled their wedding dates for August 14, 2021.
"We proposed our wedding on August 14, 2021 and the wedding preparations were enjoyable because the budget was within our means so we did not strain much. The support accorded to us, especially by our families and friends made everything fall in place. We never had any setbacks," Moses says.
The couple did not have a wedding planner.
"We planned the wedding with our close family members and we prayed a lot for our wedding. Also, we ensured to stand our ground on what we wanted for our wedding," Shifa says.
While planning for their wedding Shifa chose Mariam Menya as her matron because she is a close friend and exemplary. However, Moses chose Daniel Kalyebi as his best man because of his character and Christian values.
The couple bought their rings from Mbale City. Shifa's ring is gold coated while Moses' is silver. For the gown, Shifa settled for a princess gown for church and a ball gown for the changing dress. Moses chose a double breast modern suit and they chose white, green and peach as their colour theme for their wedding.
From premarital sessions: "We learnt that communication and transparency are key for marriage and , we also got to learn that, once our communication lines are open, the rest will fall in place."
Challenges and memories
Covid-19 movement restrictions made it hard for the wedding committee which became our biggest challenges in our wedding preparations.
"The bridal entourage had a special performance. We danced with so much joy and also, seeing my wife so happy and dancing was great," Moses says and Shifa says the best was exchanging vows.
Advice
Shifa advises prospective couples to always put God first in everything.
"Respect your husband and love him for who he is. Single ladies need to be patient, and not to compromise because God is faithful to give you the kind of man you always prayed for and when the right person comes, everything will fall in place," she says.
Moses' two cents, "Love your wife and always pray together as a family, there is nothing like a perfect woman. All you need to do is find wife material, ask God to mould her into the wife you desire."
Details…
Groom: Moses Kumenya
Bride: Shifa Biryeli
Church: St Andrew's Cathedral, Mbale
Main celebrant: Rev Can Eridad Milton Shisa
Venue: Mbale Resort Hotel
Guests: 75
Budget: Shs15m