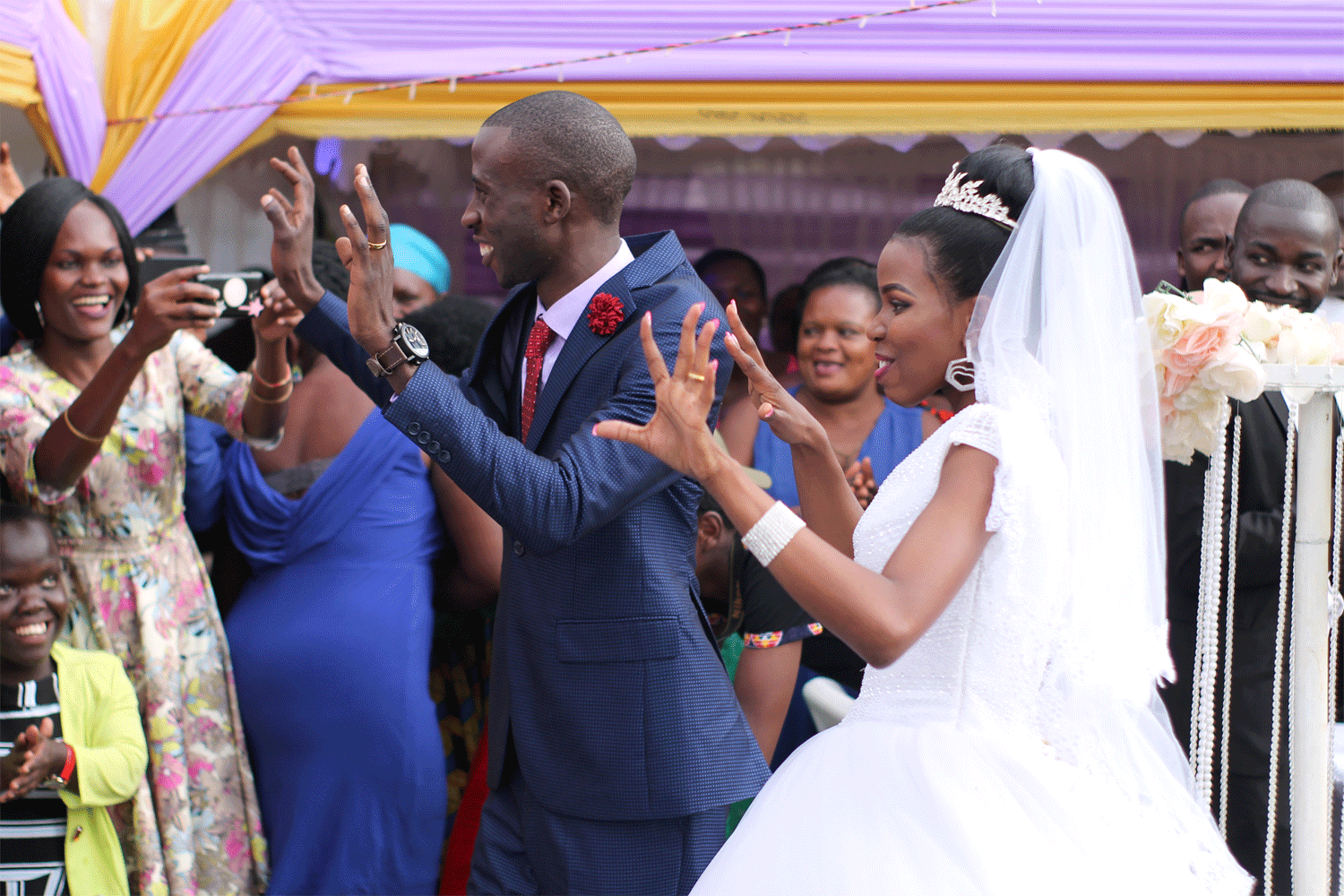 By Esther Tusiime Byoona
Caroline Mbabazi and Aminu Kibuuka met in 2014 in a fellowship when they were paired to do door-to-door preaching. At the time, Aminu was in his third year and Caroline was in her first year. He says after the mission, they started to get to know each other.
Becoming close
"We started by buying text messages for communication but these up in three days. We then decided to buy a bigger text message bundle," Caroline says. They started dating in 2015.
Proposal
The couple did not have a formal proposal before the functions. However, even then, they were certain they wanted to be together.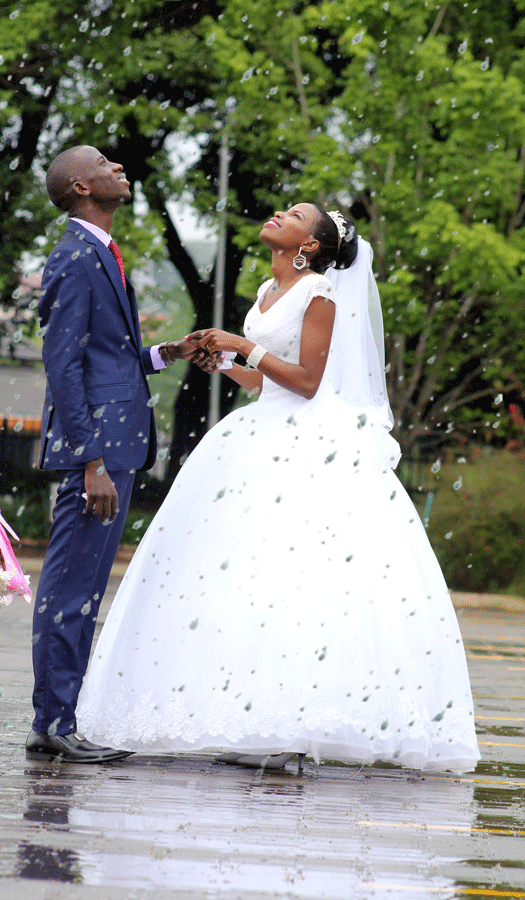 Functions
Their Kukyala was in December 2018 at her uncle's home in Nansana with 11 people from Aminu's side and 29 from Caroline's. The Kwanjula was on May 11, 2019, in Luweero at her parents' home. The wedding on August 10, 2019, followed.
Preparations
When asked how the preparations were for the Kwanjula, she says they were okay. "My father and I were involved in the functions financially, though my aunties were supportive in other ways," she says.
She explains that they had one service provider for the introduction to cater to food and tents. Caroline says the arrangement eased the preparations.
On the other hand, Aminu suffered a delay in starting the preparations.
"We started at the end of March and there was some pressure towards the end but God was faithful," he says.
Owing to that, they were unable to bring the agreed bride price during the ceremony. "My father talked with Aminu and they agreed to do it after the introduction but before the wedding," Caroline says.
Caroline got further help from her matrons – one for the introduction and another for the wedding.
The former's aunt deals in traditional attire making it easier for the entourage to get the necessary introduction attire.
"It was a huge relief that my matron's aunt gave us all the clothing the entourage needed. The other matron helped me with town runs making preparations easier," she says.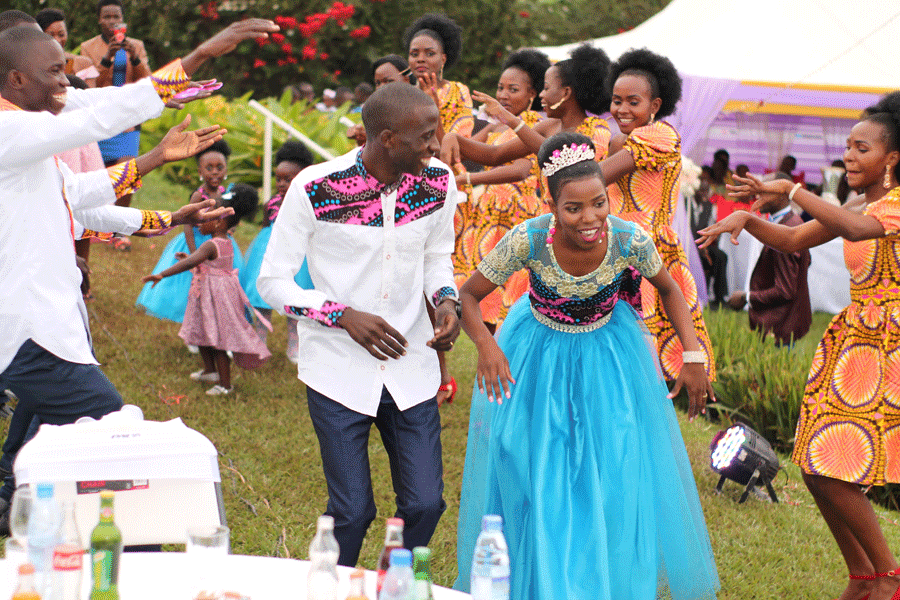 The Kibuukas during their first dance.Wedding preparations
Aminu had learned a few lessons from the introduction thus starting the wedding preparations earlier. "That made it all easier," he says.
One of their dreams was to have a nearby reception. However, trying to get one from the church proved difficult due to the high fees.
Thankfully, they got a cheaper one. "Terrace Gardens was ideal as it also allowed them to have different service providers," she says.
Service providers
Aminu says while the decorator was hard to deal with as he wanted the whole payment before doing the job, he was glad that the food service provider did not let them down.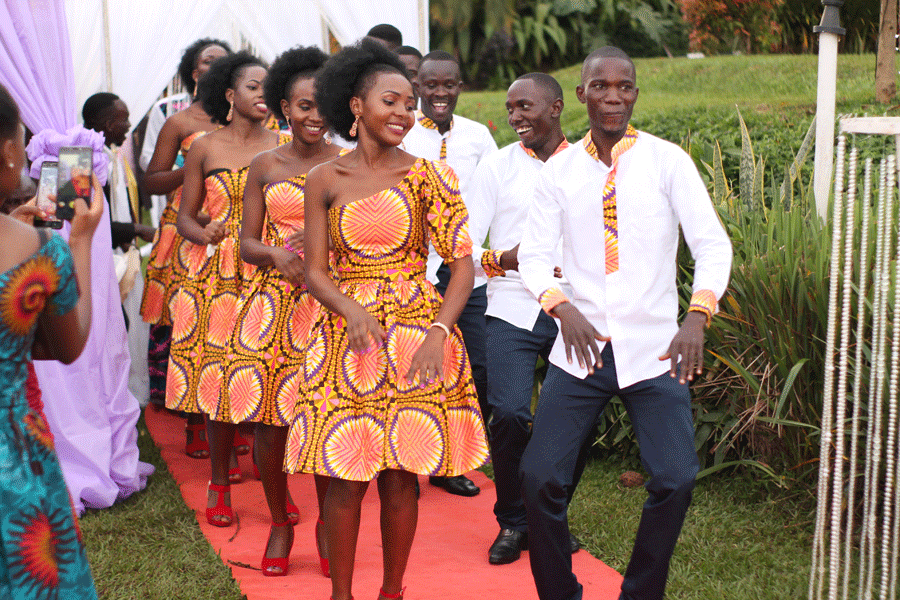 Entourage
Aminu had five groomsmen, all friends from Gulu University.
"Two were former coursemates while three were from the Christian fellowship I attended. They were not only good to me but kind enough to teach me how to dance," he smiles.
Choosing his best man was not hard as his support during the Kukyala and closeness during their school days was sign enough.
Caroline wanted to have a mixture of her family as well as university, and old church friends for her entourage.
"Three of my friends were from campus, one from my old home church and my sister-in-law who is also my friend. I wanted all my guests to be well represented," she says.
Caroline adds that she got immense help from her friends. For instance, she handed over all the preparations for the bridesmaids to a bridesmaid who is a tailor and she did a good job. On the other hand, her matrons lifted a big load of the wedding preparation on her behalf.
Disappointments
"We expected two cars for transporting us and the entourage but got one car. Though it was big enough, I wish our preferences were respected," she says.
Aminu adds that after the church service, it started raining which delayed the photo session that was to happen before going to the reception.
"The delay was made worse by the traffic jam. It was so bad that people called continually asking for our whereabouts," Aminu says.
Premarital counselling
The couple had their counselling for a month at Miracle Centre Cathedral. While Caroline learnt how to handle finances as a couple and family, Aminu learnt how to prioritise family over the ministry and other life spheres.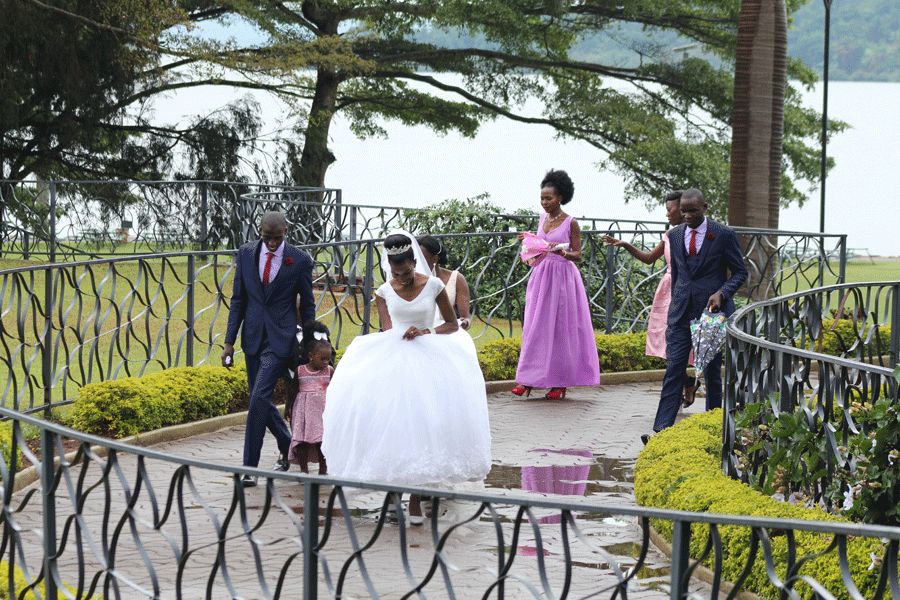 Best wedding moments
Aminu says his best moment was when Caroline's father was walking her down the aisle.
"It was a beautiful moment.  I also loved removing her veil," he says.
Caroline says she loved the moment when Aminu kissed her after the encouragement of his friends. "It came as a shock. I was certain that we would hug but ended up kissing," she blushes.
Honeymoon
The couple headed to the countryside in Fort Portal for one week where they toured a lot. "We were able to visit several beautiful places," she says.
Advice
He says it is important to connect with others before functions.
"When you are friends with people, it eases reaching out in case you need help," he adds.
Aminu says men should not delay marriage in their quest for money. "It is always better to develop with your wife, rather than marrying when you have everything. The person may not value what you have achieved," he says. Caroline adds that it is important to pray for the functions and the marriage.
Titbits
Bride: Caroline Mbabazi
Groom: Aminu Kibuuka
Date: August 10, 2019
Church: Miracle Centre Cathedral
Reception: Nyangi Terrace Gardens, Kanyanya