By Esther Nantambi
They joined the same school in 2007. Two strangers in a sea of 500 other Senior One students at Mengo Senior School. Just another small girl in an oversized khaki skirt and a boy in Khaki shorts, Agnes Nabbaale and Samuel Mbabaali could not at the time have guessed that their destinies were entwined.
It took another two years for them to have a first encounter; in 2009 in Senior Three, where they had chosen subjects placing them in the same stream. They became the best of friends.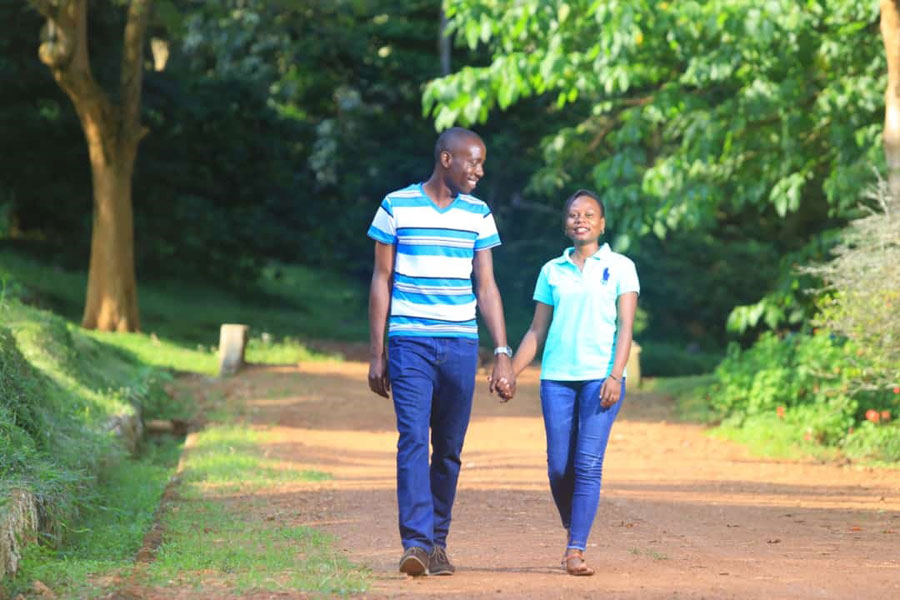 Walking to the altar nine years later, Nabbaale was nervous, yet she knew without a doubt that she was marrying her best friend.
She probably didn't remember Mbabaali's self-proclaimed words, six years earlier.
"I can't wait for you to own my name," he had confessed one day in 2012 when he had asked her out on a date. Well, it wouldn't be long now. The violin had started to play in the grand cathedral of St. Paul Namirembe C.O.U, Nabbaale's cue to start her slow descent to the aisle.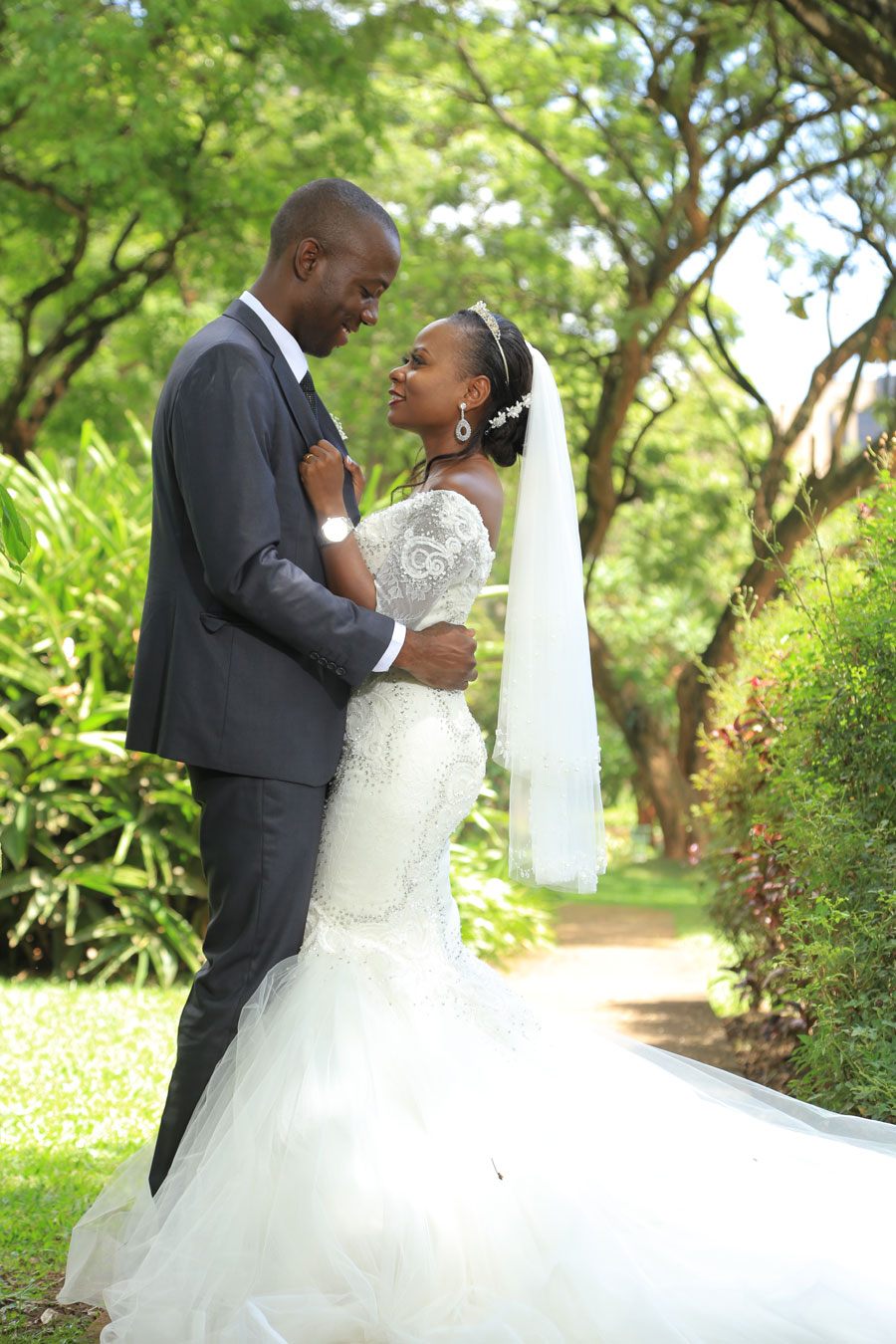 "All eyes on you, be humble, walk slowly. Remember to walk slowly! Everyone is looking at you…" Nabaale's panicked mind resounded as she walked to the pulpit. On the outside, all people could see was a nicely composed bride dressed in a mind-blowing beautiful gown.
The man to whom she walked stood at the pulpit, his back turned to her because at Namirembe Cathedral, grooms are advised not to turn.
"She always wanted an instrument to play when she walked down the aisle. I couldn't see her but I experienced every moment by watching my best man who played the violin. When he started to play, he was nervous and then he started smiling. That's how I knew she had entered, and I relaxed," Samuel recounts with a smile.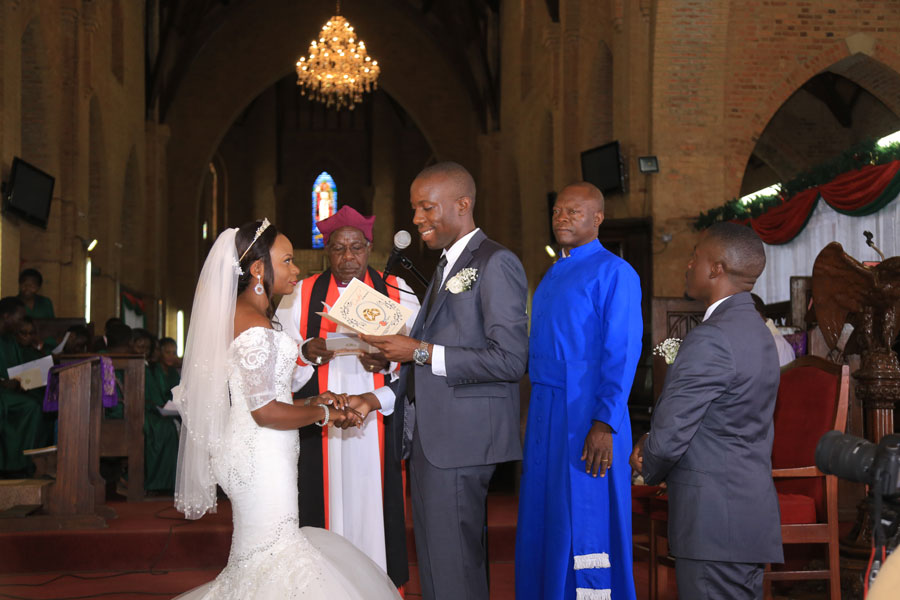 "When he turned, he was sweating a lot and tearing. I kept praying I wouldn't join in, "adds Nabbaale.
"I was relieved she was there on time!" says Mbabaali.
"What? That's what was going through your mind when I entered?!"
"Hun, you know about you and time…" I sit listening silently, forgotten for a minute as the couple slips into a happy banter before I interrupt with prompts for more details;
When did you officially start dating?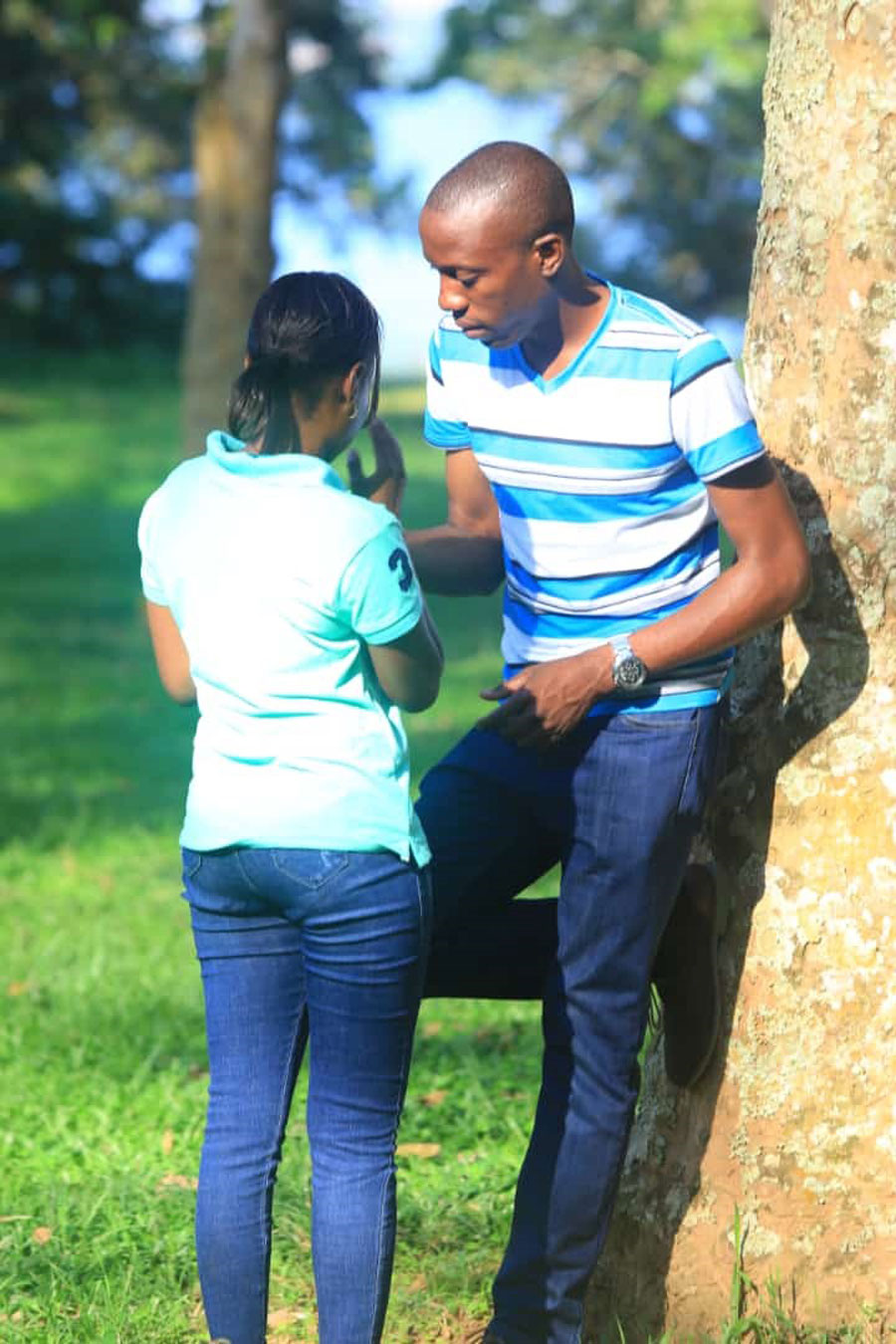 Agnes: We started dating on December 8, 2012 and got married six years later. He later joined Makerere University and I went to Uganda Christian University, Mukono but we kept in constant communication.
What is the secret to a relationship that leads to marriage?
Agnes: Commitment.  When you are committed, it gives you purpose. From the beginning, people should have purposeful relationships.
When was your kwanjula ceremony?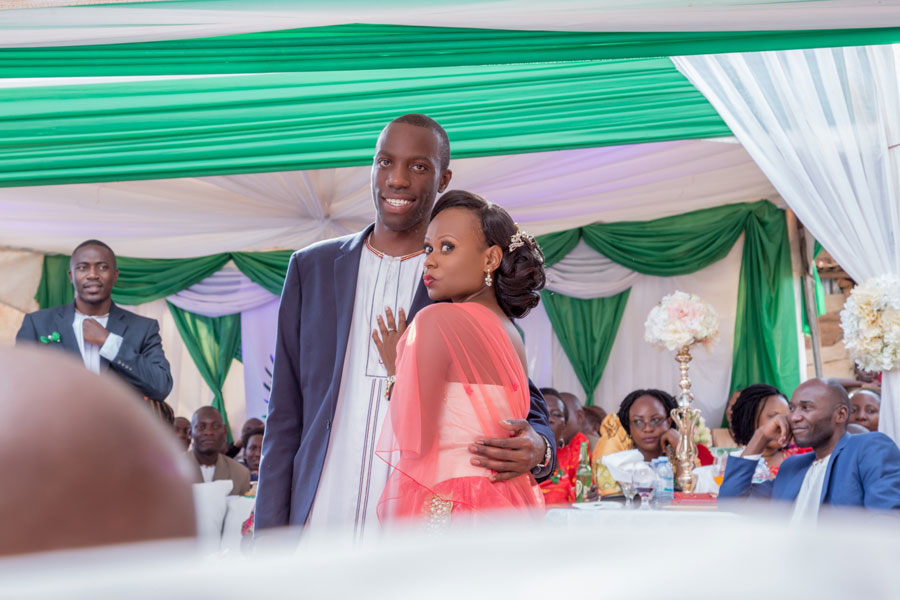 Agnes: The Kwanjula was on 26 August at my home in Nabulagala.
As a young couple, what traditions did you encounter during the ceremonies that you were not aware of before?
Samuel: Before leaving home, your mother feeds you mushroom soup and steamed matooke. My mother also prayed for me and wished me the best since mothers in Buganda do not go for kwanjula. I was also told that when served food at your in-laws, you find and eat the gizzard first before anything else.
Agnes: I knew most of the traditions.
Did you have any hard time during the introduction ceremony?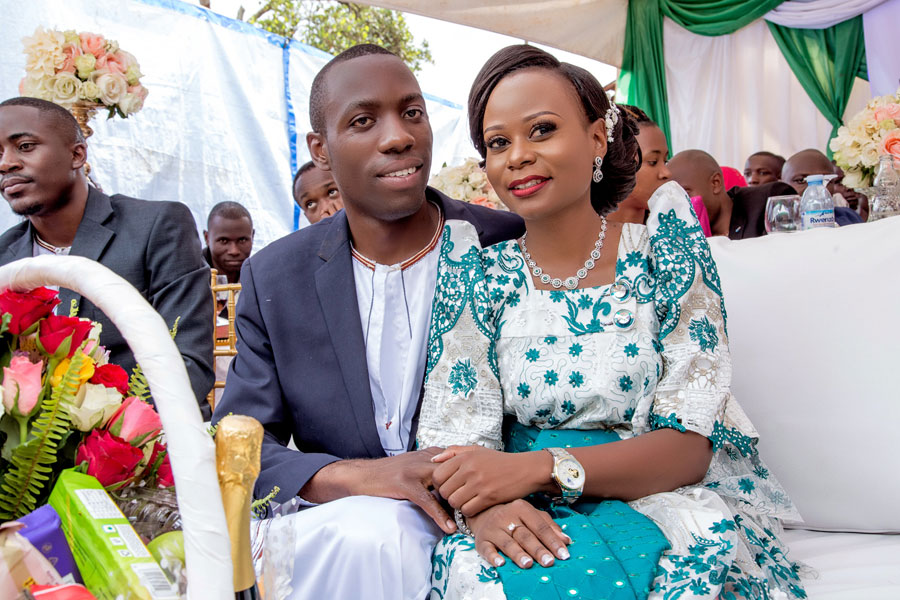 Samuel: The person that had the basket with hens delayed. I was not settled because if they had called for enkoko yómuko and we didn't have it, we would have come off unserious.
The person who kept my cow also sold it but we were able to get another one.
Your Kwanjula cake looks enchanting. How did you come up with it?
Agnes: I love everything green so I wanted to choose a cake theme along those lines. My cake was a pathway in a forest to signify the new journey we were starting. It was made by Cake Memo.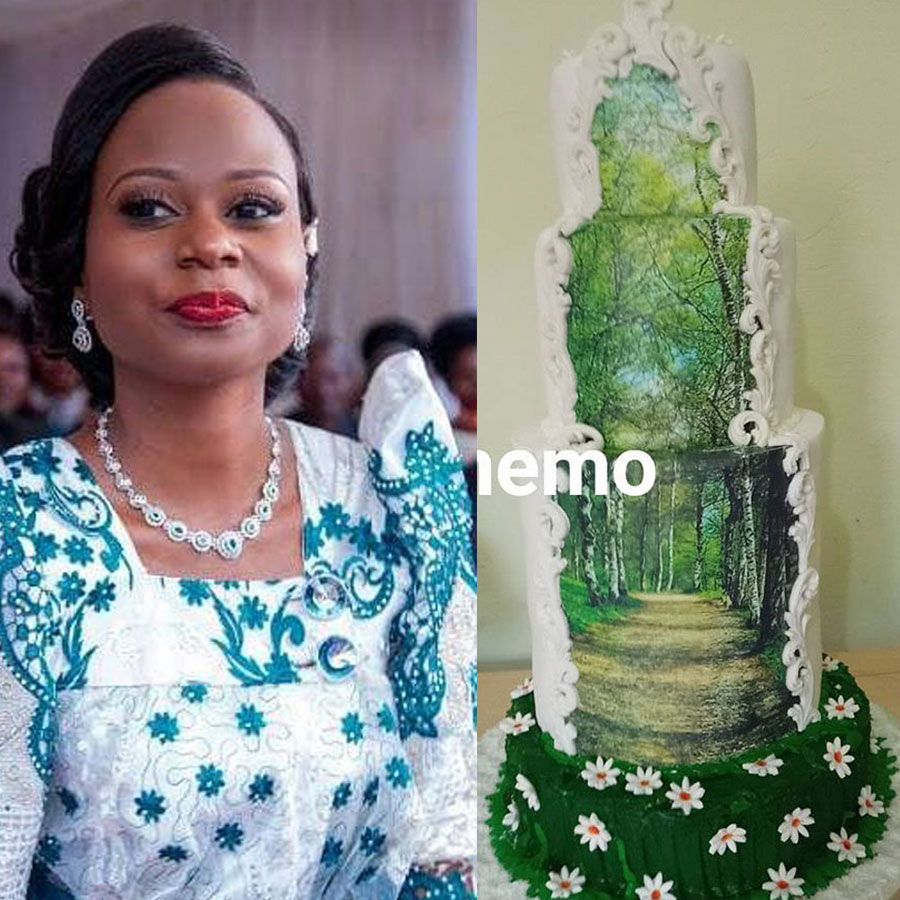 When was your wedding?
Agnes. The wedding was on December 7. Our reception was held at Hotel Nyumbani, Makerere.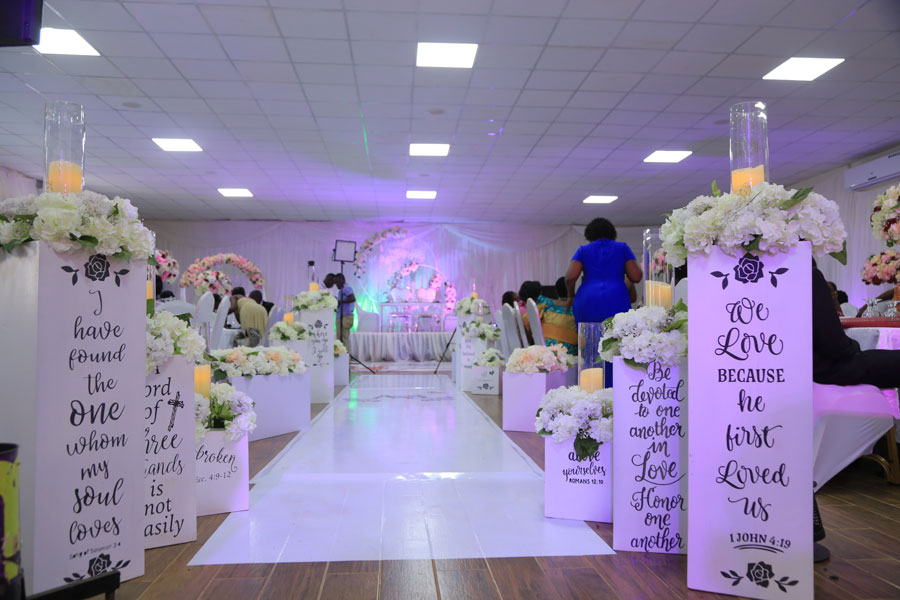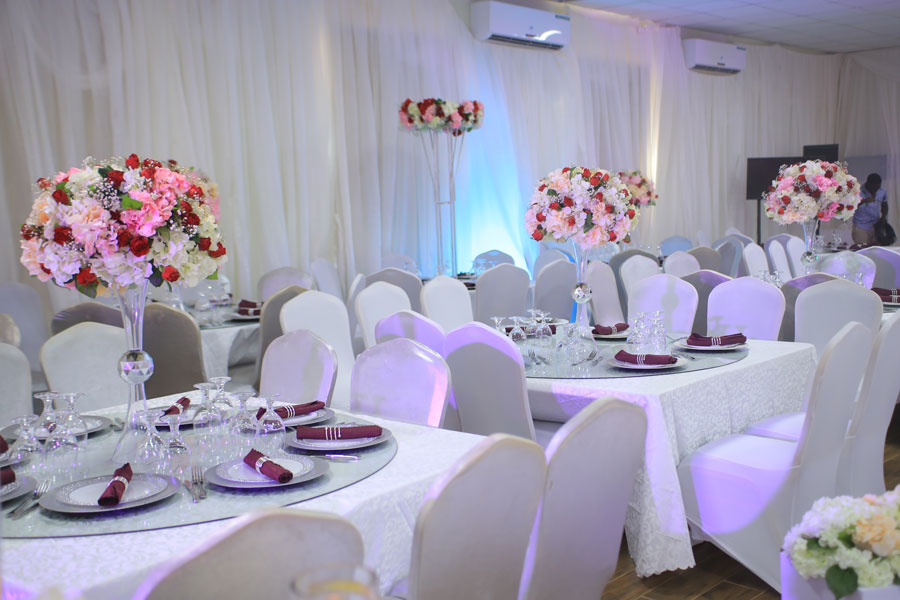 How did you come up with the money to finance it? 
Aggie: Friends, family, our workplaces and us. We made sure to call just a few people that we could manage to host. There are people that came to the introduction that didn't know about the wedding. Numbers are overwhelming, so we controlled that.
How were you able to do that?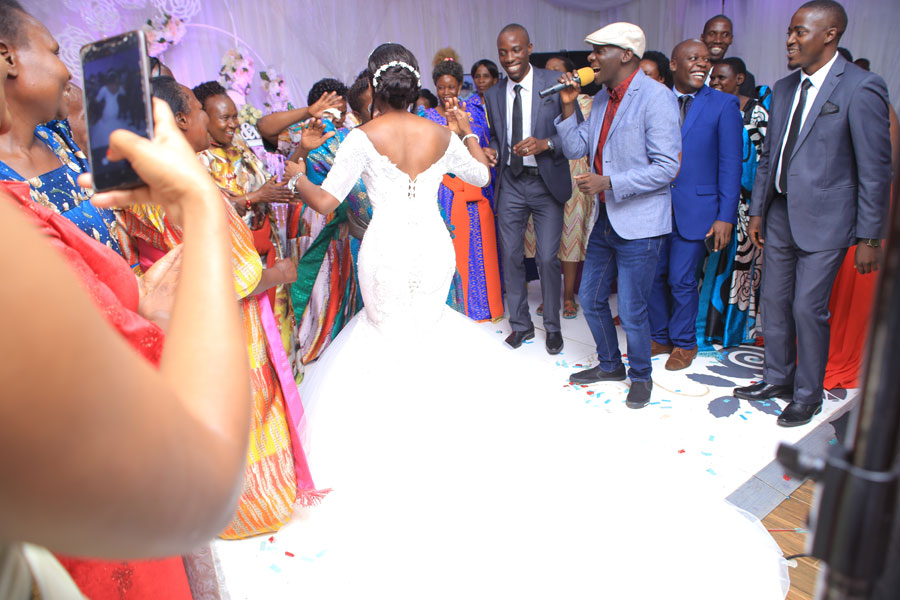 Samuel: We wanted to have our own wedding, in our way, surrounded by the people we love but also those we could afford to host.  If a person thought we needed more people, we would politely explain our budget situation. However, if they could fund the extra people they suggested, we would let them as long as it was people within our close circle.
Agnes: Initially, we had prior preparations and we called a few people to support us. When you call too many, you are going to have big numbers and obviously an overwhelming budget. But if you call a few people, you are safer. We only had three preparation meetings; the first opening meeting, a second and last one.
How many people did you host?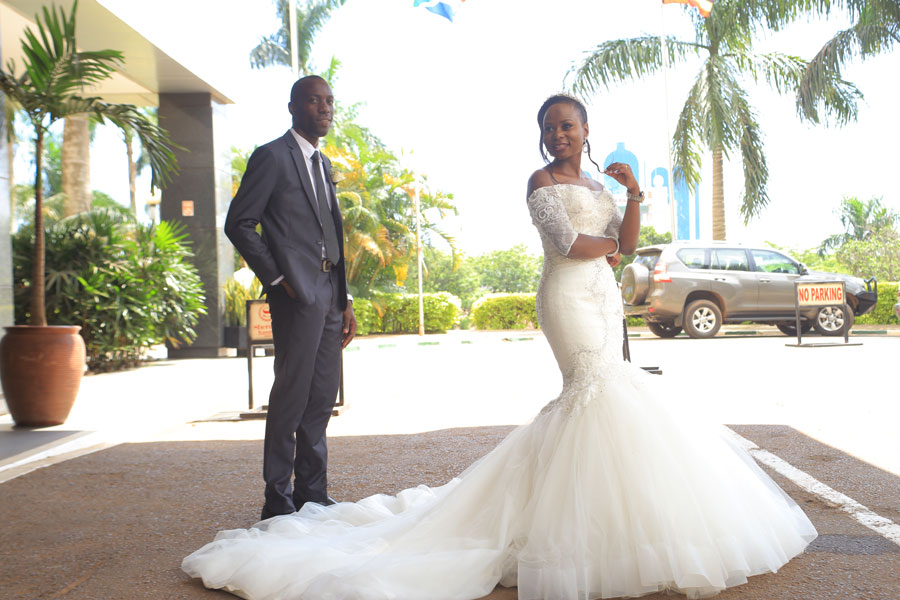 Samuel: We had 250 people at the reception although we had initially wanted 150.  What stands out is when you look at our wedding, it was intimate. We were surrounded by people that really knew us.
Agnes: It felt like it was really our wedding. It was graced by our people; not our parent's people, or just our village people, but our people.
What would you estimate to have been your total wedding cost?
Samuel: We kind of focused on the amount each item needed and how we would pay for it rather than looking at a whole big sum at once. It's scary when you do totals.
Agnes: I think it was about Shs37m.
What percentage of your budget did you fund?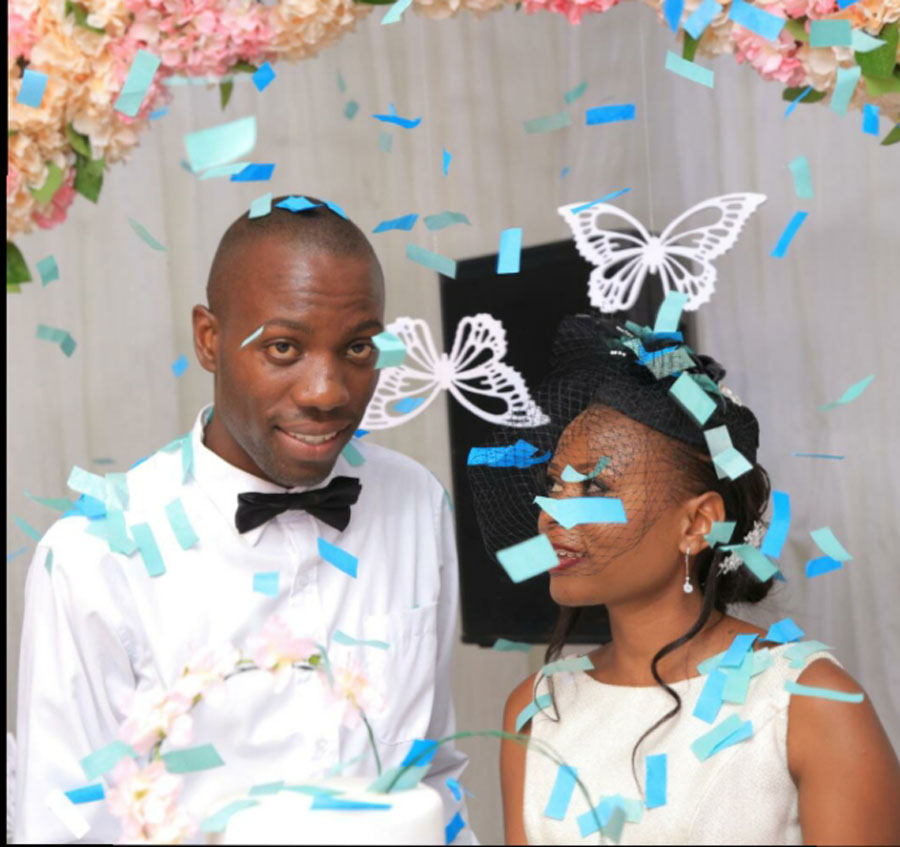 Samuel: About 70 %. The other came from the meetings.
Agnes: The wedding is yours. It has to weigh on you, so you have to find a way to carry that weight. We couldn't say that this person will give us this much so we worked within our means. If they happened to give us, we thanked the Lord.
What advise do you give young couples concerning the budget?
Samuel: Prioritise. When the church is done, the rings are bought, the next important thing is food for your guests.
Agnes: Décor, music, photography…are all extras. You need to focus on what is more important first.
Learn to differentiate your audience. Your Kwanjula audience can be different from the wedding audience.
Aggie, your dress looked beautiful, how did you choose it?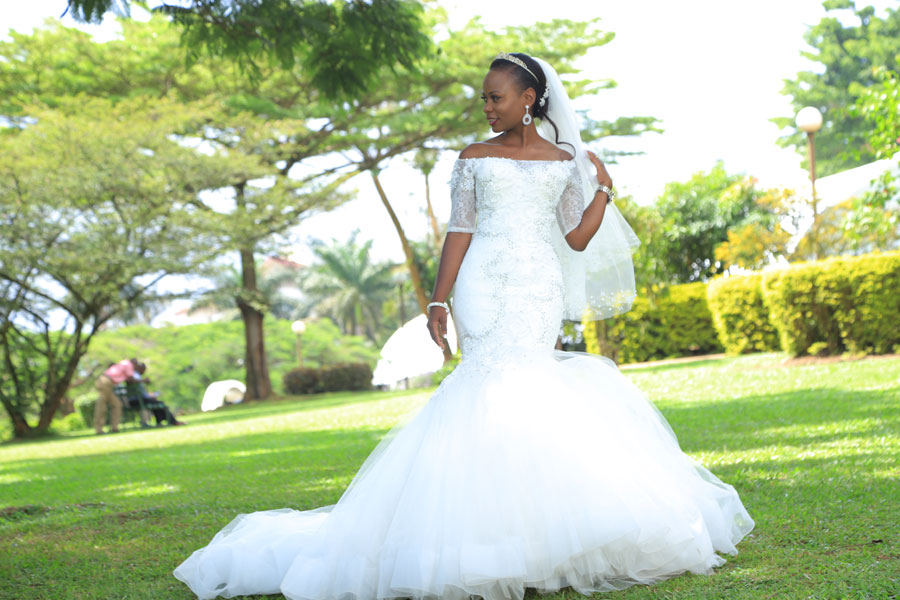 Aggie: I hired my dress from Bridal World at Shs2.5m. Everyone that had tried it out could not fit in so when the lady saw me, she said it was my size and it fit me perfectly.
How did you choose the outfits for your maids?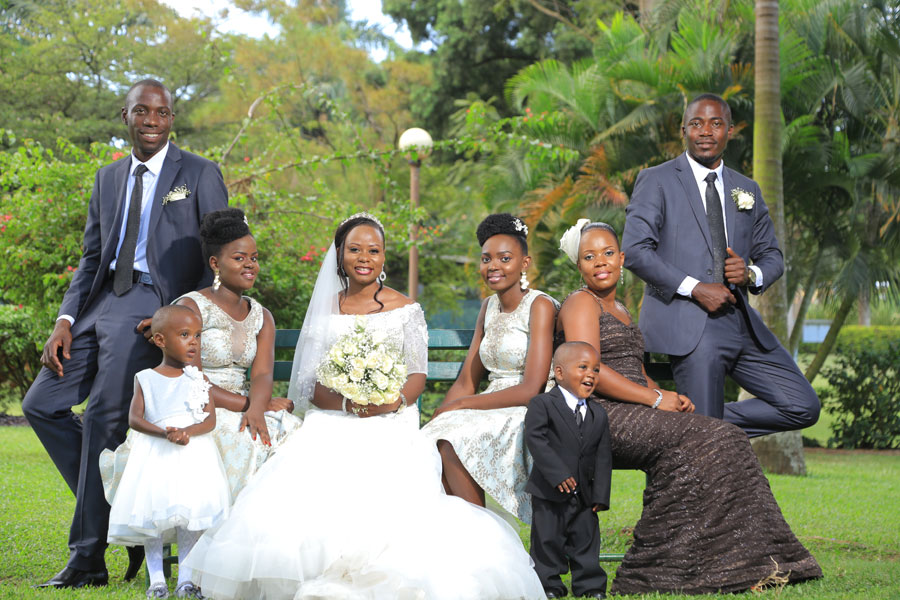 Aggie:  I looked for my maid's dresses in bits and pieces. We walked around town and picked out items, matching them one by one.
What was the best moment at the wedding?
Aggie: Walking away from the aisle. I felt like kiwedde. It was like the beginning of the end. I looked forward to the excitement of the reception and all.
Our first dance was also special. We danced to Perfect by Ed Sheeran. I felt comfortable, warm, loved and protected. I was home and he kept smiling.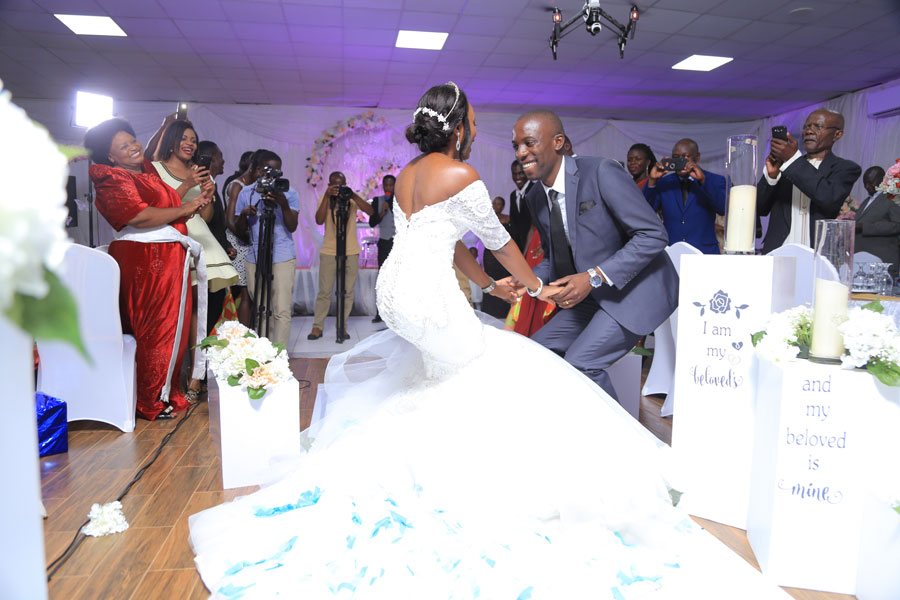 Samuel: In church when the Bishop announced, 'you are now husband and wife'.
My other moment is when Bishop Samuel Balagadde Ssekadde who officiated our ceremony was about to give his sermon. He posed, looked at me and my best man, and smiled. He then said; "You and you, I've never seen you this smart." It felt good. He is my best man's father and has seen us since we were kids, playing football.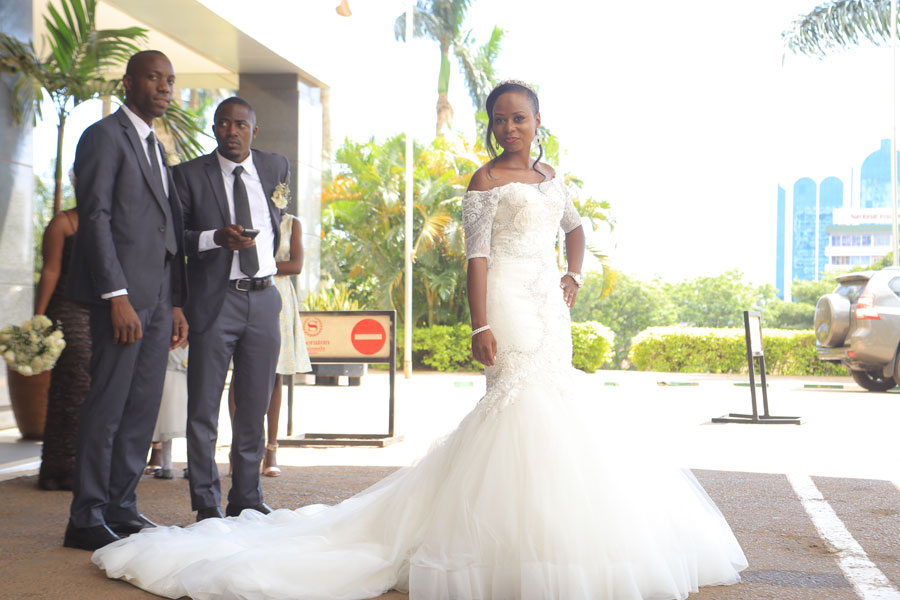 What was your worst moment in this whole ordeal?
Samuel: At the introduction when we went to pick the cow and found that the person who had kept it sold it off.
Agnes: One service provider. I don't want to talk about it but I advise people to visit all their service providers beforehand. Even those services that are offered in kind.
What is that one thing that irks you about your partner, a trait of theirs that is hard to tolerate.  
Samuel: You can't joke with Aggie. If you promise Aggie something, you must mean it and do it, or else she will demand for it and you have to deliver.
Agnes: I have failed to differentiate when he is joking from when he's serious. So I take everything seriously.  I do not know if I have a poor sense of humour.
Do you have any message for your partner?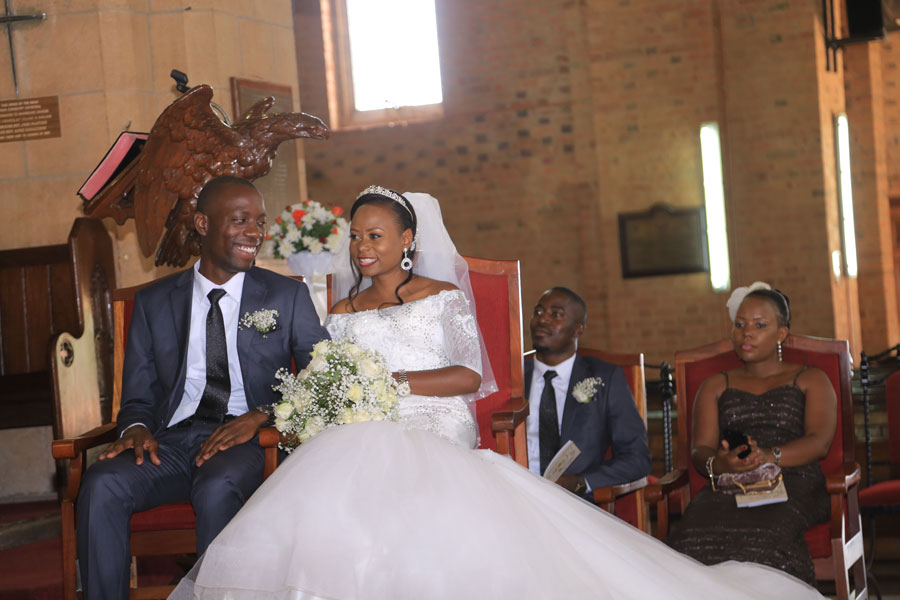 Aggie: We have achieved a lot more together than we would alone. I believe this ministry we started together is going to be amazing and beat our expectations.
Samuel: I want to love you more than anything in this world, even soccer.
Aggie: Wow, Thank you. I was in competition with soccer and I won.
Any advice to people?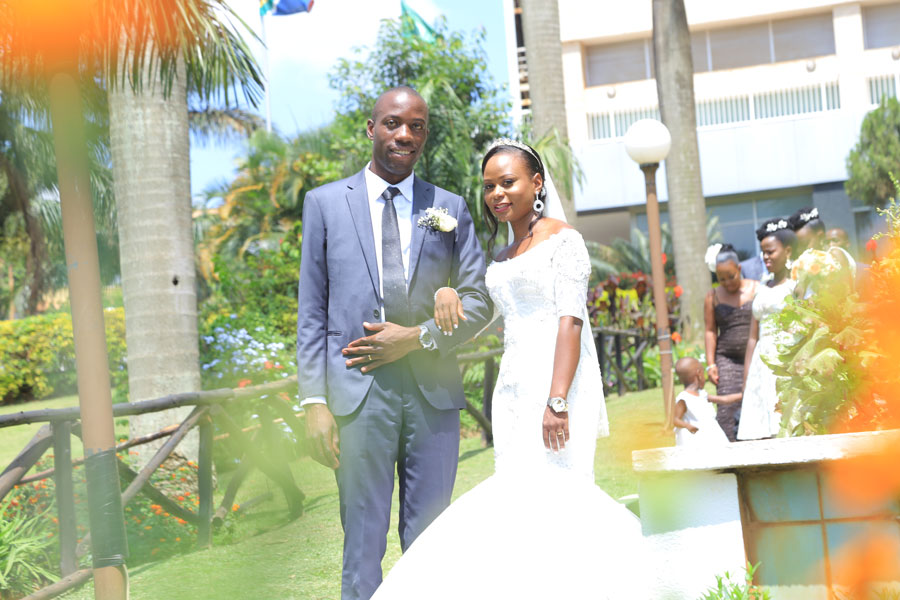 Aggie: With marriage, people keep thinking later will be better. But it's just a delay. You know sometime you will have children and a family. You have to decide and go through with it. You will never have everything you want in place in order to marry. Stop pushing it.