By Carol Beyanga
The trend of having African cloth material or designs such as kente or kitenge make an appearance at weddings is taking root slowly but surely in Uganda. Many women love these materials and designs because they are unique and can be made to stand out on a big day such as their wedding day. We spoke to two women who have designed some of these clothes on what to look out for.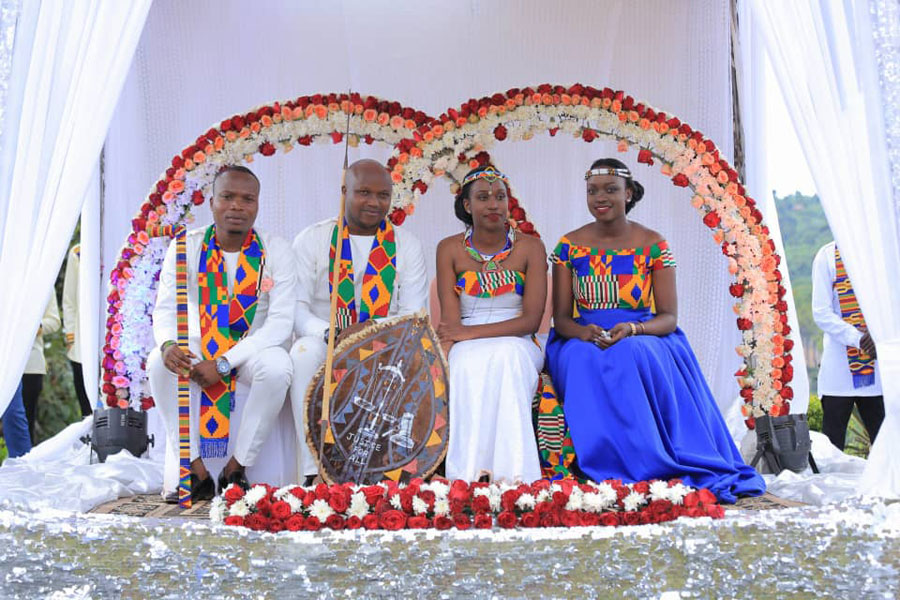 Carol Nambowa Obbo, what exactly is your business and what kind of clothes do you tailor?
Our shop is called Mettabel Gems. I have been in the tailoring and design business for two and a half years. Mettabel Gems is located in Bukoto. Mettabel means God's favour in Hebrew and Gems is because our clients and products are precious.
In your experience, how are kitenge outfits mostly used at weddings?
Brides usually opt for kitenge for their maids changing wear, and not so much as their own changing wear, at least not yet. However, many brides also opt for kitenge at their introduction ceremonies. I have also noticed an increase in brides using kitenge attire for changing wear elsewhere like in West Africa. Also, many Ugandan brides that I have interacted with usually choose kitenge for their maids because it is quite affordable and gives the function a great African touch.
When working on an attire for a bride's changing dress, what are the things you and the bride must take into consideration?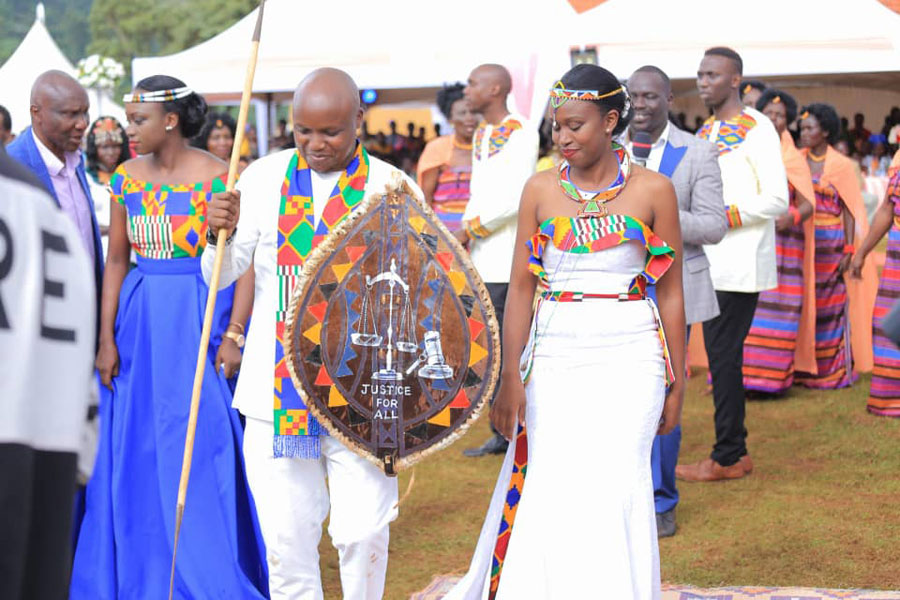 It all usually depends on what the bride wants exactly. Some brides know what they want while others just have an idea. For those that just have an idea, we build on that to get what they want. It matters whether the body type matches the design the bride has in mind. The design must be unique and exquisite. The material should be elegant enough for her to stand out. I also like to get a material that can stretch so that it adjusts with the change in body.
Secondly, we consider how much time there is to pull off the design. We also consider how much the bride can part with for the changing wear. Then we look at other detail (sequins, diamonds, pearls, flowers, bows etc.) to add. It's also important to know what the groom to be and maids plan to wear.
What on average are the costs of making such a dress?
The cost of an African material changing dress can start at Shs300,000 upwards depending on the quality of material and design.
What about the costs for bridesmaids' dresses?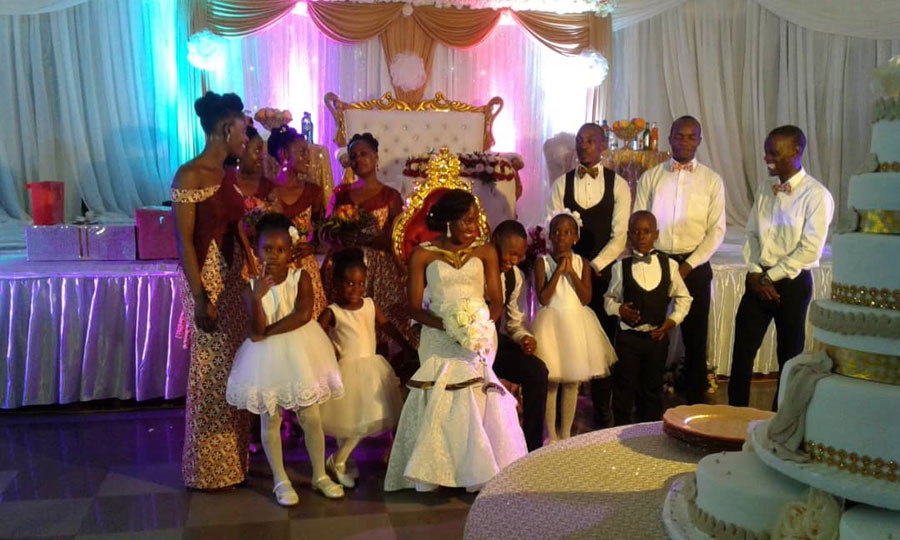 Each maid's dress would cost an average of Shs150,000 – Shs200,000, that's inclusive of material and labour depending on the design. If the maids have their material already, labour only is between Shs50,000 to Shs100,000.
What kinds of materials look good or work with kitenge or African fabrics?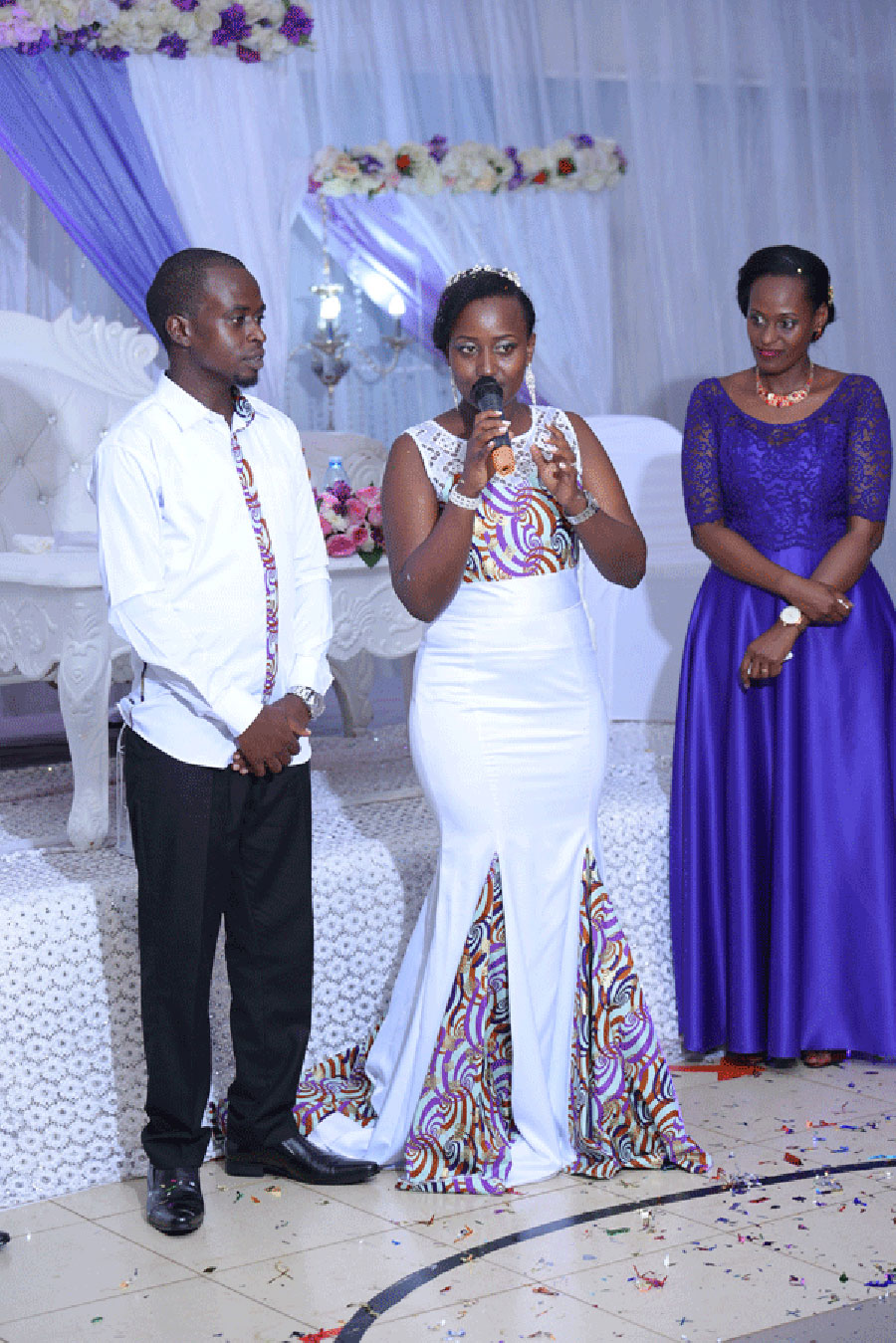 Most materials look good with African fabric however the one used most often is bridal satin because of its rich appearance and feel. Also organza (a soft net material), chiffon and lace usually blend well with African fabric. Although these are the most commonly used, I believe with creativity, almost any material can be used. One should however avoid using very shiny material because in most cases the dress appears mediocre. One should also ensure that the colour/dye in the African fabric used does not leak into the other material when the dress is washed. If one suspects it might, then one should opt for dry cleaning.
Janet Napio, what exactly is your business and what kind of clothes do you tailor?
My business is called Tailor-made by Jan, and it's been around for two years now.
What has been the most interesting bridal piece that you have worked on?
That would be a changing dress I made last year for a bride upcountry in Gulu. It was interesting because it was my first, but also I was given leeway to do what I wanted. All the bride said was that she wanted a blue dress, the rest was up to me. The other interesting bit was that I never met the bride. She couldn't travel to Kampala and neither could I make the journey to Gulu. So I simply looked at a photo of her and she sent me her measurements via WhatsApp and that's all I worked with.
Does one need to pair the African fabric with another so they can stand out since it is a popular material and many wear it in fashionable styles to weddings?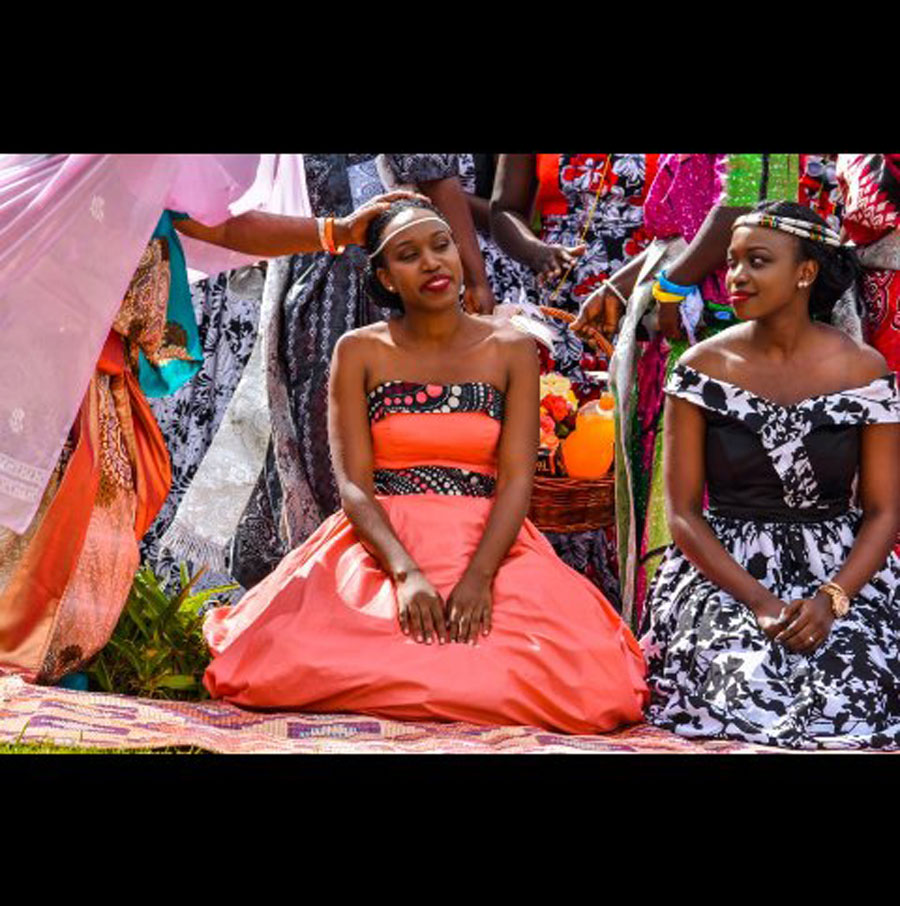 No, kitenge doesn't have to be paired with another fabric for it to stand out. It really depends on the preference, design of the dress and also the colour and print of the kitenge in question. Sometimes the fabric needs a little boost to give it more oomph so you use another type of fabric let's say lace or satin to add some more character and much needed lift.  Honestly, who wouldn't like a little lace here and there?
Also sometimes kitenge from head to toe can be too much for the eye that's why one may decide to use other fabric just to make it easy on the eye.
What are some of the challenges faced when making these kinds of dresses for brides?
First of all, convincing some customers that it would be a good idea to add a little something else to the kitenge fabric is no mean feat. They feel it's a waste of money given that the really nice/quality kind of lace or whatever other fabric one may choose is usually pricey.  And then of course, many times one may come with a design from a magazine and demand to have the same but you see, we have different bodies, different tones of skin-colour and therefore what looks amazing on a glossed-over, airbrushed model on Pinterest may not necessarily look good on someone else.
What is the average amount of money a bride-to-be needs to consider when planning for such a dress?
At least Shs500,000.
Have you worked on attire for a groom, best man or groomsmen, generally for the men?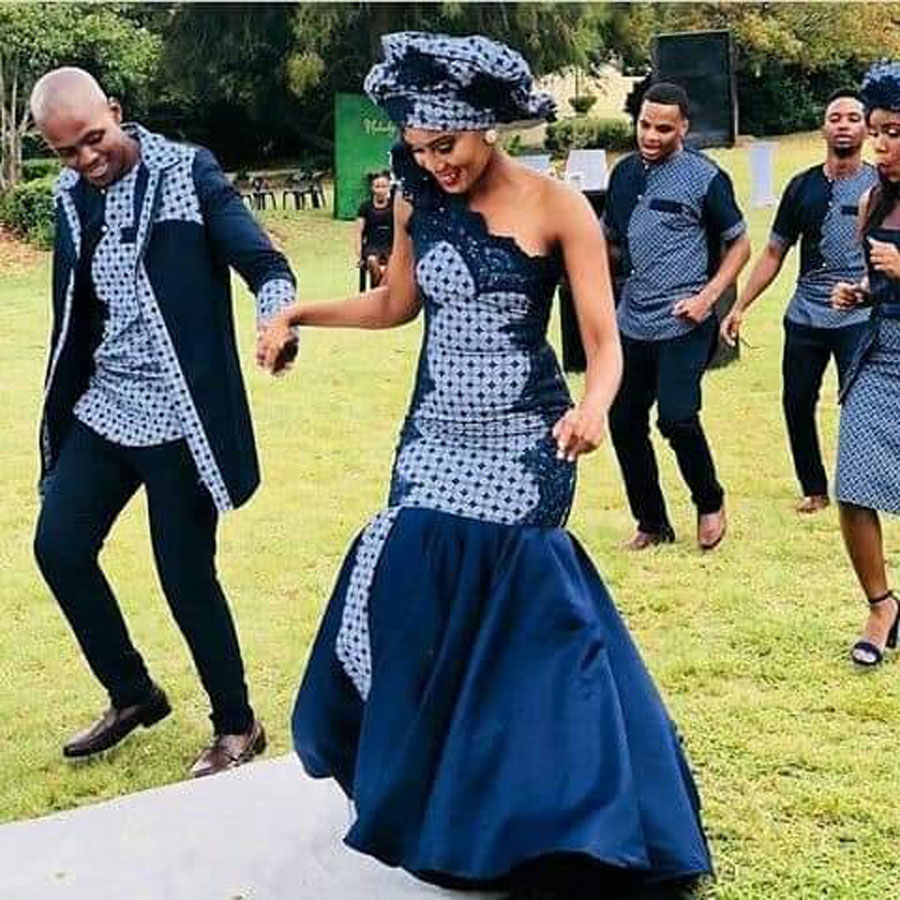 Yes, I have done a groom's shirt and other shirts for men.
What are the estimated costs of working on the groom's shirt?
The price depends on type and quantity of material used. For a groom, it would range from as low as Shs70,000 to Shs200,000.
How should one get their kitenge or African wear clean and ready after it has been sewn, re-tailored, and tried on 15 times to ensure it fits perfectly?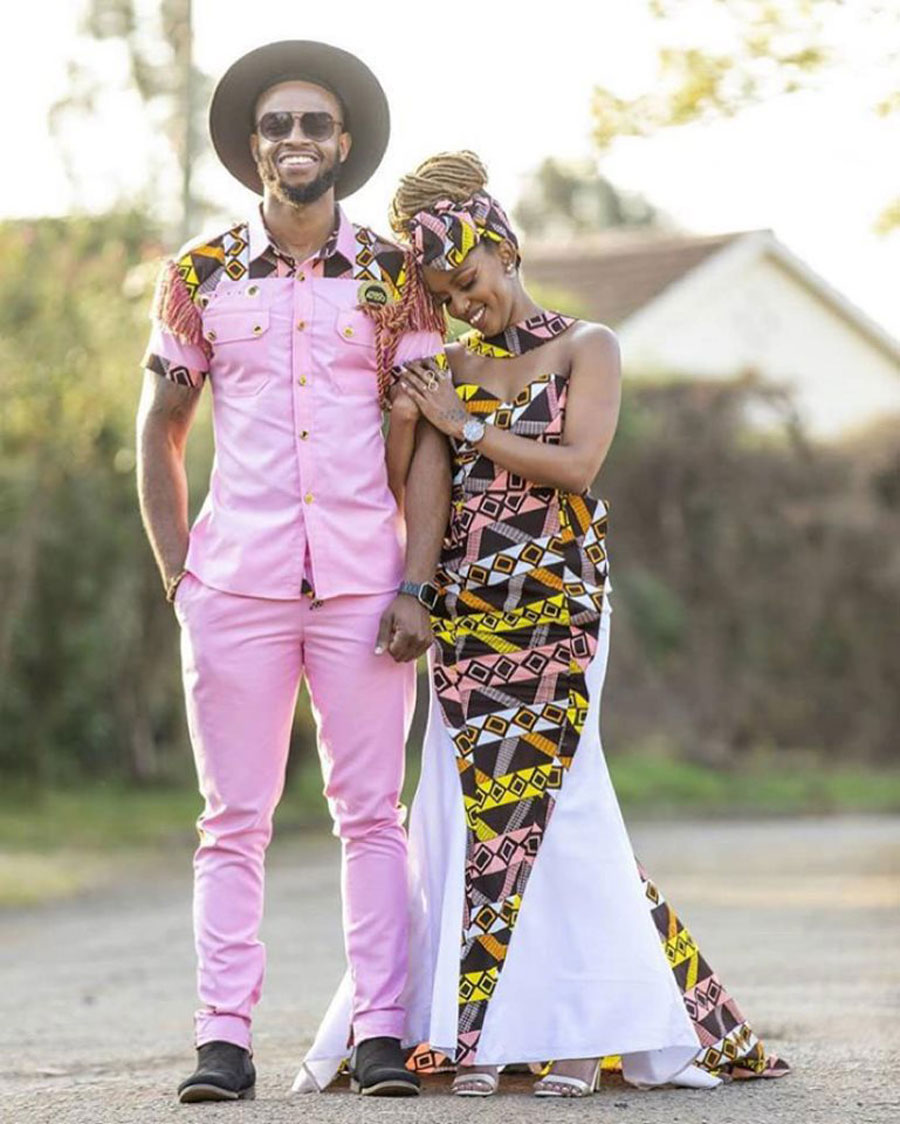 I am not an expert on how to clean African fabric but I think a dry clean would do. Also sometimes material is washed before its cut and sewed. This takes care of any shrinkage issues and also softens the fabric for the hard ones. Otherwise if you can, wash after the clothes are sewed. Make sure though to test if the colour runs before you wash.